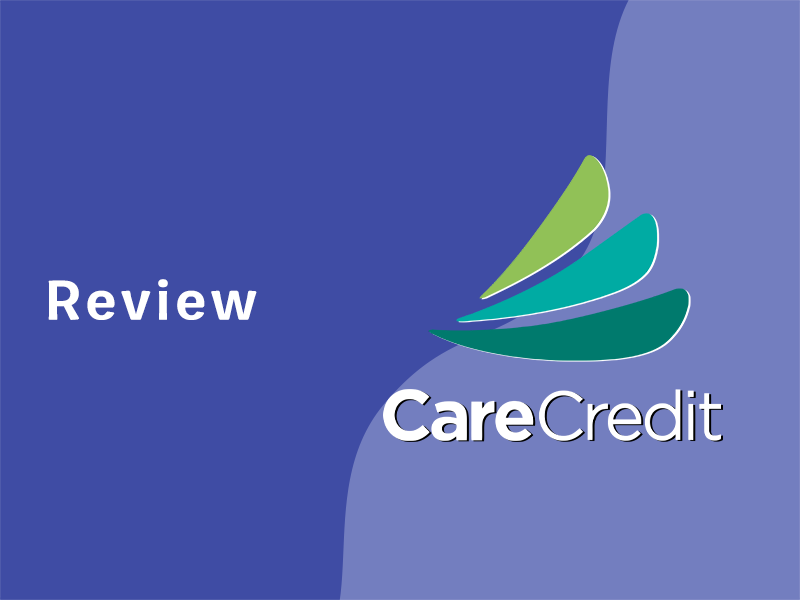 Searching for a comprehensive CareCredit review to help you figure out how to cover your patients' medical expenses?
If so, then you're in luck since this medical patient financing company is the sole subject of today's review.
For the last several decades, CareCredit has been one of the most recognizable names among institutes in the United States which offer finance options for medical purposes.
In fact, based on a report shared by IBIS, CareCredit occupies a significant share of this industry, one which already records a relatively low market share distribution.
To be more specific, CareCredit as a financial institution constitutes one of the largest participants in the industry despite the presence of new players over the years.
Due to its popularity and recognition in its specific niche, it is only natural that health centers looking for medical finance options on behalf of their clients will consider CareCredit as a possible option.
That said, not all that glitters is gold. While a company's popularity may be an indicator of its legitimacy, it does not necessarily imply that their services are the best fit for your needs, nor does it mean that they are recommendable.
In this review, we break down the services which CareCredit offers in order to assist you in figuring out whether it is the right fit for your business.
Let's dive in.
What is CareCredit?
CareCredit is a financial services healthcare credit card that one uses to pay for out-of-pocket medical expenses.
In essence, it serves as a means to defray costs incurred from traditional medical insurance copayments. As logic will indicate, the bulk of these costs needs to fall under the list of services for which the credit card provides coverage. That said, the card can also be used to select medical procedures that are not included in traditional insurance plans.
CareCredit is a subsidiary branch of Synchrony Financial (SYF). SYF is a consumer-based financial services company and card issuer that has its headquarters in Connecticut, USA. As a licensed credit card company, they provide financing products for consumers by way of Synchrony Bank, their online bank subsidiary. These financing products include promotional financing, loyalty programs, installment lending, and in the case of CareCredit, credit card services.
For a possible alternative, check our Acorns review.
Where Can One Use a CareCredit Health Card?
As the parent company of CareCredit, Synchrony has negotiated and entered into agreements with a multitude of health care providers so that the latter deems the CareCredit health card as an acceptable means through which patients can cover their medical expenses.
At present, roughly 200,000 healthcare providers have accepted this agreement.
Among those, Synchrony has partnered with familiar retail brands such as Walmart, Walgreen, Bowflex, RiteAid, VSP, and Sam's Club. In addition to these big brands, several small-to-medium-sized businesses have also teamed up with CareCredit to allow patients to use their Synchrony-approved credit cards.
They can be found via CareCredit's "Find a Location" feature available on their website. With it, one has the ability to search through the list of medical care providers that facilitate finance options through CareCredit.
The list of businesses that have partnered with CareCredit also includes veterinary health care needs. This means that if someone requires financial options for pet-care, the veterinary clinic can offer CareCredit as an option to the pet owner.
The list of industries for which CareCredit provides services are featured below: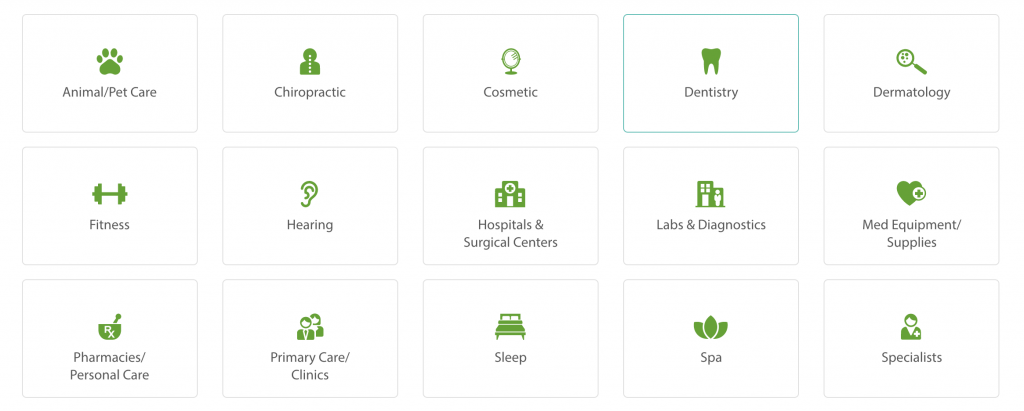 Credits: CareCredit
In addition to these industries, as mentioned before, CareCredit provides users with an option to sift through healthcare providers based on specific categories. These include:
● Dental
● Vision
● Cosmetic surgery
● Hearing
● Primary Care/Clinics
● Specialists
● Pharmacies/Personal care
● Medical equipment/Supplies
● Surgery Centers
● Fitness
● Animal/Pet Care
● Labs/Diagnostics
● Spa
● Sleep
By selecting one of these categories, one can then further refine their search by geographic location. In doing so, the user will be able to find a list of healthcare services within a specific location that accept CareCredit cards as is seen in the image below: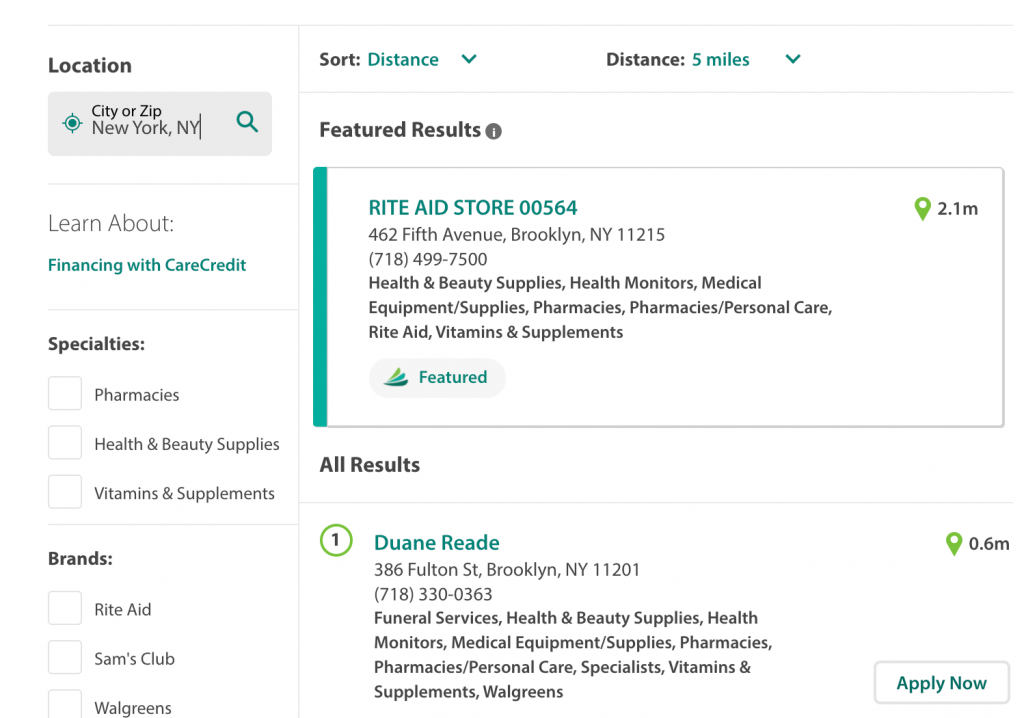 Credits: CareCredit
How Does a CareCredit Card Work?
As mentioned previously, someone seeking health care may use a CareCredit card across a myriad of industries.
Each one of these industries has its own specific requirements that may constitute a restriction for you if you were to use CareCredit as a lender. This type of restriction will be based on your needs, estimated costs, and more.
Here's a breakdown of how CareCredit card is supposed to provide financing based on each industry:
Animal/ Pet Care
As stated previously, a pet owner seeking financial options for medical reasons related to their pets or animals can use a CareCredit card to defray costs.
These reasons can be divided into two separate categories called "Routine Veterinary" and "Veterinary surgery and emergencies" respectively. Here is a breakdown of the types of services that a CareCredit is supposed to cover:
Routine Veterinary
● Teeth cleaning
● Diagnostics
● Chemotherapy (for dogs)
● Microchipping
● Pet food and nutrition
● Vaccinations
● Care for pets suffering from chronic diseases and conditions
● Rehab
● Medication
● Parasites
● Dermatology
● Annual checkups
Veterinary surgery & emergencies
● Surgical procedures (dependent on the veterinary clinic)
● Hip dysplasia surgery
● Emergency services
● Neutering & spaying Chiropractic
Chiropractic
A CareCredit account also allows one to offset out-of-pocket medical bills that are categorized as chiropractic services. These constitute copays, high deductibles, co-insurance, procedures, and treatments.
To be more specific, when it comes to chiropractic services, a CareCredit health card may cover the following:
● Soft tissue manual therapy
● Spinal traction
● Therapeutic stretches
● Therapeutic exercises
● Physical therapy modalities
● Diet and nutritional counseling
● Lifestyle modification counseling
● Heat and cold
● Massages
● Diathermy
● Ultrasounds
● Hydrotherapy
● Infrared radiation
● Cold laser therapy
● Pelvic stabilization
● Transcutaneous electrical nerve stimulators (TENS)
● Electrical muscle stimulation
They allow you to carry out monthly payments for these services assuming that the total cost exceeds $200.
Cosmetic
CareCredit has partnered with service providers within the beauty and cosmetics industry to use their credit cards to pay for their operations.
Similar to animal/pet care, these operations covered by CareCredit are grouped under three separate categories: Surgical cosmetic procedures, non-surgical cosmetic procedures, and dermatologic procedures respectively.
Here is a breakdown of the services offered under each category:
Surgical Cosmetic Treatments and Procedures
● Tummy tucks
● Body sculpting
● Mini facelift
● Plastic surgery
● Hair replacement
● Eyelid surgery
● Nose job
● Liposuction
● Breast augmentation
● Reconstructive surgery
Non-Surgical/Minimally-Invasive Cosmetic Treatments and Procedures
● Chemical peels
● Microdermabrasion
● IPL/Laser treatment
● Coolsculpting
● Injectables and fillers (such as Juvederm®, Xeomin®, Botox® Cosmetic, and Dysport™)
● Tattoo removal
● Laser hair removal
Dermatologic Procedures and Treatments
● Microdermabrasions
● Acne treatments
● Spider and varicose vein treatments
● Chemical peels
● Injectables and fillers (like Juvederm®, Xeomin®, Botox® Cosmetic, and Dysport™)
● Mohs surgery and other FDA-approved skin cancer procedures (cryosurgery, desiccation, wide-local excision, curettage)
● Dermatology-approved skincare products
● Age spots
● Laser & light therapy
● Dermatology appointments
Dentistry
Dental work is yet another area where one can use their CareCredit to pay for expenses incurred from the services they sign up for.
As is customary with most industries, CareCredit breaks down their services into two separate categories, 'Preventative dentistry' and 'Restorative & Cosmetic Dentistry" respectively.
Preventative Dentistry
● Periodontics
● Periodontal scaling
● Fluoride treatment
● Ceramic fillings
● Sealants
● Teeth cleaning
● Mouthguard for sport
● Gingivitis prevention
● Periodontal disease prevention
● Endodontics
● 6-month check-ups
Restorative & Cosmetic Dentistry
● Bite plates
● Tooth cleaning
● Veneers
● Six month smiles
● Headgear
● Tooth cleaning
● Tooth repair
● Braces/retainers
● Invisalign teeth straightening
● Ceramic crowns
● Root canals
● Dental implants
Dermatology
Similar to the cosmetic industry, the CareCredit health card also extends to services offered within dermatology treatments.
Like most CareCredit industry services, dermatology procedures can be separated into two groupings; 'Dermatology procedures' and 'dermatologic skincare products' respectively:
Dermatology Procedures
● Skin exams and screening
● Age spots
● Psoriasis
● Rashes
● MOHS Surgery and other FDA-approved skin cancer treatments
● Injectables and fillers (like Juvederm®, Xeomin®, Botox® Cosmetic, and Dysport™)
● Chemical peels
● Microdermabrasion
● Tattoo removal
● Aesthetic treatment of fine lines and wrinkles
● Acne treatment
● Laser and light therapy
● Deductibles, expenses not covered by insurance, copays
● Varicose and spider vein treatment
Dermatologic Skincare Products
● iS Clinical®
● Obaji®
● SkinCeuticals®
● SkinMedica®
Fitness & Home Gym Equipment
CareCredit health cards also include equipment that is used for fitness and gym purposes within their coverage.
These types of equipment include (but are not limited to):
● Treadmills
● Dumbbells
● Cardio & strength machines
● Home gyms
Ear Care
CareCredit health cards can also be used for any otological services which a user may need financing for. These may take the shape of:
● Regular hearing devices re-fitting
● Earmolds
● Tinnitus
● Audiology appointments
● Regular hearing checkups
● Implants
● Hearing devices
● Hearing conservations
● Hearing tests
Hospital & Surgical Center Financing
If you have to visit a hospital or health care facility, a CareCredit health card can be used to cover most out-of-pocket expenses.
These types of expenses can be incurred from the following:
● Urgent care
● Pharmacy
● Labs
● Ambulatory surgery centers
● Radiology and imaging
● Pediatrics
● Cosmetic
● Gastroenterology
● Orthopedics
● OB/GYN
● Anesthesiology
Labs & Diagnostics
Someone who is looking for financing options for labs and diagnostics services also has the option to use a CreditCare health card in select instances.
When it comes to lab test and medical imaging services, these can include:
● Drug screening and testing
● Body fluid testing
● Tissue pathology and cytology
● Health screening and monitoring tests
● Gene-based testing (also called genetic testing)
● Blood testing
Medical Equipment & Supplies
One also has the option to use a CareCredit health card to cover out-of-pocket expenses that stem from purchases done for medical equipment:
● Ventilators
● Dialysis machine
● Nebulizers
● Life chairs
● Driving controls
● Sleep apnea devices
● Walkers, canes, crutches
● Hospital beds
● Portable oxygen equipment
● Motorized wheelchairs & scooters
● Bath safety products (commode chairs, grab bars, shower chairs/benches
Pharmacies/ Personal Care
For costs associated with pharmacies or personal care, a CareCredit health card can be used to cover them.
The costs of these services can be divided into three different categories:
Pharmacy
● Vaccines & immunizations
● Health screenings
● Medication demonstration/reconciliation/administration
● Flu shots
● Prescription substitutes/ renewal/ fillings/ extensions
● Flu shots
Healthcare
● Vitamins and supplements
● Diabetes management
● Foot care
● Digestive health and nausea
● Pain and fever relief
● Oral care
● Diet and weight loss aids
● Allergy and sinus
● Durable medical equipment
● Family planning
● Smoking cessation
● Ear and eye care
● Cough, cold, and flu
● Allergy and sinus
● Heart health
● Home test kits
● Sleep and snoring aids
Beauty
● Grooming and shaving products or procedures
● Hair care and accessories
● Bath and body products
Primary Care/Clinics
Patients who have incurred expenses from using clinics or primary care facilities may opt to use CareCredit health care to cover their costs.
The types of services that fall under this category are:
● Pediatrics
● General practitioner
● OB/GYN
● Urgent care
● Family practice
Sleep
For services related to sleep labs, sleep medicine, and better sleep, one has the option to use a CareCredit credit card to cover their costs. These services are:
● Sleep apnea test
● Overnight oximetry test
● Positive airway pressure therapy
● Non-invasive ventilation
● Hypoglossal nerve stimulation therapy evaluation
● Actigraphy
● Polysomnography (sleep study)
Spa
Spa costs can also be covered using a CareCredit health card. The reason for this is that some medical healing treatments may require you to have treatments from a spa.
These services include:
● Scrubs and body wraps
● Eyelash extensions
● Skincare products
● Hair and nails services
● Hydrotherapy
● Skincare treatments
● Facials
● Waxing
● Massages
● Skincare treatments
Specialists
A CareCredit health card is an option that can be used when a patient needs to pay for out-of-pocket expenses resulting from services rendered by a medical specialist.
These services are:
● Physiatry
● Podiatry
● Vascular surgery
● Endocrinology
● Ambulatory Surgery Center (ASC)
● Gastroenterology
● Imaging & radiology
● Nephrology
● Medical transport
● Colorectal (Proctology)
● Rheumatology
● Physical Therapy
● Urology
● Ear, nose, and throat (ENT)
● Cord blood storage
● Allergy and immunology
● Anesthesiology
● Phlebology
● Orthotics and prosthetics
● Medical Equipment (DME)
● Neurology
● Orthopedics
● Sleep Medicine
What are CareCredit's Promotional Financing Requirements?
When one uses a CareCredit health card, they are bound to a maximum credit limit of $25,000.
Therefore, the card can only cover expenses that are either equal to or less than that amount.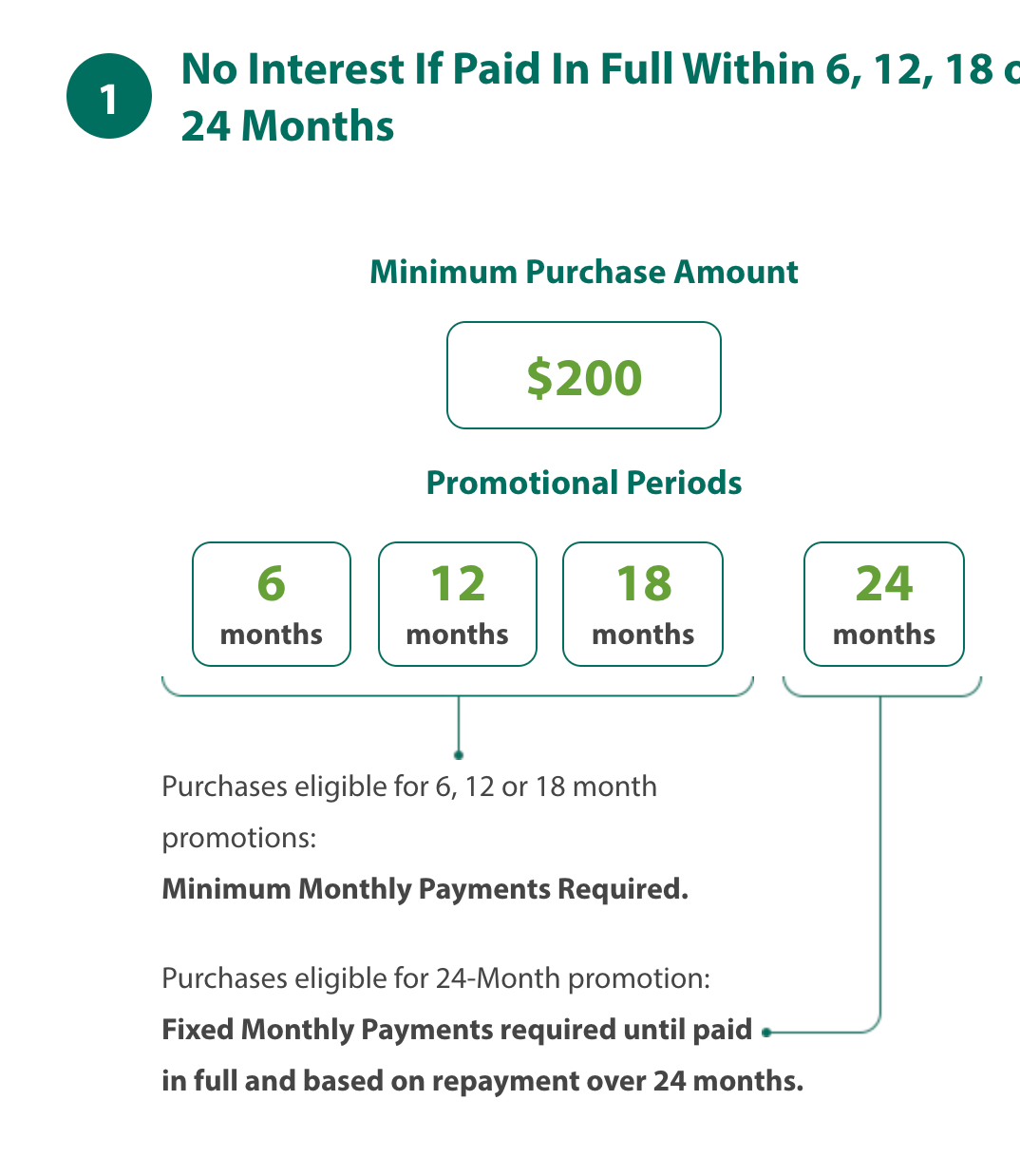 Credits: CareCredits
As part of their promo financing package, CareCredit indicates that on charges that either equal or exceed $200, they offer a 'no-interest' period of either 6, 12, 18, or 24 months.
Assuming that you have the financial capabilities to clear off your purchase debt within that time frame, then CareCredit will not charge you interest.
On the subject of timeframe, it's worth mentioning that in the event of payments that are done past the due date, CareCredit also charges you a penalty that can range from $29-$40.
According to card terms and agreements specified by CareCredit, $29 will be charged as a late fee if you made timely minimum payments during your last six monthly billing cycles. However, that fee will go up to $40 if you fail to make timely minimum payments at any point in time during your last six billing cycles.
In the event that you do have to pay interest charges, the annual percentage rate (APR) on purchases is 26.99%. CareCredit calculates your annual fees in interest by using the owed amount on your balance after a particular billing cycle and applying the interest rate to it. For example, if your owed balance after 6 months is $5,000, then the amount you'd pay in interest based on CareCredit's interest rate is $1349.50.
The Danger of Using a CareCredit Health Card
Although CareCredit may seem like a decent and viable alternative to funding medical expenses, there is a danger to using their card services: it centers around the concept of 'no interest'.
In theory, the 'no interest' period may seem like an attractive option depending on the amount of your purchase.
Let's say your charge adds up to $2,000 and you are given a six-month no-interest period. That would mean that each month, you would have to contribute $333.33 towards your repayment.
While your ability to commit to this amount will depend largely on your expendable income levels, it is safe to say that most people will consider this to be a reasonable amount.
However, as utopic as that may seem, the problem is two-fold.
On one hand, CareCredit does not allow you to pay more than what is stipulated in your minimum payment. Therefore, if your minimum monthly payment is $100, you cannot put more than $100 on your repayments. Needless to say, depending on the amount you have to pay back, a minimum monthly payment may very well not be sufficient for you to clear your debt.
What's more, on the other hand, CareCredit does not offer a 0% interest rate; instead, they offer deferred interest. In other words, interest begins to accrue from the moment that you make your first purchase. Assuming that you pay off your total debt by the end of the promotional period, then you will not be charged interest fees. If, however, you do not clear your debt, then all the interest which you have accrued up to that point will hit your account.
On their website, CareCredit provides a clear example of the misfortune one would suffer if they are unable to pay off their debt through minimum monthly payments.
If you're someone who likes to have more options on the table, go to our Service Finance Company review for home improvement companies, or Affirm review if you're in the general selling business.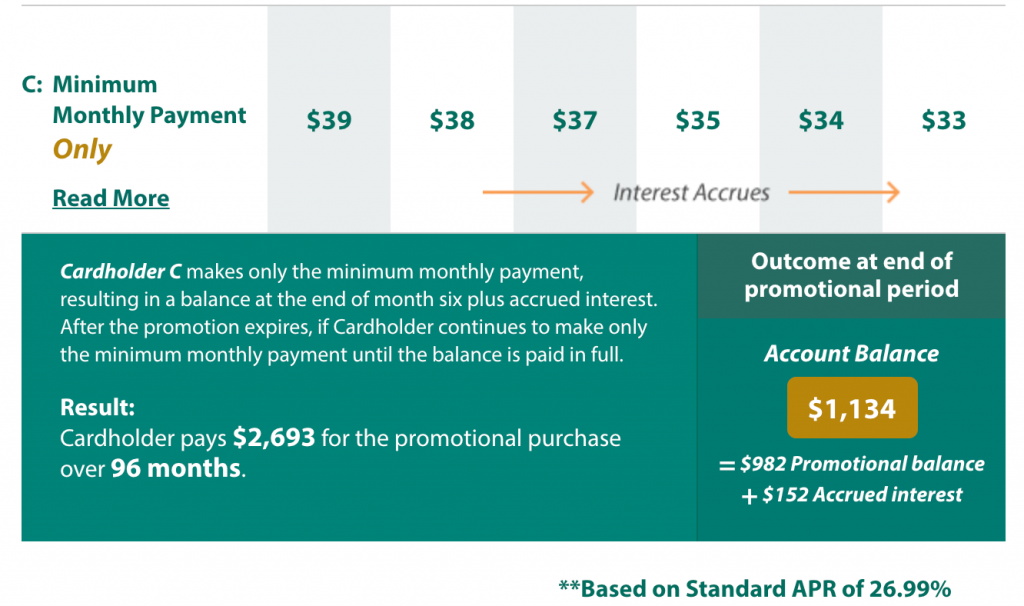 Credits: CareCredit
Despite making monthly payments over a six-month period, Cardholder C still had a balance on their card which needed to be paid off. Consequently, the interest which has been deferred has now hit the person's account in their seventh month.
When you do the maths, despite the fact that Cardholder C has been paid $216 on their debt, it has only shrunk by $66. Due to the minimum monthly restrictions, it will take them eight years to pay off their debt. This means that in total, they would have paid an estimated $1493 in interest alone, which would have been more than the amount of their original first purchase.
The Danger of Using a CareCredit Health Card
Alternatively, CareCredit has a credit card offer that replaces the deferred interest with a lower interest rate which is applicable from your first billing cycle. This reduced rate can amount to 14.90% and in such cases, it can be used for payments that span 24, 36, or 48 months on charges that exceed $1000. Or, the reduced rate can go up a couple of decimals to 16.90% for charges that you must assume for either 60 months or more for payments that are more than $2500.
However, despite their attempts to offer an appealing second option, CareCredit falls short again for two main reasons.
Firstly, you are still forced to adhere to a minimum monthly payment. This means that in no way, shape, or form, can you ever consider clearing your debt before the estimated termination date.
Secondly, while some persons may find the interest rates acceptable, the minimum purchase amount required for each one is restrictive, thus meaning that some may not qualify for it even if they are interested.
Should You Use CareCredit?
Figuring out whether a CareCredit medical credit card is the right fit for your business is a highly personal decision.
However, we do suggest that if you do have the option to incorporate this card into your financial payment plans, think carefully before committing yourself to it.
Whether you are a medical firm or patient, by no means do we recommend that this card be your go-to resource to cover out-of-pocket medical expenses.
Apart from the non-negotiable interest rates coupled with the fact that you cannot pay more than a minimum monthly payment, CareCredit's payment policies restrict you to either one of two plans.
Needless to say, for medical providers, both options may be highly unattractive for their patients.
Instead, there's a better way to source attractive payment options to cover medical expenses.
Time Investment Company vs CareCredit
Time Investment Company
CareCredit
Interest rates
Negotiable: done on a case-by-case basis prioritizing the needs and comfort of medical patients while guaranteeing care health providers timely receipt of their payments.
Fixed, non-negotiable interest rate of 26.99% or 16.99% depending on finance plan.
Minimum payments
TIC works directly with health care providers to give them the flexibility to determine whether their finance options
may or may not permit the patient to exceed their minimum payment.
Health care providers who partner with CareCredit are forced to offer their patients a finance plan which does not allow them to pay more on their monthly payments than what is stipulated.
Repayment terms
Through TIC, health care providers can give their patients a multitude of ways to repay their loans.
With CareCredit, a patient is bound to the restrictive repayment terms that they were provided with and have no way of clearing their debt before that occurs.
Time Investment Company (TIC) is the alternative to CareCredit through which you can source flexible payment plans for your medical costs.
Where CareCredit falters with rigid non-negotiable finance options that are not sustainable for most patients, TIC picks up by delivering customizable finance plans that are affordable and meet your specific needs.
We are a family-owned finance company that has spent over 35 years leveraging the sensitivity and concern that we have for others' livelihood to develop made-for-you finance plans.
Our team meets with you to work on a package that patients seeking medical care will want to use when covering their costs.
Unlike CareCredit whose interest rates are fixed and do not permit minimum payments, our TIC team works thoroughly to evaluate the needs of patients and create a flexible finance plan which lets them access medical services in a stress-free financial way.
During our decades-worth years of experience in finance, we have served over 250K customers for whom we have funded more than 75M in loans.
We pride ourselves on supporting our partners throughout the totality of their special financing plan.
From start to finish, you can be guaranteed that our team will work together with you and for you to ensure that your clients seeking medical care can access the solutions they need round-the-clock.
Offer Medical Financing With Time Investment Company
When it comes to funding medical care, CareCredit should never be your first option.
Instead, leverage the flexibility and care which TIC offers its partners to double-down on finance plans that match the specific needs of patients looking to cover their medical expenses.
Discover more about how you can get started with a customizable flexible finance plan that will bring your patients the stress-free mechanism needed to cover their expenses.