Implementing Water Treatment Financing in Your Company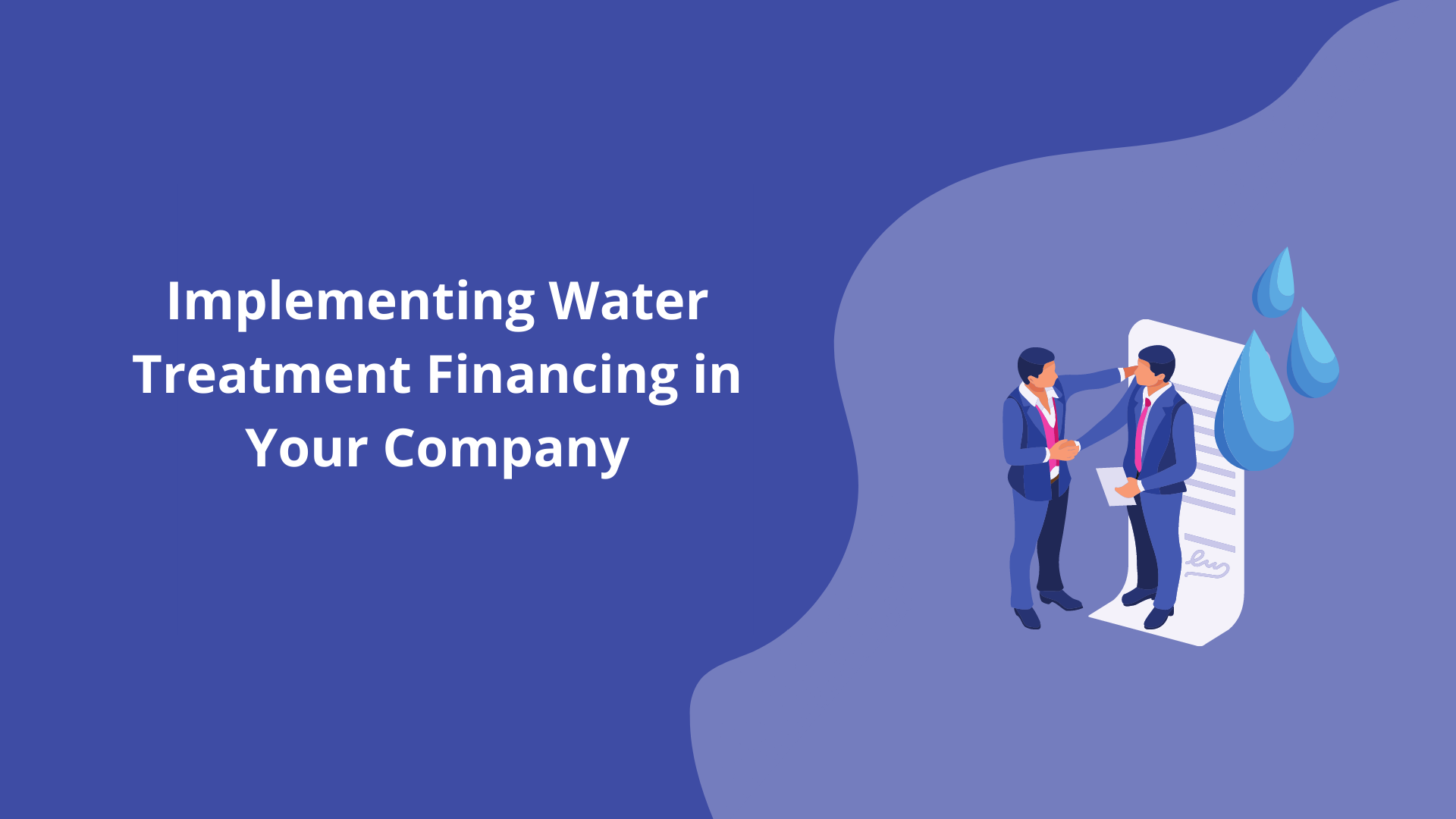 Time Investment gives water treatment service providers a way to offer financing through a third party, directly with their customers. It is easy, and simple. Your company simply requests a proposal and becomes set up with us as a dealer. After the full approval process, you can start submitting financing applications, directly in your office. You can offer a complete water treatment solution to your customers.
What is Water Treatment Financing?
The demand for whole-home water treatment services continues to grow. Water Treatment financing allows homeowners to obtain credit to pay for their services over time, rather than be forced to save, delay or turn down a contract. By allowing monthly payments, businesses can have more customers take on larger projects, including whole home water purification systems.
Water treatment financing allows homeowners to move forward with an installation project, enjoying clean, safe water in their home, all while easily and conveniently making monthly installments instead of one large lump payment.
Water treatment service providers benefit in many ways, while still getting paid in full soon after approval. They can offer financing for quotes over $1,500 for water treatment projects like:
Reverse osmosis systems
Water softeners and water softener systems
Whole-home filtration systems
Drinking water systems
Necessary plumbing, electrical, and construction for installation
Water refiners, filters, and dispensers, if part of an installation project
Or, you can pick and choose which services qualify, and for which bid amounts.
Processing and handling monthly payments on your own, can consume much staff time and involve paperwork and hassles that detract from growing your business. Allowing third-party water treatment financing allows you to complete projects, and save time and money.
What Financing Can Do for Water Treatment Businesses
Offering water treatment financing for your clients can help customers contract with you, and convert prospective leads into lifetime loyal customers. The convenience and loyalty that monthly payments bring, can lead to greater downstream business.
Boost the sales of your water treatment services
75% of homeowners feel they do not have enough money saved up to complete the home improvement projects they want right now, according to a Discover Home Equity Loans survey.
Finance plans allow them to make these projects a reality.
Depending on an area's ground and city water quality, whole home water purification systems can have a positive return on investment, especially when getting ready to sell a house in the near future. This includes all of the ancillary products such as plumbing, filters, water dispensing, and more.
Offering financing as a convenient way to pay for this home prep improvement project can help seal the deal and get installations completed quicker.
Expand your customer reach
Now you can open up to customer segments who normally could not afford to take on an expensive water treatment project, simply by allowing your homeowners to pay in easy monthly payments.
Beat out your competition
Water purification systems can often be a turnoff, due to their costs, especially when added plumbing and modifications need to be constructed. You can convert more leads into sales, and stand apart from your competitors by offering payment plans on your homeowners' terms; while getting paid in full immediately.
Boost your brand awareness
Help your clients see you not only as an installation provider but also as an entire pure water solution for their home as well as their friends and family. Offering easier payment methods can lead to word-of-mouth referrals to their friends and family.
A report by McKinsey & Company shows that consumers' acceptance of financing when making a purchase has risen significantly in the past five years. Many of your homeowners are more likely to accept a quote if financing is available.
What is the Demand for Financing for Your Water Treatment Services?
Home Improvement projects like home water systems come at a hefty price. The need for financing for home projects is on the rise, especially with water treatment. With the average cost of whole home water filtration systems over $2,000, homeowners and small businesses would prefer to opt for a way to pay for it over time. While they may desire to have a complete system that always delivers pure clean drinking water, they often turn down these projects or shop around for competitors when they see a quote and bid proposal. Many homeowners simply underestimate the costs involved in making their home dreams a reality.
Offering water treatment financing can help them contract with you and move forward. This is especially true if the project is designed to improve the value of their home, and they plan to sell their home shortly after completion. This helps you in closing sales and keeping homeowners happy.
Traditional Types of Water Treatment Financing
Besides credit cards, which charge you, the business, 2.5% to 3% of a project, other financing plans that homeowners may consider include HELOCs, refinances, and others.
Yet, these methods can be at high-interest rates, or difficult to obtain.
Here are some traditional financing methods your homeowners may be aware of:
Loans that are "Unsecured"
While it may be easier and more convenient to obtain a loan without having to put up a vehicle, RV or house as collateral, these bank loans traditionally come with high-interest rates to cover that risk.
Time Investment, as a third-party lender, has relationships with a large volume of water purification companies, allowing them to offer unsecured personal loans at similar rates to credit unions.
Home Equity Bank Loans
While a second mortgage might seem like lower-cost money to obtain from the extra value in a house, they require the same approval process as a first-lien mortgage, leaving a homeowner with headaches and hassle to get approved.
Home Equity Line of Credit – also called HELOC
Similar to a home equity loan, except that a HELOC is a revolving line of credit, benefiting the borrower in that they only need to pay interest on money they actually spend. They are similar to credit cards. However, they, like other mortgage-based loans, require much documentation to be approved.
Cash-out Refi
Walking away from a refinance with extra cash from the equity may seem like a good idea, but to get there, a homeowner must perform all the steps of a normal refinance, including an appraisal, income documentation and verification, tax returns, up to a month or two of waiting and more. This may be way unnecessary if they simply want to add a water purifier to their home.
The Challenges with Traditional Financing
Some of these methods, like credit cards, come with high-interest rates. Some require too much documentation and waiting periods. Others have too low of a credit limit. Others have too high of a credit limit. This is where water treatment financing fits the sweet spot of providing just the right amount of funds to pay for the installation, easy approval, all while being affordable and competitive with other forms of financing.
Benefits of Using Third-Party Homeowner Financing
Water treatment installations that are financed through third-party financing offered through Time Investment can be completed quicker and result in happier customers. Many of the benefits to your business include:
Repeat business – Homeowners who have had a successful water purification project are more likely to come back to you for future services like maintenance, filters, and more. Financing makes these projects possible.
Added referrals – Financing often leads to more referrals of friends and family
Set apart from your competition –  Stand out from other competitors who don't offer to finance.
Greater profits – Large projects and more projects, because customers are now able to afford them
Get Paid quickly – The full project quote is paid shortly after installation is complete.
Why Customized Water Treatment Financing Works
Personalized water treatment financing allows both you and your customers to move forward on a project. With water treatment loans made directly through your office, backed by Time Investment, you'll be able to do business with a wider array of clients.
Most importantly, you make it easier for homeowners to want to partner with you for clean, pure drinking water, thus enabling you to secure more contracted services. By giving them the option to make monthly payments instead of paying for the entire project at once, you can have peace of mind knowing that you'll receive full payment and can focus on what you do best; providing clean water solutions for your clients.
Why Time Investment for Home Improvement Financing
Time Investment Company (TIC) is a family-owned finance company with over forty years of experience helping home improvement and water treatment service contractors offer financing to their customers.
We handle all of the paperwork, hassles, and processing so you can continue to grow your business.
As a third-party lender that works directly with water treatment contractors, we have collaborated with over 2000 dealers and have funded more than $775M in successfully repaid loans. Partner with a company that has a long-time track record of helping businesses in satisfying the financial needs of individual customers.
If you want to discover more about what a partnership with us can do for your water treatment business, leave your contact information on the top of this page and we will reach out to you with more details.