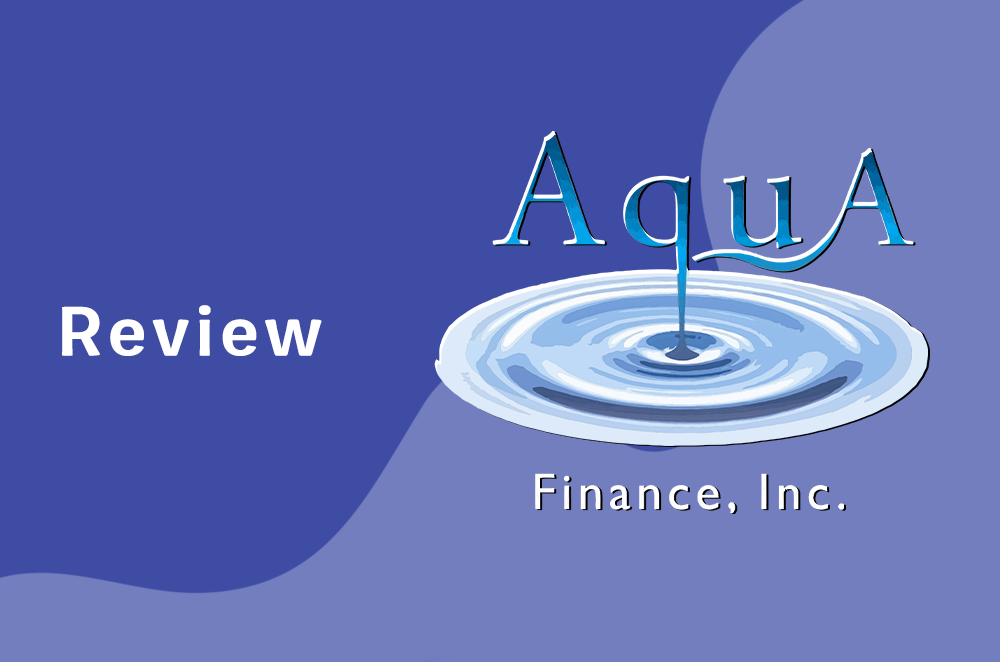 Scouting for Aqua Finance reviews to help you determine whether this partnership is right for your business?
At a time when hundreds of institutes across the U.S. are offering finance repayment plans, Aqua Finance, Inc. has gone on to become one of the more recognizable lenders.
Although Aqua Finance may be a noticeable player in the consumer finance industry, depending on the type of financial repayment terms and conditions you need, this institute may not be the right fit for your business.
In this review, we will dissect the services that Aqua Finance offers to its partners to aid you in determining whether a partnership with them will be in your best interest. 
An Overview of Aqua Finance
Aqua Finance is a consumer finance company that assists contractors and dealers in securing financing programs that their customers can access to fund their projects.
Initially, when Aqua Finance was first launched in 1986 by Robert Chadwell and his team, their goal was to deliver financial products within the water treatment industry.
However, the company has since gone on to expand its services. At present, the company still primarily finances water treatment projects, like the installation of a new water purification system or a new water softener. But they also cover other house projects, including HVAC systems and spas. So if customers needed a pool loan, for example, that would be within their scope.
How Aqua Finance Operates
Aqua Finance provides financial plans for projects primarily in the water treatment, home improvement, recreational, and HVAC industries respectively.
When a company offering contracting services wishes to leverage Aqua Finance's financial planning solutions so that its customers can access them, they need to first become a partner.
Once that is done, they will be subject to the terms and conditions by the due date which Aqua Finance specifies.
To be concrete, these terms and conditions include:
Loans are between $1,000 and $100,000

Annual percentage rates range from 6.9% up to 17.9%

Finance plans that extend to 180 months

Minimal collateral restrictions

Possibility to receive daily funding in your bank account
Once homeowners or consumers have expressed an interest in using Aqua Finance as a line of credit, the partnering contractor needs to apply for a personal loan on behalf of their client.
The Downsides of Aqua Finance
While Aqua Finance is a company that has established itself as a popular lender for homeowners, there are several reasons why they might not be your best choice:
High-interest rates: The lowest annual percentage rate (APR) that Aqua Finance charges start at 6.9% and go up to 17.9%. The company does not explicitly state the loan amount for which this will be charged nor does it indicate the maximum interest rate that they will charge. However, Aqua Finance reports customer payment histories to credit bureaus, which can affect their credit scores. That said, several reviews from Better Business Bureau (BBB) indicate that clients who used Aqua Finance complained about paying the late fee and high compound interest rates. Additionally, Aqua Finance does not disclose the payoff amount or the monthly payment that borrowers will need to make to repay their loans. The lack of transparency regarding their charging more interest, coupled with their seeming unwillingness to negotiate affordable rates for some, suggests that homeowners may find Aqua Finance's plans unattractive.

Limited loan approvals: Aqua Finance only services loans as low as $1,000 and up to $100,000. If your project exceeds this amount then you might find yourself capped by this standard. With rising project and material costs, this will increasingly become a top concern for those needing to finance a larger budget. 

Limit on credit approval: Aqua Finance has a fixed maximum threshold for which homeowners have the ability to receive funding. This loan amount applies to all sectors for which the company provides credit. While this amount is reasonable, depending on the homeowner and their specific project, this may be insufficient in providing enough money. Consequently, as a contractor, by partnering with Aqua Finance, chances are you will not be able to satisfy the needs of your clients.

Limit on repayment plan period: Homeowners can request a repayment plan which extends up to 180 months. However, as is the case with credit approval, a contractor who partners with Aqua Finance restricts their customers to a finite number of monthly payment plans. Depending on your customers, this may or may not work in your favor. Some homeowners may require more time to pay off the principal of their loan, an option that you will not be able to provide due to Aqua Finance's contract inflexibility.
Change of Ownership
Not everyone is aware that Aqua Finance was recently acquired by Apollo Global Management and Athene Holding, two major global corporations. They have purchased a controlling stake in the company as of 2022.
This has led to many internal changes and disruptions in how they handle client accounts. There have been many cases of old account dealers leaving Aqua Finance because they don't feel like the service they receive has been the same since the acquisition. This, along with the increase in the interest rate they're now charging, has led to an off-boarding of dealers in the industry. One of the main reasons for negative stars in recent Aqua Finance reviews is that dealers don't feel like they have the same relationship that they used to.
That not only affects dealers directly but also affects customers. The finance company that dealers partner with, is representing their business. Customers call finance companies on a regular basis to ask questions about the first bill, auto-pay set-up, or early payoff, for example. Every time that they speak to a customer support representative from the finance company, they will associate the support received with the service provider.
So, although Aqua Finance Inc has been called a popular consumer lender, the customer relationship standards, the restrictions, and the inflexibility which characterize their finance plans can constitute a serious setback for contractors looking to save money and headaches.
With that, many dealers are looking for a more personalized service in a different finance company.
Time Investment Company vs Aqua Finance
| | | |
| --- | --- | --- |
| | Time Investment Company | Aqua Finance |
| Loan amount | Flexible: we are willing to work case-by-case to meet a homeowner's needs. | Maximum of $100,000 |
| Interest rates | Flexibility: dependent on the specific financial profile and loan amount of the client. | Lowest APR of 6.9% |
| Repayment terms and conditions | Flexible: TIC takes into consideration the homeowner's loan amount and financial status in order to determine a repayment period which fits their capabilities. | Maximum 180 months |
An Alternative to Aqua Finance 
With all the options out there, Time Investment Company (TIC) offers the best alternative to Aqua Finance Inc when it comes to sourcing new account lines of credit within the home improvement industry. We can provide you with a better client relationship and leave you with more money to maintain a work-life balance. 
Led by a close-knit family for more than 40 years, TIC is rooted in values that place the homeowner and their specific needs above everything else. For that reason, unlike Aqua Finance, all of our finance solutions are customized plans. We review your situation and report back with the account information and how much your payments and fees will be on the loan. 
This means that we review, research, and evaluate the financial peculiarities of every single homeowner who applies for funding in order to determine comfortable repayment terms and conditions that make your clients happy. This includes factors that crucially affect loan agreements such as interest rates paid, credit amounts, and repayment time period.
While Aqua Finance is rigid in its repayment conditions, Time investment Company is committed to offering you assistance with finance plans that are designed with a flexible schedule for each and every one of your clients, while remaining free from worrying about high-interest rates. Our business is proven through quality reviews by both employees and consumers who report on the benefits of having an account with our company. 
For us, the success of your business and the comfort of your clients are top concerns. For that reason, our employees are always available to ensure that you are provided with the financial solution you need on your account, and can be reached either by phone or through our website to answer questions about payments, balance, or the statement of your loans. 
Choosing the Best Fit for Your Company
Although Aqua Finance is a great company, companies that rely on them for financial needs might end up with a higher cost.
Rather than a loan with Aqua Finance, you might find that Time Investment is a well-established company that will help you deliver the kind of flexible financing solutions that your clients need, whether they are a prime customer or have no credit at all. Time Investment can help increase sales with their tailored financial plans, which can put more cash in your pocket. TIC remained a family business with a tradition of personal service and support for dealers. 
Check out our application form on our website or reach out by phone so you can take the first step towards partnering with us.