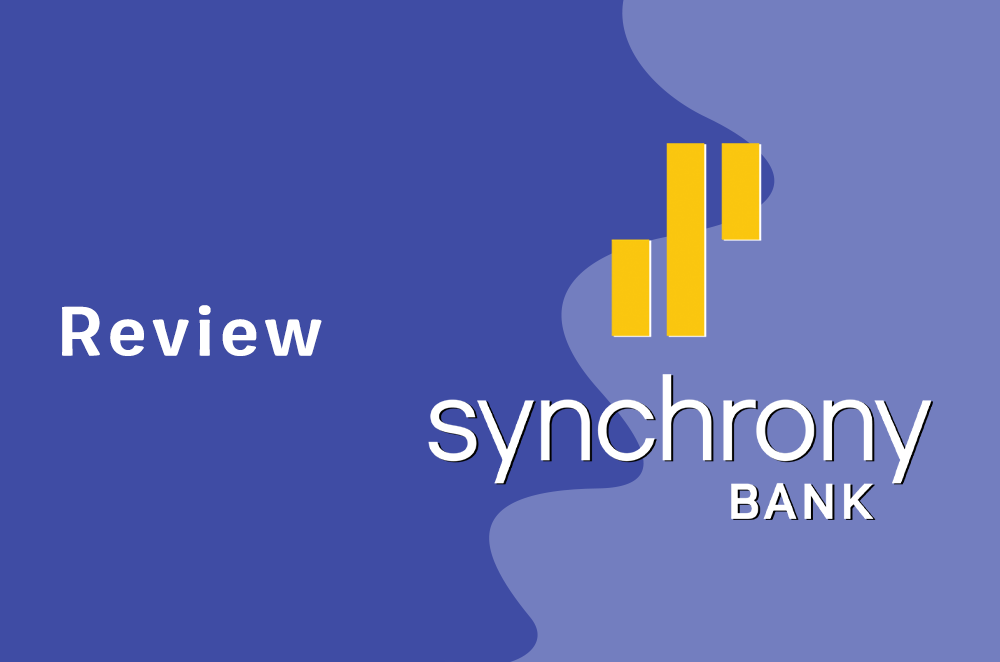 On the hunt for a solid Synchrony Bank review to determine whether its financial services can somehow be a perk to your business or customers?
If that's the case, then you've come to the right place as this is going to be the topic of discussion in today's review.
Over the last twenty-odd years, Synchrony Bank, similar to American Express, and CareCredit, has gone on to become a must-know name in the consumer financial industry.
According to data shared in the company's financial fact sheet, Synchrony Bank facilitated roughly $149B in financed sales and has an estimated 75.5M active users.
Needless to say, its popularity as a customized finance program provider makes them an obvious option for finance services.
With that said, while Synchrony Bank may be a staple financial services provider, their services, terms, and conditions may not be the right fit for your business' specific needs.
In this review, we analyze these services to help you determine whether they are the ideal solution for your company.
Let's get right into it.
What is Synchrony Bank?
Synchrony Bank (formerly known as GE Capital Retail Bank) is an FDIC-insured online bank operating within the consumer finance niche which offers both savings and credit products alike to their partners.
As an online financial entity, Synchrony Bank is a subsidiary of Synchrony Financial, a Fortune 500 company which happens to be the largest private-label credit card service provider in the United States.
Prior to its current name change, the bank was initially founded as GE Capital Retail Bank during the years of the Great Depression. At the time, their primary function was to offer lines of credit to access GE home appliances.
Since then, in addition to the name change and after an unsuccessful partnership with PayPal, they have expanded their line of credit services from just GE home appliances to include a variety of goods and services for which their partnering companies can apply.
Additionally, as an online bank, they have also gone on to offer products through their partners such as Amazon and Lowe.
Let's do an overview of what these specific product services are.
Services Offered by Synchrony Bank
As mentioned previously, Synchrony Bank's main services center around saving and credit options respectively.
Savings
In their capacity as a financial institution, Synchrony Bank has branched off into offering online banking products to encourage its partners to save money. In doing so, they offer various types of accounts.
Here is a breakdown of each one's characteristics:
High Yield Savings
The Synchrony Bank High Yield Savings account is a banking option provided by the company which allows customers to save money.
This type of account is characterized by an Annual Percentage Yield (APY) of 0.50% and no minimum balance requirement.

Credits: Synchrony Bank
Account holders can access and manage their account via the Synchrony Mobile app through which they can do electronic transfers and wire transfers.
Conversely, they can request an optional ATM card with which they can withdraw from select cash dispensers. The bank does not charge a fee to account holders for ATM withdrawals. They also do domestic ATM fees reimbursements on charges placed by respective financial institutions.
However, Synchrony Bank accounts offer a maximum limit of $5 per statement cycle. This means that irrespective of how much you are discounted in ATM fees from third-party entities, Synchrony Bank will only compensate you a maximum of $5. Frequent or suspicious withdrawals may also result in the closure of your account.
This online savings account requires that you make an initial minimum deposit of $5,000. That said, it does not charge you a monthly maintenance fee.
Money Market 
In comparison to the High Yield Savings account, Synchrony Bank Money Market accounts have a 0.35% Annual Percentage Yield (APY). In order to compensate for the lower APY rate, Money Market account holders, unlike their High Yield Savings counterparts, have the option to write cheques.
This type of account appeals to holders who may not wish to access their savings account directly and instead would wish to pay by way of a cheque.
In doing so, Synchrony Bank offers account holders a slightly higher APY than what most would find at their mainstream competitors. That said, Synchrony Bank does not offer clients a checking account. While you can use your Money Market account to write cheques, you do not derive any interest benefit for doing so.
If you write cheques frequently and wish to obtain some interest rate from a checking account, then this type of fund will not appeal to you.
IRA Money Market
Synchrony Bank also offers account holders the option to invest in retirement savings accounts.
One such option is the IRA Money Market account which implores one to select a series of terms and conditions which grant a particular percentage yield in exchange for accepting restrictions on their account usage.
To be more concrete, an IRA money Market account holder is discouraged to withdraw from their retirement fund during a period of time. If they do, then they are charged a penalty fee.
It is to be noted that IRA Money Market account holders are granted APY rates of 0.35% irrespective of their account type, deposit amounts, or length of time associated with their terms and conditions.
Certificate of Deposit
In an effort to encourage long-term saving, the financial entity offers savers their Synchrony Bank Certificate of Deposit (CD) account.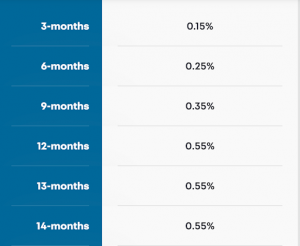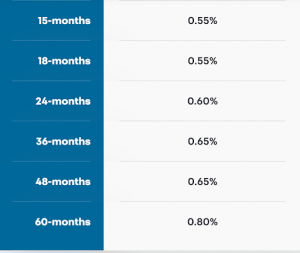 Credits: Synchrony Bank
This type of account offers APY percentage rates ranging from 0.15% to 0.80% based on the time frame in which you elect to maintain your deposit with the company. In order to access this type of financial product, account holders must make an initial deposit of $5,000.
Once you deposit money in a Certificates of Deposit account, you are committing it to the terms and conditions which bound your account. This implies that during a set period of time, be it a fixed number of months or years, you are discouraged to withdraw from this account. If you do withdraw, you will be required to pay an early withdrawal penalty fee. Depending on the terms and conditions of your CD account, the penalty fee can take the form of anywhere between 90 and 365 days of accrued simple interest.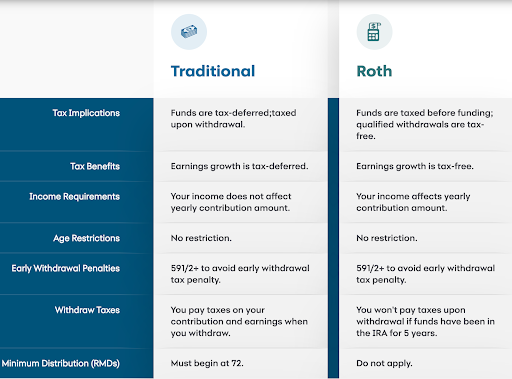 Credits: Synchrony Bank
Account holders must also choose between one (1) of two (2) retirement funding options for tax purposes, namely Traditional and Roth. Each one comes with its own tax conditions which impact long-term investment and risk tolerance rate, among others.
IRA Certificate of Deposit
The IRA Certificate of Deposit account (IRA CD account) is Synchrony Bank's retirement funding alternative to their IRA Money Market account.
The fundamental difference between both accounts is that IRA Certificate of Deposit account holders have a more competitive rate of 0.55%. In such cases, the account holder is required to commit to a minimum twelve-month term making a deposit of $2,000.
Credit
In addition to personal savings opportunities, Synchrony Bank also offers lines of credit which enable customers to pay for a product or service over time.
In order to do so, the bank partners with retailers and service providers such as healthcare firms around the U.S. who are willing to afford their customers this type of payment option by way of a specialized credit card. At the time of writing this review, Synchrony Bank did not offer debit cards to clients.
Credits: Synchrony Bank
Here are the three main types of cards afforded:
Synchrony Premier Mastercard
The Synchrony Premier Mastercard is one of the payment cards which the bank offers to customers.
With it, card holders are entitled to 2% back on every purchase made. These rewards are unlimited and are automatically credited to your account statement monthly.
What's more, this card does not charge an annual fee to its users.
Synchrony Plus World Mastercard
The Synchrony Plus World Mastercard is yet another card payment option provided by Synchrony Bank.
The major difference between this type of card and the previous one is that with this one, card holders are only granted a maximum of 1% cash back rewards on every purchase made.
Synchrony Preferred Mastercard
The Synchrony Preferred Mastercard is the last type of card offered by Synchrony Bank.
Unlike the two previous cards, this one does not offer card holders any cash back rewards.
Instead, it operates in the same fashion as the others by offering a contactless method of payment for goods and services.
Similarly, it can be used to access cash from ATMs and authorized cash dispensers.
Where Synchrony Bank Falls Short
Despite being a subsidiary of a Fortune 500 company within the consumer finance industry, the services offered by Synchrony Bank are far from perfect.
Let's take a closer look at the areas where the company falls short:
No Loans
One of the biggest letdowns associated with Synchrony Bank is that they do not offer any loans to partners.
Needless to say, this is a serious inconvenience to businesses who are seeking finance options either for themselves or for their customers.
If you are looking for a loan or cash advance for a business project or for business purposes, then Synchrony Bank cannot help you.
Similarly, if you are looking to partner with Synchrony Bank to provide your customers with a finance plan to access your services, then the other option you have at your disposal is the company's credit cards.
While Synchrony Bank credit cards do offer some sort of repayment plan, they are still a disservice to your business' customers.
On one hand, the inflexibility which characterizes the cards' terms and conditions force your customers to adhere to the bank's repayment agreement. Depending on your customer's specific needs, this may not be a financially viable option. For example, the grace period on repayments provided by Synchrony Bank may not be suitable for your specific customers. In short, your customers are placed at a disadvantage at having no choice but to fit into Synchrony Bank's terms and conditions.
On the other hand, Synchrony Bank has indicated that credit cards are granted on an invitation-only basis.
This implies that even if you may wish to incorporate their credit cards as part of a finance repayment plan to your customers for your services, there is no guarantee that Synchrony Bank will approve each one of your customer's requests.
Credits: Synchrony Bank
What's more, even if Synchrony Bank approves your customer's request for a credit card, the company does not explicitly state whether they will take charge of risk management.
In other words, it is not clear whether in case of late repayments, whether they will follow up with your customers on payments or their willingness to assume any losses that may be incurred in the process.
If you want more than one option, check our Acorns review.
Limited Services
Apart from their inability to provide funding to businesses, the only other service Synchrony Bank has is related to saving.
Since their CD accounts are meant to facilitate saving, it is common for healthcare providers to encourage their customers to open a savings account with Synchrony Bank to prepare themselves for future expenses.
The logic is that by urging customers to invest in their health care over an extended period of time, they will be in a better position to offset the brunt of healthcare expenses.
While in theory this may be true, this type of partnership with Synchrony Bank does not account for customers who need to access immediate financial plans as an aid to pay for emergency medical services.
Similarly, under this type of agreement, customers are subject to the terms, conditions, and credit limits established by Synchrony Bank. This is a setback for customers who may need to exceed their credit card limit to cover the cost of a medical expense.
All in all, Synchrony Bank is far from the ideal option for customers and businesses alike when it comes to savings and credit options.
Instead, you can partner with another finance company to access flexible, tailor-made services for you and your customers.
Time Investment Company vs Synchrony Bank
| | | |
| --- | --- | --- |
| | Time Investment Company | Synchrony Bank |
| Access to loans | TIC works directly with you to get you the funding needed for your business projects. | Does not offer this service |
| Finance options for customers | TIC collaborates with your business to deliver attractive flexible finance plans for your customers that allow them to access your business' services under favorable circumstances. | Only offers companies credit card collaborations. |
| Customer service | TIC is committed to developing made-for-you solutions that put you and your customers first. | You and your customers are forced to subject to any terms and conditions set by the company. |
Time Investment Company (TIC) is the best alternative to Synchrony Bank to source flexible finance options to grow your business under favorable terms and conditions.
Unlike Synchrony Bank which does not offer any sort of loan options, we at TIC provide you with made-for-you finance plans that grant you the flexibility that you need for your business.
We examine your loan request and collaborate with you to determine the best finance options, terms, and conditions for your specific finance needs. As a close-knit family-owned business who cares, we have spent the last 35 years developing finance solutions for our partners putting empathy and concern for businesses at the forefront.
Our team works directly with you to create an affordable finance plan and iron out any doubts, concerns, or possible modifications in the finance plan agreement. This means that if you need a business loan, not only can you secure it, but you can also get one with terms and repayment conditions that you are comfortable with.
Similarly, when it comes to finance options for your business' clients, Time Investment has you covered.
While Synchrony Bank only offers businesses credit card collaborations which may or may not be suitable for their customers, we at Time Investment meet with you to understand the exact needs of your customers.
Just as we do with business loans, we work hand in hand with you to deliver the most flexible and attractive finance options for your customers.
As opposed to stifling customers by subjecting them to the mercy of Synchrony Bank credit card repayment terms (if the company issues an invitation), you can partner with TIC to negotiate a more customized solution to help your customers access your services in a financially comfortable manner.
For likely alternatives, check our Affirm review and Care Credit review.
Access Better Finance Plans with Time Investment Company
In as much as Synchrony Bank may offer legitimate services in the finance sector, they are far from an ideal solution.
From a business standpoint, apart from the absence of direct loan options, the lack of flexibility in finance plans for your customers is not ideal.
Instead of doing your business and clients a disservice, access the finance plans you need with Time investment.
Whether you need a loan for a business project or finance plans for your clients, we are prepared to work alongside you to help bring you one step closer to securing what you need to take your business to the next level.
Find out more about how you can get your made-for-you flexible finance plan underway with TIC today.