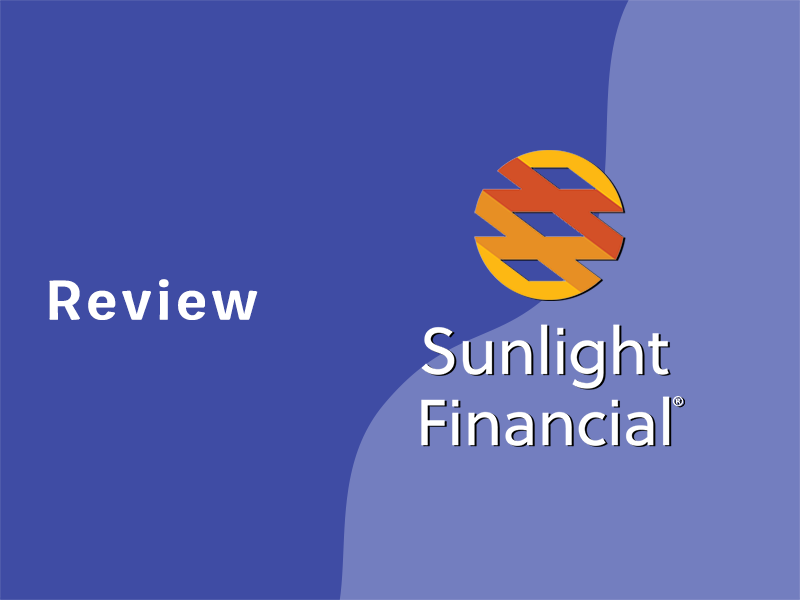 On the lookout for a complete Sunlight review to help you figure out whether they are the right company to partner with?
You're in the right place.
For the last few years, the financial services offered by Sunlight Financial have grown in popularity within the home improvement and contractor industry.
At a time where businesses are constantly searching for ways to access lines of credit for themselves and their customers, Sunlight Financial has become a common lender that contractors hear about when scouting for financial plans.
However, one thing is popularity: another thing is answering the question:
"Is Sunlight Financial right for me?"
This will be the subject of today's blog post.
We provide you with a comprehensive breakdown and evaluation of the services offered by Sunlight Financial so that you can figure out whether it's the ideal fit for your business.
Let's get started.
What is Sunlight Financial?
Sunlight Financial is a monetary services company that delivers point-of-sale financial solutions to contractor businesses within the home improvement niche so that their customers can access loans.
As one would do with a credit union or private company that issues loans, in order to provide these services, a home improvement business needs to partner with Sunlight Financial.
Through this partnership, the homeowners which are interested in the installation of residential solar systems can access different financing options.
The company was founded in 2014 by Matt Potere as one which promoted renewable energy as a major environmental benefit. Sunlight Financial is headquartered in the Greater New York Area, East Coast, Northeastern United States. However, they operate outside of the Greater New York Area, offering their services across the nation to all states in the U.S peninsular as well as in major cities such as San Francisco.
For business alternatives, you can also check our Service Finance Company review or Aqua Finance review.
What Services does Sunlight Financial Offer?
As a point-of-sale provider for contractors and their businesses, Sunlight Financial specializes in two main sectors: financial services for solar and home improvement projects.
Solar
To promote energy storage, Sunlight Financial permits homeowners to take out solar loans (solar financing) for services related to the installation and maintenance of their projects. This includes paying solar installers for setting up solar systems, putting in solar batteries, and doing roof-related work with solar companies such as solar panels, among others.
In order for a homeowner to be granted a financial service for solar power projects, the partnering contractor needs to seek approval. Sunlight Financial is characterized by a two-step process, namely an optional pre-qualification stage along with a credit approval phase.
Home Improvement
There are a number of sub-categories under home improvement for which Sunlight Financial facilitates consumer finance options. Below you will find a breakdown of some of the more significant ones:
Roofing
Sunlight Financial provides loans for homeowners who need to undertake projects related to their roof. They provide coverage for water stains, punched holes, damage due to environmental agents (such as from a tree branch), or any other project which requires a roof to be repaired.
HVAC
Sunlight Financial's services also extend to homeowners who need to access financial plans to cover immediate expenses incurred from HVAC projects. This covers expenses that range from HVAC repairs to replacements.
Decks/Patios
Within the general area of home improvement, Sunlight Financial also assists contractors whose homeowners need finance plans for work related to decks and patios.
Windows
Replacing damaged or broken windows is a typical expensive cost which homeowners need to bear the financial weight of. Sunlight Financial has sought to provide aid to contractors whose clients need to access financial planning solutions.
Fencing
In addition to the niches mentioned previously, Sunlight Financial also offers homeowners finance options for projects that involve repairing, replacing, or installing a new fence.
Drawbacks of Sunlight Financial
While it is true that Sunlight Financial has gone on to become one of the most recognizable companies which provide financial planning for homeowners through their contractors, not all that glitters is gold.
There are a number of drawbacks to partnering with this finance company.
Here is a breakdown of the two main setbacks that contractors run the risk of dealing with when partnering with Sunlight Financial:
1. Inflexible loan approval amounts: While Sunlight Financial has expressed their desire to provide homeowners with access to a line of credit, they are sure to explicitly state their unwillingness to veer from loan thresholds that they have earmarked for certain services. For example, when it comes to decks and patios, they indicate that their loan amounts do not exceed $50,000. Needless to say, for more elaborate projects which require more budget, some homeowners may need to access more funding, something which Sunlight Financial is not willing to offer.
2. Customized finance options: While Sunlight Financial does claim to offer multiple finance plans, they are all standardized options that may not necessarily meet a homeowner's needs. Consequently, this puts the contractor or partnering business at a disadvantage since they are not meeting the demands of their clients.
Should You Use Sunlight Financial?
Although Sunlight Financial does offer a line of credit financing for homeowners through their contractors, by no means should partnering businesses consider them as their first option.
Instead of settling for less, you can source even better finance plans for your clients.
Here's how.
Additionally, you can also check our United Consumer Financial Services review.
Time Investment Company vs Sunlight Financial
| | | |
| --- | --- | --- |
| | TIC | Sunlight Financial |
| Loan amount | Flexible | Set limits on all loans provided. |
| Finance plans | Customized finance plans that are designed to allow the borrower to repay their debt at a comfortable rate. | Non-flexible ready-made finance plans. |
Time Investment Company (TIC) is the recommended loan funding company for home improvement services in all areas where Sunlight Financial falls short.
As a small family-owned business operating for over 35 years, we are sensitive to the needs of homeowners. We also understand that despite having multiple finance plans, there is no one ready-made clear cut solution for every client's situation.
For that reason, we pride ourselves on meeting with every single one of our clients to evaluate their specific financial needs so that together, we can create a customized financial plan that meets the demands of the final client.
When designing our finance plans, we are flexible with regard to the loan amounts and interest rates we grant.
Unlike Sunlight Financial which places a direct limit on the amount which a homeowner can secure, we are willing to accommodate approved homeowners within the best of our financial restraints to aid them in securing the financing they need at monthly payment rates that don't hurt their pockets.
At TIC, the best interest of contractors and their clients is paramount. Our team works around the clock to double-down on the financial solutions you need to keep you and your customers happy.
Leverage Time Investment Company For Home Improvement
When looking for finance options for home improvement, there's no need to look any further than Time Investment Company.
Take advantage of our flexible financial planning solutions and credit expertise assets today. Fill out an inquiry form to learn more.