Implementing Home Improvement Financing in Your Company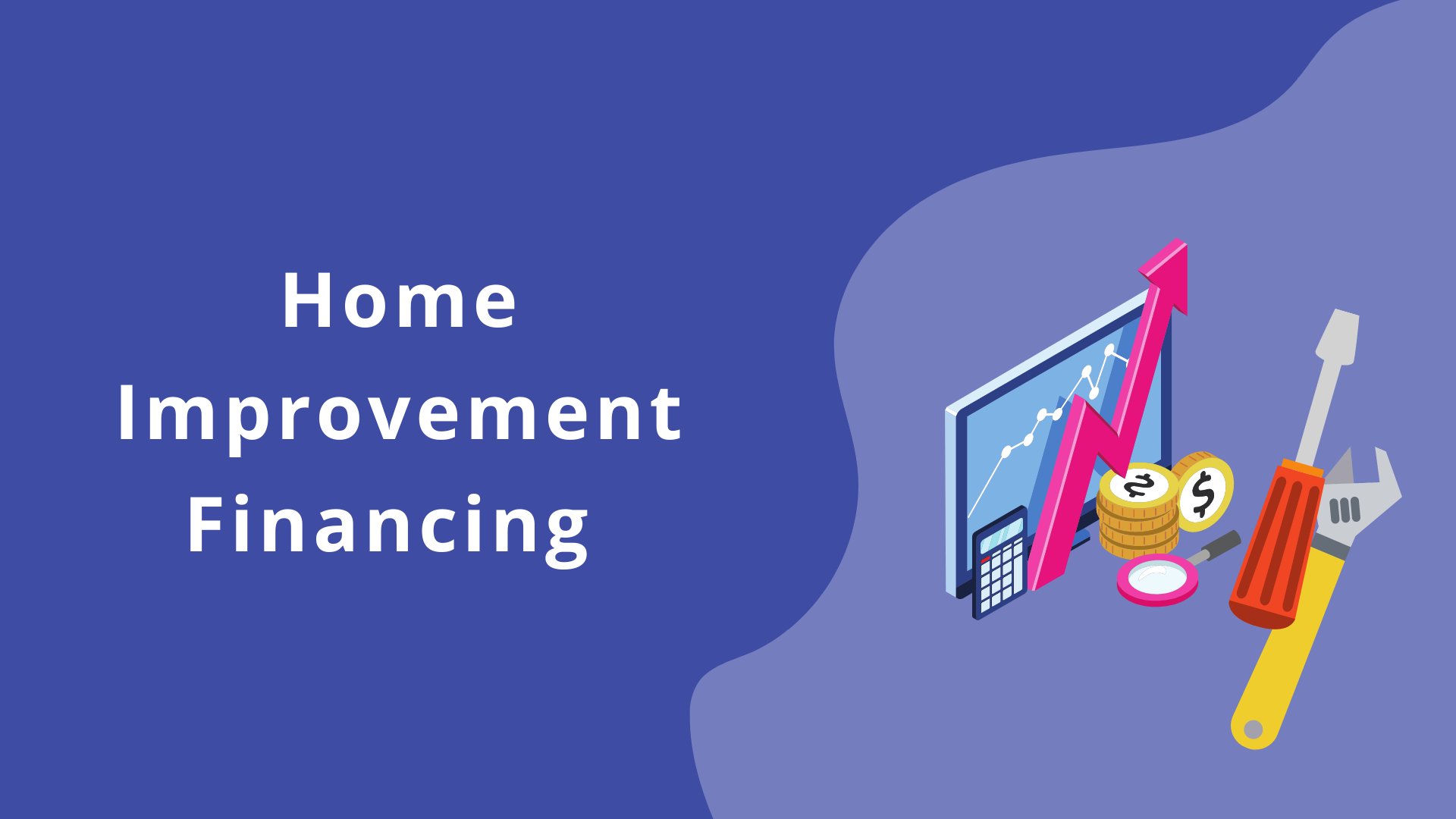 Time Investment helps make it simple to implement home improvement financing into your company. After submitting an online application, your homeowners are able to secure financing within minutes for their home improvement needs. Keep reading to learn more about the industry demand for home improvement financing, your financing options, and the benefits to your company of partnering with Time Investment.
What is Home Improvement Financing?
Home Improvement financing allows homeowners to obtain credit to pay for their services over time, rather than be forced to save, delay or turn down a contract. Homeowners are willing to take on larger projects if they can finance them over time. These financing packages work just like a property improvements loan.
Home improvement financing benefits your business by allowing homeowners to say "yes" and proceed, leading to more closed deals, contracts, and projects. It also leads to saved time by allowing companies to focus on completing the project, rather than billing and collecting payments. It reduces the upfront cost by allowing homeowners to pay in monthly installments over a period of time.
Third party financing companies are focused on the customer experience and offer flexible repayment terms. Home Improvement financing also saves service providers money by reducing credit card service charges.
Financing plans can be partially tailored by your company. You can also select which services, projects, or bid sizes qualify for such financing; giving you the power to offer only the options that benefit your company. For example, you can offer financing for quotes above $1,500 that fit these categories:
Painting
Plumbing
House Repairs and house remodels
Tenant Improvements
Window Installation
Siding and gutters
Door Installation
Concrete
Paving/Grading
Landscaping
Restorations
Entire general contracting services
Safety upgrades, and more.
Or, you can pick and choose which services qualify, and for which bid amounts.
In a busy company, offering and processing financing can seem like a burden. It takes staff to explain options and complete the process. With the administrative burden of home improvement and construction industries, the idea of more paperwork and more staff time seems overwhelming. Time Investment makes home improvement financing simple, convenient, and quick for companies and their homeowners. Easy applications, with credit reports and approvals within minutes.
What Financing Can Do for Home Improvement Businesses
Offering home improvement financing for your clients can not only help close sales but improve your downstream business.
Boost the sales of your home improvement services:
A recent Discover Home Equity Loans poll revealed that while the majority of homeowners plan to start a home improvement project in the near future, only 25% of them feel they actually have enough money saved up for the project. Offering home improvement financing in your business can help capture this 75% of homeowners in need of it. By offering a finance plan which enables a customer to avoid the full brunt of their home improvement costs all at once, it increases the chances that they will contract with you to handle their project.
Improve your customer reach
By presenting finance plans to cover the cost of a project, you are now opening up your services to new homeowner segments who would otherwise not afford to pay for projects upfront.
Stand out among your competitors:
The need for financing for home projects is on the rise. You can help your clients move forward, and view your company as their preferred solution. You can increase your deal size, close more deals, build loyal customers and more.
Improve brand image:
Offering home improvement financing can help your clients view your company as an entire solution for making their home improvement dream projects a reality. Everything from planning, construction, to financing. A McKinsey & Company report suggests that consumers' acceptance of financing at the time of purchase has risen considerably since 2018. Many of your homeowners are already aware of financing options available to them. They are more likely to accept a project quote if financing is offered.
Is There a Demand for Financing for Your Home Improvement Services?
Home Improvement projects can be costly for your clients. While they may desire to have a new bathroom, a new paint job, or any other project that will improve their comfort and quality of life, they often turn down these projects or shop around for competitors when they see a quote and bid proposal. Many homeowners simply underestimate the costs involved in making their dream project a reality.
Offering home improvement financing can help them contract with you and move forward. This is especially true if the project is designed to improve the value of their home, and they plan to sell their home shortly after completion. This helps you in closing sales and keeping homeowners happy.
Traditional Types of Home Improvement Financing
If homeowners do not have the cash saved up to pay for your services, they may have to look for other ways to finance, including personal bank loans, HELOCs, mortgaging, and credit cards. In addition, your company can expect to pay a bank processing rate of 2.5% to 3% of these projects if they are paid through credit cards.
All of these financing methods can be a burden and difficult to obtain. Whether it is the need to go through a long, formal bank closing process, with house appraisal, or the high-interest rates of credit cards, forcing your customers to rely on traditional financing methods could lead to rejected contracts, lost customers, scaled-down projects, and simply a loss of sales.
Here are some ot the traditional financing options your potential customers might be considering:
Unsecured Personal Loans
Unsecured personal loans are loans from traditional banks and lending institutions that allow borrowers to receive funds without having to put up assets like their house and car as collateral. However, because they are "unsecured" with no collateral, they typically come with high interest rates, and require high credit scores to cover the risk.
Because of their unique direct relationship with home improvement companies, Time Investment Company, and other third-party lenders are able to offer unsecured personal loans at more competitive rates than traditional lenders. For homeowners with good credit, they don't require assets or collateral in order to be approved. And because of the volume of these direct loans, they are able to offer a competitive interest rate, similar to credit unions, and offer loans for many credit score tiers.
Home Equity Loans
Also known as a second mortgage, a home equity loan allows customers to use the equity in their home to serve as collateral. While these may be at a lower interest rate, they are an additional mortgage, and require many of the standard documentation and fees, including appraisals, to be approved.
Home Equity Line of Credit (HELOC)
Oftentimes confused with a home equity loan, a home equity line of credit is a different type of financial product that operates like a credit card. Instead of a lump sum of money loaned, there is a credit limit that a homeowner can use on an as-needed basis.
However, applying for a HELOC requires many of the same hassles of a mortgage or home equity loan, along with high closing fees.
Cash-out Refinance
With cash-out refinancing, homeowners refinance their entire current mortgage and walk away with additional cash in the bank (with a higher mortgage loan balance). Just like a HELOC and Home Equity loan, cash-out refinance can have high closing fees, lots of documentation, and be a long process.
The Problems with Traditional Financing
Unsuitable interest rates: Unsecured personal loans, credit cards, and cash-out refinance can be very expensive.
Unfavorable repayment periods: Many traditional financing methods are too short (leading to high monthly payments) or even too long.
Loan limit: Some traditional financing methods simply have too low of a limit, making the project impossible
Benefits of Using Third-Party Homeowner Financing
Third-Party Homeowner Financing offered through Time Investment is beneficial to your company for a number of reasons. These include:
Returning Clients – Homeowners who have had a successful project are more likely to come back to you for future home improvement projects. Financing makes these projects possible.
Increase in Referrals – Word-of-mouth referrals often occur during and after both major and minor home improvement projects.
Accounts Receivable – Time Investment handles collecting payments. You are paid immediately.
Company Differentiation –  Set your company apart from other contractors that do not offer to finance their services.
Profitability – Offering financing simply leads to more and larger projects. It removes objections from prospective customers, and allows them to say "Yes!"
Instant Payment – Your company receives your customers' full payment upon project completion, to improve your cash flow.
Why Customized Home Improvement Financing Works
Personalized home improvement financing allows both you and your customers to move forward on a project. With property improvement loans made directly through your office, backed by Time Investment, you'll be able to do business with a wider range of clients.
Most importantly, you make it easier for homeowners to want to partner with you, thus enabling you to secure more contracted services. By giving them the option to make monthly payments instead of paying for the entire project at once, your company can capture more sales, convert prospects, and complete the project successfully. Your business gets paid in-full, immediately, yet your customers can enjoy the convenience of paying over time.
Why Time Investment for Home Improvement Financing
Time Investment Company (TIC) is a family-owned finance company with over forty years of experience helping home improvement service contractors offer financing to their customers.
We help you allow your customers to pay over time, at low interest rates, and on terms they need. We handle all of the details, approvals, and payment collection. You get paid immediately and can move on to the next home improvement project.
As an online lender, in total, we have collaborated with over 2000 dealers and have funded in excess of $775M in successfully-repaid loans.
Partner with a company that has a proven track record of helping businesses in satisfying the financial needs of individual customers.
If you want to discover more about what a partnership with us can do for your business leave your contact information on the top of this page and we will reach out to you with more details.