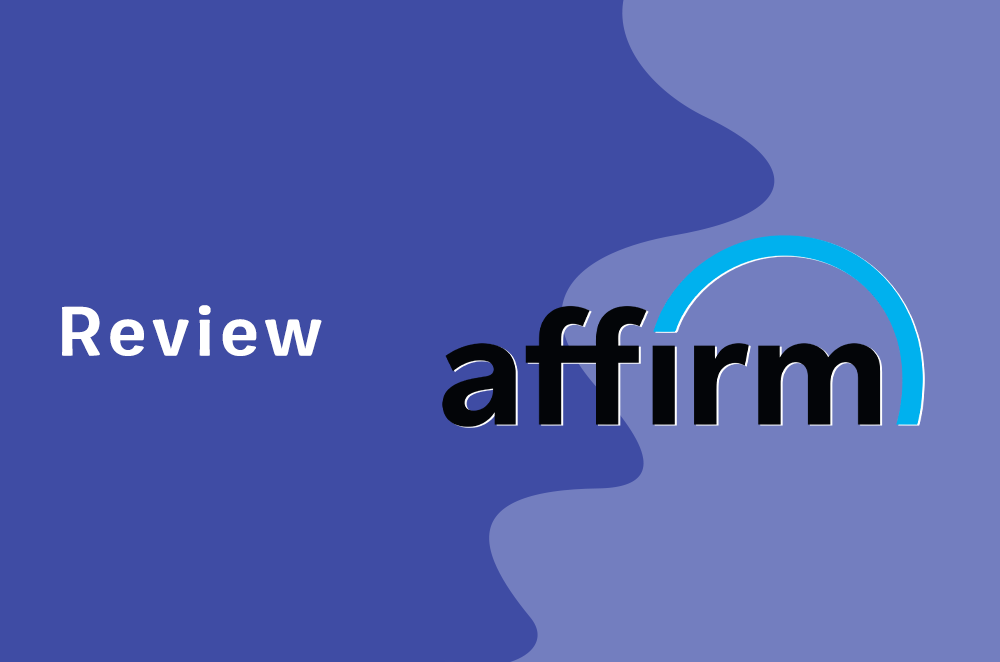 Interested in determining once and for all whether it's worth partnering with them Affirm?
You've come to the right place as this will be the topic of discussion in this article.
For the last few years, Affirm has started gaining more relevance in the financial industry as more people continue to leverage their services as a lender.
However, while it's true that they have gotten increased traction, their popularity does not necessarily imply that the financial services they offer are an ideal match for your company's specific needs.
For that reason, in this review, not only do we flesh out the services offered by this company, but we also provide an objective evaluation of them to help guide you in the financial decision-making process for your business.
Let's get right into it.
What Is Affirm?
Affirm (Affirm.com) is a loan financing company that allows online shoppers to buy goods and services from virtual merchants by way of point of sale credit options.
In a nutshell, similar to how Klarna works, through Affirm, people can finance items or services from select stores that they come across on the internet. In effect, they end up accessing a line of credit that enables them to partially pay a merchant for a given item or service. In turn, the shopper then gets the item and clears off their credit debt through fixed monthly payments over a specified period of time.
Founded in 2012 as a consumer app that facilitates retail purchases, Affirm sought to make it easier for people to access lines of funding when shopping online.
In order to do so, they have partnered with 2,000 retailers such as Casper, Expedia, and Walmart, among others. In other words, an online shopper who uses any of the retail platforms with whom Affirm has collaborated can access the service.
IFor further options, you can also read our Acorns review.
How Do You Sign Up for Affirm?
In short, Affirm operates in a similar fashion to a credit card rather than a debit card. In the same way that a credit card company permits you to purchase something and repay it at a later date following a series of predetermined agreements, so too does Affirm allow one to access a similar line of funding.
Prior to using them as a lender at checkout, you need to first register an account with Affirm. If you are under the age of 18 and/or you are not a permanent resident or citizen of the United States, you will not have the eligibility needed to create an account.
How Does Affirm Work?
As is the case when shopping online with a line of credit, depending on the merchant and specific item, you may be required to make a down payment upfront on your purchase. This is especially true when making big purchases. A down payment can range from anywhere between 10 - 50% of the total cost of the item you are buying.
Some borrowers are not willing to put so much down on a down payment. Therefore, in such cases, Affirm may not approve you for a line of credit.
However, assuming that you have been approved for credit, once you have reached checkout at one of Affirm's partnering retailers, you will be provided with three repayment options:
● Three-month repayment: This means that you need to repay the total amount funded through credit within a three-month time frame.
● Six-month repayment: In this case, Affirm provides you with a six-month window to cover the expenses incurred in your line of credit.
● 12-month repayment: Here, Affirm grants you twelve (12) months to pay off the credit which they provided to you.
Once the buyer selects the repayment option, they will be redirected to a page that indicates that the payment has been processed successfully. Then, you will receive the service with Affirm in turn transferring the payment to the merchant for your purchase.
Once that is done, Affirm then acts as the creditor for your purchase and will forward reminders concerning your monthly payment by what you had selected at checkout.
Usually, Affirm programs these monthly payments so that they are effective one calendar month following the date of your initial purchase. In other words, if you made your purchase on April 15th, then in all likelihood, your first monthly payment date will be the 15th of May.
Affirm & Credit Scores: What You Need to Know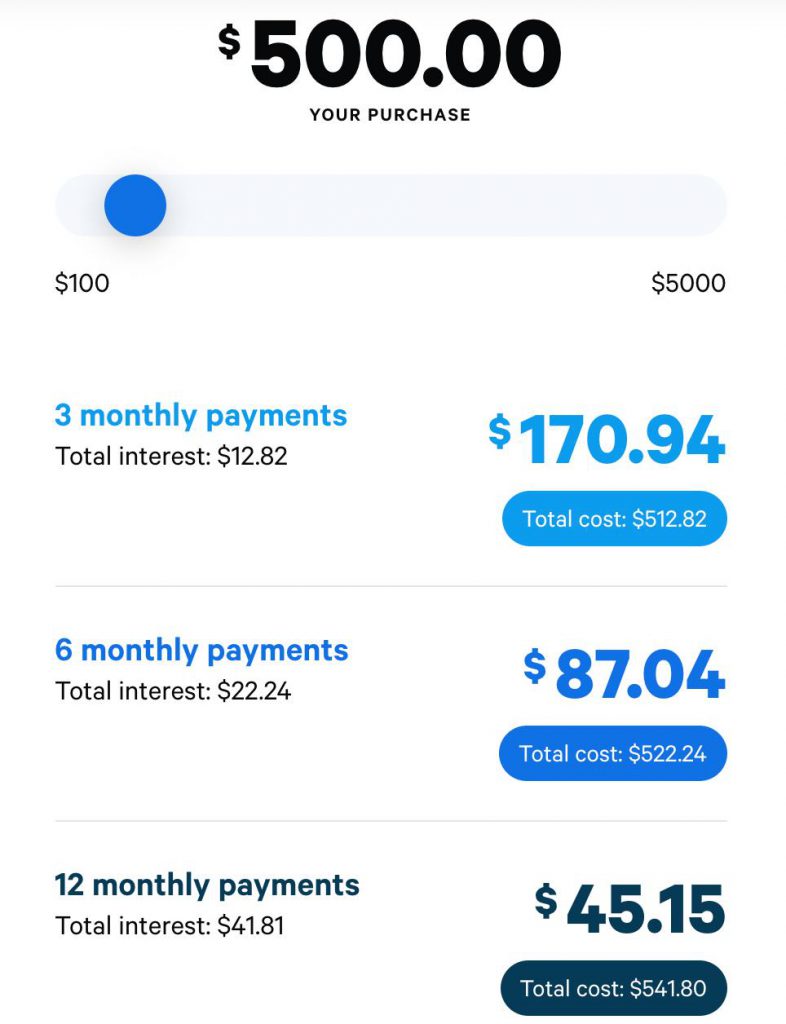 Credits: Affirm
According to Affirm, there are no minimum credit requirements or credit score needed to use their services.
However, that can be misleading.
When you apply to become a member of Affirm, they conduct a 'soft credit check' on your account based on the credentials you provided to determine whether you are a trustworthy borrower. This act of compliance includes a revision of your payment history (credit report), the length of time for which you've had a credit history.
If Affirm does not believe that you meet their standards to issue credit to you, then you shall be denied.
Having said that, the check which they conduct does not affect your credit score. Neither does the act of creating an Affirm account, being pre-qualified, and applying for a line of credit impact on your score.
That said, if you elect to proceed with an Affirm loan, then the timeliness of your payments will have an impact on your credit score. This is because Affirm provides a report to Experian, a credit reporting company, and the information included in said report plays a role in your credit score.
Consequently, based on your credit score as well as the purchase made, Affirm may charge you an Annual Percentage Rate (APR) from anywhere between 0% to 30%. This constitutes the amount you will be required to pay in interest rates throughout the totality of your repayment period.
When it comes to loan amounts, Affirm provides borrowers with a line of credit that goes up to $17,500. This means that as long as your required amount does not go past $17,500, you meet one of the minimum requirements for Affirm.
When it comes to repayments, Affirm does not charge late fees. Nonetheless, interest will still be charged on the outstanding balance which you have not paid yet whether you make late payments or not.
Affirm: Drawbacks
All in all, when one looks at the finance options, loan terms, and conditions that Affirm provides, there are a few elements that may attract possible borrowers.
However, it is undeniable that there are several facets that may cause a serious inconvenience to people looking for a line of credit depending on their specific needs.
To begin with, the most obvious downside to Affirm's financial options is the amount that they are willing to fund. Depending on the type of online purchase for which you are looking to access a line of credit as well as whether they are large purchases or not, $17,500 may not be enough. Affirm is strict about the maximum loan amount that they are willing to fund, so a borrower has no chance of convincing them to alter their loan amount to satisfy their needs. While their willingness to not include any hidden fees is nice, the reality is that the loan amount leaves a lot to be desired.
Furthermore, Affirm offers a very limited number of refinance options: three to be exact. While those three options do suggest that some effort was made on Affirm's part to provide some level of flexibility to possible borrowers, there is a lot of room for improvement.
On one hand, the three options provided all require the borrower to commit to repaying their loan within one (1) year. Needless to say, for many borrowers, a short-term repayment period is not an ideal solution. If you are a commercial client with lots of expenses to cover throughout the year, committing to paying off debt within a short space of time can be a huge inconvenience.
On the other hand, Affirm does not give borrowers much more flexibility when it comes to determining a reasonable payment period. The credit bureau does not express a willingness or interest to negotiate with potential borrowers on a possible repayment plan which suits their specific financial needs.
If Affirm isn't down your alley, you can also read our Synchrony Bank review for credits and saving or Care Credit review for healthcare saving options.
Final Thoughts On Affirm
In summary, despite the willingness to have a positive impact on the credit industry in the United States, there are still several areas where Affirm falls short.
Not only are their financial options limited in terms of budget and payment plans, but there is also an inherent lack of flexibility which the company projects both in their monetary restrictions as well as in providing borrowers alternative options that help them cover their credit debt comfortably.
Commercial clients are particularly disadvantaged if they were to use Affirm. Not only does the relatively low maximum loan amount of $17,500 constitute a setback depending on a company's needs, but the one (1) year repayment restrictions can also be a letdown.
Under no circumstance should a borrower rush to use Affirm as depending on what you're looking for, you may not find a solution to your credit needs with them.
Instead, you can leverage another line of credit that covers the holes left by Affirm in their repayment options.
Time Investment Company vs Affirm
Repayment term
TIC works directly with borrowers to develop repayment terms which are flexible and reasonable for them to commit to.
Borrowers can only choose between three (3) repayment plans, all of which require them to pay off their credit within one (1) year.
Time Investment Company
Affirm
Loan amount
To be determined after meeting with the borrower. TIC is flexible and strives to meet the demands of our clients.
$17,500 maximum, non-negotiable.
Interest rates
Negotiable: done on a case-by-case basis prioritizing the needs and comfort of medical patients while guaranteeing
care health providers timely receipt of their payments.
0-30% fixed. The borrower cannot negotiate an interest rate with their lender.
Time Investment Company (TIC) is the go-to loan funding company to replace Affirm if you are not satisfied with the finance and repayment options that they provide.
Where Affirm falls short with inflexible credit and payment options, TIC lends a helping hand by delivering highly flexible plans which borrowers can access in record time.
Being a small family-owned business providing both commercial and personal loans, we understand the importance of being flexible in all of the solutions which we offer. Each and everyone's financial situation and circumstances are different and in most cases require a different remedy than the typical, standard one-size-meets-all approach to debt coverage.
Instead, we meet directly with prospective borrowers to clearly identify your specific financial needs so that we can develop customized loan and repayment terms that are comfortable for you to commit to.
For the last 35 years, this is the approach that we have taken to help others secure the line of credit they need. During that time, we have successfully collaborated with more than 250K customers, funding more than $75M in loans.
For commercial clients, our team of professionals meets with your leaders to determine finance solutions and payment schedules to which your customers will be attracted. That way, they can enjoy the goods and services which you provide at repayment terms and conditions which are reasonable and easy on their pocket.
We work around the clock to deliver the services you desire. You can be sure that our team will assist you in doubling-down on the kind of solutions that will enable you to access what you need.
Start Leveraging Time Investment Company Today
If you are searching for a line of credit to fund standard or larger purchases from online merchants, then there is no need to settle for less.
Take advantage of the flexible, made-for-you finance and repayment options provided by TIC to access the goods and services you need at a comfortable and reasonable rate.
If you are a commercial client, please check out our easy application process to get started.