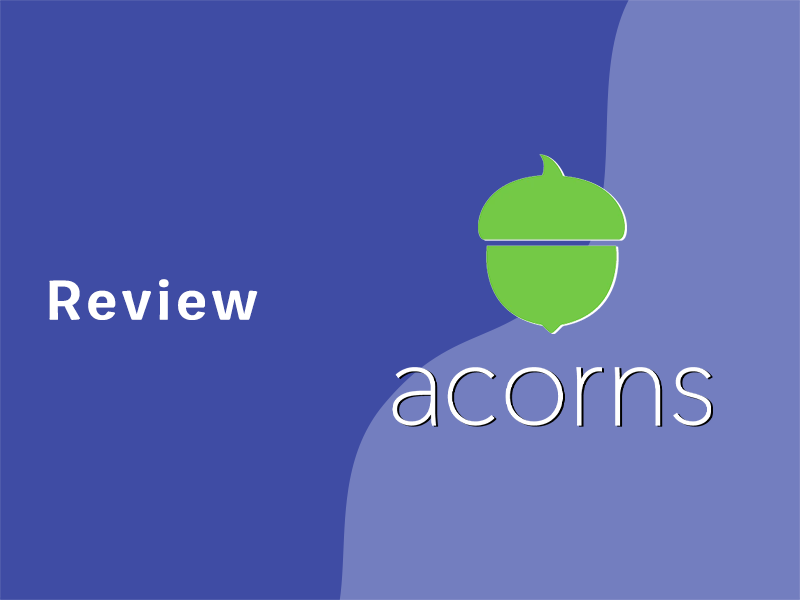 Looking for the ultimate Acorns review to find out whether it's worth the investment or not?
You've come to the right place.
Ever since Acorns hit the finance and investment industry in 2012, more and more people have become interested in the services which they offer over the years.
The stats don't lie.
According to a report from TechCrunch, within just one month following Acorn's launch of their retirement account service, they pulled in roughly 100,000 sign-ups. The same report speaks to the platform's ability to rake in as many as 3.5M users within the first six years of being founded.
Therefore, it comes as no surprise that anyone who is interested in finance and investment will be inclined to know whether they may derive some benefit from Acorns or whether they are better off leveraging another resource.
In this article, we will dissect Acorns' services and provide you with a comprehensive review that will enable you to determine whether this is the right platform for you.
ICheck our Affirm review if Acorns doesn't seem like the right fit for you.
Now, let's get right into it.
What is Acorns?
Acorns is a financial investment and wellness SaaS application and platform (available on both Apple and Android devices) which allows one to practice healthy saving habits while simultaneously repurposing those savings into investment opportunities.
To be more precise, they rely on micro-savings financial strategies that force a user to put aside small amounts of their disposable income into an Acorn account which can then be used for one of many investment purposes.
Established in 2012, Acorns has gone on to become affiliated with the Federal Deposit Insurance Company (FDIC). They are headquartered in Irvine, California.
Based on a report shared by Forbes, the number of Acorns users as of 2023 stands at 6.8M. According to information shared in the same report, this constitutes an increase of an estimated 4.6M from 2019. In addition, stats from Forbes indicates that Acorns was last valued at $860M, receiving as much as $257M from PayPal alone.
Acorns is a SaaS that has experienced significant growth throughout the years. In the first quarter of 2020 alone, another report from TechCrunch indicated that the platform had managed to increase their signups by 45% of their usual turnout.
Needless to say, it remains one of the most popular software tools within the finance and investment niche and has attracted audiences across various demographics in the United States.
How Does Acorns Work?
Generally speaking, Acorns uses automatic micro-saving deductions on purchases you make in order to build up your savings account while simultaneously enabling you to invest in an area of your choosing.
To be more specific, Acorns links their SaaS platform to a user's credit card, checking account, or bank account (depending on your preferred payment method). Each time funds are deducted from said card or account, Acorns rounds up the numerical value corresponding to the transaction to the nearest dollar. For example, if you make a purchase that equals $5.20, Acorns will round up your transfer to the $6.
Acorns then calculates the difference between the rounded-up figure and the exact value of your transaction (in the case of our example, 80 cents) and transfers that micro amount to the Acorns account.
This can be done either automatically through Acorns' settings, or manually where you pick and choose the transactions which you would like to be rounded-up and the difference transferred to your Acorns account.
What Services Does Acorns Offer?
That said, while at their core Acorns services center around using spare change to encourage micro-saving habits, the platform facilitates a series of sub-services that go beyond building a savings stash by targeting specific sectors within investment and allowing their customers to access them.
These services can be broken up into six main categories:
Acorns Invest
Acorns Invest refers to the account where the cents deducted from each transfer you approve (either automatically or manually) are transferred.
When it comes to Acorns Invest, a user can decide to keep the money that they have accumulated in their savings account for that exact purpose, or they may elect to invest it in something else. This is facilitated through Acorns' interconnected investing app which lets you link your savings account to a given investment portfolio which you can use for instant micro-investing.
These portfolios are made up of a combination of either stock, corporate bonds, or investments.
Stocks enable one to actively participate in the ownership of a given business through fund allocation while bonds allow you to invest in a business and collect interest on the money that you put in accordance with the amount of time that your loan has been with the company.
With this function, the Acorns app allows you to communicate your financial goals. In its capacity as a robot-advisor, it then records your preferences and uses them to propose suggestions for exchange-traded funds (ETFs), which are broad holdings of bonds or stocks.
Acorns Later
Acorns Later is similar to Acorns Invest in the sense that it acts as a savings account. However, in this case, it is geared specifically towards retirees so that they can put money aside for when they have stopped working.
With Acorns Later, the SaaS app allows you to create an Individual Retirement Account (IRA). Based on the makeup of your specific account, the platform automatically recommends a plan that coincides with your lifestyle and goals. This may be either a ROTH IRA, SEP IRA, or another type of plan which coincides with your specific necessities.
Acorns Spend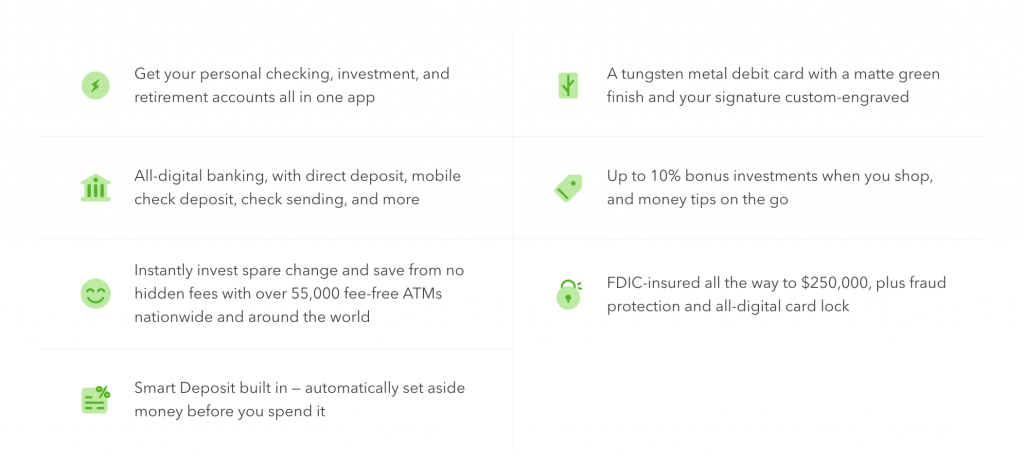 Credits: Acorns
Acorns Spend takes the form of a checking account equipped with a tungsten metal debit
card which allows you the standard functionalities expected of a debit card and more.
In terms of the cost associated with the service, Acorns Spend users pay a monthly fee for either one of three subscription modes:
1. Acorns Spend Lite: For just $1 a month, Acorns Spend Lite users enjoy the function of 'Round-Up' where they invest fractions from transactions that they have completed into the savings account. In addition, you can also benefit from bonus investments (found money) from the partners at Acorns as well as access additional resources, such as blog posts and articles available via the platform that treat subjects such as investment and financing.
2. Acorns Spend Personal: For $3 monthly, users enjoy both an Acorns Invest and Later account, depending on their necessities. In addition, you have access to an Acorns Spending account which does not charge any account fees as well as free withdrawals from ATMs throughout the world. You are also entitled to as much as 10% in bonus investments as well as automatic investment opportunities through the app's integrated investment functions.
3. Acorns Family: At a cost of $5 a month, users enjoy the same perks associated with the previous types of accounts as well as some additional ones. These include the ability to set up automatic recurring investments, potential tax savings as your account grows, and personalized financial advice for your family.
Acorns Early
Similar to Acorns Later, Acorns Early enables one to establish a savings and investment account that allows you to put away important cash for you and your family. Essentially, it asks in much the same way that you would set up a traditional college fund for your children when they are young so you can begin saving for their future.

Credits: Acorns
With it, you are allowed the same flexibility and perks associated with most account types, including recurring investments and additional resources on financing and investment to help you manage your wealth and savings.
Acorns Earn
Additionally, Acorns offers extra perks for its users by way of bonus investments which you earn based on the companies where you make your purchases. As it stands, Acorns has established cash-back partnerships with some 350+ top brands. These include names such as Airbnb, Hotels.com, LifeLock, Stitch Fix, Apple, Nike, and Expedia, among others.
With these affiliate retailers' rewards programs, for each transaction that you make through your Acorns account, you will be given a bonus investment within 60 to 120 days following the purchase. That said, you will get real-time notification of your eligibility for the bonus.
This bonus investment applies not only for affiliate company transactions but also to other incentives as well. For example, if you have registered a new job or source of income through Acorns, then you are entitled to bonus investments. You can also do so by inviting friends to join Acorns. Each successful registration made by a friend of yours entitles you to a $5 investment.
Acorns Grow
Acorns Grow is a joint-entity and platform which seeks to provide users with the necessary tools and information needed to succeed at investing.
This digital space combines both articles, blog posts, and informative videos that educate the viewer on a particular topic or subject matter in the niche, empowering them, in turn, to use that knowledge for the benefit of financial gain.
Acorns Grow is equipped with social media platforms (Facebook, Instagram, and Twitter respectively) which seek to deliver the same informative content through other channels that its users typically frequent.
What are the Benefits of Acorns?
Acorns is a platform that promises several pluses to the user who has registered an account with them and leverages their services:
● Automated Processes: Acorns incorporates several automated processes that allow their users to save money without even actively doing so. Their Acorns Invest feature allows one to shave off cents on every transaction made and build their savings account which they can then repurpose as they wish, be it by way of investment or any other purpose you see fit.
● Manual flexibility: In as much as you have the option to set up automatic savings and investment practices, Acorns still provides you with the flexibility to dictate the flow of your money and investments. If you do not wish for a particular transaction to charge you more than you desire, then you can modify your settings to suit. This allows you not only more control over your money but depending on your specific savings or investment strategy, it also grants you more opportunities for bigger payouts.
● Attractive savings opportunities: In addition to the standard Acorns Round-Up service, it must also be stated that Acorns also provides users with ample ways to save money. This can be seen through their no-fee ATM withdrawal perks and the absence of account fees (such as account maintenance fees or wire transfer charges, among others). What's more, one doesn't need to have a minimum balance on their card, meaning that you will never be charged for having no money on your account.
● Earnings opportunities: Acorns also allows you to build additional revenue. For starters, the automatic and manual investment opportunities give you ample means to reel in extra money through the smart use of bonds, stocks, and more. Of course, the bonus investments awarded to you based on the affiliate partnerships offered through Acorns is another way to earn based on the purchases you make.
● Planning Ahead: Additionally, Acorns specializes in accounts that enable you to save for long-term purposes, namely the Acorns Early and Acorns Later functions whereby one can begin saving early toward a specific goal, be it retirement (personal finance) or college students' expenses. Needless to say, the automatic saving functions facilitated through Acorns make it easier for people to implement these healthy practices and jumpstart their path to better savings as early as possible.
● Educational material: Additionally, it must be stated that Acorns, through their extended entity 'Acorns Grow', facilitates additional educational resources on important topics within finance and investing. This type of material will be beneficial to any user who wants to make the most of their investment and savings so that they can see greater regards in the future. All of this material is integrated within the Acorns SaaS app thus allowing for greater ease of access to these resources.
Where Does Acorns Fall Short?
In as much as Acorns can yield a number of attractive benefits to a potential user, there are some key areas that can pose a setback to some users:
● Management fees: As you know, an Acorns user can choose between one of three account pricing types which cost $1, $3, and $5 monthly respectively. Whether Acorns' fees constitute an inconvenience or not depends entirely on your account balance or how much you are willing to spend. If you have an account that rakes in roughly $20 monthly, chances are you feel a fee of $5 a month more than someone who has an account that pulls in a lot of money monthly.
● One-time account fees: While for the most part Acorns doesn't charge fees to persons for standard transactions, if you elect to transfer funds or investments to another provider, Acorns will tax you heavily for that. To be more specific, Acorns charges you $50 per ETF whenever you want to transfer an investment. While Acorns is not the first company like this to charge a similar fee (like Robinhood), unlike others which typically charge you $75 if you want to shift multiple investments, Acorns charges you $50 for every investment you move, thus charging you more.
● Portfolio not diverse enough: While Acorns does provide you with a personalized portfolio based on your specific desires and investment goals, there is room for improvement when it comes to the individual portfolios. Generally speaking, they comprise low-cost Vanguard ETFs and iShares which cover roughly five-to-seven asset classes. While this may be diverse enough for some, if you are looking for a larger pool of classes to invest from, you may feel a bit restricted by the number of options.
● Lack of finance plans or options: Although Acorns does offer multiple avenues where you can save, here's a disclaimer: if you are looking for a different type of financial service, such as a flexible financial plan or a loan, then Acorns cannot assist you.
For more specific customer financing, check alternatives such as our Care Credit review for healthcare or Sunlight Financial review for home improvement.
Should You Use Acorns?
All in all, Acorns is a recommendable SaaS platform to practice healthy savings habits and take control of the future of your finances.
The Round-Up feature, bonus investment, and automated account processes can go a long way in helping you accrue profit either passively through savings or actively through investment opportunities.
That said, depending on the specific earnings, financial and investment needs, Acorns may be a bit too restrictive.
For that reason, it is highly recommended that you pair Acorns with solutions or services which seek to cover the areas where Acorns underperforms.
When it comes to financial needs, specifically financing planning and loans, here's how you can leverage the services of Time Investment Company to close the gap left by Acorns.
Partner With Time Investment Company For Financial Services
Time Investment Company is a family-led third-party lender that offers its clients a hassle-free way to access finance solutions, thus leading them one step closer to their goals.
Our finance company has been in operation since 1981, during which time we have facilitated over $75M in loan funding to more than 250K borrowers.
As mentioned previously, the executive at Time Investment Company comprises family members who pride themselves on delivering customized financing solutions for their clients. In other words, we meet with you, analyze your needs and financial capabilities, and work directly with you to identify a solution that will best meet your specific needs.
If you are in need of a source of financing, we at Time Investment Company offer you flexible finance plans which combine fair interest rates and payment conditions so that you can comfortably repay your loan.
While Acorns does not deliver this type of solution, you can easily pair Acorns with Time Investment Company to enjoy the benefits derived from a partnership with both businesses. On one hand, with Acorn, you will have access to finance solutions that allow your savings to grow.
On the other hand, with Time Investment, you can access a line of funding for whatever project you have in mind.
In short, it's a complete win-win partnership where you get funding and tools which allow you to save to pay back your debt.
Access Double The Benefits With Acorns and Time Investment Company Today
All in all, there are a host of benefits associated with Acorns. Anyone who wishes to save money and reel in extra cash through unique investment opportunities ought to consider this SaaS platform.
Similarly, you can rack in even more benefits by combining the services offered by Acorns with the flexible finance options provided through Time Investment Company.
Cover all your tracks with two platforms that will ensure the betterment of your financial wellbeing.
Discover more about the services we offer to find out how you can start enjoying them today.