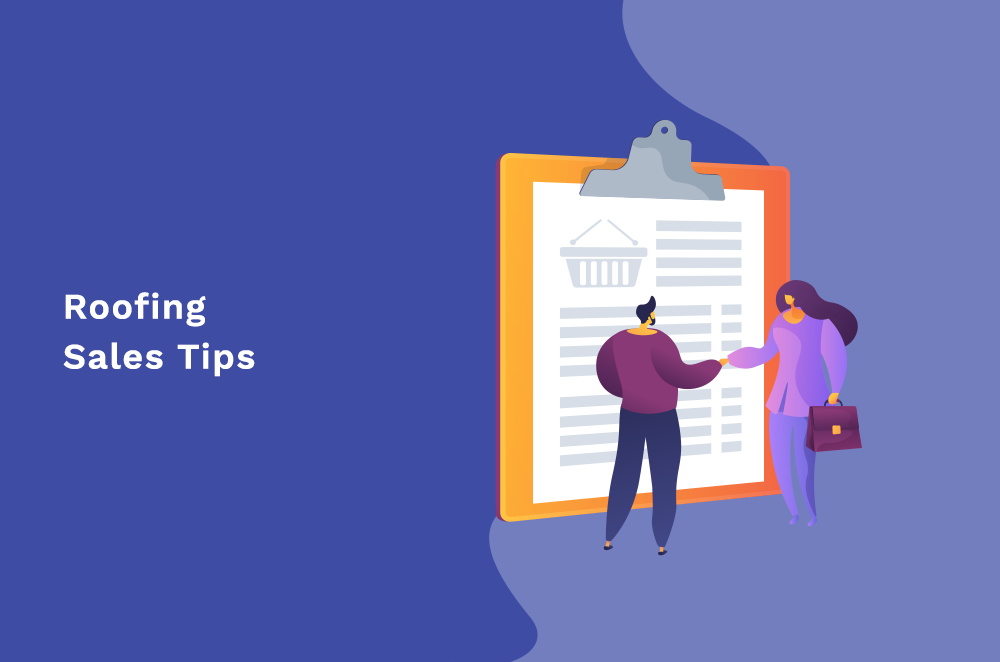 Convincing the market that your roofing services are the best is quite the work these days. Just like you, many roofing contractors are trying to service property owners. How much your business grows depends on how well you make your move.
As a roofing contractor, you should know that roofs will always need repairs or replacement. So what should you do to close sales, retain homeowners as customers, and ultimately grow your business?
This article will give the most effective roofing sales tips to help you scale through every marketing challenge you will face as a roofing company. These roofing marketing tips will prove very effective if you and your sales team practice and turn them into a habit. 
Effective Roofing Sales Tips For Contractors
While we should all agree that every roofing contractor should be a fan of digital marketing, we should also note that the roofing business is different. It is much more than just proving yourself online. Even if you have the most convincing sales pitch for your roofing sales, prospects can easily compare quotes with other roof contractors, and go with them. 
Every roofing business must have three things; quality roofing sales materials, quality service, and an effective sales plan. Without the third one, the first two will have little or no impact. Of course, roofing companies must also ensure that the roofing process is convenient for the customer.
The fact remains that property owners need roofing sale services. There are always some repairs, roof replacement, or commercial roofing work needed around the house. So how do roofing contractors convert leads to sales? 
Roof contractors need certain roofing sales techniques to ensure that they are securing potential clients and retaining them. We will discuss a few best roofing sales tips you can use as a roofing contractor to up your game in the market. 
These roofing sales tips are not a one-time step but must become a habit if you wish to stay in the roofing business for as long as you want. 
Build An Enticing Roofing Company Website With Easy Navigations 
This is one of the most effective roofing company advertising ideas. A website is your chance to entice your prospects visually. It is part of your brand identity. In other words, your time to impress starts when a prospect checks your website for roofing materials, roof replacement, or roof sale. It gets tricky when the potential client asks to speak with a sales rep for a free consultation. 
Never rule out the charm of a sleek website with easy-to-use navigations. Your website design contributes 1.94% to first impressions. Ensure that your website designs are simple and are easy to navigate. 
A prospective customer might get turned off easily if they find it difficult to move around on your website. 
Another way to keep your roofing business professional is having a website that describes everything about the business. 
Also, whether it is in-person interaction or virtual bot setup, ensure you provide the best. It makes the sales presentation and sales process much easier and convenient for the potential client. 
Professional Greeting Is Most Effective 
Too often, we have received reports of broken business relationships due to the level of courtesy and professionalism in sales presentations. Apart from making your website easy to use, you should be courteous while interacting with your customers. 
You cannot attract more customers if your responses to their inquiries or objections have a bad tone. 
Always ensure that your sales reps interact with so much passion, enthusiasm, and energy. There is a higher chance that you will convert more prospects. 
Make Professional Contact With Potential Clients As Soon As Possible
This tip is as important as the previous ones. The roofing industry is all about being professional and making people trust their home with you. Property owners always want to get a new roof, repair the old ones, get roofing sales materials, or do one thing or the other with their roof. And, there are hundreds of contractors outside there. How can you then project yourself professionally so prospects can consider you? 
Making a quick contact is one of the impressions that you are capable enough to offer quality roofing services. We advise that you reach out quickly to new leads when you find them. 19% of prospects want to talk to the sales team when they first learn about a service.
This is a popular trick: send your sales team or forward your sales presentation to the new lead within one hour. You can have standby sales reps or a manager to handle it. You never know the magic of having meaningful conversations with a lead while still new in the market. 
By All Means, Deal With Objections Quickly 
Objections are a big deal in the roofing business. Customers want the best roofing services but have many doubts and "whys." If you ever think of winning their hearts, you must handle objections even before they come up. There are different kinds of objections (quality, need, hearsay, price, etc.), but price objection seems to be the biggest deal of all. 
However, handling objections generally makes it easier to convert leads, close sales, and even get more sales. We advise you to do this before the potential client raises any. Think of all possible objections that a prospect can have and prepare your responses to them. You can have your sales team point out the objections and address them during sales presentations. 
You should aim to handle objections before potential customers bring them up. This roofing sales tip builds better connection, rapport, and trust, which can help you close deals and boost revenue. 
Be Versatile And Personal In Your Roofing Sales Presentation
Successful salespeople use personalized business approaches. One of the most effective roofing sales tips to convert potential clients is to interact with them in ways that suit them. For instance, as a roofing sales contractor, you deal with property owners of various ages. Older people might prefer to walk into your office to talk with the sales team for a signed contract, while younger people might prefer to chat you up online. 
A versatile roofing sales process and sales presentations mean prospective customers can engage with you according to their preferences. Of course, this also includes having a dedicated customer support center or sales rep to help prospects in the sales process. Versatility is one way to increase your brand loyalty.
Feedbacks And Reviews
You should always be open to positive and negative feedback from your customers. They are quite important. 
Also, reviews from your previous customers can go a long way to boosting your business. Homeowners who need a new roof, roof replacement, roofing materials, commercial roofing, or other roofing needs do not always trust these sweet words. Instead, they rely heavily on reviews. Positive reviews are extremely helpful in customer retention and generating new clients.
While customers might send their reviews, you can ask them to show their brand loyalty by leaving reviews on your website. Of course, you should publish positive reviews, but it does not mean you should not be concerned about the negative ones. Negative reviews can help you improve your roofing business as they often highlight areas needing improvement. 
In addition, reviews can help improve your roofing sales presentation as they provide valuable information about your customer service.
Sell Other Services
Every roofing company offers basic installation and shingle repair, while others have extended services. Often, homeowners want a roof repair, but you can lay out different shingle options or create sales materials to convince them. But, of course, this upselling method can go too far as the customer might feel uneasy with you trying to expand your roof sales pitch. 
However, it is an extremely helpful way to secure more sales. Instead of repair, you can pitch complete roof replacement, getting a new roof, metal roofing, and other roofing needs that might interest the prospect. 
Remember not to be pushy but introduce new services in a way that helps the prospect make an informed decision on their own. More services mean more business for your company.
Create A Pricing System
Until the prospect calls a roofing contractor to finalize the agreement, they always compare quotes with other roofing contractors. However, there is a way you can give the leads no choice but to go for your services. So before their purchase decision, you can be on the top-three list of favorites. How is this possible? 
Create a pricing system that offers three similar services with different price ranges based on the prospect's needs. It can be in this format; Basic-Medium-Premium or any other system (silver, gold, etc.)
When you do this, you are putting customers in a position where they have no choice but to consider only you before considering your competitors (if they will). 
This is one of the sales roofing tips that can help you close sales and get more business services. It also increases the average roofing sales value of your roofing company. It makes sense and will get you a great deal with the customer.
Submitting Your Sales Pitch Document This Way
Last but not least of the roofing sales tips is the pitch document. Successful salespeople are very particular about making a strong impression on potential customers even after the sales presentation. Usually, the roofing process would require submitting a sales pitch to prospective customers and a sales presentation by your sales reps. 
A sales presentation is another strategy roofing companies are very particular about. When submitting a roofing sale pitch document to the customer, it should not be generic. 
We advise roofing contractors always to make it personal and particular. That document is part of your professional image that intending customers assess. 
You can have your roofing sales reps prepare a customer-specific roofing sales pitch document that should have the following features:
Your roofing company logo

Your roofing business slogan

Your roofing company contact address and number

Your cell phone number

Your roofing company website address (highly recommended)
Lastly, you can add something to your roofing sales pitch document to further push the new customer to learn more about your roofing services. This might be a manual, pamphlet, or sales materials. This is one of the roofing sales techniques you can always rely on to work magic for you. 
Best Ways To Deal With Price Objections 
As a roofing contractor, you can have the best roofing sales pitch and make the best sales presentation but price objection could ruin the sales process. Sadly, the roofing industry is facing this issue on a large scale. Over the years, roofing contractors have failed to sell because they could not handle price objections. As a result, they cannot convince the leads to get their services at the best price. 
We discovered some ways you can deal with these objections. But first, we recommend using these tips during a roofing sales presentation. It gives you an advantage in negotiation. 
Here are a few roofing sales strategies you can use to deal with price objections:
Offer third-party financing:

You can

partner with consumer financing companies

like Time Investment to help your customers afford your roofing services. That's an excellent way to allow customers to pay in affordable monthly payments while not assuming any risks to your business.
Express less interest in the cost of roofing services

: Instead of preaching the cost of your services (low or high), explain the benefits of working with you in detail. Are there personalized offers for the leads? Tell them.
Use different payment methods:

Let them know you accept cash, bank transfer, third-party platforms, etc.
Accept installments:

  Not all potential clients can afford to pay immediately. Offer flexible payment options. Finance plans close sales processes faster, and you can get new sales. It is also good for customer retention.
Note: Always take your time to explain the reasons behind the cost of your roofing services. 
How Time Investment Helps Roofing Sales Business Grow Customer Base
Time Investment is a customer financing company that helps home improvement, HVAC, and roofing sales businesses to grow their business by offering flexible payment options to their customers. 
We understand the need to sustain customer-business relationships and are ready to help our partners' customers get high-quality products and services. 
Time Investment helps you keep your customers, grow your revenue, and promote customer satisfaction. You can contact us or call (800) 236-1177 to speak with our dedicated customer representatives to know more about our services.