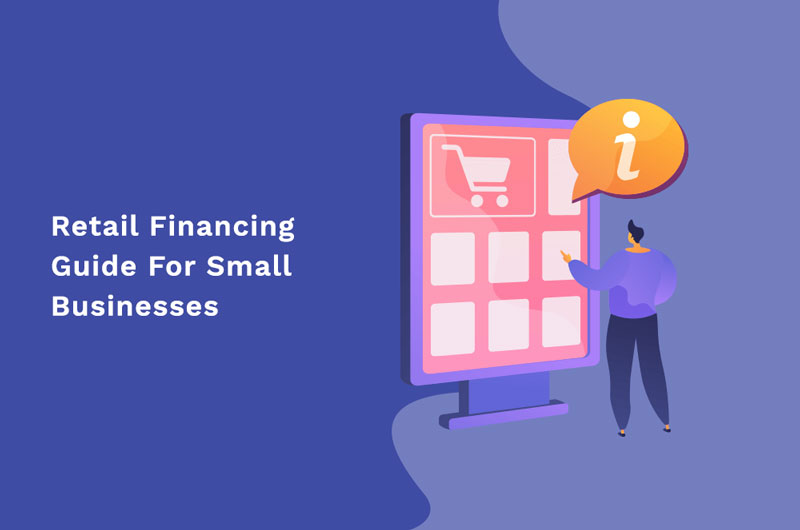 Being a small business in today's retail environment is no easy task. Every day, you're faced with customers looking for deals and special offers, competitors trying to steal your customer base, and the ever-changing landscape of technology that makes it difficult to keep up with all the latest innovations. As if things weren't stressful enough as it is, there are also financing decisions to make when it comes time for expansion or remodeling your store!
This guide will provide you with information on how retail financing works as well as some helpful tips for choosing the right type of financing solution for your customers.
Breaking Down Retail Financing
Retail financing is when retail businesses facilitate point-of-sale consumer credit or stage payment options to their customers who wish to make a purchase.
In other words, as opposed to forcing clients to pay for their purchase all in one go, use their credit card, or seek an external finance company to fund the purchase on their behalf, retailers can incorporate full credit administration systems into their customers' experience. These types of payment options are often found at checkout as a point of sale payment method as a way to expedite purchases and, in turn, increase sales.
The Characteristics of Retail Financing
Retail financing can be offered as a payment option without the need for an additional credit card terminal. This is because, in most cases, store terminals are equipped with point of sale software that includes these methods of payment.
In other words, a retail business does not need a physical credit administration system since modern technology allows finance operations to be conducted online.
Therefore, if you have a digital retail store, you can easily integrate an online credit administration system into your website as a financing option.
When offering retail financing, the customer has to pay interest on their purchase. This interest rate is typically higher than the interest rate on a credit card. This is usually because retail loans are unsecured.
However, this isn't necessarily the case. The interest amount is determined directly by your financial institution. Therefore, while in theory lenders are within their right to charge high interest rates, not all of them do.
As a merchant, It is in your best interest to partner with a lender who offers retail financing at a reasonable enough interest rate. That way, it makes it easier for you to attract customers.
Both the repayment period of the loan as well as the amount that can be requested in funding are usually determined by the lending dealer.
The Main Benefits of Retail Financing For Merchants
There are several advantages to offering retail financing to consumers.
One of the main benefits is that it will make your business more attractive. Customers are going to want a merchant who is confident enough to offer financing options, and that usually means the customer won't have any issue getting approved for an affordable loan.
What's more, it appeals to customers who have difficulty accessing lines of credit. If they don't have an established credit history, it can be difficult to get approved for a loan. What's more, if they have a bad credit score, they are going to have a hard time finding an affordable loan.
This can be especially true for customers who don't own their homes, or if they rent their residence.
Retail financing also has a positive impact on your store's branding and customer retention strategy. By making it easier for customers to access your products, you'll be encouraging them to return and purchase more. After all, retail financing is a great way for customers who are interested in buying your products but don't qualify for traditional loans, can still get the items they need.
It's also easier to run promotions on retail items when they're financed because just about everyone wants something now and not later. This way you'll be able to earn goodwill with future customers by offering them great deals upfront instead of waiting until their orders come in months down the line.
All in all, when done right, retail financing is a solid way to gain a competitive advantage over your fellow shop owners.
The Difficulty With Traditional Lenders In Retail Financing
Offering retail financing to customers has its benefits.
However, when looking to implement it, shop owners and retailers tend to look for partners who provide traditional finance options.
These include banks, credit unions, credit facilities, and other finance companies that intercede on behalf of customers and grant them the funding needed once they have been successful at the approval process.
Banks, credit unions, and other traditional financial institutions are not always the best choice for retailers looking to offer retail financing.
Why?
Well, they're typically very difficult to work with in terms of their approval process as well as lending rates.
This is because banks want to have a higher quality product than what you would see at the retail store.
And the approval process is typically very long and tedious, which can lead a customer to forfeit on their purchase, thus implying a loss in sales for your business.
What's more, these types of lenders usually offer non-negotiable finance plans to customers.
Non-negotiable finance plans mean that the customer cannot negotiate on interest rates, fees, or other aspects of their retail financing.
This is a huge disadvantage to many small businesses for two reasons: one being that they will not be able to get competitive pricing in comparison with larger companies and banks; the second reason is that they will not be able to provide financing for their customers on a case-by-case basis.
Instead, what retail businesses need are flexible finance plans.
An Overview of Flexible Finance Plans
A flexible finance plan is a payment method that provides a larger range in repayment plans, meaning that customers will not need to commit themselves for long periods just so they are eligible for monthly payments. The payment plan is up to the customer's discretion as well, which means that if their business goes through a down period, they can pay more during this time so the interest rates will not be as high.
Flexible finance plans are dynamic and can be tailored to the needs of each retail company.
An important thing to note is that retail businesses need flexible finance plans because it provides borrowers with an opportunity for upfront and no-interest options of their loans, which means customers can make payments without feeling pressured by due dates and late fees.
As a retailer, a flexible finance plan is something that a bank or a traditional lending institution is not willing to offer since it constitutes too much of a risk to their operations.
However, just because these types of dealers don't offer this service to you as a retail business doesn't mean that there aren't lenders that do offer them.
Here's how you can partner with a company that can deliver the kind of point-of-sale solution your business needs.
Flexible Finance Plans with Time Investment Company
Time Investment Company (TIC) is a US financial company based in Midwestern that connects businesses with the attractive financial solutions needed to dominate their niche. For decades, we have partnered with small business retailers providing compelling flexible finance plans for their customers as a point-of-sale purchase option.
Small businesses love to partner with us because our TIC-approved flexible plans are customized for your business needs. We meet directly with you and analyze your customers' unique financial profiles to craft, design, and implement financial plans that will entice them to use their service. That includes determining attractive repayment terms, conditions, and interest rates.
What's more, with our flexible plans, as a small business, you do not have to worry about receiving your payment. As soon as a confirmed order is registered, we release the full amount of the purchase to you. That way, you can secure the working capital you need.
TIC is equipped with an online credit administration system that makes it easy for you to monitor the progress of your customers' loan repayment in real-time.
With over 40 years of experience as financial providers, we have assisted over 250K businesses fund over $775M. These include retailers, construction companies, and medical firms, among others.
Our customer-centered approach to finance has been the driving factor behind our success throughout these years.
Don't make the mistake of settling for less with a traditional bank or lender that will subject you to non-negotiable repayment terms.
Time Investment Company will provide you with the winning finance solutions to take your business to the next level.
Collaborate with a true expert in retail consumer finance and start to reap the endless benefits it promises.
Partner With TIC For Retail Financing
The number one way to boost retail sales is to offer compelling financing options to your customers.
The terms and conditions set by banks and other traditional lenders are not ideal options for small businesses in retail.
The comprehensive package provided by Time Investment Company provides you with the finance plans, technology, and touch of customer service to transform how you offer consumer financing.
Schedule a call with one of our finance experts to learn how you can start implementing them in your operations today.