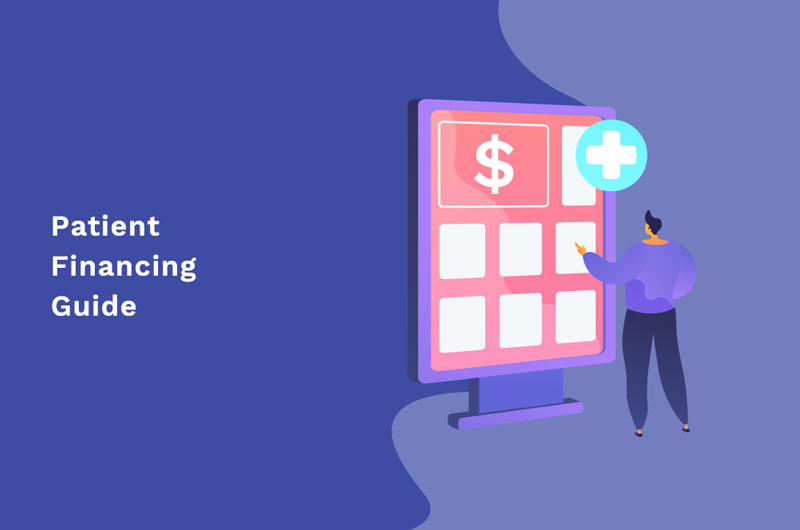 It's hard to find quality care for your loved ones. 
Luckily, patient financing is a great option for many individuals who need medical care from a healthcare organization but are unable to pay the full cost upfront. 
However, many patient care service providers across the medical, healthcare, cosmetic, and dental industries are unfamiliar with what this entails. That said, oftentimes those that do are unsure about how to offer this finance solution. After all, there are so many patient financing options available out there, each one with its advantages and disadvantages. 
In this guide, we will cover why you should offer patient financing on your website as well as how to offer it effectively.
Understanding Patient Financing
Patient financing is an option for many patients that enables them to pay their medical bills over time.
This type of financing option can take different forms. For example, it may take the form of a payment plan, typically with an interest rate attached, or through 0% financing which does not come with any fees but is only available at certain times and on specific products.
Traditionally, if a patient wants to finance the payment of their medical expenses, they would resort to using their credit card or even going to the credit union to take out a small loan.
However, more and more, patients are less inclined to go this route.
This is because there are many credit cards that come with sky-high interest rates. Many patients will not be able to pay off the balance on their card. This can lead them into a downward spiral of bad debt which they may never recover from, as it becomes increasingly difficult for them to qualify for loans or get approved for any new lines of credit in the future.
0% financing options typically only apply to medical equipment like wheelchairs and mobility aids; these products normally cannot be financed at all.
In short, traditional financing options have become less appealing. Therefore, service providers are capitalizing on this by offering attractive patient experiences with 0% financing offers amongst other patient benefits such as free delivery or installation services, just for taking out an extended payment plan (with affordable monthly payments).
Benefits of Patient Financing
Businesses that offer patient financing are known to enjoy a host of important and powerful benefits.
Let's take a closer look at some of them:
Build

patient trust: When patients see that you are willing to work with them and grant them a payment plan, they will be more likely to continue coming back. This is because financing options give your customers additional options that enable them to afford the kind of services you offer thus boosting patient satisfaction with your business.

Increase

the number of patients you service: If you offer patient financing, you will have a greater customer base. This is because patients are more willing to sign up for an extended payment plan than they would be without it.

Increase

revenue: Offering patient financing helps your business increase its revenue by allowing customers who want the services but can't afford them right away to access lines of funding that do allow them this possibility.
The key, however, is knowing the right way to go about offering patient financing to customers.
Let's dive more into the different types of patient financing that businesses have at their disposal.
Types of Patient Financing
There are two main ways in which patient financing can be offered to a patient: either internally through your own company or externally by partnering with a third-party finance entity that will manage financing on your behalf.
Let's take a closer look at each one now.
Internal Patient Financing Programs
An internal patient financing program is when patient financing is offered by the medical provider that will be rendering services. This means that they are responsible not only for administering all of these programs but also for managing them on an ongoing basis as well.
In order to offer this type of program, certain requirements must be met. For example, the medical practice needs to have a written patient financing policy that is approved by management.
They also need to maintain an updated list of eligibility criteria and ineligibility charges (if any) for each program offered, which can then be distributed on request or via published materials.
It's important to note that this type of internal patient financing relies heavily on staff policies. Consequently, employees are responsible for upholding these guidelines and enforcing them when needed. Failure to do so will result in a lack of compliance with federal regulations and could lead to fines being imposed against your business. 
There are two main types of internal patient financing programs, namely direct-pay or a co-signing option:
Direct Pay

: The patient pays the full cost upfront for a procedure, service, or product but then has installments added to their account over time based on your company's policies and/or the type of procedure(s) requested.

Co-Signing

: The patient gives over their credit information to the company. In doing so, they pay for a part of the procedure upfront. If they fail to make payments then your business is on the line and you could face fines or legal action if pursued by outside parties.
At first, these types of patient financing may seem like a great idea because you're able to offer your services at an affordable rate without having to put down money upfront.
However, not all that glitters is gold. These types of patient financing plans are far from perfect.
Let's examine why.
Challenges of Internal Patient Financing Programs
From the point of view of a service provider, there are several risks associated with offering internal patient financing programs.
Here are some of the main ones:
Loan defaults: Patients may not be able to make the payments and default on their loans. This can result in patients being saddled with a huge debt that they cannot afford, which could lead to them declaring bankruptcy. Needless to say, this has a negative impact on your company in terms of expenses since you have to come up with the money for these loans.

Default rates: Default rates are typically higher on patient financing programs than they would be if you were to offer financing through a lender or other service provider, so you should be wary of the loss potential.

Income and credit score: As a company assuming sole responsibility for patient financing, you also have to bear the risk of ensuring that the patient can pay for the service. This involves checking their credit score and gauging their income. If you are inexperienced in estimating the likelihood that a client will repay a loan, then chances are you may end up awarding this type of solution to the wrong patient.

Inability to solve the pain point of your patient: Patient financing can exacerbate an already difficult situation for patients with medical bills, so it is important to be careful about who you extend this service to.
With that said, let us now turn our attention to the second type of finance plan.
Third-Party Finance Plans
Third-party financing plans, also known as patient assistance programs (PAP), can be a solution for your company.
In order for patients to access these finance programs, the healthcare provider partners with the relevant external financing companies who then take responsibility for the management of patient payments.
The external finance companies may be nonprofit organizations or for-profit corporations, and they provide the funds needed to allow patients to access their healthcare financing so they don't have to deal with upfront costs.
These programs are usually funded through charitable contributions from private foundations that have a commitment to providing needy individuals with assistance in paying medical bills.
Similarly, they are also funded through customer-first finance institutions that have strong, valued-based principles that cater specifically to helping the less fortunate, be it financially, medically, or otherwise.
In order for your company to take advantage of these third-party approvals, you need to go through an application process and approve each request on a case-by-case basis. You can also decide how much funding is provided depending on whether it's paid back by the patient at the time of service delivery or after the fact (usually one year).
Let's take a look at the main benefits associated with this type of finance solution.
Benefits of Third-Party Patient Financing
Those service providers who offer third-party financing to patients enjoy several pluses:
Higher patient volume: If you're able to set up the patient financing with a third party, then it means that your monthly invoice from them will be substantially lower than what would otherwise be billed out. This makes for higher volumes of patients and can result in more profit or eligible costs per patient.

Interest rates are competitive: Compared to other types of loans, interest rates on these kinds of finance are typically low and often fixed so there are no surprises to your customers like an increase in rate due to defaulting on payments which could happen when using traditional sources such as banks.

Guaranteed approval: With this type of financing, approvals take place almost instantly (within 24 hours) because they don't require credit checks. This means that customers can get almost immediate access to your service.

Loyalty reward campaigns: What's more, your business can also use this opportunity to launch loyalty reward campaigns. For example, you can offer a discount for patients that have been preapproved through one or more companies that offer this option.

Customer retention: Businesses that offer patient financing are able to retain more patients. These types of programs work because they're a way for people who can't afford the procedure outright to have it done without having to wait or save up money first.
Choosing A Third-Party Lender
With that said, as you explore this option, you should pay attention to the type of financial institution you partner with.
Ideally, you should align with one who offers flexible finance plans.
Flexible finance plans are those that offer a range of monthly installment payments.
The more flexible the plan, the better because it gives you an opportunity to work with patients who are in different financial circumstances and have varying budgets.
Some lenders also allow for no credit check patient financing programs which can be helpful if your customer base is comprised mainly of people who are less than perfect when it comes to their credit scores.
People love having options. Therefore, there's no doubt that your patients will be thrilled at the possibility of using a flexible finance plan to fund their service orders.
Let's take a look at how an ideal third-party lending relationship can be.
Flexible Finance Plans With Time Investment Company
Time Investment Company (TIC) is a finance company that acts as a third-party lender for businesses that wish to offer flexible finance plans to their customers.
As a company with over 40 years in the industry offering patient financing solutions to businesses, we at TIC pride ourselves on designing unique patient financing plans that suit your business and the needs of your patients from start to finish. 
We have high approval rates and the terms and conditions of the finance plan are formulated with your business in mind. Whether they're monthly payments, fixed interest rates, or loan amounts, we work with you to find the best possible solution for your customers.
Once approval has been granted, we release the full amount of the service requested to you so your cash flow isn't negatively affected.
What's more, our partnering businesses enjoy the support of an innovative digital dashboard that stores all data related to the patient financing process for you.
That way, you can access all the reports you need in a flash.
Time Investment Company is committed to ensuring that you can deliver the kind of financial solutions your customers need.
Feel free to book a strategy call with us so we can get started on crafting winning payment options for your patients.
Start Offering Patient Financing 
Patient financing is a booming line of credit service that has the potential to take your business to the next level.
Take advantage of it now by offering flexible finance plans with a reputable finance lender like Time Investment Company. 
Our enrollment process is straightforward.
Schedule a strategy call with us so you can start offering the kinds of patient finance services your customers need.