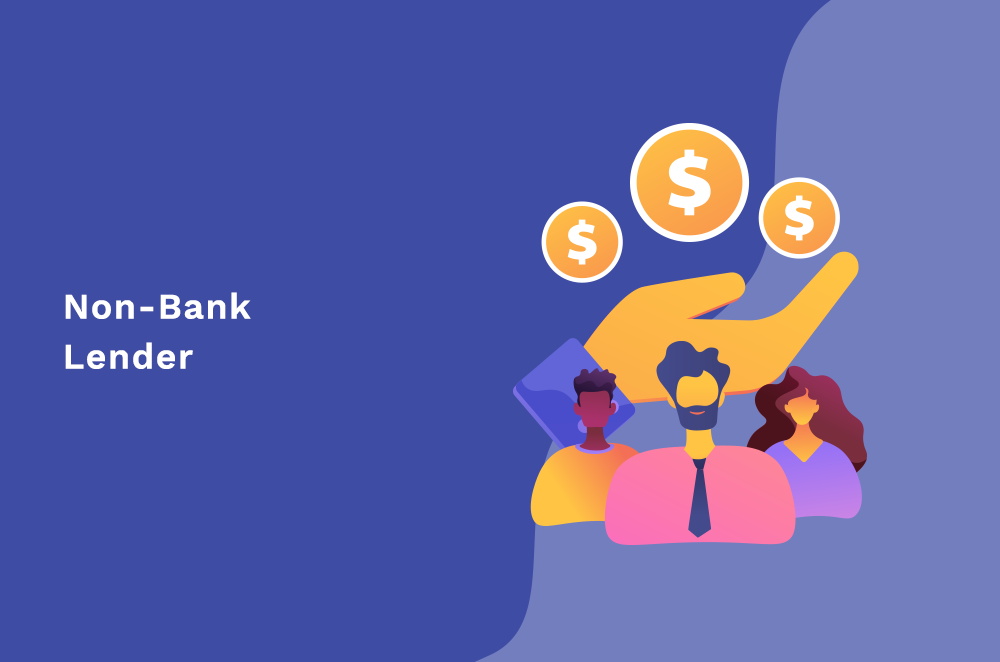 For customers struggling with cash, getting a loan is a significant investment that comes with a risk. If your customer is considering personal loans such as mortgage loans or short-term credit, they need to be sure that they can get the loan and pay it back.
With traditional banks and loan lenders, interest rates vary, and a bad credit score can impact the availability of financial products. Because of that, more and more people reach out to nonbank lenders for lending services.
Nonbank lenders (including non-bank mortgage lenders) are financial institutions that aren't banks or credit unions and often don't have a full banking license. Meaning, these companies are in private ownership, directly impacting the way they offer services.
Although similar to banking options, borrowers enjoy specific benefits with the right non-bank lenders. Some examples are Quicken Loans, Freedom Mortgage Company, Brookings Institution, and other lenders.
According to Statista data, from 2014 to 2021, all commercial banks' total value of loans was a staggering $15.85 trillion.
Nevertheless, non-bank lenders are increasing their market share little by little as many borrowers turn to the alternative loan market.
But what makes them so appealing to borrowers and small businesses alike?
In this article, we'll dissect nonbank mortgage lenders and other lenders to help you make a better decision. Let's start.
Nonbank Financial Institutions Benefits
Being privately-owned means that non-bank companies can enjoy more leeway than traditional banks when offering services.
Small firms in particular often struggle with finance, so they turn to borrowers outside the traditional banking system. The pandemic made the market seem almost like the 2017 Great Recession. Small businesses were hit hard and 23% of companies experienced a loss of revenue.
Like bank lenders, nonbanks provide typical short-term credit, nonbank mortgage, refinancing, insurance underwriting, etc.
Meaning, if you're running a business and loans make it easier for your customers to buy, pawing the easiest road possible helps with getting more customers.
Here are the main benefits of non-bank lenders compared to traditional banks.
Better Interest Rates
By offering consumer financing via non-bank lenders, customers can usually enjoy better interest rates. Being in private ownership provides such institutions more flexibility and the ability to be more competitive with banks.
More-Flexible Criteria
Around 15% of customers struggle with a bad credit score. While a bad credit score is the most common reason, banks can also reject a user merely because it's not profitable for them (especially for mortgage loans).
Just like it's easier to get traditional loans than government-backed loans, Nonbanks are more flexible with criteria than banks. While standards differ between nonbanks, the user is more likely to get a loan from non-bank lenders.
Faster Application Process & Access
Additionally, nonbanks usually have an online process such as online mortgage application forms, making it faster to apply and get funds.
Knowing that they can get the loan in two days instead of two weeks can be a dealbreaker for any customer looking to purchase your product or services.
Types of Non-Bank Loans
Nonbank lenders offer different financial services. While they can't take deposits from the public or provide overdrafts or savings accounts, they offer many other refinancing and loan options.
Nonbank Mortgage Lenders
Nonbank mortgage loans are steadily growing in popularity due to a quicker and easier process of getting a mortgage.
Because it's easier to get a mortgage with nonbank lenders, these financial institutions are under constant criticism by Federal Housing Administration (FHA), The Federal National Mortgage Association (Fannie Mae), and Government National Mortgage Association (Ginnie Mae).
According to the data in Online Mortgage Lending Report by Business Insider, only 21 % of total mortgages originated in the top five US banks.
The mortgage market is the biggest lending market in the US, and nonbank mortgage lenders such as Quicken Loans are taking a considerable market share.
A traditional financial institution takes a long time by mitigating risks of borrower defaults, ensuring every regulation is in check and checking data such as credit score.
Nonbanks provide mortgages at lower costs and practical online applications, making it easy for the borrower to get the mortgage in a financial crisis.
Different Personal Loans
A personal loan is a credit that helps customers with purchasing expensive products. Although not as pricy as a mortgage, borrowers can still find it challenging to get one.
The customer's inability to get a personal loan can create a significant profit loss for a small business. A great way to incentivize purchasing is to offer a personal loan and other finance options.
A personal loan typically has lower interest rates and risks, making the procedure even quicker than getting a mortgage. By offering a loan through a nonbanking business, the customer can get loan access in a matter of 24 hours and pay you for your service.
Services can vary, but borrowers often take loans for high-quality products and services such as:
Home Improvement

Roof Funding

HVAC Funding

General Dentistry

Cosmetic Surgery
Consumer Financing
Although consumer financing covers a wide range of loans, it boils down to helping a small business with finance and increasing its customers' purchasing power.
The main benefits of offering consumer financing and loans for a small business are:
More Customers

Increase Sales

Increase Customer Loyalty

Faster Payment
Additionally, business owners don't have to deal with complex finance regulations if they connect with a proper lender.
You can offer the service by yourself, but small firms usually lack the capital and regulation knowledge. Although it's a powerful tool to get more customers, the risk is high.
By having a nonbank company provide loans, the responsibility falls on the loan provider, meaning that your business can focus on creating a better purchasing experience.
Partnering with Time Investment Company
There's no shortage of non-bank lenders. Companies such as Quicken Loans are on every corner. Although it is beneficial for a business to partner with such a lender, you still need to choose wisely.
First of all, you should partner with a lender who has your business and buyers first in mind, rather than themselves.
For example, although it sounds great to offer loans to buyers with a bad credit score, there's still the risk of the customer failing to repay the debt.
Although your business isn't to blame, it can create a permanent stain on your reputation. Meaning, you should partner with a company that's flexible but also realistic and has the proper ethics.
Time Investment Company is such a provider. If you want to increase the purchase rate, TIC can help you achieve the goal. Feel free to contact us to find out more and how we can be of service.