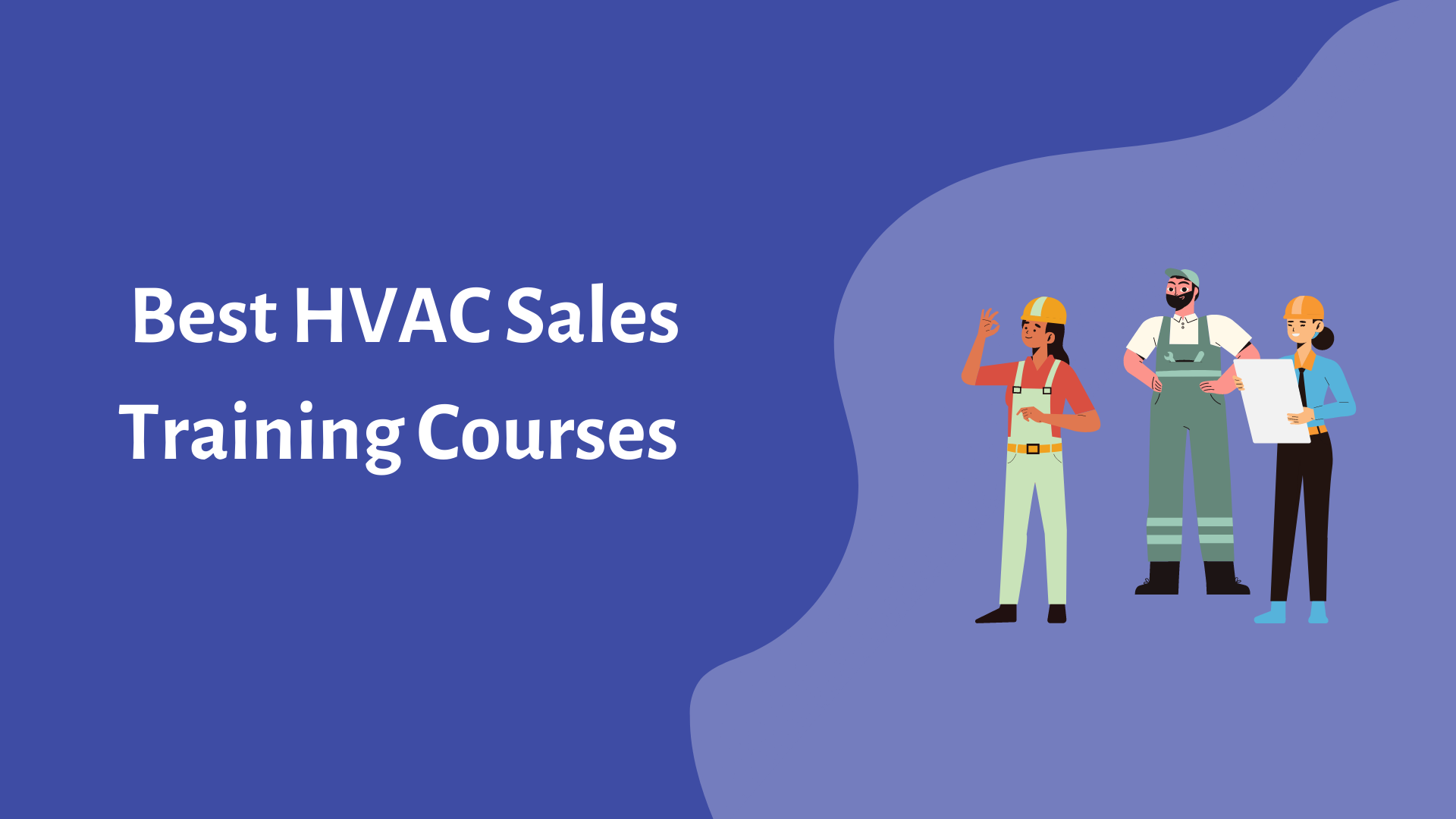 The HVAC industry is one of the most lucrative industries globally, and HVAC retailers make an average of $100,000 per year. HVAC sales training courses can help retailers boost sales and profit by providing helpful insight into the sales process that sellers can attend both in-person and online.
Since there are plenty of training programs that you can find online, you need to invest your resources into the right one. Picking the wrong one can be a waste of time and money, making your job harder than it needs to be. 
Similar to retail financing, you need to make the right calls to be profitable.
This article will list our top four HVAC Sales Training Courses in 2021 and explain why each course makes it to our list!
MTA360 - Master the HVAC Sales Process
MTA360 offers a simple yet interactive training program to help master securing clients and sell your service. Unlike most sales courses that you find online, this one focuses on HVAC sales training specifically.
The industry is changing rapidly since customers have more information than ever before. With better knowledge come more significant demands and sales tools that worked a decade ago, which are less effective in the current market state.
The customer knows more than before and is more willing to bargain in hopes of lowering the price. If you're already in the HVAC business, this is the right moment to take a training course to hone your selling skills.
MTA360 teaches the 4-steps sales system and proactive client communication tailored to the HVAC businesses. You can take either contractor training or distribution training.
If you're the owner, sales manager, or salesperson, you should take the contractor training. The main focus is learning modern sales strategies and customer relationship management that help you reach out to buyers.
Distribution training is excellent if you're looking to grow existing accounts and acquire new ones.
Finally, the course also teaches you to recognize and win major accounts, so your business grows consistently.
No Pressure Selling HVAC Sales Training
The Bureau of Labor predicts stagnation or a slight increase for most industries in the US. For HVAC, the prediction is that it will offer 13% more jobs by 2028.
This means two things: more customers, but also stronger competition.
If you're looking for a more straightforward course to get the leading edge, No Pressure Selling is a great sales program. The course offers a great rundown on closing deals with clients looking to redesign their home HVAC systems.
Sales are all about making the right call in the moment. But unlike regular item sales, buyers can be more reluctant when with HVAC service. The reason is the pricier service.
What seems like a done deal and the client is ready to buy can turn into a failed sale in a second. An opportunity can come and go, and you need to catch it before it slips away.
The course teaches you how to land appointments with the right customers and do facility surveys, so you recognize "pressure points" for when the time comes to negotiate.
Talking your way into a sale is one thing, but if you end up pitching air conditioning to someone interested in heating, you're sure to fail. So you must be prepared, and conducting research (without wasting too much time) is the best way.
Finally, depending on your business size, you might need to hire 3rd party contractors such as HVAC technicians. Finding and recognizing a professional company to help you out is another aspect. With proper technicians having your back, you'll be more confident in your sales process, so you need to know how to find the right contractors.
Grandy & Associates Sales Mastery
For an HVAC company that wants to train its entire sales group, you need a more engaging course to create interactivity inside the team.
Grandy & Associates HVAC sales training is a fantastic group sales training program for businesses looking to get more leads, present their business with confidence, and win every customer.
The worst thing you can hear from a customer is them deciding to go with another business. Your group needs to improve their communication, initial contact, and presentation to avoid situations like that.
Oftentimes, contractors can have excellent service but if they lack professional communication. Meaning, flashy gift wrap overshadows the quality inside the package.
Attending an HVAC sales training course is like applying to learn a new language altogether. For example, do you know when it's the best time to reach out to a prospect lead?
You might think it's when a customer first decides that they need your service. But that's looking from the seller's POV, not the customer's.
In reality, about 60% of potential leads are willing to connect with sales after finishing their research. If you master how to recognize the moment and how to pitch the right offer, you're bound for success.
Grandy & Associates sales training teaches you how to think from the customer's perspective and how to deal with competition trying to sabotage you.
Interactive sales development is vital for day-to-day selling and one of the first things you need to know if you don't want to miss an opportunity to gain favorable profits.
Sales Training by Chris Croft
Although not an HVAC sales training specifically, sales training by Chris Croft on Udemy is a great program on selling for beginner and advanced sale negotiators alike.
The course is designed, so it leaves no stone unturned. More importantly, the program teaches you to befriend the customer and overcome the seller/buyer obstacle. Making the client feel comfortable lowers their defense, enabling you to be more effective with your pitch.
You learn the ins and outs and get the tools that help you not only to sell. Sales are a multi-step process, and even the most professional seller can slip as they try to juggle finding a lead, keeping up with the current buyers, and keeping their finance clean and organized.
The course helps you create a system for your business where you know why you make each step. No matter if you're preparing for an important phone call or your technician contacts you to report an unexpected issue, you need to know where to focus first.
This is especially true when most work is done from home and outdated systems no longer work.
Besides learning organization skills and essential sales, you'll also learn body language, so you know to behave in front of a customer. It becomes much easier to sell to a relaxed client. But to get there, you need to relax first.
On the flip slide, being too friendly can result in getting lost in pointless small talk, and you miss the opportunity to close a deal.
Although the course doesn't focus on HVAC, the program is designed to teach you the basics. That includes making the right call, how to close a deal and increase your day-to-day success rate, and organizing your profits.
Since you're handling sales, you need to know what your clients need. HVAC services aren't cheap, and people can be reluctant even to make a simple technician call. The more options you have to make the process easier for them, the better.
Making the Buying Process Easy
Although everybody needs quality ventilation or air conditioning in their home, it's hard for buyers to decide since costs can quickly ramp up.
That's why you need to make your selling process as painless as possible. Often it doesn't matter how good your service is if the client needs to pay $7,000 at once for a simple air conditioning installation.
But if you offer them multiple consumer financing options, you can create breathing room for buyers and close more deals.
Flexible financial plans are a powerful tool in your arsenal, and Time Investment Company can help you create a simple yet effective system.
If you're noticing buyers leaving just as you're ready to close the deal, it means they don't feel comfortable with the financial options you provide. To help you out, feel free to contact us to create a custom financial plan specific to your HVAC business.