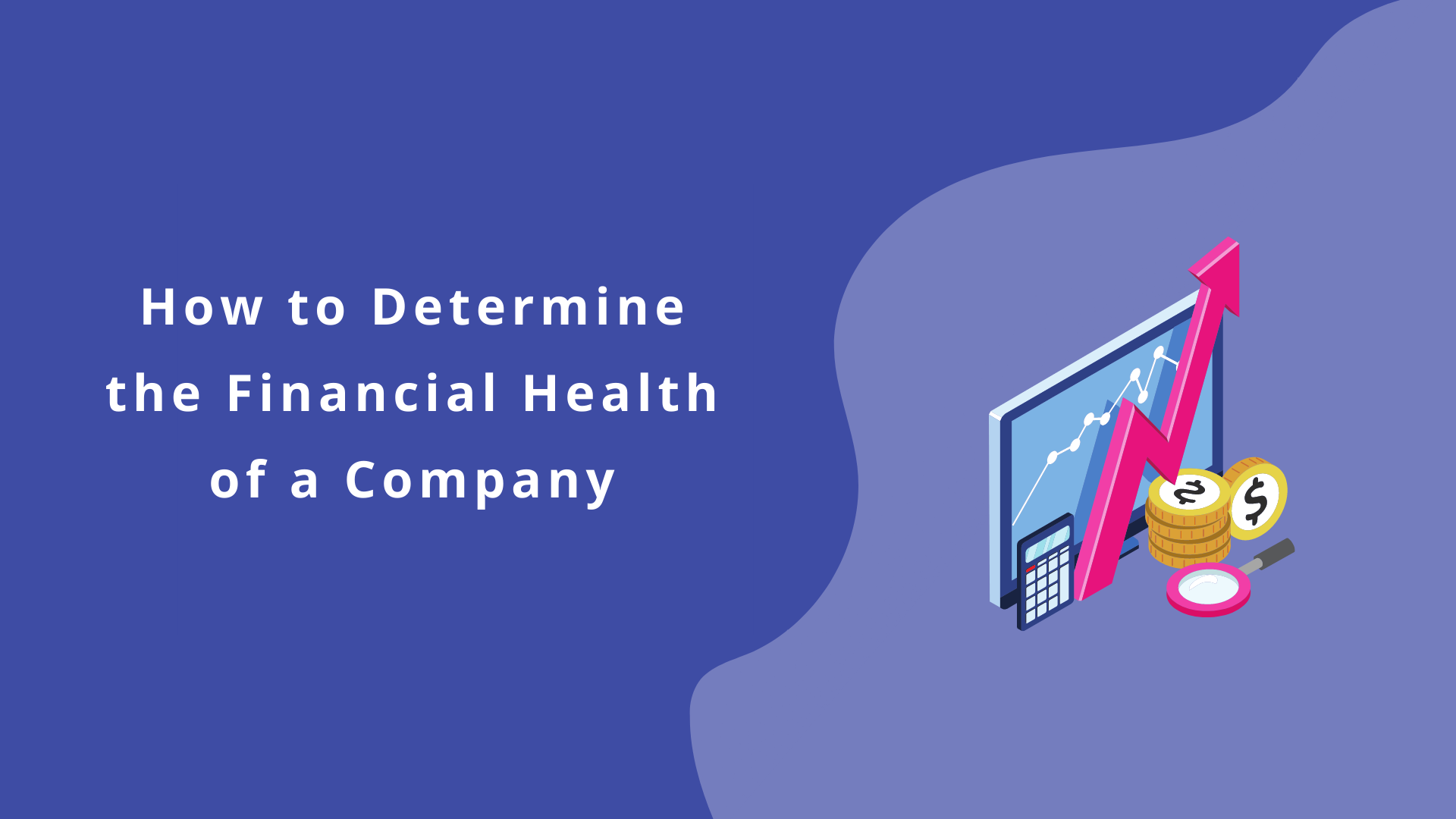 Every investor worth their salt will always be on the lookout for new opportunities. Yes, it is a risky business. Yes, each company comes with a unique set of challenges. Still, you can improve your chances by taking the right approach.
There are several factors you ought to consider if you are looking to invest in an enterprise. How long has it been on the market? What niche is it doing business in? In reality, there is no magical formula, but one thing can make an enormous difference.
Taking into account the financial health of the business will give you a good idea of whether you should invest - or stay away.
What is Financial Health?
Experienced investors often speak of a company's financial health as the primary indicator of its success. So what exactly does this mean? There's nothing arcane nor too complex hiding behind this idea. It's not a magical ritual of any kind.
It is simply a collection of financial ratios that can give you greater insight into the workings of any enterprise. We are talking about the company's ability to survive and thrive in the open market.
The trick is to avoid looking at individual numbers. Being detail-oriented is good but only to a certain extent. Focus on the bigger picture. Even such important variables as net profit or debt will only turn out to be small pieces of the puzzle. Take a step back - focus on the four big factors - and you'll get a much better idea of whether you should make a move.
How do You Determine the Health of a Company?
There's no perfect way to do this. If there were, every investor out there would be a billionaire, every startup a resounding success. This, of course, should not discourage you. You can still augment your chances of success by following a few comparatively simple steps. After all, it's not advisable to go anywhere near a business - let alone invest your money into it - without being able to look into every nook and cranny.
The financial statements are an excellent place to start. Connect and compare the numbers - including the general trends as well as financial ratios. Are they improving? Is there steady growth? Of course, you will see some fluctuations, but the general outlook should always be positive, indicating that the organization can go far.
Sometimes, a startup will potentially shoot into the stratosphere and create tectonic change in its niche. This, however, will rarely be the case. Everyone but the most adventurous investor will prefer a more conservative approach. Taking it slow is the best way to go.
Whichever route you choose - the safe or the adventurous one - you ought to follow a few predetermined steps that will make your job a lot easier.
What are the Necessary Steps to Calculate Financial Health?
There are several financial metrics you will need to pay attention to and should consider in tandem. Skipping one or more will make your effort more likely to fail. Make sure you know what each ratio indicates to understand the financial position the company is currently in.
Sometimes, it will not just be the current assets or even total revenue over a period of a decade - you will need to go well beyond that. You'll need hard work, dedication, and razor-sharp focus. Sometimes, the process will even involve expenses on your part. Those can be necessary to understand the position the enterprise assumes.
It's impossible to overemphasize the importance of building a solid foundation. That's why the process of preparation is the key to success.
Prepare to Determine Your Company's Performance
First and foremost, you will need to obtain as much info as you can get. You can source the information from the filings of a company. How far into the past should you go is entirely up to you, and some experts recommend taking into account any info you can get your hands on.
However, most investors will take the last two years as the most relevant period. You can always choose to go further, but this may require more work without guaranteeing more significant success. The 24-month period is usually the most reliable for data analysis of this kind.
Of course, you should also know which papers to look at when performing a thorough analysis. These are crucial:
1. Income Statement
The income statement typically includes total revenues, gross profit, interest expense, operating income, earnings before taxes, net income to the company, and all income tax expenses.
2. Balance Sheet
This segment should never neglect to cover all cash and its equivalents, including short-term investments and total current assets. Ensure you also state short-term borrowings and long-term debt.
3. Cash Flow Statement
The staples of this report should be depreciation and amortization. It should also not fail to cover cash generated through operations as well as capital expenditures.
Once you have all this covered, it's time to take a look at the most tell-tale signs of financial health - liquidity, solvency, operating efficiency, and profit margin.
Take a Look at Liquidity
This is arguably one of the most critical factors, especially when the market situation becomes challenging. For the sake of argument, let's assume a company gets on hard times. Loss is constant, and debt keeps mounting. It can happen to anyone - even multinational conglomerates with decent financial health are not immune to it.
The most important question to ask is  -how much money the company has that could cover this problem? We're talking not just about cash but also assets that are readily convertible to cash. Does the retail business have enough to manage its short-term debt obligations? If the answer is affirmative, then the company's ability to succeed may be comparatively high.
Two variables will determine the level of liquidity: 
The current ratio, which represents the ability to pay short-term obligations or those due within one year; 

The quick ratio, which refers to the most liquid assets (those available right now, without any sales).
In short, liquidity gives you insight into how much maneuvering space a company has. More does not always mean better, but a robust safety net can make a difference.
Pay Great Attention to Solvency
Another important factor when determining any company's financial health is solvency. This part of the analysis is somewhat similar to liquidity as it also refers to the company's ability to meet its obligations. The main difference lies in the fact that this ability needs to extend a lot further into the hypothetical future when it comes to solvency. So what sets them apart?
In essence, the solvency ratio calculates the business' long-term debt concerning its assets or equity. To put it in simpler terms, the debt-to-equity (D/E) ratio can serve as a pretty solid indicator of the enterprise's long-term sustainability - mirroring investor interest as well as confidence in a company.
Contrary to other indicators, a downward trend in the realm of solvency will be a clear sign of solid financial ground.
Don't Forget to Check Operating Efficiency
There's no denying that this one is tricky. It's easy to get lost in it as there are many indicators you will need to pay attention to - inventory turnover, operating expenses, and so much more.
Even if it is essential to look into everything - don't burden yourself with too many details. Standalone numbers are rarely helpful. The bigger picture will be of much more interest to the shrewd investor.
Operating efficiency means how successful the company's management is in controlling costs. It is the best segment to keep an eye on if you want to make sure that the CEO or the board of directors are doing everything right.
The efficiency is great for assessing the financial performance and the company's ability to overcome an entire array of temporary problems that it may encounter. Seasoned experts claim that it is the most crucial type of efficiency ratio to look into - and we are not likely to contradict them.
Put Emphasis on Profitability
Of course, you should never forget to check the amount of money coming in from sales. Most investors will look into this first. It is essential but not the only thing worth investigating. That's why you need the three other aspects before this one.
Significant income rolling in now can be quite different from what may come to pass in the long run. Sometimes, it is better to take it slow and steady - rather than enjoy a windfall now and be left with little to nothing later. Carefully observe trends and don't settle for anything unstable.
Of course, depending on the industry, profitability ratios will tend to vary. You cannot possibly expect the same numbers in tech and agriculture. 
Don't forget to focus on net values. Of course, you can take a glance at the gross profit but don't take it too seriously. Make sure you know how much a company makes - after deducting expenses and taxes from the lump sum.
The net margin - or rather the ratio of net profits to total revenues - will tell you all you need to know. Everything else in this section is of lesser importance.
Calculate the Aggregate Score
Ultimately, the way to determine any company's financial health is to bring all the factors mentioned above together. Connecting liquidity, solvency, profitability, and operating efficiency into a seamless whole will give you most of the info you need to decide. This will be the big picture mentioned at the very beginning of this article.
You will have a chance to understand the most prominent trends within the organization and see how they fit with the situation on the market.
Of course, it is also good to access the relevant numbers for other companies in the field - for the sake of comparison. Use five or six enterprises working in the same niche and see how they perform in each category. This process is called peer benchmark.
This rule applies to any industry. You can take any niche as an example, be it a tech startup in Seattle or a clothes manufacturer in Bangladesh.
The company's ability to withstand the risks of operating on the open market will become apparent the minute you calculate the aggregate score.
Eight ways to Tell the Company is in Great Financial Health
Now that you have all this info, it is important to know how to use it to the best of your advantage. We have a few to suggest if you're still not sure which elements to pay attention to when performing your analysis. Watch out for these green lights (or potential red flags).
Growing revenue - a no-brainer. If it's on the rise, that's a good sign.

Expenses staying flat - no spikes means there won't be any nasty surprises. Predictable is best.

Debt ratio - as long as it's not growing (or sinking suspiciously), things should be ok.

Profitability ratio - make sure the money keeps rolling in.

The influx of new clients and repeat customers - likely means that there's more of the same to look forward to in the future.

High-profit margin - always good, especially if we're talking about the net profit margin.

Balance sheet - represents overall financial performance.

Income statement - can (and should) show a good return on assets.
All of these are good indicators - a great example of what to look out for when trying to assess the health of a company. Don't neglect them. These financial ratios can make a huge difference.
The Bottom Line
Financial health is the number one factor every investor should consider. It is arguably the best way to determine whether you should venture into a particular line of business - or move on to the next.
Before you begin, you must prepare all the relevant information, such as the income statement, balance sheet, and cash flow statement.
Next, you ought to focus on short-term liquidity, long-term solvency, operating efficiency, and profitability.
In the end, you will need to bring them all together to form an aggregate score. You will be able to observe the value and assess the positioning in the industry. This sort of analysis will improve your decision-making process and potentially get massive returns on your investment.
The customer amount and the revenue you create determine the financial health of your small business. One way to increase sales and revenue is by offering consumer financing.
If you end up struggling and feel like you're hitting a dead-end, feel free to contact our Time Investment Company support team. Our team members will be happy to help you with creating a strategic financial plan that uses consumer financing to boost your sales.