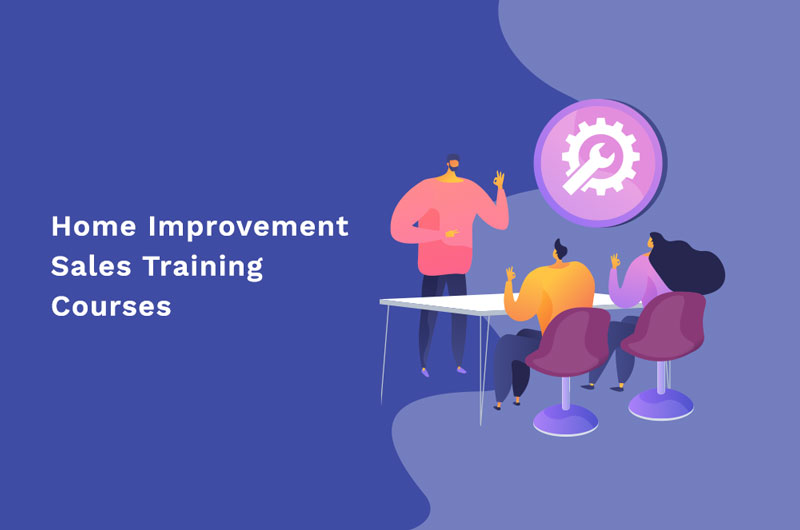 The home improvement industry is a booming industry that has been growing for many years. Besides landing a sale, there are many technicalities beginners aren't aware of when starting, such as getting a home improvement contractor license.
The home improvement industry can be tough to break into, but thankfully, home improvement sales training courses are available to help you become an expert in the field.
Many old-school tactics no longer work since the customer is looking for a non-imposing communication that doesn't grind the sale in. Instead, they expect the home improvement salesperson to be professional but also friendly and down to earth.
Home improvement sales training can help professionals further hone their communication skills, customer management skills, marketing, and overall sales.
This article will go over what home sales professionals need to know about home-improvement packages and how they should advertise their business to improve their sales and reach more customers.
Without further ado, here are the best sales training courses in 2021.
No Pressure Selling - Home Improvement On-Site Training Course
No Pressure Selling course is one of the most popular home improvement sales training courses in 2021. The program teaches techniques specific to home improvement sales such as window replacement, roofing, adding a pool or spa, etc.
Even better, any home improvement business can find tools that fit the specific company and team needs. Although a customer might be able to afford home improvement, even mere house furnishing can be costly.
Instead of creating a training system that boosts general performance, No Pressure Selling offers customized learning tools based on the industry, prospects, company region, and even in-depth on-site training with your team.
If you're looking for comprehensive home improvement sales training courses, this training is a great place to start your growth towards success and excellence.
Negotiation Experts – Sales Negotiation Training
Negotiation Experts is a home improvement sales training course that will help professionals learn how to negotiate home improvement packages.
Mastering proper negotiation practices may sound like an easy task to some. Still, not all customers are the same and can be difficult to deal with depending on their personality type or what they are looking for.
The course helps the entire sales team understand what drives a successful business and how positive verbal skills improve pitching home improvement sales.
The training also offers advice about negotiating price adjustments for home repairs that homeowners often have questions about. Another perk? You'll get 12 hours of video content so that you can go back at your convenience!
With this qualification, participants gain knowledge in:
Learn how to speed up sales without compromising the sale quality.

How to get the most optimal value.

Maintain leadership in the communication process.
The sales training is available both online and in-class. The maximum attendee number for the online course is 20, while for in-class is from 12 to 29 attendees.
Challenger – Sales & Marketing
Another key aspect is home improvement marketing tactics. Although many professionals know how to drive sales, they lack the skills and system to find customers.
This is especially true as millennials enter the world of home improvement. Research shows that 69% of millennials are hesitant to close a deal without checking discounts first. According to the same data, 67% of customers purchase because they get a discount.
In other words, to catch an opportunity, companies need to create offers that will attract customers and build funnels through which to present the offers, such as an SEO-ready website or an effective social media campaign.
Challenger helps businesses master the basics of developing successful email campaigns, lead marketing, social media postings, advertising cost budgeting, etc.
The manager and the sales team can do the training process either online with an instructor or without one via interactive video material.
Grosso University - Sales Training Program
Sometimes you'll make an easy sell with a single phone call. But more often, you'll have to dig deeper into what the customer looking for home improvement wants.
The leading companies in the home improvement industry succeed not because they know how to convince the customer but because they create personal contact with people and understand what they want.
Grosso University offers unprofessional services to companies who want to learn what drives people into accepting a sale. Besides learning the theory, Gross University offers proven examples of how to boost sales prospects.
This is especially important in landing successful home improvement sales since every customer will ask for something else. Some people are looking for a simple kitchen redecoration while others are looking for a complete home makeover. Finally, everybody is looking at how to cut costs on home improvement.
Although the final goal is to make sales, it's impossible to get results without understanding how to get there.
Grosso University offers three sales training packages you can join: Titan, Warrior, and Closer.
Closer:

Teaches the basics of closing sales.

Warrior:

Provides basic training and also teaches modern selling tactics. It also goes in-depth on specific selling steps that lead to success.

Titan:

For large companies looking to manage and improve their overall business model and get better results from website marketing to positive communication.
The Closer package costs $199 per month or $999 per year, while the Warrior sales package is $249 per month or $2,499 per year. The Titan training course is $4,999 per year only.
Coursera - The Art of Sales
Courses can be expensive, so for companies looking for a course that won't make a dent in the wallet, Coursera is a great choice.
Research data estimates that it takes about 18 calls to get in touch with a customer, and people open only 23.9% sell email offers. After you manage to land a phone call, you have only a couple of seconds to act and build a proper relationship.
Keep in mind that this course is for a company or a salesperson who is just starting in the world of home improvement sales. Although it will teach your team the selling basics and making the right call, it doesn't cover more advanced selling tactics.
Additionally, if you're in a hurry, the course takes about four months to finish.
Nevertheless, the course offers everything you need to master the foundation for your home improvement selling business.
What experienced leaders know but beginners overlook is that besides creating a successful business, you also need to keep a record. A detailed record highlights your advantages and weaknesses, helping you improve in the long run.
Although the art of selling happens in the now, it's also an everlasting learning process where you learn from mistakes and prepare for the future. If you're starting a selling organization, the course will help you understand the 101 of how to sell.
Dale Carnegie - Winning with Relationship Selling
As mentioned, making home improvement sales is all about creating fruitful relationships. A company or an organization that focuses solely on cold calls or customers finding their website is less likely to build a profitable relationship.
Dale Carnegie teaches a sales process that focuses on the customer. To achieve that, the course offers in-person sessions to help businesses understand the emotional aspect behind home improvement sales.
The course is perfect for sales professionals who know the basics of selling but struggle with making a lasting impression. The trick is that every time you make a sale based on a relationship, you establish contacts that expand your business's possibilities. Instead of trying to sell home improvement to every customer, you build a web where customers come to you.
Besides learning how to have a healthy attitude, the course helps pinpoint what people want. In many cases, what a customer expresses verbally doesn't necessarily correlate to what they want. Here you can learn how to read between the lines and create a beneficial solution for both sides.
A minor downside is that it can be hard to match your schedule with the course since the course is in-person. But if you can sync up with the session's time, you'll get the knowledge that will benefit you throughout your selling career.
Take Your Home Improvement Business to the Next Level
Gaining knowledge and experience is the sure way to boost sales. But you also need to master finance managing and making it easy for the client. If after cumbersome negotiations, the client quits because the payment process is too complex, you're bound to lose precious time.
Time Investment offers solutions that make financing easy and allows you to focus on growing your business.
Time Investment offers flexible financing that helps businesses grow. To learn how we can help you, feel free to get in touch, and we'll do our best to help you out.