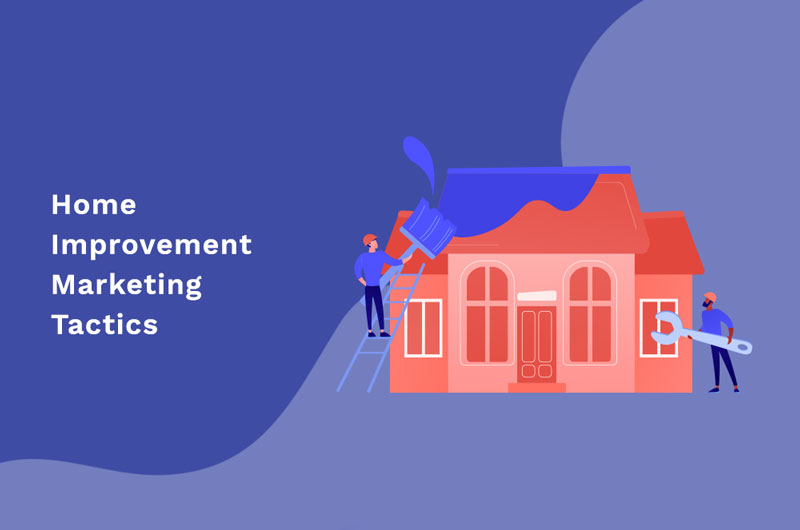 The home improvement industry is a large and growing market. This is encouraging news for contractors, manufacturers, designers, and anyone else who makes their daily bread from this industry. 
However, it's not so good if you're looking to compete in the home improvement marketing space with your own business. The competition can be tough. It may seem like there are too many options out there and no way to stand out from the crowd. 
However, there's no need to panic. There are still proven, legitimate ways to grow in the home improvement industry.
This is exactly what we're going to break down in this blog post.  
Why A Marketing Strategy Is Essential
If you're just starting in this industry, it can be a huge challenge to do everything. You may not know how to manage your website or what marketing tactics will bring home the most return on investment (ROI) for your business.
You might even feel like there are no other options available besides spamming social media with brand awareness posts or relying on word-of-mouth marketing (which is time-consuming).
Every home improvement company must invest in a comprehensive marketing strategy if they want a chance at keeping up with the competition.
While this is extremely important for newbie businesses in home improvement, a solid marketing strategy is crucial for any and every company in this niche.
The home improvement industry is full of talented and successful companies, so you need to do whatever it takes to make your business stand out.
That said, great marketing plans are not designed randomly, much less for home improvement businesses that require a special type of treatment.
Let's closely examine some of the elements that make up a successful marketing plan.
Home Improvement Client Acquisition Goals
A home improvement marketing strategy must be founded on clearly established objectives, all of which should somehow be related to your overall hopes for customer acquisition.
This is important as it will enable you to get a sense of the impact of your marketing strategy and its success rate.
What's more, by ensuring that your marketing strategy implementation process is as clear as possible, you can expect all parties involved to be more willing to embrace the initiative and contribute to its success.
All of this has to do with setting clear and concise goals for your home improvement business.
With that said, there are things you ought to bear in mind when creating goals:
Prioritize services & projects for growth: As a home improvement company, you need to decide what types of services you'd like your marketing strategy to focus on. For example, you may decide that your key areas for growth may be related to your core services, whether it's plumbing, roofing, HVAC, tiling, remodeling, or whichever service that is specific to you. In most cases, the services you choose are all linked to your biggest revenue earners. For example, if there's a huge market for HVAC, then you may decide that your marketing strategy should center around this service. In short, it's all about selecting the service or services that you wish to emphasize in growth.
Be clear on your mission: Whenever a business launches a new initiative, it's important to always make sure that it contributes in some way, shape, or form to your overarching goals. After all, it usually makes very little sense to center your marketing efforts around something that doesn't have a positive impact on some aspect of your business.
Set clear customer acquisition goals: As a home improvement service provider, it's always important to set realistic estimates on the number of orders you hope to bring in. When doing so, be sure to measure customer acquisition or service order numbers over a set period, be it weekly, monthly, or quarterly.
Practice Proper Market Segmentation
One of the best ways to increase your customer acquisition numbers is by practicing proper market segmentation. This simply means that you must take into account what type of home improvement projects each potential customer may be considering, and then tailor your marketing efforts accordingly.
This also entails understanding all the factors that may impact how a customer uses your service.
The best types of market segmentation techniques require you to define your customers based on their personalities, behaviors, pain points, and aspirations.
With that information, you can then create customer personas that capture those details into a clear and concise graphic that you can use as a reference point throughout the marketing strategy planning and implementation process.
Focus on Customer Retention
Once you gain a customer, you should try your hardest not to lose them. The fastest way to lose customers is through poor quality or lackluster service. This can lead them to find a different company that they feel will provide higher levels of satisfaction for their needs.
However, delivering poor service isn't the only way to lose customers.
You can also run the risk of not having a repeat customer if you don't invest in marketing campaigns that encourage one of your customers to try another one of your services.
As such, it's important not only to focus on acquiring new clients but also on retaining those who are already in your base with high-quality workmanship and solid marketing tactics.
Customer Acquisition Cost (CAC)
CAC is a way to measure your ability to gain new customers and retain old ones.
A low CAC is an indication that you are doing something right, but it isn't the only thing worth measuring.
CAC might be great for customer acquisition, but retention should also be an ongoing goal to maximize profits over time.
This will help you gauge the effectiveness of your marketing strategy in capturing customers.
In the case of home improvement businesses, a low CAC is something you should be aiming for. The higher your CAC, the more of a cost it has on your marketing budget and also on your overall expenditure.
Customer Lifetime Value (CLV)
CLV is also a way to measure the value of your customers.
It will help you know how much it costs to acquire new customers, and gives you some insight into the retention rates for current ones.
A home improvement projects company should keep an eye on their CLV to stay profitable over time as well. Clients who generate more revenue are worth holding onto for longer periods.
Needless to say, since this is intertwined with customer retention, CLV is something that should be emphasized in your marketing strategy.
Best Home Improvement Marketing Tactics For Growth
Having broken down the essentials of a marketing strategy, let's now get into our top tactics for growth in the home improvement industry.
Provide Flexible Finance Plans
If you're a home improvement company, most likely some customers need to pay for their project in installments.
The reality is that some customers can't spend all of the money at once or has trouble saving up enough funds on their own.
This is where flexible finance plans come in. They are payment options that allow customers to pay for projects or services in installments that are comfortable for their pocket.
This is a must for any home improvement projects company. Here's why:
Setting up flexible finance plans opens up new avenues for revenue streams to come into your business at an increased rate; you'll be able to generate more leads and close deals faster than before.

Flexible finance plans allow you to develop a more engaging and personalized relationship with your customers. This lays the foundation for solid customer service, retention, and more.

By offering a customer-oriented solution, you stand out among your competitors as an attractive option for your customers to do business with.
The beauty of this tactic is that it's both low-cost and easy to implement, as long as you have the right support.
The easiest way to offer this type of service is to partner with a third-party lender who assumes the management of payments on your behalf. That way, you get to focus on what matters: offering top-notch service to your clients.
Here's how this can work with a legitimate finance company.
Flexible Finance Plans with Time Investment Company
Time Investment Company is a leading national home improvement finance company. We offer flexible financing options that are designed to fit the needs of your both business and customers alike. 
We have partnered with home improvement service providers to deliver flexible finance solutions for their customers. Our plans are designed with your target audience in mind so that they are presented as viable finance options to them that do not put excess strain on their pocket.
As a family-led, value-centered financial institution, our strong sense of moral duty and understanding help us to be empathetic with the specific needs of both you and your customers, thus enabling us to provide adequate solutions.
Once your customer has been approved for a flexible finance plan, we release the full payment of the service to you.
That way, you secure the working capital you need to get your project underway.
For more information on our services, simply set up a quick strategy call with one of our representatives who will walk you through the process.
Create A Powerful Email Marketing Campaign
Email marketing is a solid and results-proven way to grow your home improvement business.
Great email marketing strategies are based on four key components:
A captivating subject line that compels people to open your email and read it.

High-quality content, such as blog posts or videos, for viewers so that they stay engaged with your message.

Relevant clickable links throughout the email for readers to take immediate action and convert into customers.
As a home improvement business launching an email marketing campaign, strong calls to action at the end of each email rather than simply providing information about products or services will be effective in engaging your potential clientele. For example, ask recipients if they want to see more examples of completed past projects in your portfolio or how their experience was when using a particular product. This way you will see which types of messages resonate better than others so you know what kinds of details to focus on.
You may also wish to frame a particular email marketing campaign around discounts or promotions your business is offering. For instance, a home improvement business could offer a discount on the purchase of one product to customers who sign up for their email list.
This will encourage new users to leverage your services since it provides them with an incentive they are more likely to act upon quickly since it is related directly to your marketing efforts.
In doing so, not only do you grow your customer base, but you also increase the chances of customer retention.
Maximize the Potential of Customer Referrals
The home improvement marketing tactic that will help your business grow faster is to maximize the potential of customer referrals. Referrals are a great way for you to get more customers.
The easiest way to incentivize customer loyalty and drive sales is through referral programs. For instance, if someone invites their friends or family members on Facebook to use your services, you can offer them an exclusive discount in exchange for it.
Social media sites like Twitter also enable people to share information about your company with others who may be interested enough in your services, thus making these different social network avenues worth exploring.
That said, referrals do not imply that you should lag on the other areas of your marketing plan. 
While referrals are important, they do not replace your marketing efforts; instead, they supplement them.
Take Advantage of Online Groups
Nowadays, businesses are realizing that they can tap into their target audience via online social groups. If you're in the home improvement industry, then this is a great way to find potential customers.
The first step is making sure that your social media accounts are set up correctly and ready to go at all times so people can easily learn about what it is you do, where they should be looking for you online-and how they can refer others once they've found out just how good of an experience your previous customers have had with your company.
Another important thing to remember: when delivering content on Facebook or Twitter, creating internal links that allow users to navigate back to those platforms works best.
By providing access directly from their favorite sites, users will feel more connected without having to leave the site altogether and thus become more likely to purchase something while browsing around before finally placing their service order.
If you are using Facebook, you can either decide to use an existing popular social media group to promote your marketing efforts or create your own.
Offer Special Packages for Select Customers
Another fantastic marketing tactic is to create unique packages for some of your customers as an incentive to use your services.
This encourages potential buyers by offering something that other companies cannot; in this case, exclusive offers that can only be accessed through your company. What's more, it creates an emotional connection with the customer because they feel special. You do not need to make these offers extravagant or expensive. Even the smallest of offers can go a long way in leaving a positive impression on a future customer. For example, four free home improvement tips emailed every week can have an impact in making customers feel as though they matter especially if their competitors do not offer anything at all.
Additionally, you can also consider offering discounts for first-timers or prepare special coupons for previous customers who wish to use your services once more.
All in all, your objective is to find creative ways to entice your customers.
Create A Powerful Social Media Presence
You could also make your home improvement business more visible by creating a powerful social media presence.
For example, you can use Facebook to publicize the latest and greatest deals of the day or offer promotional codes for certain items.
The next time someone is on their mobile device using Instagram, they might be scrolling through photos of different people's homes that have been updated with new paint colors or kitchen renovations all thanks to the high-quality work your business produces.
Being active in social media will allow you to connect with customers from around the world, which only increases visibility for your company significantly over time.
Invest In A SEO Strategy
Once you have a social media presence, it's important to invest in an organic marketing strategy as well.
One of the best ways to do this is by creating compelling content that ranks high on search engine results pages (SERPs) for keywords related to home improvement services.
By doing so, your website will show up at the top of Google searches- giving potential customers easy access and information about what your company does without them having to dig through links or click on ads.
Ready to Take Action?
The time to take advantage of the home improvement industry is now.
A compelling marketing strategy that lays out the roadmap for the tactics you need to implement will serve you well.
Without a doubt, flexible finance plans are one of the most powerful ways to grow your business.
We at TIC can assist. Book a call with us and we'll work together to deliver compelling solutions for you and your customers.