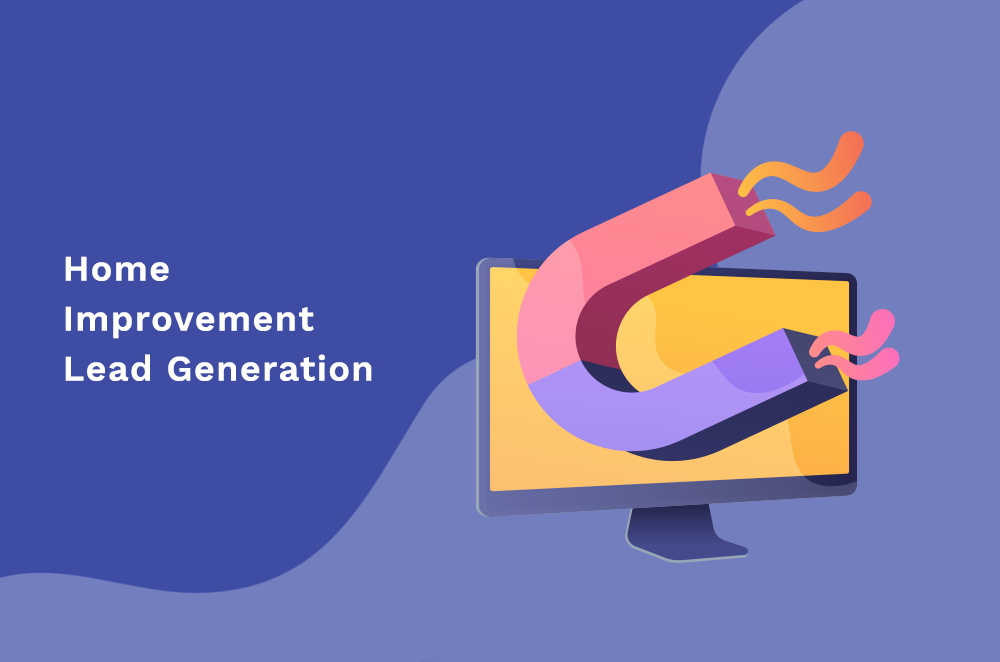 The home improvement industry is big - and getting bigger: In 2020, the home improvement industry was valued at $763 billion, and estimated to surpass $1 trillion by 2027. 
But it's getting more competitive, too. Owners who did business the old way are retiring, and being increasingly replaced by a younger cohort of digital natives who understand how to use the Internet to market their businesses and generate a steady stream of leads. 
You've got to keep up with them and beat them on a regular basis. That's how to keep your crews busy. 
Of course, you can buy leads from other people. That's a start. And if you don't have enough organically-generated leads created within your business itself, you should buy them and get your salespeople on them. 
But relying on purchased leads means you'll always be perceived as part of the pack. 
The lead you bought isn't optimized for your brand. In many cases, you've bought a lead that's been sold several times over. And you're often just one of many companies contacting the lead for the work.
And, of course, purchased leads cost money. If you're relying on purchased leads, you'll always have a high customer cost of acquisition. 
But the real progress and the real growth will happen when your business is generating a constant stream of exclusive home improvement leads that are 100 percent your own. 
Optimize your website.
First, ensure your website is optimized to receive incoming traffic and help you capture contact information or generate a phone call or email. 
You need to optimize your site on at least two fronts: Keyword searches, including searches on local terms (e.g., "plumbers near me"), and Google Maps searches. 
Fortunately, setting this up is very simple. Using Google My Business online, you can jumpstart your Google business listing. Be sure to complete every section of your Google My Business profile, without skipping any information, or you won't get the best possible results. 
Get listed on online directories.
Search for local or industry-specific directories that match your business or industry. Search for the relevant local lists and online directories in your area.  Ensure your contact information is correct and up to date. Try to add photos and images. The more complete you can make the profile, the better. The more complete your information, the more solid you look to customers looking for businesses like yours. 
Use a CRM.
A CRM, or customer relationship management program, helps you capture incoming leads, and create a system for managing your contact-to-sales pipeline. Once you've onboarded a new customer, your CRM helps you stay on top of that existing relationship. CRMs also allow managers to create a system to track and fix complaints or follow up at key intervals to generate upselling and cross-selling opportunities. 
There are many CRM options out there, so choosing the best one for your company's needs might be challenging. With that in mind, we reviewed the best CRMs for small businesses.
Practice reputation management. 
Customers routinely look at online reviews when they shop for goods and services, and home improvement/repair is no exception. Even great businesses can get an occasional bad review. But great businesses also respond to bad reviews promptly. Have someone monitor Google, Yelp, and other key review sites every day. Respond on the review site itself, and contact the customer directly, if possible.

Readers know that no business is perfect. But when they see that management is responsive and proactive at addressing and fixing problems, that can go a long way to earning their business. 
Additionally, make sure your happy customers leave good reviews on your site. Keep them genuine, of course. But provide an incentive for happy customers to share their experiences. 
Invest in local SEO.
Nearly half of all search traffic on Google now involves a local search term. And local searches have high buyer intent: 80% of local searches convert to leads. So it's a great idea to focus on your own neighborhood, town, city, county, or state. Even with a limited budget, you can do very well ranking for local search terms ahead of much larger companies who have to dilute their marketing over entire states or regions. 
Invest in retargeting ads.
The term "retargeting" means showing ads to people who landed on your site, but didn't take action. These people have already shown interest in your product or service. Even if they aren't ready to buy right away, this is a great set of people to keep your name in front of. They may be ready to buy very soon. A retargeting ad with a good call to action has a much better chance of catching them at the moment they're ready to act than an ad to a general local audience. 
Leverage direct mail and newsletters.
88% of advertisers agree that a newsletter effectively targets and reaches customers without third-party data. You can deliver your lead magnet to your prospects through value-filled newsletters. 
Newsletters ensure your prospects stay aware of your brand. Newsletters allow you to share promotions, offers, premium services, and project details to attract prospects as a home improvement contractor. This strategy can drive contractor leads down the purchase funnel. 
In addition, newsletters can include special or premium offers, upcoming events, new blog posts, updates or changes in terms of services, etc. 
Invest in email marketing.
While you might regard email as an ancient marketing method, it is ranked as the most effective marketing medium. This is quite surprising as several people might think "email is dead," whereas its popularity is on the rise. 
Despite the rise of social media users, more than 50% of the population in the world has an email account. In 2020, the number of email users rose to about 4 billion. 
Marketing your home improvement business via emails can yield an average return of $38 on every $1 you spend. This is why you need to set up an email ad campaign to boost your sales. 
One of the ways to market your brand via emails is by sending out relevant content to your subscribers. For instance, you can provide guides, tips, DIY tutorials, and other information pertinent to your business. 
Before you can pull off successful email marketing, you need a database of the email addresses of people who are interested in receiving valuable emails from your business. 
An excellent way to achieve this is by providing enticing offers, and in return, you ask them to subscribe to your newsletter. You can also include your newsletter subscription form on your website so that visitors can sign up whenever they visit your page. 
Master inbound marketing.
Where outbound marketing is active, Inbound marketing is passive. It works when you sleep. Inbound marketing is designed to attract people who are out there actively looking for you, the home improvement contractor.
If you have a good inbound marketing program, you'll get a steady flow of people coming to your website and filling out their contact info, expecting you to contact them.
These are valuable leads because they are already demonstrating a buyers' intent. They're already thinking about purchasing the products or services you sell - that's why they filled out your contact form or sent you an email. 
So how do you build an inbound marketing machine?
Look at your website from a customers' point of view. Is it informative and easy to navigate? Is it too sales-y? Is it believable? Is it readable? Does it load quickly on both desktop and mobile devices? Do you have a defined sales funnel on your website that logically moves viewers from your landing page to filling out their contact information or actually placing the order, without skipping any steps? 
If there are problems on the front end, visitors won't hang around long enough for your site to help you build a perception of value. 
Develop a content strategy.
A content strategy leverages great content design and structure to bring and engage visitors and then convert them into leads or even customers.
That could mean creating a blog that focuses on actionable tips and advice for your target market. 
Other possible elements of a content strategy could include: 
Youtube videos

Online webinars/seminars

E-books

White papers

Frequently-asked-questions

Bulletin board and forum posts that link back to your website, and more.
Use your financing program as a differentiator.
There are still lots of home improvement contractors who are over-reliant on the customers' bank's willingness to lend to them, or on credit card financing. 
But these are notoriously poor matches for home improvement projects. Banks typically don't like to work with people with less than perfect credit, while credit cards have notoriously low borrowing limits and high-interest rates.
Instead, you can make it clear from the beginning that for your customers, financing is available, affordable, and you don't need great credit to qualify. We can help with that part. 
Write blog posts.
Creating SEO blog posts will drive more web traffic to your site and raise your brand's visibility. Besides your site, a blog is an avenue to tell your audience more about your business by providing them with helpful content. It is a means of telling them more about your home improvement company, products, and services. 
Posting valuable blog content will also help to rank your site higher on SERP. Companies that blog usually have 55% more website visits than those that do not. 
Bonus Tip: Segment Your Market. 
Whether you're setting up your CRM for the first time, creating an email or direct mail marketing campaign, or creating an ad campaign, You need to think a few moves ahead: 
Segment your market and your growing list of leads by message. 
One very basic segmenting system would be having one list for private homeowners and another list for commercial property owners. The messaging and product line may be very different, so you don't want them getting the same newsletter.