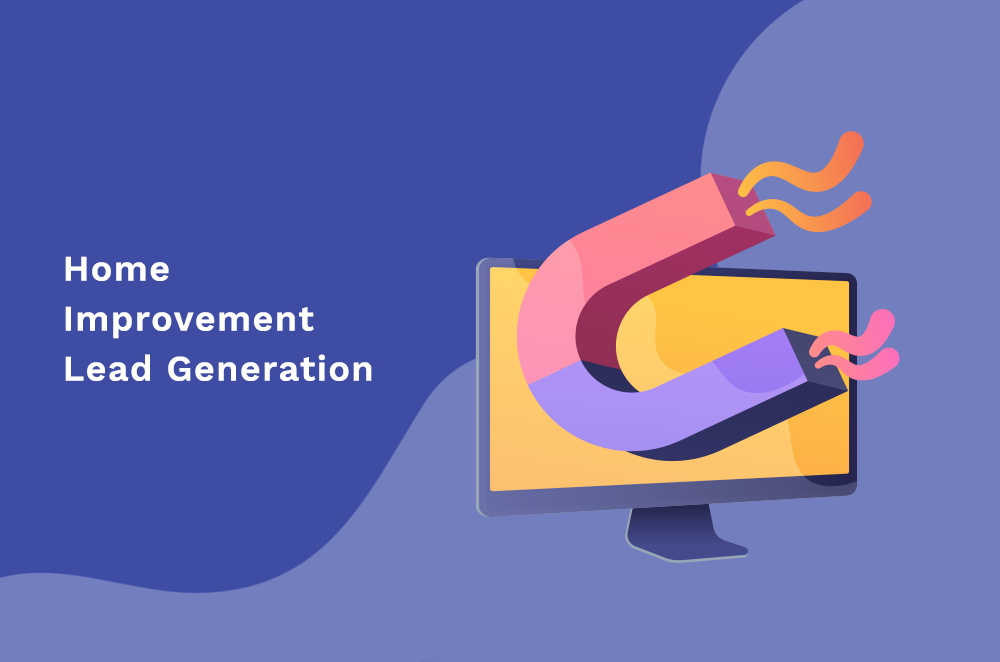 A lot is happening in the marketing world that you should know. While some businesses are thriving comfortably, others are getting run under. 
Imagine a race where the last runner gets eliminated when the bell rings for the next lap. It is okay if you believe in luck. But the only difference between a thriving business and a struggling one is leverage.
Only those ready to leverage the dynamics of digital marketing can keep their businesses alive. But, interestingly, a home improvement contracting business can also get better with an extremely effective home improvement marketing tactic.
Come to think of it. The home improvement industry is expanding. Homeowners continuously need to improve, replace, repair, expand, rearrange, and make their homes better. In 2020, the home improvement market was valued at 763 billion US dollars and estimated to surpass 1 trillion US dollars by 2027. 
How then do you reach out to homeowners without much struggle? As a home improvement contractor, you cannot do that by doing anything or relying on traditional marketing only. 
So here is the thing, we will discuss how you can use one of what digital marketing offers. You must have heard "Lead Generation" at some point. No problem if you have not. 
This article will explain all you should know about lead generation and how it can impact your home improvement company. 
As you will realize, generating qualified leads will bring more clients to home improvement companies and boost the conversion rate. It will also retain and sustain them and grow your home improvement business.
We have examined this strategy for a while and discovered its long-term benefit in online advertising. This means, if done successfully, you are setting yourself up for a long-term customer retention program. 
What makes it more exciting is its cost-effectiveness. It is fast, reliable, long-term, and you can start recording its massive impacts almost immediately. If you think it would be too much work, you can contract a trustworthy lead generation company.
Marketing Your Way With Lead Generation 
A 2020 statistics show that 67% of companies leverage lead generation as the only metric to measure content success. 
Knowing how lead generation fits into your online advertising toolbox is very important as a digital marketer. But first, let us start with defining lead and lead generation. 
Any person who is interested in buying your product or service is a lead. It does not exactly mean the person is buying. But, they have indicated a level of interest in what your company offers. 
There are primarily two ways to reach out to your potential clients. You can either make a sales call out of the blue or have them expect your call. Converting leads works more with the latter. 
A lead shows interest by submitting personal information or filling a questionnaire that you can use to contact them. It is not intrusive. The information collected forms the basis of establishing a personalized communication with the lead. This makes online marketing more focused since you only reach out to interested prospects. It should be noted that purchase leads are part of the broader cycle of consumer-based online marketing. 
On the other hand, lead generation can be explained as an act of alluring prospects to convert them into new clients. 
In lead generation, you are not interested in existing customers (except you are selling a new product or service). Instead, your focus is how to reach prospects outside your customer cycle that have shown interest in your product and build relationships with them. 
In other words, lead generation comes with ideas that will convince the leads to fall for what you sell. 
There are several methods to generate leads for your home improvement business. These are lead generators, and we are going to touch them. 
First, however, you must understand that generating leads has moved beyond being the first to reach a prospect and visiting them with your sales team. You must cut out new creative ways to reach the target audience who need home improvement services. 
For example, lead generation indicates that it is time to move from email blasting and mass advertising. Like some brands, you can even employ the services of lead generation companies.
Importance Of Lead Generation For Home Improvement Professionals
"Customers are now smarter, more connected, more informed, more influenced and influential socially, and less likely to respond to campaign bait. Marketing has to create content people actually want." - Tim Baker, the Chief Product Officer of DataShift.
Generating exclusive home improvement leads is all about building interest, trust, and credibility in your potential clients.
When your lead gen plan focuses on high-quality prospects, it can help your home improvement company increase conversion rate while turning prospects into high-value clients. It's simple; you need leads to sustain your business. 
Before we go into home improvement leads tactics, here are some benefits of attracting leads. 
Target Expansion
Unlike the traditional marketing approach that limits your target base, lead generation expands your service area. Instead of focusing on a specific set of people, you can widen your horizon and learn about your potential clients. Lead generation follows trends. This makes you always aware of finding people who need a home improvement company.
Revenue Boost
Lead generation maximizes your resources to reach prospects. You can boost your home improvement business revenue with the right content and contact strategy. In addition, it is easier to capture high-quality leads and convert them with lead generation. As a result, there is potential for huge revenue growth.
Target Lead Quality
Creating and dumping random content on the web can increase your traffic but will not convert them. Lead generation uses a targeted approach to marketing. The content you write, the marketing approach, and everything else is target-based. As a result, you can target quality leads only, which increases conversions and retention.
Remove Cold Calling  
Not many like to be called to buy a service they showed no interest in. And to avoid wasting resources and your sales team effort, channel this strategy into people who are very likely to buy your service. 
Build Brand Awareness And Visibility 
With lead generation, you can improve the buzz around your home improvement business. Lead generation uses targeted content and an optimized messaging strategy to reach homeowners interested in your service. Whether you are new or already established, you can use this approach to develop your business.
Strategies To Generate Leads For Your Home Improvement Business
So what tactics can you adopt for lead generation in your home improvement business? 
There are several methods brands use today. Let's consider some of the best home improvement advertising ideas to generate home improvement leads. 
Direct Engagement
Since a home improvement business offers a high-value service, we advise that you directly engage potential clients. Direct engagement means you meet with the prospect you believe needs home services. For instance, you can call the homeowners in an estate and pitch home improvement projects. They will be interested in making improvements, repairs, and expansions to their homes. You can reach them directly in person or via phone, email, or social media.
Retargeting 
The first interaction may not bring the number of conversions you want. However, if prospects don't convert at first, you can always do it again and better. This home improvement lead targeting idea helps you reconnect prospects with your home improvement business.
These prospects have been engaged with the brand before but didn't take the buying step. As a result, they may need to see your brand a few more times even though they have already interacted with your social media page or website. 
This strategy is extremely effective because it focuses on those aware of your service type but need better engagements. After the direct engagement, you can retarget the prospects through social ads or Google display. 
Referrals And Reward
This is another way to generate home improvement leads. We believe it works for home improvement companies because homeowners want a personalized touch to their homes and trust recommendations. 
In addition, if you gather positive reviews, you can appeal to your existing clients to refer your business to their friends and family. Some do it for free if they are very satisfied and delighted with your business. 
On the other hand, you can add incentives to the referral program to reward clients who refer other people. This strategy is an effortless and exclusive home improvement leads acquisition tactic. You will recover back the reward from the referred client. It is a good plan to develop your business.
Guest Blogging 
Being part of content marketing, writing guest posts effectively generates qualified leads for your home improvement company. An added advantage is that it helps to improve your SEO. 
Furthermore, you can connect with those within your industry, generate traffic to form referral sales, etc. Guest blogging is that simple and beneficial. 
As a business owner, you can write guest posts for sites relevant to your industry. However, ensure these sites are not your competitors. 
For instance, as a home improvement contractor, you can guest blog for sites that sell home furniture, deal in real estate, or even homeowners insurance. With guest blogging, leads will find you through your backlinks
Social Media Promotion 
Using paid ads is not a bad idea for home improvement lead generation. Many social media tools like Facebook, Instagram, work for home improvement lead generation. Home improvement businesses can leverage Facebook business pages, social ads, and online reviews. Depending on the tool, you can target prospects on micro or macro levels. Whichever is the case, the idea is to connect with target homeowners. We recommend learning more about social media marketing for home improvement companies. 
Website Optimization 
Your website is your chance to impress and convert your prospects. If you want to get more leads on your website, you need to optimize your homepage so people can easily detect your lead magnet. The lead magnet is whatever (click, subscription panel, pop-up, etc.) can convert sales, subscription, or response on your website. 
Use the following tips to optimize your website to attract new leads:
Position your lead magnets at the end of each blog post

Set your lead magnet at the sidebar of your website

Let your lead magnet be the primary call to action on your homepage

Include pop-ups on the first page of your site

Create and optimize a sales funnel
Free Offers Or Freemium
People would pay for home improvement services but do not mind enjoying some freemium. Therefore, you can generate leads by offering prospects free offers or trial services. The free home improvement offer does not have to be a big one. However, ensure you do not perform below expectation as it is your chance to convert the prospect and generate new leads. Also, note that this method can fetch you quality reviews and exclusive home improvement leads.
Coupons And Discounts
You can make your lead gen be a coupon or discount. It is an effective way to convert your prospect into new customers. This tactic has been tested and confirmed to generate short-term and long-term leads. Short-term because you can quickly close sales with ready clients, and long-term because you have kindled an interest in them. Most contractors attract clients using this method.
Event Hosting
Hosting an event to promote your home improvement business is another way to gather new leads. You can have it either online or off or both. The aim is to use the event to bring your target customers to your business. You can use this strategy to collect the contact information of your audience through event registration. It is also a chance to connect with the target market in real-time and respond to objections. Events can be in the form of a workshop, meetup, conference, seminar, or webinar. 
Newsletters
88% of advertisers agree that a newsletter effectively targets and reaches customers without third-party data. You can deliver your lead magnet to your prospects through value-filled newsletters. 
Newsletters ensure your prospects stay aware of your brand. Newsletters allow you to share promotions, offers, premium services, and project details to attract prospects as a home improvement contractor. This strategy can drive contractor leads down the purchase funnel. 
In addition, newsletters can include special or premium offers, upcoming events, new blog posts, updates or changes in terms of services, etc. 
Blog Comments
Posting comments on blog posts related to your products and services is another proven way to generate leads. It is an effective social media marketing strategy for home improvement companies, as it is an easy way to bring more people to your company and boost your business. 
You can even answer questions posted by readers and include a call to action. However, if you post a comment on a competitor's post, tread carefully, so you do not seem like you are driving their audience. 
Choose Time Investment For Your Business
You want the best for your company and your customers. How about you share your goals with Time Investment and let them make your operations easier, convenient, and more successful. 
At Time Investment, we build customer-business relationships with our flexible payment programs to help your customers afford your home improvement services. Contact us online or call (800) 236-1177 to speak with our representative for more information on our services.