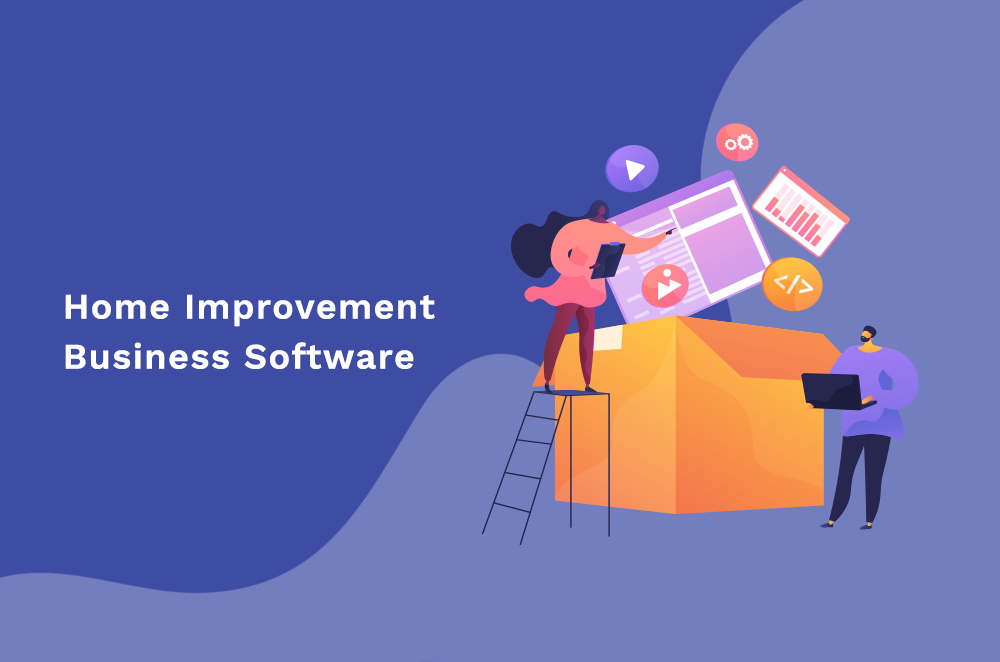 Interested in finding the best home improvement business software for your company?
With the advancements in technology, home improvement businesses are tending towards incorporating information technology into their affairs. 
This is why several home improvement software has been built to make work easier for the contractors and the homeowners. And the good news is that most of them are user-friendly, free, or very affordable. 
There are various categories of home improvement software. A few of them include:
Remodeling Estimating Software

Customer Relationship Management (CRM) Software

Interior Design Software

Landscaping Design Software
This article will discuss some of the common software extensively under each of these categories. 
Remodeling Estimating Software
On average, the cost of renovating or remodeling a home is $46810, with the kitchen and bathroom taking up a more significant percentage of the price. Kitchens alone can cost up to $25000, while bathrooms require $10000 on average. 
Estimating how much a home renovation or remodeling will cost can be pretty challenging. Luckily, many home improvement software has been developed to help solve this problem. These programs are called Remodeling Estimating Softwares. 
A remodeling estimating software helps home improvement contractors assess the cost required for renovation based on the needed materials, labor, area, and size. In addition, this software provides access to nearby suppliers, making it possible to know the latest price of materials. Also, it allows its users to compare the cost of materials from different suppliers. 
Furthermore, it allows home improvement contractors to make more accurate bids than the traditional method of drawing estimates on paper or using a spreadsheet. Plus, it helps homeowners to make their renovation estimates and perform an accuracy check of the bids offered to them by the contractor. 
Examples of these remodeling estimating software include:
B2W Estimate Software
B2W is a heavy construction estimating software. It was built with the latest SQL Server and .NET technologies. 
With this software, home improvement contractors can carry out their cost evaluations quickly and more accurately. In addition, the software is easy to use, whether as a new or an existing software user. 
B2W also creates a single database for the costs, tasks, pay items, crews, and resources. This helps the estimators to manage their data easily and efficiently in one place. 
It also enables contractors to make construction biddings with speed and accuracy. Furthermore, more than one contractor can work on a bid at the same time. This is beneficial to contractors working in big companies or residing in various locations. 
ProEst
ProEst is another cloud-based construction estimating software with tons of advanced features and functionalities. Its features include - digital takeoffs, customized reporting, customer relationship management, estimating, and bid day analysis. 
Other highlighted features include:
Easy and fast cost estimation

Well-drafted construction proposals

On-screen digital takeoffs, which makes labor, material, and tools cost analysis easier. 
Viewpoint ProContractor
Viewpoint ProContractor is a cloud-based software suitable for use as a desktop or mobile application. It is one of the best remodeling estimating software that allows its users to compute the labor costs, purchasing materials, and equipment. Also, it helps to generate payrolls and invoices. 
Viewpoint is an excellent software to handle construction jobs. For your estimations, project, business, data, financial and operations management, Viewpoint ProContractor is a perfect fit for your job. 
Clear Estimates
Clear Estimates is a cloud- and web-based estimating software. Because it is less expensive, it is suitable for small businesses. It can be used to estimate the cost of home renovations and remodeling, manage customers and create competitive bids. 
The software is linked to a RemodelMax database that provides the average cost of labor and materials, making it easy for the contractor to make an accurate estimate. 
Sage Estimating 
Another widely used, cloud-based construction estimating program is Sage software. It is a flexible software that allows contractors to make better estimates and manage their projects, documents, and services. 
Some of the key features you can enjoy using this software include - 
Digital takeoffs

Project management

Job costing

Contract calculation

Several unique cost databases
UDA Technologies' ConstructionOnline Software
The ConstructionOnline software was designed for homebuilders, remodelers, and real estate developers. It is a web-based software that can be used to manage projects and customers and schedule jobs. 
One key feature of the UDA Technologies' ConstructionOnline Software is the pre-qualification process. On behalf of the buyers, they validate all the members against the PAS91 criteria. Thus, they make it easy for buyers to search and quickly select the construction company that meets their needs. 
The software is also relied on by thousands of buyers to find construction suppliers to complete their projects. ConstructionOnline provides a range of high-quality suppliers for the buyers to choose from. 
Other essential features include:
Gantt chart styles scheduling, which allows users to convert tasks to groups easily. 

Photo management 

Cost management 

Project management 

Contract management 

Home configuration 

Password-protected online portal for clients

Orders processing. 
Customer Relationship Management (CRM) Software
Customer relationship software helps contractors to provide customer satisfaction. The best CRM software helps you access and manage customer data, handle your customers' tasks, and effectively manage your business. As a home improvement contractor, CRM software is designed to make your job easier and more efficient.
There are certain CRM programs that possess additional features besides customer management. For example, some of this software can process payments, perform cost estimation, financing, project scheduling, etc. 
Here is some commonly used CRM software:
Builder Prime
The Builder Prime software is specially designed for contractors and home improvement professionals. It is a CRM, estimating, and production management application, that offers tons of features to make your business better. 
Builder Prime software helps to offer better customer service. It manages and prevents your prospects from slipping away. The application categorizes all your leads and allows you to identify the ones you need to follow up with and how you should go about it. 
It comes with a flexible scheduler where you can add your appointments, to-do tasks, job descriptions, and so on for all the employees. 
Also, it comes with the tools you need to write a fantastic proposal, thereby helping you close more leads with ease. You can also generate professional and customized invoices for your clients, track the payments, and get paid. 
Overall, Builder Prime CRM software will make you organized, get more jobs, earn more money, generate invoices and become more successful in your business. 
Buildertrend 
Buildertrend was designed to make construction businesses more accessible and better. A cloud-based software designed for remodelers, specialty contractors, commercial contractors, and home builders. 
This software has many features such as:
Pre-sale tools
These tools help contractors to get more jobs and boost their business. 
Customized proposals 

Cost estimates

Client relationship management 

Email marketing 
Project management tools
The project management tools help to get jobs done on time. 
Client reminders

Job scheduling 

Real-time reporting 

File sharing and organization

Easy team collaboration 

Tasks creation and assignments to team

Real-time work in progress reporting

Easy documentation and information sharing with the team, subcontractors, and clients. 
Financial tools
These features track the inflow of money and manage your budget. 
Bidding

Invoice generation

Time management

Orders processing and management

Track costs, billings, and orders

Online payments and payments remainders. 
Customer management tools
These tools allow the customers to keep track of their projects in real-time. 
Customer login to access their projects

Customers reviews or surveys 

Easy communication and organized messages
JobProgress
JobProgress is another must-have home improvement software for contractors. You can make your job less demanding by using JobProgress to manage your business. Some of the key features are:
Cloud storage. 

More productivity.

Dashboard workcenters. 

Improved communications. 

Good customer relationships.

Customizable proposals and contracts. 

Easy cost estimation, quoting, and job scheduling. 

Team collaboration:

JobProgress allows you to share knowledge and information with your team anywhere and anytime. 

Remote working:

JobProgress allows you to connect to your business anywhere you are. This makes it easier for you and your employees to work from home. 

Accessibility on mobile phones and tablets.
MarketSharp
MarketSharp is an excellent CRM software for contractors, workers in the remodeling business, and home improvement contractors. 
With MarketSharp, you can boost your job productivity, monitor your performance via the built-in dashboards, and generate more leads. It also helps to solve customer-client issues such as forgotten deadlines, frustrated customers, and so on. Overall, MarketSharp helps to provide customer satisfaction. 
MarketSharp also allows you to manage your projects, schedule your jobs, estimate your cost and turn your one-time customers into lifetime customers. 
ServiceTitan
ServiceTitan is suitable software for general contractors and residential contractors such as HVAC contractors, plumbers, electricians, etc. It was built with so many functionalities that can boost your sales, manage your customers' data and your business effectively. 
With ServiceTitan, you can also keep track of all the customers' activities - messages, call recording, and check their information when they contact you. 
The revenue dashboard allows you to perform real-time monitoring of how well your business is doing at any time and in any place. ServiceTitan also notifies you of important events like canceled meetings. 
Interior Design Software
Interior design software is designed to help you bring your design vision into a reality. Although, they could also be used for collaboration, project management, sales management, etc. 
With the perfect interior design software, you can create a realistic visual layout of a home alongside the furniture and fixtures. 
Here is a few interior design software:
Roomstyler
Roomstyler is a free, easy-to-use, web-based design software that allows users to create simple floor plans. It allows users to modify the shape, size, and dimension of existing room shapes and use a library containing furniture and fixtures that can be added to any floor plan. Users can also add doors and windows and adjust textures using a paintbrush tool. The software is cloud-based. 
SketchUp
SketchUp software is majorly used by architects, engineers, and interior designers. It is a web-based application that allows users to design and view 3D models on their devices. Users can also convert the 3D designs into 2D models for easy documentation. 
SketchUp offers limitless cloud storage for files sharing and collaboration. However, unlike Roomstyler, their services are not free. 
Design a Room
This software by Armstrong Flooring is a great application that allows you to design a room from scratch or redesign an existing one. You can either upload pictures of your existing space or select a design template from the available ones on the site. 
You can then edit the room by changing the flooring, paint, and furniture till your desired design is achieved. 
Landscaping Software
Landscaping software makes it easy to design outdoor spaces such as gardens, parks, pools, etc. This helps you visually present how you want the outdoor of a home to look and move things about until you achieve your desired look. 
Examples include:
Garden Planner
The garden planner software designed by Small Blue Printer is an easy-to-use landscaping and garden design tool. It can be used on either Windows or Apple OS. Users can select objects such as plants, furniture, etc., from the library and add them to their designs. 
iScape
This is a perfect interior design application for iOs devices. The iScape app allows you to design your outdoor living space before you bring them to real life. You can also use it to redesign an existing space. 
Whether you are a homeowner or a landscape contractor, you can use iScape to create so many outdoor styles and designs. In addition, the software has a library of trees, plants, and fences that users can add and move to their desired location. 
Ready to Close More Deals? 
Many people want you to remodel or renovate their homes but cannot afford your services. Help your customers and prospects patronize your business today by partnering with Time Investment. 
At Time Investment, we offer financing via various payment programs to help our partners' customers who have businesses in multiple industries such as HVAC, Healthcare, Water treatment, etc.
Call 262-208-5999 today or fill out an inquiry form to learn more about our services.