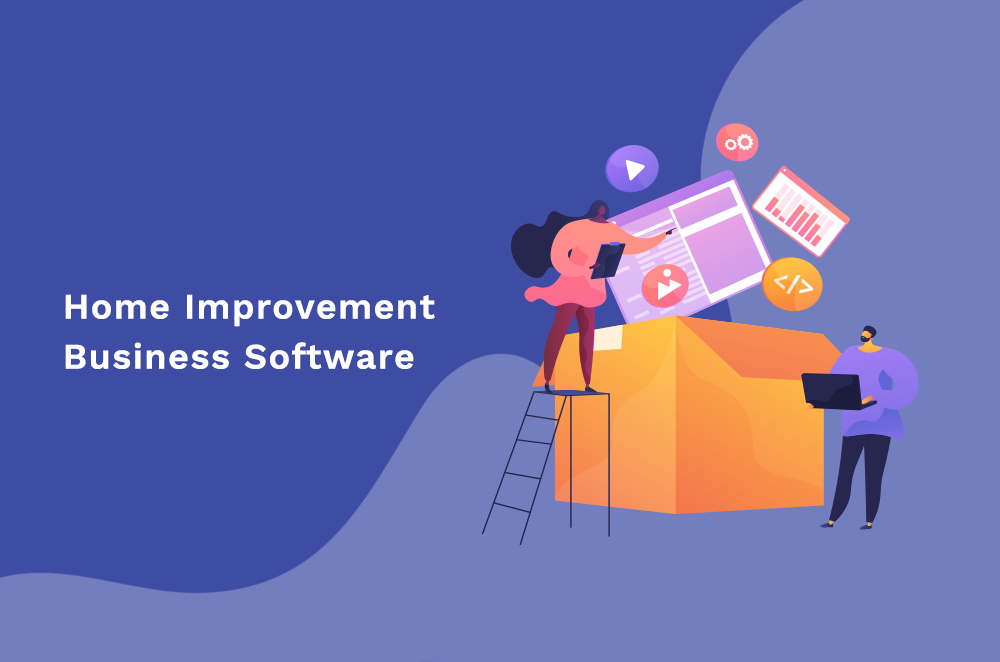 Just a few years ago, it was common for contractors to run their businesses with a mobile phone, spiral notebooks, manila folders, and a bookkeeper to keep track of it all.
Those days are over.
Advancements in information technology are revolutionizing the way home improvement and construction industry firms are doing business. Today's technology is allowing contracting firms of all sizes to increase their efficiency, reduce error rates, and improve profitability. Investing in the right construction management software allows businesses to become more competitive and serve their customers better. Businesses relying on outdated technology - or no technology at all - are increasingly being left behind. 
Today's contractors are integrating many different categories of home improvement business software into their operations; Here are some of the most common in use today in the construction industry:
Remodeling Estimating Software

Customer Relationship Management (CRM) Software

Interior Design Software

Landscaping Design Software
Some of these programs are free, others require you to pay for the full version, generally under the SaaS (software as a subscription) model. Naturally, the paid versions tend to offer broader and deeper functionality. Some of them are stand-alone packages, while others have bid management and accounting features and are designed to integrate with broader business management programs. Most are cloud-based and accessible on your mobile device. So you can use them on the road or on the job site.
This article will discuss some of the best and most popular estimating and construction management software programs for general contractors or residential remodelers under each of these categories. 
Construction Industry Remodeling Estimating Software
Remodeling estimating software helps home improvement contractors quickly assess the essential material and labor costs required for renovation and remodeling projects. These programs automate common calculations of the following elements:
Materials

Time estimates and labor

Square footage

Project scheduling, and more.
These construction management software products allow construction professionals and residential builders to quickly and easily create estimates and manage customers. The more sophisticated remodeling estimator programs are integrated with local suppliers, who regularly update pricing on the software platform, so you can get an accurate materials estimate without having to constantly contact suppliers and manually input that information into the program  – or worse, yet, into a spreadsheet!
Note that this function also allows users to compare the cost of materials from different suppliers. 
Why Use Estimator, Project Management, And Construction Management Software? 
Today's crop of home estimator and construction software packages allows home improvement contractors to make more accurate bids than the traditional method of drawing estimates on paper or using a spreadsheet. Plus, it helps homeowners to make their renovation estimates and perform an accuracy check of bids on residential projects.
Examples of these remodeling estimating software include:
B2W Estimate Software
B2W Estimate Software is a heavy construction estimating software platform It was built with the latest SQL Server and .NET technologies. With B2Wm home improvement contractors can carry out their cost evaluations quickly and more accurately. In addition, the software is easy to use, whether as a new or an existing software user. 
B2W also creates a single database to track and manage costs, tasks, pay items, crews, and resources. This helps the estimators to manage their data easily and efficiently in one place, on all kinds of construction projects
Construction management software also enables contractors to make construction bids with speed and accuracy. 
One interesting feature: Furthermore, multiple contractors can collaborate, working on a bid at the same time. This is beneficial to larger businesses that need to integrate information from multiple disciplines or departments in one bid, or where contractors and subcontractors need to provide input into the proposal and get it out the door before the bid window closes or some other firm lands the business.  
ProEst
ProEst is another cloud-based construction estimating software with tons of advanced features and functionalities. Its features include - digital takeoffs, customized reporting, customer relationship management, estimating, and bid day analysis. 
Other highlighted features include:
Easy and fast cost estimating

Professional-looking, automatically-drafted construction proposals and reports

On-screen digital takeoffs, which makes labor, material, and tools cost analysis easier.

Built-in CRM

Subcontractor invitation-to-bid functionality

Document management

Integration with accounting

Mobile capabilities
Viewpoint ProContractor
Viewpoint ProContractor is a cloud-based software suitable for use as a desktop or mobile application. It is one of the best remodeling estimating software that allows its users to compute the labor costs, purchasing materials, and equipment. Also, it helps to generate payrolls and invoices. 
Viewpoint is an excellent software to handle construction jobs. For your estimations, project, business, data, financial and operations management, Viewpoint ProContractor is a perfect fit for your job.
ViewPoint has several packages that are optimized for certain types of contractors. For example, they have a specific program for HVAC and sheet metal contractors, plumbing and piping contractors, and specialty contractors.
Clear Estimates
Clear Estimates is a cloud- and web-based estimating software. Because it is less expensive ($59 per month) the full version is suitable even for small contractors and professional remodelers.
It's affordable, easy-to-use, and comes with detailed templates for common home improvement projects, such as kitchen remodels, room and basement remodeling, and handyman services, to help even small contractors develop accurate bids without spending an inordinate amount of time on them. 
They also include functionality for specialty trades, such as HVAC, electrical, roofing, painting, and plumbing.
The software is linked to a RemodelMax database that provides regional price information from major suppliers, updated every three months, making it easy for the contractor to make an accurate estimate. 
Sage Contractor
Another widely used, cloud-based construction estimating program is Sage. This company makes a number of separate but integratable software packages spanning construction, estimation, project management, payroll, HR management, and more.
The Contractor suite It is a flexible software platform that allows contractors to make better estimates and manage their projects, documents, and services. 
Some of the key features you can enjoy using this software include - 
Digital takeoffs

Project management

Job costing

Contract calculation

Several unique cost databases
Sage Estimating features superior takeoff tools that make it possible to transfer 2D and 3D takeoff information into the solution quickly and efficiently. Integration with Sage 100 Contractor and Sage 300 Construction and Real Estate allows users to export budgets, purchase orders and subcontracts without the need for duplicate data entry. 
Pre-populated RSMeans cost databases offer everything from site work items to electrical components, and City Cost indexes.
UDA Technologies' ConstructionOnline Software
UDA Technologies' ConstructionOnline construction management software was designed for homebuilders, remodelers, and real estate developers. It is a web-based platform that can also be used to manage projects and customers and schedule jobs. 
Thousands of buyers rely on UDA's ConstructionOnline platform to find construction suppliers to complete their projects. ConstructionOnline provides a range of high-quality suppliers for buyers to choose from. 
Other essential features include:
Gantt chart styles scheduling, which allows users to convert tasks to groups easily. 

Photo management 

Cost management 

Project management 

Contract management 

Home configuration 

Password-protected online portal for clients

Orders processing 
Customer Relationship Management (CRM) Software
Customer relationship software helps contractors to provide customer satisfaction. The best CRM software platforms help you access and manage customer data, handle your customers' tasks, and effectively manage your business. 
Some CRM programs are stand-alone programs. Others are designed to integrate with other functional areas, such as accounting, scheduling, project management, invitation-to-bid, and more. 
The overall trend has been for CRM programs to become more industry-specific and integrate a broader array of functions. So even if you're currently using a legacy CRM platform, it might be worthwhile to explore more contractor-specific software options such as the ones listed below:
Builder Prime
Builder Prime software is specially designed for contractors and home improvement professionals. It's a combined CRM, estimating, and production management application that offers tons of useful features and functions for contractors. 
In addition to contact management, it also integrates a flexible scheduler where you can add your appointments, to-do tasks, job descriptions, and delegated tasking for all your employees. 
Additionally, Builder Prime also helps you automatically generate a detailed, professional-looking proposal. The program also quickly generates custom client invoices and helps you track the payments. 
Buildertrend 
Buildertrend was designed to make construction businesses more accessible and better. Cloud-based software designed for remodelers, specialty contractors, commercial contractors, and home builders. 
The Buildertrend solution is loaded with useful features such as:
Pre-sale tools

Automated Customizable proposals 

Cost estimating tools

Digital signature functionality

Client relationship management 

Lead capture from website traffic

Email marketing tools, including automated blasts

Project management tools
Further, the Buildertrend solution includes these additional project management tools help you get your jobs completed on schedule:  
Client reminders

Job scheduling 

Real-time reporting 

File sharing and organization

Intuitive, easy-to-use team collaboration functionality

Tasks creation and delegation/assignments and task tracking

Real-time work-in-progress reports

Easy documentation and information sharing with the team, subcontractors, and clients. 

Bidding

Invoicing

Time management

Orders processing and management

Tracking costs, billings, and orders

Online payments and payment remainders. 
JobProgress
JobProgress is another popular and compelling home improvement software option for contractors. You can make your job less demanding by using JobProgress to manage your business. This platform helps contractors ensure job progress is made on multiple projects, satisfy more clients, and be more productive with less effort.
Key features include:
Fully Customized Job & Workflow Manager

Paperless Mobile App

Customer Relationship Manager

Online Sales & Marketing

Quick Estimating, Quoting & Scheduling

Remote Business Control

Dashboard Workcenters

Safe Cloud Storage & Access

Employee And Subcontractor Manager

Instant Proposals And Contracts

Office, Field & Operations Manager
MarketSharp
MarketSharp is an excellent CRM software for contractors, workers in the remodeling business, and home improvement contractors. It's a turnkey, all-in-one software package that integrates lead management, CRM functions, cost estimating, scheduling, productivity, and project management all on a single platform. 
MarketSharp also allows you to manage your projects, schedule jobs, estimate costs, and turn your one-time customers into lifetime clients.
Interior Design Software
Interior design software allows you to create a realistic visual layout of a home or building interior, allowing you to quickly and efficiently depict your post-project 'vision' to the customer.
Today's interior design software packages make it a snap to collaborate with customers and subcontractors to communicate options, recommendations, and the desired end state for all kinds of remodeling and interior design and decor projects. 
Here are the most common interior design software packages popular with home improvement contractors today
Roomstyler
Roomstyler is a free, easy-to-use, cloud-based design software that allows users to create simple floor plans. It allows users to modify the shape, size, and dimensions of existing room shapes and use a library containing furniture and fixtures that can be added to any floor plan. Users can also add doors and windows and adjust textures using a paintbrush tool. 
SketchUp
SketchUp software is widely used by architects, engineers, and interior designers. It is a web-based application that allows users to design and view 3D models on their devices. Users can also convert the 3D designs into 2D models for easy documentation. 
The platform offers a free version for basic users, while professionals and those needing more advanced functions can opt for the Sketchup Shop ($119/year),  SketchupPro ($299/year), or Sketchup Studio ($699/year). 
Even the free version allows for unlimited cloud storage and access to pre-built 3D models.  
Design a Room
Design a Room software by Armstrong Flooring is a great free application that allows you to design a room from scratch or redesign an existing one. You can either upload pictures of your existing space or select a design template from the available ones on the site. 
You can then edit the room by changing the flooring, paint, and furniture till your desired design is achieved. 
It's a great tool to refer your customers to, because they can experiment and come up with design ideas themselves. And when it comes time to do the work, naturally, you'll be the first contractor that comes to mind when they're ready to go. 
Landscaping Software
Landscaping software makes it easy to design outdoor spaces such as gardens, parks, pools, corporate and academic campuses, even golf courses. This software helps you visually present how you want the outdoors areas of a home, business, or public space to look. Point and click technology makes it easy to move things about until you reach a solution that will help you achieve your landscaping goals. 
Here are some of the best and most popular software solutions specifically designed for landscaping.
LMN
With over 85,000 users, LMN is among the leading software solutions designed specifically for landscaping and outdoor planning contractors. The free version supports budgeting, limited estimating, CRM, and time tracking functions. Most contractors will quickly upgrade to the Pro version, which includes these highly beneficial features:
Business planning tools

Estimate builder

Job and payroll reporting

Sales and marketing reports

Time tracking

Scheduling and dispatching

Credit card processing

Customer portals

File and photo storage

Gamification
If you're a landscaping or outdoor services contractor, LMN is a proven choice for the technological backbone of your business. 
Garden Planner
The Garden Planner software designed by Small Blue Printer is an easy-to-use landscaping and garden design tool. It can be used on either Windows or Apple OS. Users can select objects such as plants, furniture, etc., from the library and add them to their designs. 
iScape
This is a perfect interior design application for iOs devices. The iScape app allows you to design your outdoor living space before you bring them to real life. You can also use it to redesign an existing space. 
Whether you are a homeowner or a landscape contractor, you can use iScape to create so many outdoor styles and designs. In addition, the app itself has a library of trees, plants, and fences that users can add and move to their desired location. 
Ready to Close More Deals? 
Many people want you to remodel or renovate their homes but cannot afford your services. Help your customers and prospects patronize your business today by partnering with Time Investment. 
At Time Investment, we offer financing via various payment programs to help our partners' customers who have businesses in multiple industries such as HVAC, Healthcare, Water treatment, etc.
Fill out our inquiry form to learn more about our services.