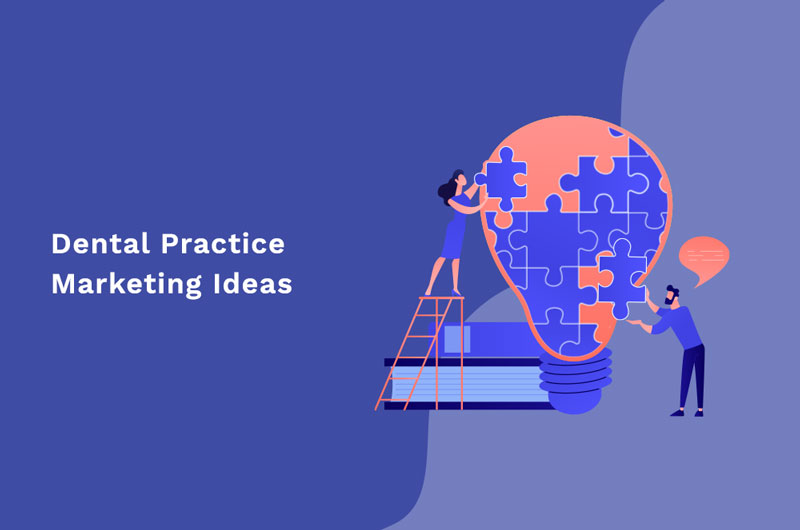 Many dental practices are struggling to grow their patient base. If you have been trying for months or years and still can't find a way to get more patients coming through the door, it might be time to try something different.
That can be a difficult task for any business owner, especially in an industry where the competition is high and there's always someone who seems like they're doing better than you. However, it doesn't have to be that way.
In this blog post, we will discuss some marketing ideas that will help your dental practice grow faster.
The Importance of Developing A Marketing Strategy
Before diving into the list of top marketing ideas to help grow your dental practice, it's crucial that you frame the initiatives you implement around a well-structured and thought-out plan. This can be best described as a marketing strategy.
This will help make sure you are staying on target with your dental practice's goals and objectives as well as what you want it to be in the future.
Without this, your dental office could go months or years without an organized list of ideas for how to market your business effectively.
It would also be hard for new hires coming into the dental practice if they don't know which tasks deserve their attention most urgently because there isn't any guidance from above giving them direction on where they should focus their efforts within the company so that everyone can grow together. Otherwise, staff members would go aimlessly running around trying different things here and there just because an idea sprang out of nowhere two weeks prior.
In the case of dental practices, there are several components that make up a solid marketing plan.
Let's take a look at these components now.
Dental Practice Acquisition Goals
One of the first steps involved in this process involves clearly establishing the goals and objectives.
Doing so will enable you to set up targets and measure the impact of your marketing efforts.
After all, your end goal should be centered around understanding whether your dental practice was successful at the end of a marketing campaign.
In so doing, you make it easier for all relevant parties involved in the marketing campaign process to be more in tune with what is expected of them and foster greater engagement.
Therefore, there are three main areas that dental practices should center their efforts on in determining their goals:
Clarity of mission: This entails having a clear understanding of the general overarching mission or objectives. Businesses usually recall their founding values and morals and use them as a premise upon which to base other facets of their strategy development plan.

Services/procedures: Here, it is important for dental practices to understand the different types of services they wish to focus on. This may range from fillings, tooth extractions, braces, dental plants, or whichever services that may be considered best for growth. Usually, these services are integrally linked to revenue streams. The more revenue the service brings, the more likely they are to be focused on as an idea for growth.

Customer acquisition: It is also crucial for dental practices to identify the number of patients that they would like to acquire over a set period of time. This goal should be realistic and be heavily linked to a relevant timeline. This may take the form of setting up the number of patients you would like to reel in on a monthly or quarterly basis.
Construct Customer Profiles
Once acquisition goals have been established, then the next step is to determine the segment or profile of the market you're looking to target.
This involves understanding the various characteristics that make up a particular subset of customers that you are targeting.
To better understand customer profiles, market segmentation practices come in handy.
While there are multiple ways to segment a market, the most effective ones are psychographic and behavioral segmentations respectively.
With them, it is easier to obtain greater insight into customer behavior, their needs, and their pain points.
Once you have selected the segmentation, buyer personas are then constructed which helps to structure the insight on customers.
These insights will be fundamental in aligning the type of marketing solutions your dental practice offers with the needs of customers.
Customer Lifetime Value (CLV)
Customer lifetime value refers to the estimated worth of a customer over their lifetime.
The CLV is the sum of all future profit expected from a specific customer or prospect minus any losses one might incur as they continue to use, buy, and interact with your dental practice.
This approach will help you identify what customers are worth investing in. That way, the marketing ideas you implement will be steeped in an understanding of the potential value that a customer can provide to your dental practice.
Customer Acquisition Cost (CAC)
Customer acquisition cost is the amount of money that a dental practice spends to acquire new customers.
This cost can be calculated by dividing the total marketing budget for one year into the number of patients gained during that time period.
Marketing ROI is another way customer acquisition costs are calculated, which describes how much value your dental practice has received from every dollar.
Ideally, on average, your CAC should pan out to be roughly a third of your CLV. This is a formula that generally indicates a profitable business model for dental practices.
Top Dental Practice Marketing Ideas
Let's cover a few ideas for you to implement and see more patients coming through your door.
Offer Flexible Finance Plans To Patients
Flexible finance plans are an essential part of dental practice marketing ideas.
Essentially, a flexible finance plan is a payment option that allows patients to purchase dental care with a plan that fits their budget. It is often offered by dentists in lieu of payment for services rendered during an initial consultation or elective procedure.
Flexible plans are an ideal growth tactic for dental practices for the following reasons:
It allows dental practices to collect payment for services rendered at the time they are given.

A flexible plan builds a relationship with patients and establishes trust that can drive future business.

A solid way to make your dental firm more attractive than your competitors who do not offer this type of solution.
In short, flexible finance plans help you get paid sooner and increase the chances of higher service orders, thus helping you to grow your practice faster than waiting months or years.
While some businesses take up the responsibility of offering these types of plans on their own, dental firms should outsource from a third-party lender.
Managing client payments internally is an extremely stressful and time-consuming process. What's more, in the case of small-to-medium scale dental firms, it's even more challenging since this line of financing can be detrimental to your cash flow and general earnings over a set period of time.
Instead, here's how you can partner with a professional third-party lender to offer flexible finance plans.
Time Investment Company For Flexible Finance Plans
Time Investment Company (TIC) is a family-owned finance company with over forty (40) years in the industry providing professional financial solutions to businesses and their customers alike.
During this time, we have partnered with a range of businesses across multiple industries, acting as third-party lenders that facilitate the design and implementation of flexible finance plans for companies and their customers. We specialize in dental firm finance plans, tailor-making attractive, flexible lines of financing for patients who need them.
Our flexible finance plans are designed to suit the financial needs of your customers, with reasonable terms and conditions that encourage them to want to use your services.
Being a family-led business implies bringing in a strong sense of values and morals in everything that we do. For that reason, we adopt a customer-first approach, putting ourselves in our partnering business's shoes to develop a comprehensive finance solution that covers all your pain points.
That is why once a patient has been approved for a flexible finance plan, we release the full cost amount on the service they have requested. We understand that your dental firm cannot wait on capital, so we issue it to you as soon as possible.
With TIC, you can offer flexible finance plans that pull in more potential customers and make it easier to grow your business.
To learn more, simply set up a call with one of our team members and we'll provide you all the guidance you need on our processes.
Build A Powerful Online Presence
With dental practices, it is vital that you have a powerful online presence to help bring in more traffic.
With SEO and content marketing being two of the most important aspects of your digital strategy, for any dental practice looking to grow its customer base, it's important that you have those areas covered.
It's important for dental practices to have a blog on their website that is updated regularly with new articles about the latest in dentistry news or clinical information, as well as posts talking about your office culture and what makes you unique from other practices in the area.
A blog can also serve as an invaluable resource when it comes time to share something like a product launch or holiday hours notification so people who are interested will see these updates first thing or at least get reminded of them before they happen. This allows more potential customers to plan ahead and come into your practice while there is still available space instead of being left disappointed because no one told them last minute that there was limited availability on those days.
A newsletter is also a solid way to keep your dental practice marketing consistent and engaging. It can be sent out on a one-time or monthly basis depending on what is more convenient for you, but it should always contain interesting information about topics that will catch the interest of your target audience as well as any announcements such as new services or products.
When promoting events like lectures, talks from industry professionals, screenings with guest speakers, etc., make sure you advertise them in advance through social media channels so people have time to plan accordingly.
Depending on how far in advance these types of events are being scheduled, sending an email would also be a good idea since many dentists still rely heavily on this method of communication when communicating with patients and colleagues alike.
Secure As Many Customer Referrals As Possible
Promoting dental services to people who already use them can be a great way to increase revenue and referrals.
This is because people who have already had a positive experience with your dentists and dental practice are more likely to be happy to refer their friends, family members, or colleagues if they think the new customer will get good service.
One of the best ways to do this is by offering incentives that might entice customers into spreading good customer reviews about your practice on social media platforms or word-of-mouth recommendations with their friends, family members, colleagues, and other contacts.
Another strategy you could try is to provide free appointments for referring new patients in order to gain their trust as well. Even if they don't become one of your regular clients down the road, it's still worth adding more potential leads since you never know when someone like this may need help from a dentist again at some point in time.
A word of caution about this though is that this should not replace your other marketing efforts - just supplement them.
Create A Powerful Email Marketing Strategy
Email marketing is one of the best ways to reach out and attract potential patients.
An effective email marketing strategy should include sending both general emails that are not personalized as well as more specific messages that are tailored for different segments of your list, with the latter proving better results in most cases. This is why you need a system or template so it's easier to do this on an ongoing basis without wasting time creating new drafts all the time.
The best dental practice marketing ideas rely heavily on word-of-mouth referrals from satisfied customers who talk about their experience at your office either on social media platforms or through direct contact with family members, colleagues, and other contacts they know personally. These are all ideas for content that can be included in an email marketing campaign to boost its effectiveness.
Here are some additional tactics you can consider:
Create a sales funnel to make it easier for your prospects to convert.

Offer discounts and promotions that are exclusive only to email subscribers. This will encourage them to sign up so they can enjoy the benefits of receiving these deals in their inbox on a regular basis.

Use pop-ups or banner ads from within your emails that entice readers with valuable content like new dental developments, tips about oral health care, free whitening toothpaste samples etcetera as well as special offers you're currently running too such as coupons for first-time patients just by filling out this form! The idea is once someone subscribes through an offer inside one of your messages then he/she may be more inclined to purchase something else later down.
Use Online Groups As Promotion Platforms
Irrespective of where your dental firm is based, there are online communities that your target audience frequents. These communities include social media groups like those found on Facebook or even community forums.
These platforms have the potential to be solid marketing spaces for dental firms. It is because of this that dental practices should not experiment with all the groups available and instead find one or two to focus on.
As a dental firm, you can either leverage an existing community as a marketing tool or create your own in order to drive your target audience there.
When creating an online community group for marketing purposes, the first thing a dental firm must do is to designate certain rules within it. Rules such as no spamming, advertising other brands etcetera are vital in keeping users engaged.
These communities can then be used for building content by asking members what their biggest oral care questions are before answering them yourself (this will establish trust). You might also have polls about different dentistry-related topics which you could then use to generate new blog posts from your followers' responses.
Create Patient Welcome Packs
Another innovative marketing idea for dental firm growth is to encourage patient retention by way of a welcome pack.
This might be in the form of a goodie bag with dental-branded items, or it could just as well include information on your dental services and specials.
These packs can be used to encourage existing patients to repeat a service order. What's more, it can entice a potential target to eventually want to use your services.
Ready to Take Action?
It's important to start thinking about dental practice marketing ideas right now so that you're not left behind when new trends emerge.
There are several ways that you can go about registering growth for your dental firm.
However, a true, almost-winning plan for growth centers around offering compelling flexible finance plans to patients.
TIC can help you. Get in touch with us, set us a strategy call, and we'd be more than delighted to assist.