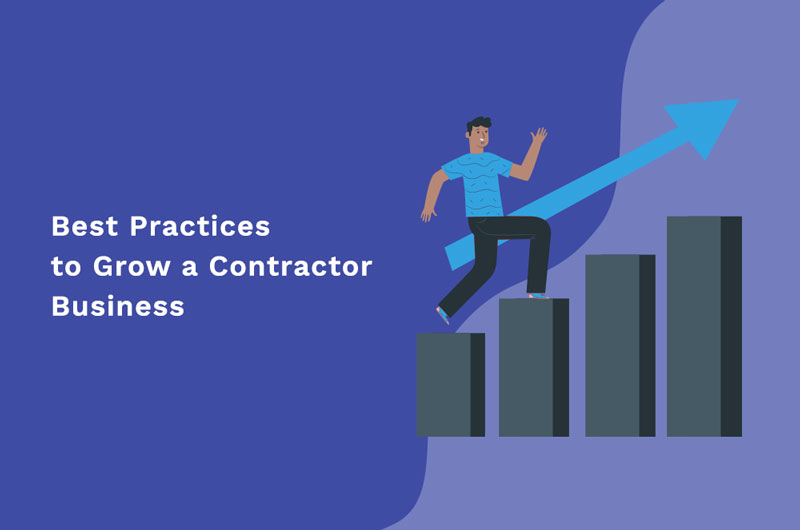 Interested in learning how to grow a contractor business? Thinking about expanding your services to new markets to reel in more potential clients? 
Then you've come to the right place.
Figuring out the best path to scale your contractor business can be challenging. With general contractors springing up at every corner, knowing the right strategy that'll help you excel is more important now than it has ever been in this dog-eat-dog niche market.
If you're looking for some pointers on how to grow your business, then this blog post is exactly what you need. We've compiled eight of the best business practices that contractors should follow to pull in more jobs, increase profit margins, and build long-term relationships with clients. Take a look.
1. Know your Business Environment
Understanding your market is key to the success of your contractor business. To understand your market, you must first understand the context of your business.
First, you need to ask yourself some questions:
What type of contractors are in this market?

Who are my competitors and where do I fit into this space?

Which projects best align with what I offer?
Your findings will then center around two main factors:
understanding your competitors and;

understanding your customers.
1.1 Understanding Your Competitors
Once you have ascertained these answers, you need to take a closer look at your competition, namely how they operate.
This is so that you can better understand the opportunities available in this market and what will set you apart from others.
For example, if many competitors offer similar services like yours but they're not all up-to-date with new technology, then this is an area that you can capitalize on.
Understanding all these points will help determine how you should select and market the types of services you offer that will help position your business in a positive light for growth.
1.2 Understanding your Customers
Knowing your clients is essential if you want to grow your contractor business.
This means understanding potential customers' needs, the channels they use, and what type of content is most applicable for them.
It also helps to know where they are located as this will dictate which marketing tactics are appropriate for that region. For example, if you own a contractor business, you must consider that individuals living in different regions of the United States would be accustomed to different lifestyles, which nonetheless conditions how they relate to your contractor company.
2. Invest In Your Business
As a business owner, you have to invest in your company if you want to see it flourish.
This means consistently investing time, money, and effort into it if you want to grow the company - just like any other type of investment.
You can use social media or traditional advertising strategies such as commercials on television but first, you need to ask yourself what is best for your contractor business given current ebbs and flows in the market.
Doing so will require careful study of customer pain points as well as how businesses in your industry are trying to meet those challenges.
Once you have done that, your priority should then be to devise a plan which involves you investing in a solution that meets the needs of your customers.
3. Embrace Change In Your Company
Creating a culture receptive to change is a must in the contractor business.
The best way to do this is by starting at the top and working your way down so that everyone understands their role in building or maintaining goodwill with customers, vendors, partners, and communities.
It all stems from having an open dialogue about what needs to be accomplished with team members, your general superintendent, and all field crews. In doing so, engaging staff on possible changes to get their feedback is crucial. That way, when a decision has been made, they are more likely to support the change, helping to reduce change rejection and overall employee turnover rate.
This can't happen if there isn't transparency in your company culture.
The best way to achieve this is by holding regular all-staff meetings, and discussing how changes will affect the business as a whole. Share any information that may be pertinent to employees.
This can include anything from employee benefits or new company initiatives that will be implemented as your business begins to scale.
4. Improve Overall Business Operations
You can't expect to grow your business if you don't invest time in making key changes in how you run your enterprise. If so, you're making a big mistake.
Make sure you're not wasting valuable time on outdated technology. The problem with this is that it can be hard to know which technologies are worth investing in because there are so many out there.
A top priority ought to be benchmarking your current operations, and identify where your contractor service needs improvements or changes based on how easy the process was for other contractors of similar size and scope as yours. This will allow you to make informed decisions about what tools or software may work best for your business needs while saving money by avoiding overpaying for features that aren't necessary at all.
This is an area of project management. So, depending on your niche, you will need an employee to take on the hat of a project manager.
Once your operations are up-to-date, you will then realize how easy it is to strategically scale your business to where you want to go.
5. Stellar Customer Service or Patient Care
Offering top-notch customer service is a great way to grow your business. This is especially true if the services you offer involve relationships with customers or patients. Dentists, plastic surgeons, and doctors must take patient care as a top priority.
This can be achieved by conversing with patients about their expectations, and then meeting or exceeding them.
Additionally, if you show appreciation for feedback from past customers, it will build trust in the future for people who may not have used your services before.
In cases where you are unable to have open, honest conversations directly with your customers, which might be the case of home improvement contractors, for example, it is a good idea to use social media as a platform to provide feedback and advice.
An example is following up with customers who have negative reviews on your business's Facebook page or answering questions about the services you offer promptly via Twitter.
Based on your findings, you will have a solid understanding of what your customers think about your services, thus making it easier to identify areas where you can improve. Once you have fine-tuned your services, you'll be able to then refine your services package and increase your chances of pulling in more clientele.
6. Create Customer-Centered Solution
Very much in line with improving customer service is delivering customer-centered solutions. This refers to your contractor business providing the best solutions based on what your customers need. This includes taking note of their preferences and, more importantly, their feedback.
For instance, if they have a request or complaint about something that you offer them as part of the service package (e.g., type of paint), then make sure to address that concern both directly with the customer and with future services to deliver quality work.
To be more concrete, in a case where a client is not happy with a paint job, do your part to correct the issue and as best you possibly can retain the customer. This can be done with a discount offer or a redo of the job. While it may seem like a loss, the benefits of retaining an existing client will outweigh the initial financial loss.
Similarly, take note of your customer's complaint and modify the service you offer moving forward. In the case of a poor paint choice, this may include sourcing a different provider if the material used by the existing one doesn't suit your customers.
Doing so will help to weed out any negative factors that may hold your business back as you scale, thus aiding you to expand the right way and take on more potential clients.
7. Empathize With Your Customers
One of the best things for contractor businesses to do is to empathize with their customers. This means taking a step back and understanding the difficulties that are faced by someone unhappy with the experiences they have had in your industry. 
When you take care to understand what makes your customers happy, it will make it easier for them to be loyal towards you over time. This includes investing in service improvements if something wasn't up to scratch previously.
It also involves taking a page from a subject we have already discussed, namely understanding your customers or patients. Once you can address the pain points that may hinder their ability to access your services, you start laying the foundation for patient and customer acquisition and retention, all of which are fundamental for your growth.
8. Offer Flexible Finance Plans
A contractor business deals with providing tangible goods or services, such as repairing, installing, and maintaining various items; or taking care of patients' health.
This may seem like an easy business to run because it does not involve dealing with the difficult process of obtaining financing from a bank or any other sort of loan provider to grow your company.
The problem is that if you are unable to access new customers for whatever reason, then the chances that you'll be able to land more customers are minimal.
Therefore, a huge aspect of your contractor business growth strategy should deal with ensuring you provide an excellent job to your customers and, at the same time, that they can access your services.
Happy customers aren't just those who have had positive feedback on the job you've done, but also those who have had a positive experience accessing and paying for your services.
One of the best ways to ensure an all-around pleasant experience is to beef up your consumer financing strategy with flexible finance plans.
Flexible finance plans are great for any contractor because they allow them to grow their business without worrying about how much money is needed upfront.
In a nutshell, a flexible finance plan is a type of payment option that grants customers a wider margin of flexibility in repayment of services rendered than traditional financing options.
With it, businesses get access to the full-service amount in a short period while customers get to pay based on terms and conditions that suit them.
This is important as a contractor can't afford to not have money available when jobs arise quickly or unexpectedly, so having funds on hand at all times is pivotal.
Flexible finance plans are a useful tool in this sense. What's more, they are usually a lot cheaper than using other methods to pay for services and goods.
It also has a positive impact on brand awareness while helping increase visibility.
What does this mean? This means you can do more business with less money, which is never a bad thing. So what should you be doing? Investing in flexible finance plans!
Here's how businesses can partner with a company that facilitates just that.
Time Investment For Flexible Finance Plans
Time Investment Company (TIC) is a financial company based in the United States that custom-makes financial solutions for businesses and facilitates their implementation in business management and operations.
We partner with companies like yours to help you access solutions that match both your needs and those of your customers. That includes providing you with loans to grow your business as well as flexible finance plans for your customers.
In terms of business loans, we connect general contractors with loans that coincide with their objectives. We also work together with you to devise repayment terms and conditions that are favorable to you. Unlike banks and other traditional lenders who offer non-negotiable repayment terms, we understand that one-size-fits-all loan terms do not work for businesses. Instead, we use your input to come up with solutions that are financially viable for you.
Similarly, for flexible finance plans, we employ the same customer-centered approach when creating loan repayment terms and conditions. That means that we analyze your customers' financial needs and develop plans that enable them to access your services at favorable rates. All in all, it's a win-win situation for a contractor business and its customers and patients alike.
In the time that we have operated as a third-party lender, we have been working with several niche markets and services.
Enjoy the benefits of a true finance solution provider and leverage Time Investment Company's flexible finance plans.
Partner With Time Investment Company For Contractor Business Growth Today
Delivering customer-centered financial solutions is a solid way to grow your business.
TIC can help you double down on winning flexible finance plans that pull in potential clients and take your contracting business to the next level.
Contact us by calling (800) 236-1177 to learn how you can get started today. 
Also, feel free to set up a strategy meeting with us at your leisure to get things underway.