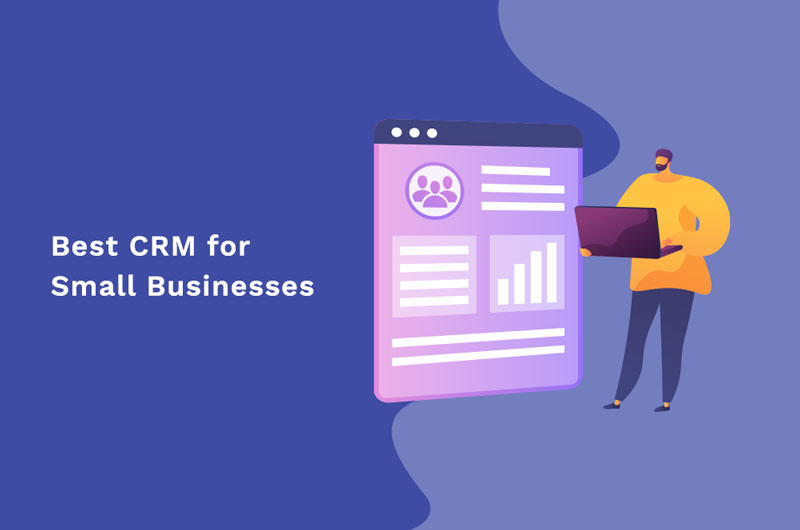 Your customer relationship management (CRM) system is the heart of your sales effort. It's the means by which you and your company captures new potential leads, and moves them through the sales pipeline through presentation, closing, execution, invoicing, and the all-important follow-up. 
CRM also captures your customer correspondence and interactions with you, and helps give your customer service and sales support people the background information they need on every client and account to serve them better, retain the customer, and get referrals. 
The most important things any small business looks for in a CRM platform are: 
secure data storage

intuitive design 

lead management

customer management

report generation

call scheduling

seamless support for mobile devices 
Given that about 22% of business owners see new technology as the biggest hurdle for the company, picking the right CRM can be daunting. But remember that a 5% increase in customer retention can boost profits by 25% or more. In other words, great CRM software is an investment worth making. 
CRM platforms are all about helping your sales reps create a working pipeline so they can genuinely engage with prospects.
Now, the best CRM in the world won't close a sale for you if your prospect just can't afford to pay for your services. So most contractors choose to combine a CRM program with a good third-party finance company that can help close the affordability gap so you can turn appointments into sales.

That's where we can help. But for now, here are some of the best and most popular CRM platforms for the small business owner. 
Zoho CRM
Price: $9-$65 per user per month
Free Trial: Yes
Besides being one of the more affordable CRM options on the market, Zoho CRM's biggest strength is its capacity for integration with other platforms. Zoho CRM does a terrific job of putting all your digital tools such as Google Workspace (G Suite), Slack, and QuickBooks in a single, convenient place.
With all this integration, Zoho CRM is more than just a CRM platform. It also functions as a team management solution. 
Zoho CRM comes in six different packages, to suit different sized businesses' needs and budgets:
Free CRM
Zoho's Free CRM comes with the essential tools you'd expect from a CRM platform.  The Free plan supports up to three users, and it has features for contact, account, and lead management.
The free plan is limited to just three users. But it still comes packed with useful features: 
customer data reports, 

workflow rules, 

web forms, 

inbound traffic capture

email marketing templates 

group calendars

direct instant messaging
Overall, there's nothing flashy to Zoho's free offering. But you're a small group of enthusiastic entrepreneurs, the free version of CRM is an excellent place to start.
Bigin
Bigin is Zoho's entry-level paid option, with a monthly price tag of just $9 per user. The Bigin CRM is aimed at tech-savvy small businesses that enjoy trying out new technology and getting the most out of each feature.
Bigin is practical. It's slick, but it doesn't go overboard with infinite numbers of tools; 
It's simple to get started. Many users report that Bigin feels more intuitive than other CRMs on the market. Additionally, the mobile app version is easy to use, as well. So your sales force can use it on the go. 
Standard
Zoho's Standard version of its CRM offering costs a bit more - currently $20 per user per month.
The Standard version comes with much broader functionality, though. For example, the Standard version supports sales forecasting, mass email marketing blasts and administration, and social media marketing lead generation. 
It's still an entry-level CRM/small business type of solution, but it's a step up from the free and Bigin versions. 
Professional
Besides moving the price to $35 per user/month, there's no significant difference between the two. You get slightly better security, larger quantities of reports, webhooks, emails, and inventory management options. Furthermore, you can gamify your sales and user experience.
The professional package helps users level up from the basic versions: The Professional version of Zoho's CRM solution will support you as you evolve past the small business level and become a medium-sized business. But small businesses can still benefit from the additional functionality at this level.
Zendesk Sell
Price: Starts at Starts at $19 per user per month
Free Trial: Yes
Zendesk Sell is another solid small business CRM solution that's surprisingly easy to master. The main user interface has all the CRM tools you'll need in a single window, so there's no need to click around aimlessly.
All features like contact management and pipeline management are in a single place, so you can effortlessly jump from one to the other.
The central goal of Zendesk Sell is to boost sales by making the sales process easier for your team. If your small business has many deals going on simultaneously, you can easily track them in the deal panel. The panel sorts the deals in your pipeline as incoming, contacted, proposal, and won, and helps provide management and sales team members with a birds-eye view of each deal's current status..
Zendesk Sell's easy and elegant user interface allows you to interact with each deal without having a dozen open tabs, while still allowing you to easily backtrack to the original page.
If Zendesk Sell's basic contact management feature - the most important part of any CRM platform - is outstanding. It's incredibly easy to schedule phone calls with customers and other business owners while still keeping everything organized. Most of the manual work, like call records and customer data storage, is automated. Zendesk's Sell CRM eliminates a lot of the friction from manual or legacy CRM solutions,  freeing up your valuable time to focus on more productive tasks. Like coaching and mentoring salespeople, managers, and keeping customers happy. 
Like the Zoho solution, Zendesk comes in several versions at different price points: Sell Team is $19/month, Sell Professional is $49 per month, and Sell Enterprise is $99 per user per month. 
Hubspot CRM Software
Price: Starts at $50.00 per month
Free Trial: Yes
HubSpot CRM is one of the most widely-recognized and popular relationship management (CRM) software platforms on the market. The HubSpot CRM marketing and sales pipeline helps small business owners to track prospects, generate leads, manage email-based campaigns, and more.
Businesses of all sizes use this cloud-based solution to boost their sales and maintain favorable customer relationships. Tools like live chat, marketing, sales, and service are all available.
The basic package is free, and includes an innovative reporting dashboard, company insights, and individual performance data to help you coach your sales and customer service team.  
HubSpot's platform also offers a lot of 'behind-the-scenes' features and supports for small businesses. For example, the engine that drives HubSpot provides background and artificial intelligence features that you won't see, but you'll know they are there within the first hours of using the CRM.
HubSpot's CRM system provides a visual dashboard and real-time view of all elements in the sales process, allowing for automated tracking of every customer interaction. The system organizes exchanges into a timeline that includes all email, social media, live chat, and phone conversations. So future customer service people servicing that account can come quickly up to speed on that customer's issues.
Just keep in mind that the free version has its limits, and opting for the Starter plan ($50 per month) is likely the logical next step.
Less Annoying CRM
Price: $15 per user per month
Free Trial: Yes
Less Annoying CRM is a CRM solution for small businesses. The name fits the CRM quite well; This no-frills, stripped down software package excludes the fluff and "flashy" features that often confuse people. The program's focus is exactly where it should be: On the 'meat and potatoes' elements of tracking customer interactions and managing your sales pipeline and customer retention efforts. 
Less Annoying CRM's raison d'etre is to be as simple as possible. Many CRM solutions pack the user interface with countless options that speed up the sales process and enhance business via marketing automation. This CRM system does the opposite, which is both good and bad, depending on what you need.
On the good side, Less Annoying is likely the perfect small business CRM if you're just  starting to develop your customer relationship management. There's one single pricing plan, and it's effortless to start. 
Once you're in, you have everything you'd expect from a CRM. You can organize your sales teams, contact management, project management, and you have a simple integrated calendar to help you track and schedule your work flow. 
Less Annoying doesn't advertise bleeding-edge technology. Instead, the punchline is its simple, elegant nature. Unlike other CRMs for small businesses, it offers all the basics you need, with none of the extra fluff. 
And those basics that it provides; it does pretty well. 
But once you try it, it will surprise you how intuitive the entire CRM is. Additionally, the customer support team is very responsive: If you get stuck, Less Annoying's customer support reps will likely help you find a solution
Of course, there are disadvantages to this level of simplicity. While very small businesses won't hit a wall with this CRM system, companies with bigger operations and multiple teams might run into trouble.  It all comes down to what you're looking for. If you're a small business, this CRM software will provide everything you need. If you're running a more prominent company, or  fast-growing one, you might be better off with some more sophisticated features. 
Freshworks CRM
Price: $29-$99 per user per month
Free Trial: Yes
Similar to Less Annoying, Freshworks CRM does a great job of avoiding the complex technology trap. But Freshworks CRM takes an additional step by providing optional, more robust features. You can decide if you want to stay with the basic CRM or upgrade to a more advanced CRM system;. 
The first time you log in, you have plenty of tutorials to help you learn the ropes. Additionally, there's a friendly AI assistant to help out if you get stuck. More importantly, there's a free plan you can pick.
The drag and drop option lets you quickly create a sales pipeline. And unlike other mobile apps which provide only limited mobile support, Freshworks lets you do a hefty amount of the work straight from your phone. 
On the downside, Freshworks CRM isn't too flexible for small businesses looking to test CRM software. Yes, there's a free plan, but you won't get the best features. For example, the free plan doesn't offer data reports. Since every business needs data for decision-making, most readers are likely to either jump to the paid plan or move on to another CRM.
Agile CRM
Price: $14.99 per user per month
Free Trial: Yes
Agile CRM's free version is one of the most robust free platforms on the market, supporting up to 10 users on your sales team. The free Agile CRM version also comes with an impressive array of tools. You can do email marketing, create a custom sales pipeline, and, of course, do your usual project management.

Furthermore, you can access everything via an intuitive mobile app.
The fact you get all these features puts it on the list of the best free CRM software programs available today. If you go with the paid version, you'll also get a remarkable landing page builder tool, marketing automation for social media, and more.
Besides focusing on sales, email marketing, and lead management, Agile also features gamification technology that fosters healthy competition inside your sales teams while encouraging collaboration.
You can also use the platform to track and store phone calls, both outbound and inbound.
Finally, you can automatize call forwarding, follow-ups, and voicemails.
Agile's CRM alerts you whenever someone mentions your brand. It also helps with monitoring overall customer satisfaction. If you need a CRM that has a robust free version while also integrating contact management, social media, and project management, Agile is among the best CRM software solutions out there. 
Insightly CRM
Price: $29-$39 per user per month
Free Trial: Yes
Insightly CRM offers everything small businesses need, from retailers to online businesses. If you're a one-man band, one-woman show or a two-man team, you can get Insightly for free with most of the necessary features.
The Insightly solution allows you to combine your sales and project delivery functions inside a single platform. That means your sales reps don't have to jump from one platform to another while working on a lead.
The design is intuitive and dynamic, so users that are new to CRM won't feel like they are in a boxing ring. It's easy to navigate and to backtrack as needed. 
The downside is that support for tracking and storing phone calls is limited. 
This is a great CRM software for businesses that are just starting out and are still figuring out their workflow automation. But, if you're a purely sales-oriented business, other small business CRM software may be a better fit. 
Deciding on the Best CRM for Your Business
Finally, what might be a great solution now, might not be tomorrow. If you have plans to scale your business, ensure that your CRM platform can scale up with you. 
In many cases, this means that you should be looking at more than just cost. The free program might not be what's best for your business in the long run. 
Just as you want your customers to focus on value, rather than price alone, you should bring the same mindset when you select your CRM software.