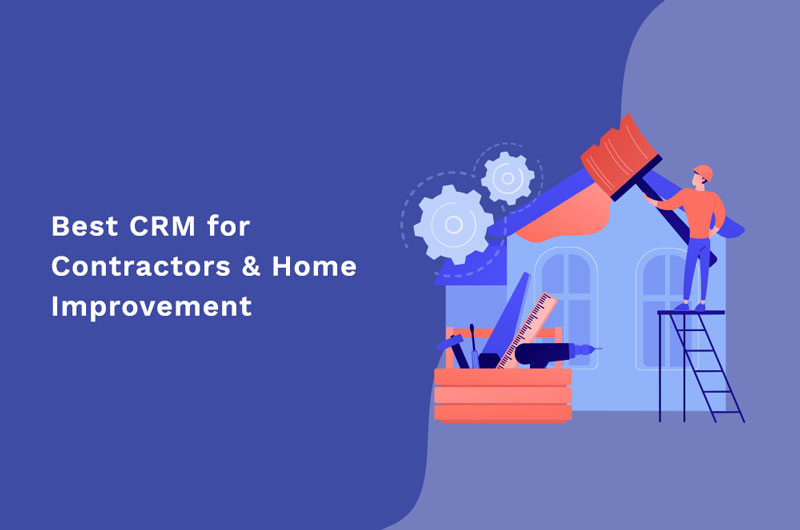 For some contractors, it's challenging to balance customer's needs with the demands of running a business. One way to make this easier is by using customer relationship management (CRM) software for home improvement contractors.
CRMs help you manage your relationships and improve sales. Best of all, many CRMs specialize in specific industries, such as CRM for construction companies or home improvement.
Research shows that a staggering 38% of businesses underestimate the importance of a proper customer relationship strategy. The same study shows that 65% of customers have switched to a different service because of poor customer service.
Whether you're running a big or small business, CRM can help with better data management, marketing automation, sales process, and general client relationship.
Since some construction CRM is better than others, depending on the business' needs, there isn't the best construction CRM that fits everybody. To help you find the right CRM for you, here are 6 best construction CRM software that will help any contractor succeed at home improvement, sales management, and client relationships.
HubSpot CRM Software
Price: $50 per user per month with premium
Free Trial: Yes
Although HubSpot isn't construction CRM software specifically, its clean design and polished features make it one of the best CRM for general contractors in any industry.
CRM is free to use, with a free trial and premium features available as an upgrade. Some contractors might even find that HubSpot CRM free trial can work better than other CRM paid versions.
The software helps your sales team log activity and manage the pipeline while also handling leads effectively. Blog creation tools, SEO, and email marketing are all available as a paid upgrade.
This makes HubSpot CRM a great management software to test out before going deep and investing money in unknown waters. Boosting sales and marketing are somewhat different in the home improvement and construction industry since it depends heavily on what the customer is looking for.
Some customers will be looking for a simple kitchen redesign; others will need a complete home improvement to meet their growing family needs.
Hence, it's always better to test out any CRM or project management software before committing.
Fortunately, the quantity of management tools that HubSpot CRM software offers allows for smooth scaling with the ability to easily switch to another CRM solution if HubSpot CRM doesn't end up to your liking.
Top CRM features:
Fantastic free plan

- Not many CRMs offer a free trial that can meet all your needs. Solely with the free plan, sales teams can improve sales pipeline and general business management.

Intuitive & user-friendly

- Even home improvement and construction professionals who are only starting to get into CRM will find the software easy to use and understand. This is primarily thanks to HubSpot drag-and-drop system.

Scalability potential

- HubSpot features modules for marketing, sales, customer service, and operations in addition to its own CMS. HubSpot also offers a market-in-one approach to cover lead management features under one roof.
Builder Prime Construction CRM Software
Price: Starts at $79 per month
Free Trial: Yes
If you want a CRM that aims at home improvement and construction firms specifically, Builder Prime is worth your attention. This cloud-based construction CRM makes project management and customer relations easy with its key features that aim at home improvement and construction project management.
One of the key features is automated lead and sales management. Data shows that a mere 29% of companies engage with existing customers beyond the initial purchase. Considering the workload and contractor licenses you need to get, it's somewhat understandable, but ignoring already invested clients can cause a severe blow to annual profit.
Builder Prime's construction management software solution can quickly smooth up your pipeline management. By reducing the workload, the CRM provides the time to focus on new leads and keep track of the old ones.
Overall, Builder Prime is a great solution for both a big and small business looking to create new leads and maintain the old ones without getting overwhelmed.
Although Builder Prime carries a higher price than HubSpot, it's essential to note Builder Prime's specialization as a construction CRM. As a nice bonus, you can also download their mobile app to have access on the go and integrate your schedule with Google Calendar.
Top CRM features:
Effective automation

- Almost all construction businesses are short on time. Builder Prime does a great job at automatizing most of the work without compromising efficiency.

Contact management & billing

- Builder Prime makes it easy for a business to stay in touch with customers and send professional invoices without spending too much time.

Insightful reports & data entry

- Collect data that helps you make better decisions on future construction projects.
JobNimbus CRM & Project Management
Price: Starts at $25 per user, per month
Free Trial: Yes
JobNimbus is a cloud-based software and project management tool that helps contractors with their customer relationships, sales pipeline, job costing, and invoicing.
The software also offers integration features, including calendar and email notification tools to help users manage business operations and personal life matters in one place - making the process much easier for everyone involved.
But what makes this project management software great is that specialty contractors can easily customize it to fit specific needs. Although not specifically designed as a construction project management software, you can easily turn it into one.
The templates make it easy to create contracts and even presentations that fit your business needs. This also works for sales and marketing. Maybe you want to focus solely on the sales process for big projects or employ social media strategies that aim at young families looking to renovate their homes.
JobNimbus allows users to customize most business processes without having to figure out the ins and outs.
Top CRM Features:
Easy contact management system

- A great overview of your existing contacts with useful filtering tools.

Numerous integrations

- Integrates seamlessly with leading third-party software such as QuickBooks, Google Calendar, Zapier, etc.

Budget Tracking/Job Costing

- An easy way to stay on top of your finance with time tracking, invoice, and document management.
MarketSharp
Price: Starts at $99 per month
Free Trial: Yes, in the form of a demo
MarketSharp CRM is a potent tool that can help any construction company manage customers, sales pipeline, and job costing. The software also offers tools like invoicing automation and an intuitive dashboard. Hence, managing multiple businesses becomes much easier, which frees up more time for focusing on business development.
Compared to other trades like real estate, home improvement is more personalized and gets more business referrals. Meaning, it's essential to build a solid reputation via social media and other funnels such as email marketing.
Users can create referral campaigns and redesign them as they see fit. If your business is location-specific, you can customize campaigns based on geography, demography, etc.
Additionally, MarketSharp integrates with third-party solutions for effective customer feedback collection and data analysis. Not only will you have a transparent overview, but you'll also create a better idea of how to offer client financing solutions.
Many contract management and project management tools guide you through the complete process of creating leads and turning leads into sales. More importantly, it's easy to stay in touch with existing clients and get free referrals based on your reputation.
Finally, the sales CRM customer support is very responsive, and you can expect a response that goes beyond general replies and provides constructive feedback.
Top CRM Features:
Specialized CRM construction features

- Has all the necessary features for a home improvement or construction management business.

Great reputation management

- Helps create and maintain a solid reputation in the construction industry, leading to profitable referrals.

Compact database

- It's easy to keep data transparent and track profits per month or per user case.
Improveit 360
Price: Starts at $150.00 per feature, per month
Free Trial: Yes, in the form of a demo
Although some might find it offputting that Improveit 360 doesn't have a free trial, it's an excellent choice for remodelers, especially larger construction businesses.
Improveit 360 is a CRM construction software for home improvement contractors that focuses on improving data tracking to make better business decisions. Improveit's CRM has capabilities for scheduling, quoting, project management, and reporting.
It works for remodeling and construction projects because you can also manage teams and streamline communication besides managing customers. A bigger market means more "moving parts" in contract management that can fall short and delete a potential sale.
Although many projects last well over several months, the construction industry is highly dynamic, and things can change quickly. A client can have a change of heart either because they find a better offer or wake up with a completely new idea for their home. A change like that can disrupt the whole process, so it's critical to have a custom funnel per user or client.
That way, managing can become harder, but it's also more effective. To ensure the workload doesn't break over your back, Improveit 360 does a great job of simplifying the process for each client.
Users can create personalized dashboards for their sales and marketing teams. Additionally, since everything is cloud-based, it's easy to keep everybody in the loop of what's going on with each client.
Like in real estate, each individual wants something different, and you don't want to mistake the needs of one client for another. Luckily, even if you can't find the features you need, it's easy to create thanks to customizable tools at your disposal.
Top CRM Features:
Auto activity tracking

- You want to know where your leads are in the process. You can get all of their information electronically and automatically log what they have done. This way, it will be easier for you to manage them and make the sale happen more quickly.

Easy work scheduling

- Tell your team when they need to be at an appointment with a customer and create notifications, so you don't miss work.

Project management

- Track your progress with a total overview of all active projects. Track the cost of each project and see how much money you are making from them.
Unanet CRM by Cosential
Price: Full User – $70 per user, per month. Read-Only User – $10 per user, per month
Free Trial: Yes, in the form of a demo
Unanet is a CRM for construction companies. It has tools like lead and project management, email, and proposals. It also has tools for subcontractor management and more. This CRM is beneficial if you mainly work with other businesses in the construction, architecture, or engineering industries.
This solution helps companies create a database of all their contacts, including clients and partners.
Although a uniform solution, users can customize the interface based on the work they do. Meaning, the developer team can adjust so they get the data they need, while the sales and marketing team can stay on top of customers' data without interfering with what co-workers are doing.
Data collection is efficient, accurate, and fast. Remodeling and construction management can plan budgets and deliver projects in a timely fashion while providing exceptional customer service. This is further made possible by easy access to work data and records.
The software integrates with MS Outlook and most other industry-specific applications a home improvement business might need.
Top CRM Features:
Efficient update solution

- It's easy to stay up-to-date for team members across the board.

Activity management

- Knowing at what stage a project is, makes it easy to track progress and focus on the strategic part of the process.

Proposal management

- Cut down on the time you need to create a proposal by having all the information in one place.
Ending Note
Besides managing clients, businesses often stumble when it comes to financing. Keeping everything organized can be a hefty task without proper organization and knowledge.
Nobody likes to see a client leave because of unrealistic price tags, so you need to ensure that you not only know your customers but the market and competition as well.
Although your service might be top-quality, it can easily fly under the radar if that quality doesn't meet marketing and pricing needs.
Fortunately, the process doesn't have to be complicated. You can start improving by evaluating where your business is standing right now and then explore further options. Time Investment can help you with that. Create an account and discover how you can make financing easy for yourself.