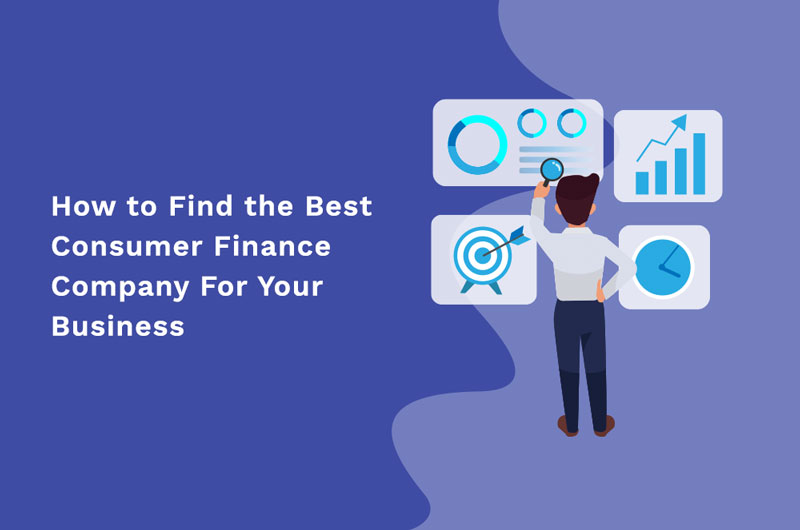 Finding the best consumer finance company for your business can be difficult. Many companies offer similar services, so it is hard to know which one will work best with your budget and goals.
That said, more and more businesses are understanding that they need to partner with the right consumer finance company sooner rather than later. Otherwise, you risk losing out on potential clients, greater service orders and purchases, or worse: collaborating with the wrong lender or investors.
This article will discuss how you can find a consumer finance company that is right for you.
Understanding the World of Consumer Finance
To pinpoint the right consumer finance companies for you, we must first talk about consumer financing as an industry.
Consumer financing is a payment approach that allows customers to make low monthly payments for a set period of time, consequently, afford services or products that they wouldn't be able to purchase otherwise.
These plans can be set up for as little as one to two weeks or stretched out over an entire year, and some companies offer installment loans so that payments don't need to be made all at once.
In short: consumer financing is the financial instrument that helps more customers purchase from you.
Breaking Down Consumer Finance Companies
Having examined consumer financing, let's turn our attention to the companies that offer it.
Consumer finance companies are non-bank lenders that make loans to businesses customers. These financial institutions provide unsecured loans such as installment loans and lines of credit.
These types of loans are commonly used by middle-class Americans. More and more, businesses have been parenting with consumer finance companies to be able to offer flexible financing solutions to their customers or patients. 
Types of Consumer Financing Companies
There are several types of companies that offer finance solutions for customers. For example, there are consumer finance companies that offer personal loans, retail installment lending, and home equity lines of credit.
Some of the most well-known issuers of loans include:
Time Investment

Amazon Lending (recently purchased by JP Morgan Chase)

Navy Federal Credit Union

Ford Credit

Toyota Financial Services (and other auto manufacturers, service providers for consumers purchasing vehicles, and automobile finance companies)
However, credit card companies, credit unions, banks, and particular brands across multiple niches are also institutions that provide financial services.
These creditors, along with several others, are regulated by the Consumer Financial Protection Bureau, a U.S government agency that protects consumers' rights.
Let's take a closer look at the main areas for which these financial institutions offer consumer financing.
Personal Loans
A personal loan is a type of financing offered, by some consumer finance companies, directly to consumers.
This type of loan offers the borrower an opportunity to obtain money fast and repay the amount in small monthly installments. Borrowers can use the money to consolidate their debt, pay off a medical bill, or purchase an item that they cannot afford.
Retail Installment Lending
It is common for consumer finance companies to offer retail installment lending, some of whom specialize exclusively in it. Often referred to as RILO companies (retail installment lenders), this type of business will provide consumers with loans for the purchase of goods.
A major retailer will offer a type of financing called revolving retail installment lending, which is essentially an open-ended line of credit with no preselected limit or repayment term that allows consumers who are unable to obtain other types of loans (or have bad credit) access to consumer credit when needed.
The retailers are the eligible recipients of these loans for them to be able to provide items at lower prices which consumers can then use as an installment plan with monthly payments, such as is seen with retail finance companies and credit cards.
Home Equity Lines of Credit (HELOC)
A home equity line of credit is a type of loan that uses your home's equity as collateral.
You can withdraw up to the full credit limit on demand, and you're only required to make monthly interest-only payments (no principle or repayment) until you repay in full.
This is an attractive form of financing because it offers a lot more flexibility than other types of loans.
In any event, there are several types of finance companies, and the important thing is to figure out which one is right for you.
Let's take a closer look at what this entails.
Understanding The Components of Consumer Financing
As a business interested in offering consumer financing, it is imperative that you understand the elements of this financial service.
These refer principally to the terms and conditions that surround how the loan is given.
This will impact you directly in terms of how soon you receive your money for services rendered when a customer places an order.
Interest Rate
One of the fundamental aspects of consumer financing is the interest to be paid once a customer agrees to finance your services. Interest rate refers to an additional cost placed on the loan which the borrower must pay over a set period. This is usually calculated as a percentage.
Some traditional third-party lenders' finance companies offer high-interest rates on service loans. This can be discouraging to potential customers who may feel that elevated interest rates may not be a smart financial decision in the long run. 
Borrowing Time Frame
Another huge element of consumer financing is service centers around the borrowing time frame. For informational purposes, the time frame refers to the period given to the consumer to pay back the loan which was provided.
If the borrowing time frame is a short window, it may not be appealing to a client.
On the other hand, it is common for a company or lender to offer larger repayment periods but higher interest rates. So, make sure to ponder that.
Business Payments
As a business interested in facilitating consumer finance to your customers, it is important to ensure that you get paid on time for services rendered.
Some finance companies who partner with businesses for this type of finance solution only release part of the funds to you when the customer confirms their order, at times taking several weeks or months to then give you the remaining sum.
Depending on your niche, this may be a serious inconvenience.
For example, businesses operating in the construction industry often need access to full capital to commence work.
Not being able to do so may halt the progress or timeliness of the project.
What to Consider When Choosing a Consumer Finance Company
Choosing a consumer finance company to work with during your business operations is a complex process.
But by using the tips and tricks outlined in this article, you can make sure that you are dealing with the best consumer finance company for your specific needs.
There is no formula or one-size-fits-all solution when it comes to the right company for your business.
After all, each one of your customers has a financial profile. For some of them, the type of credit available is important. For others, interest rates may be a deal-breaker. If it is too high, then they may choose your competitor over you.
What's more, there may be sectors of your target market that have a bad credit score or credit history. Thus, if you part with a bank, apart from unfavorable interest rates, you may be subjecting your customers to a finance solution that they cannot access because of their credit.
Considering all of this, the best approach to consumer financing is to partner with a company that offers flexible finance plans.
An Overview of Flexible Finance Plans
Flexible finance plans are a type of loan which can be repaid in installments. Some call it installment loans, but this is a misnomer because they involve even more flexibility than the term would suggest.
This type of lending has gained traction with consumer finance companies as well because flexible financing helps them to grow and expand their customer base.
Flexible financing offers a range of repayment periods that can be tailored and adjusted according to your needs. The borrower may even be able to change the terms of their loan at any time.
This type of arrangement is very flexible, and it can be adjusted as needed with little to no added fees or charges which are typically associated with refinancing your loan.
Flexible financing plans also have other features such as a low minimum monthly payment that may not exceed a certain amount or even low-interest rates. However, that varies based on the finance company providing the solution.
Flexible finance plans are a huge plus to businesses for the following reasons:
Brand awareness: This type of financing solution is a great way to build up brand awareness among potential customers.

Increasing customer loyalty: Flexible financing solutions can also help increase customer loyalty and retention rates, which are crucial for any business looking to maintain its competitive edge in the industry.

Minimized risk factor: Businesses that choose this option have their risk factor minimized because if the customer defaults on its loan, then they can recover a certain amount of collateral.
Here's how you can partner with a company that offers this type of service.
Flexible Finance Plans with Time Investment Company
Time Investment Company (TIC) is a financial company that helps businesses in the United States deliver compelling and attractive flexible finance plans to their customers. As a Midwestern-based consumer finance company, businesses leverage our services to customize flexible plans that match their customers' needs and implement them as a business service.
TIC-approved flexible finance plans are the ideal formula for both businesses and their customers. Here's why:
Complete payment on service order: Once your customer has confirmed that they will use your services, we issue you the full amount to be billed immediately. That way, you have all the working capital you need upfront.

True flexibility: With TIC, we work alongside you to understand your customers' needs and construct a finance plan that offers them the financial freedom and liberty to pay off their loans without putting too much strain on their pockets.

Easy payment management system: The businesses that partner with TIC get access to a cutting-edge tech platform that keeps track of your customers' loan repayment in real-time.
As a company with several decades worth of experience in the industry, we have a proven track record of success. TIC has successfully partnered with businesses across a wide variety of niches, including construction, dentistry, cosmetic surgery, home improvement, and others.
Part of our success lies in our customer-centered approach to creating flexible finance plans, leveraging your input on your customers to design custom-made solutions that work.
TIC cares about your business and your customers. That is why unlike most traditional lenders and third-party creditors, we work alongside you to find the best solutions that work for both parties.
There is no reason to settle for consumer finance companies that only result in unfavorable relationships for you and your customers.
Take advantage of a true consumer finance company like TIC to reap the rewards of flexible finance plans today.
Take the Next Step Towards Business Growth Today
There are lots of consumer finance companies out there.
However, not all of them are right for your business objectives, specific profile, or your customers' unique needs.
That's why working with an established company that offers tailored financing plans is the best approach.
Discover how our programs can transform how your business offers consumer financing to your customers.
Take the next step towards reaching more customers and growing your business today.