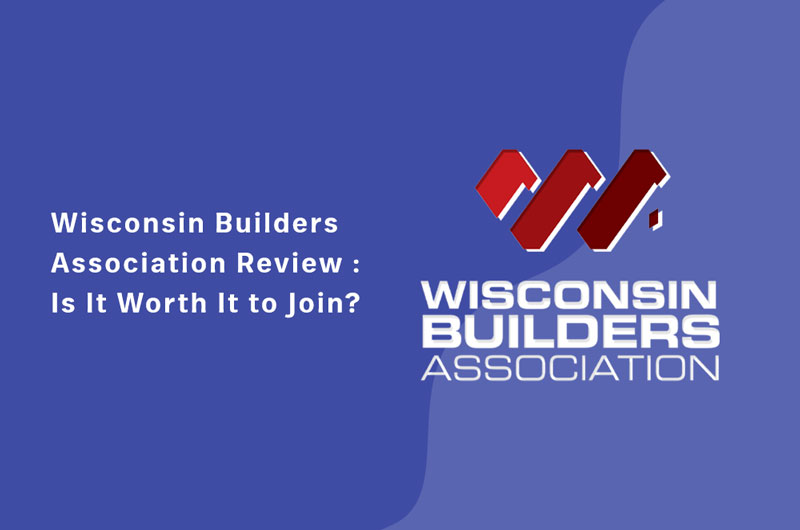 Founded in 1947, The Wisconsin Builders Association is the parent organization of some 21 local builders' associations across the state, comprising more than 4,000 housing industry professionals.  The association dedicates itself to helping all of its members build safe and robust communities across the state.
Some of the larger local member associations include the Metropolitan Builders Association, Brown County HBA, Mid-Shores HBA, and Winnegamie HBA. 
The following is the Wisconsin Builders Association's mission statement:
"As a professional trade association, the Wisconsin Builders Association advances the housing industry through government involvement, education, and promotion."
And from their vision statement: 
"Affordable, innovative, and environmentally-conscious homes accessible to all."
What Does the Wisconsin Builders Association Do?
The Wisconsin Builders Association helps advance the housing industry using education, promotion, and government involvement. It provides a wealth of remodeling resources to its members, including home builders and building suppliers.
Their four primary functions can be summarized by the following:
Advocacy
The WBA uses its influence with the Wisconsin State Legislature to advocate for the interests of over 4,000 home-building industry members. The Association works with legislators and committees to provide expert insight and guidance to those crafting legislation and regulation. Their guidance helps protect association members and the public against unrealistic or counterproductive laws, counter efforts by various other interest groups to obstruct new housing construction, and helps further the future growth of the industry as a whole.
Member Support
The Wisconsin Builders Association provides several important resources to all members: 
Access to an answer hotline for legal, building code, and safety questions. 

Access to Construction and remodeling contracts and forms.

Affinity partner discounts on building materials, insurance, travel, small business coaching services, and more.

Dispute resolution services

Licensing assistance

Crisis counseling and assistance 
Homeowner Education 
The association also helps homeowners understand the industry better by providing them with various educational and informational resources that help guide them through the home building process. They help the public understand how to work with builders, including educating them on the importance of choosing licensed, bonded, and insured contractors. 
Charity and Philanthropy
WBA also has a philanthropic arm known as the Wisconsin Builders Foundation. Their primary focus is on improving housing by promoting the home-building industry to qualified students while offering educational assistance to members. The foundation also provides training and other charitable resources to promote residential construction in Wisconsin.
The Foundation also offers scholarships, training, and various other charitable resources to help improve the housing industry. They help students and people learn more about housing, construction, and laws to make sure their future input improves residential construction and housing in Wisconsin. Furthermore, the foundation also offers networking opportunities through events such as golf outings.
Why Join the Wisconsin Builders Association?
When you join the Wisconsin Builders Association, you have a large organization in your corner that may be able to help you with a variety of business challenges: There might be issues with labor shortages, over-regulation by the government, and lot availability issues.  
Additionally, you get several valuable perks that can help grow and expand your housing or construction business. Here are some of the most important benefits of joining the Wisconsin Builders Association: 
Advocacy Privileges
The Wisconsin Builders Association is one of the most important and influential lobbying organizations in the state. When you become a member, you get to influence the Association's lobbying efforts. Joining not only gets you a powerful voice in Madison - but it also ensures that you have input into our legislative advocacy efforts. You can help us focus on the issues most important to you, your business, and your community. 
You can protect the Wisconsin housing industry and help hundreds of thousands of homeowners and businesses flourish. The improved laws and regulations also enable you to expand and grow your business for the better.
Discounts and Perks
Membership comes with a variety of privileges, benefits, and perks. All benefits are potentially available to all members, but some of them may require you to meet other qualifications. 
Access to health insurance

Access to Member-only affinity programs

Business insurance discounts

Hassle-free rebate programs

Discounts on continuing education

Travel benefits

Small business coaching and consulting services

Seasonal benefits and discounts available throughout the year

Access to

industry-specific customer financing programs

from organizations that help make home improvement projects and repairs affordable for homeowners and landlords. 
Networking Opportunities
Members can attend membership meetings and connect with more than 4,000 other members and industry professionals. Members and member employees can participate in these highly-beneficial networking events and opportunities:
Industry trade shows and expos

Chapter and state-level meetings and conferences

Golf outings and tournaments

Charitable events and fundraisers

Continuing education events
Buyers Guide
The  Wisconsin Builders Association publishes an annual Buyer's Guide.  Members have access to and are included in the Buyer's Guide, which helps contractors find the right suppliers, subcontractors and partners with the right skill sets to help them achieve success. You can search the online version of the Buyer's Guide by trade, location, and more.

In addition to contractors and suppliers, the Buyer's Guide also includes vendors that provide all kinds of service to construction firms, such as marketing and communications firms, construction lenders, automotive and travel service providers, insurance companies, and more. 
How to Join the Wisconsin Builders Association
When you join the Wisconsin Builders Association, you automatically join your local association chapter, the state level WBA, and the National Association of Homebuilders, which represents the interests of homebuilders and contractors in Washington, D.C. 
If you want to join the Wisconsin Builders Association, the process is simple:
Go to the

NAHB's website

to start the process.

Enter your ZIP code and click on the 'Join Now' option. You can also choose the

'Find My Local Association'

button to learn more about the Wisconsin Builders Association and your local association.

Click on the Search button, and you'll be redirected to your local association's website.

Enter your details and select whether you're a builder or want to be an associate or affiliate.

Continue and become a WBA member.
Is it Worth Joining the Wisconsin Builders Association?
Joining the Wisconsin Builders Association can help you develop meaningful connections, open you up to new business opportunities, and allow you to advocate for betterment.
As a builder in the state of Wisconsin, joining the Wisconsin Builders Association can be extremely beneficial and can broaden your horizons. As an associate or affiliate, you can use the association's reputation to grow and expand. You can also use the platform for advertising and sponsoring for greater exposure.
In any case, joining the Wisconsin Builders Association has several benefits and no drawbacks. It may be just what you need if you're in the housing and home-building industry.