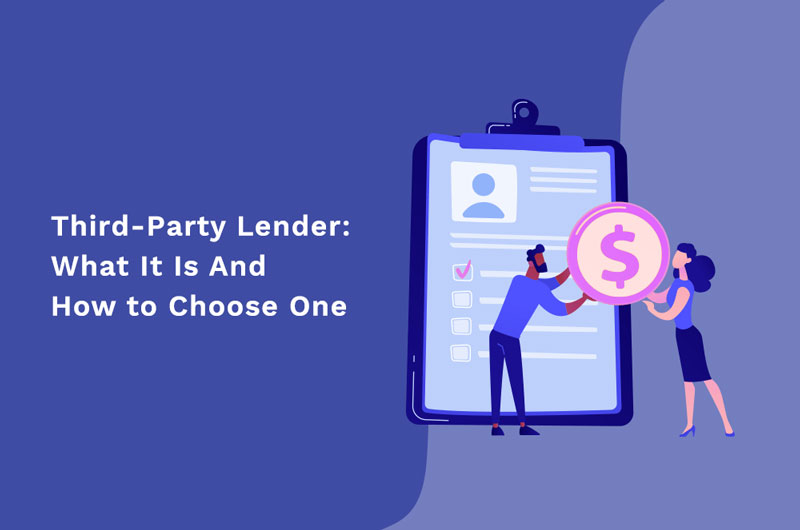 Now more than ever, third-party lenders are among the most sought-after profiles in consumer financing. 
After all, over the last several years, consumer habits have evolved, and the need for alternative financial solutions is at an all-time high. 
On one hand, statistics point to a clear increase in spending. According to the Congressional Research Services, consumer spending accounts for as much as 70% of economic activity in the United States. In 2018, this represented a 2.8% increase. 
On the other hand, more and more customers are leveraging different plans to finance their purchases. Based on information shared by the Federal Reserve, consumer credit rose by 5.1% during the first quarter of 2021, and that trend is expected to continue. 
Third-party lenders are popular ways for businesses and customers alike to get loans.
Third-party lending is becoming a popular way for small businesses to get loans.
This post will cover third-party lenders, what they do, and how you can choose one that's right for your business.
What is a Third-Party Lender?
A third-party lender is a company that provides loans to companies or customers by taking on the risk of default.
Third-party lenders come in many forms and functions. They can provide lines of credit for businesses with good payment histories who want temporary access to capital but don't want long-term debt.
They can also offer short-term emergency funds for individuals who are not in great financial standing. For example, a customer might be able to get a loan from this type of entity when they have been declined for credit elsewhere, such as from an equal housing lender, an institution affiliated with the Consumer Financial Protection Bureau.
Why Third-Party Lenders Are Different From Banks
Third-party lenders are often more flexible with their underwriting and allow for a wider scope of financial needs. They also can provide lower rates than banks in certain cases.
Banks also tend to offer loans that are for a longer duration and require quicker payback, whereas third-party lenders offer more room for debtors to decide on a better payment plan.
For businesses, third-party lenders usually offer the best finance options. While it is true that generally speaking third-party lenders tend to avoid complex financial profiles such as businesses, some lenders specialize in assisting businesses. In these cases, businesses benefit since the lender usually offers more flexible finance options than what banks usually offer.
Similarly, third-party lenders are great options for customers who wish to consolidate debt or pay off credit in one lump sum instead of making minimum payments month after month. They are also ideal for clients seeking more flexibility in repayment terms than what a traditional line of financing offers.
How Third-Party Lenders And Credit Unions Are Different
For those who are often new to third-party lenders, a credit union may seem like the same thing. There is a distinction between these two entities that should be noted though.
On one hand, it is common for third-party lenders to charge a higher interest rate than what credit unions or other financial institutions offer.
On the other hand, third party lenders do not require an account with them for borrowing money from them while many of these entities may have some sort of prequalification requirement.
Besides, while it is common, the interest rate determined by the third-party lender doesn't necessarily have to be higher than those offered by credit unions and other financial entities. It depends on the lender and the margin of flexibility they provide to the person who has requested financing.
Third Party Lenders vs Third Party Originators
Third party originators are essentially a subset of third-party lenders.
They are often the people from whom you borrow money and then sell it to an investor for cash flow or some other reason.
A third party originator may be affiliated with any number of entities, including banks, credit unions, peer-to-peer lending companies, and even individuals if they're not in the business full time.
The person soliciting the loan can choose which loan product suits them best but should also consider what their financial stability is like before making that decision as there's always more than one option out there when it comes to borrowing money.
Benefits of Third Party Lenders
There are several benefits offered by third party lenders that other entities might not.
Third-party lenders have the benefit of being able to provide a large loan amount for those who require it, with some even offering loans up to $50,000 or more. Banks and other standard lending institutions typically do not offer these loan amounts, especially to businesses. This is because they tend to classify businesses as high-risk borrowers and are therefore not inclined to loan huge amounts to them.
In addition, most third parties do not require that an account be opened before they can decide on whether or not they will lend money to someone and how much they might lend them.
This is beneficial because borrowers don't necessarily have access to their bank accounts if there's been some sort of banking error like a fraud due to either stolen credit card information or hacking into one's online account. Furthermore, many people may find themselves without a bank account as well after bankruptcy has occurred but they need money to get by and third-party lenders may be the only option available.
Third Party Lenders are another option available for those who need quick access to cash but don't want the hassle of applying for a loan at a bank.
Here are a few more benefits of partnering with third-party lenders:
Quick and easy application process, the approval time is usually within 24 hours

 Access to funds quickly (usually as soon as the next day)

Higher than average interest rates can be negotiated down if you have a good credit score.
Terms and conditions may vary, so it is best to read the fine print and ask questions before signing on the dotted line.
Benefits Of A Third Party Lender vs Third Party Originator
For borrowers who have trouble getting loans approved through the bank for one reason or another, third party lenders offer a solution.
Third-party originators act as entities that purchase financial assets and then sell them on to other institutional investors such as hedge funds, pension funds, insurance companies, etc.
These institutions need cash quickly to make investments happen so borrowers can get their money within 24 hours instead of waiting weeks for approval from banks. The downside is higher interest rates because they have less regulation than traditional banking institutions.
That said, third-party lenders are not necessary when partnering with select third-party lenders, especially when these lenders have a compact financial solution that does not require the intervention of an additional party.
How Businesses Use Third-Party Lenders
Businesses use third-party lenders for their own needs, whether it is to provide capital or help with a cash flow problem.
There are many reasons why third-party lenders may be the only option available:
Banks refuse to take on risky clients that don't have collateral (such as home equity) or who need large loans from banks because they cannot qualify for traditional credit products.

The business does not meet lending requirements such as minimum revenue and net worth requirements. This is often true of new startups that haven't been in operation long enough to have assets generate income yet.
Third party lenders also make an attractive alternative when you can't get your funds together quickly enough through other means like using lines of credit for example which require pre-approval.
Consumer Financing with Third-Party Lenders
Consumer financing through third-party lenders is an attractive alternative for many reasons.
While loan amounts vary greatly, some third-party lenders allow your customers to borrow up to $250,000 without any collateral or credit history. A select few allow them even more flexibility with the amount they request on a business' service.
What's more, customers usually don't need a minimum revenue requirement, nor are the application and approval processes lengthy. This makes it easier for your customers to access your services.
For that reason, consumer financing through third-party lenders gives your business a leg up over traditional financial entities and banks.
After all, some people find that they have trouble qualifying for loans through conventional banking methods because their financial situation has changed dramatically in recent years due to loss of income, illness, or death among other things.
This type of lending arrangement provides them with access to capital at rates comparable to those offered by banks on unsecured personal lines of credit while allowing flexible repayment terms, unlike payday advances.
Why Choosing The Right Third-Party Lender Is Important
Choosing a third-party lender that is well suited to your business's needs will help ensure that you get the most out of this type of financing arrangement. Doing so makes it easier for your customers to access your services while boosting customer satisfaction.
Here's a breakdown of the advantages to partnering with the right third-party lender:
Access to capital at rates comparable to those offered by banks on unsecured personal lines of credit.

Flexible repayment terms, unlike payday advances which often have high interest and finance charges that make them increasingly expensive over time.

Ability for your customers to access the services you provide without going through traditional lending channels.

Easy process approving and processing loans than what you would normally experience through conventional financing methods such as a bank loan.
How To Choose Third-Party Lenders
Choosing the right consumer financing company to partner with might be a challenging task if you don't know how to compare them. The secret is in understanding that there are different types of third-party lenders. Some specialize in certain industries, while others offer a wide range of services across many sectors. 
The options available differ from one company to another and will depend on the specifics of what you need as well as where your business operates geographically.
Therefore, if time is of the essence, then it's worth taking some time upfront to research which type or types would be best suited to meet your needs before going through all the hassle later on down the line when thinking about refinancing an existing loan with a new provider.
When doing so, particular attention must be paid to the type of finance plans which these lenders provide. As stated previously, not all third-party lenders are made equal. Therefore, not all of them offer the same type of finance plan.
As a business, whether you are looking for a loan or consumer financing option for your customers, then flexible finance plans are the right way to go.
Understanding Flexible Finance Plans
Flexible finance plans are perfect for any business looking to take advantage of a consistent income stream.
This is because they provide significant benefits in the form of lower risk, higher liquidity, and increased leverage.
In essence, flexible finance plans are lines of credit awarded to businesses that are characterized by having much more liberal terms and conditions than typical finance options. 
These credit options can either be used for a business' gain to access loans or on behalf of their customers by way of consumer financing.
These loans are usually unsecured, meaning that borrowers can also enjoy better rates that are reflective of their credit scores. Additionally, lenders can maintain adequate security by offering collateral on-demand or term-lending with recourse.
What's more, when it comes to long-term financing needs such as property acquisition or bridging finance for new assets like a vehicle, third party lending is usually the ideal option. This is because this type of financing affords the borrower greater opportunity to set repayment terms and conditions that are more in tune with your financial situation.
Main Benefits of Flexible Finance Plans
Although we've already touched on a few of them, here is a breakdown of the main advantages of leveraging third party lenders who use flexible finance plans:
Third party lenders who offer flexible finance plans typically work with the borrower to determine the terms which will govern the repayment period. Needless to say, from the standpoint of a borrower, the fact that the lender values your input during this process will make it easier to determine a viable repayment path that doesn't put too much strain on your pocket.

For those companies that offer consumer financing options for their clients, flexible finance plans are a good way to attract more customers. This is because flexible finance plans are a way for these companies to build relationships with their customers.

Flexible finance plans are also a solid way to boost customer retention. This is because the customers who sign up for these flexible finance plans have a natural incentive in staying with that company.

Another major benefit to flexible finance plans lies in their positive impact on your business image. This is because the flexible finance plans are a sign that your company cares about its customers and is willing to work with them in accordance with that.
For that reason, the third-party lenders you choose to work with should be able to offer competitive rates, and they will also need to provide different repayment options so you can find one which fits your needs best.
Time Investment Company is one such lender.
Time Investment Company For Your Third-Party Lender
Time Investment Company (TIC) is a US-based financial institution that crafts and implements solutions for enterprises that need financial assistance, be it for themselves directly or for their customers. As part of the finance solutions we offer, we work hand-in-hand with service providers to create and facilitate attractive flexible finance plans. These plans allow customers to access your services in a financially viable way.
During our time as a financial institution, we have successfully financed over $775M in loans across more than 250K businesses.
To assist businesses in managing the status of customer payments, we also provide a unique, modern software platform that enables you to keep track of the financial standing of your customers.
In doing so, you enjoy the benefits of finance solutions that reel in more customers and boost retention all while enjoying the backing of a fully integrated management system.
Forget traditional lenders and enjoy the wonders of a third party loan from Time Investment Company.
Takeaways for Third Party Lenders
Leveraging a third-party lender in your business operations can have a major impact on your customer retention, brand image, and ability to pull in more clients. What's more, it's also a solid option when looking for capital and the solution offered by your local bank isn't adequate.
At TIC, we can assist you in fleshing out compelling flexible finance plans that work. As a third party lender experienced in finance solutions, we are ready to welcome you to a community of businesses that have seen the rewards of a TIC-approved plan.
Set up a one-on-one strategy call with one of our finance specialists to learn how you can partner with an expert third party lender today.