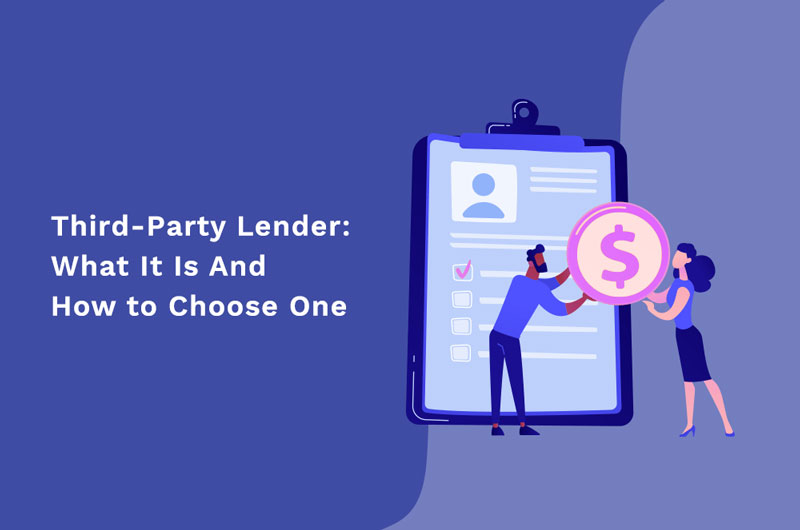 A third-party lender is a company that provides loans to companies or customers by taking on the risk of default.
Third-party lending services come in many forms and functions. In today's market, they are frequently online lenders. While the most well-known lenders focus on home loans and mortgages, many other lenders specialize in niche markets like home improvement or health care. These lenders can also provide lines of credit for businesses with good payment histories who want temporary access to capital but don't want long-term debt.
The third-party lending team can also offer short-term emergency funds for individuals who are not in great financial standing. For example, a customer might be able to get a loan from this type of entity when they have been declined for credit elsewhere.
Why a Third-Party Lender is Different from Banks
Third-party lenders are often more flexible with their underwriting and allow for a wider scope of financial needs. They also can provide lower rates than banks in certain cases.
Banks also tend to require quicker payback, whereas third-party lenders offer more room for debtors to choose lower payments over a longer period of time. 
When it comes to business applicants, businesses, third-party lenders are usually the best options. Some third-party lenders actually specialize in assisting businesses finance goods, equipment, and services. These businesses benefit since these non-traditional, non-bank lenders usually offer more flexible finance options than banks. For the right customer, they can offer great service.
Don't Rely on Bank or Credit Card Financing
The problem with traditional financing companies - banks, credit unions, and credit cards, is that they frequently won't approve customers with a less-than-pristine credit history. Or in the home improvement industry, they may want to hold the customers' homes as collateral.
Credit cards often don't have a high enough credit limit to be realistic customer financing options.
Instead, when you offer customers a payment plan through a good third-party financing company, you can offer realistic and affordable payment plans to customers with a more challenged credit history, and with a variety of credit scores. 
Offering consumer credit solutions and allowing your buyer to pay overtime can help small businesses increase sales and provide a better value for customers while reducing risk to themselves.
If you offer credit to customers on your own, you take on a lot of legal risk and responsibility. Your team has to follow fair credit and collections laws - and you expose your company to significant liability and penalties if your collections staff makes a mistake.
By offloading collections and accounts receivable departments to third-party providers, and customer financing platforms, you get paid upfront, also reducing your legal responsibilities and legal risks, while significantly improving your business's cash flow - a key component of running a successful business.
Meanwhile, when you provide consumer financing through third-party financing companies may help you reduce or eliminate credit card discount rates and transaction fees, and reduce your exposure to chargebacks.
Benefits of Using Third-Party Lending Services
Third-party lenders can typically approve larger loan amounts for those who need it – often dwarfing the amounts available via credit cards or traditional bank or credit union financing. 
In the home improvement business, some third-party lenders will approve loans up to $50,000 to $100,000, or even more. 
Banks and other traditional lending institutions generally do not offer these loan amounts, especially to businesses. This is because they regard businesses as high-risk borrowers 
Third-party lenders are another option available for those who need quick access to cash but don't want the hassle of applying for a loan at a bank.
Here are a few more benefits of partnering with third-party lenders:
Quick and easy application process: Approval time is usually within 24 hours. With the Time Investment Company, approval is usually within a few minutes for the vast majority of customers.

Access to funds quickly (we normally release money instantly after the customer confirms the purchase of goods or services).

Interest rates may be negotiated down for clients with good credit.
No Pre-existing Account Necessary
In addition, most third parties do not require that a borrower already have an account with them before they will approve a loan. With banks and credit unions, this Is a common requirement. Sometimes, the existing account is collateral. But since third-party, non-bank lenders don't need consumer deposits to function, they don't require that your customer already have an account with them.