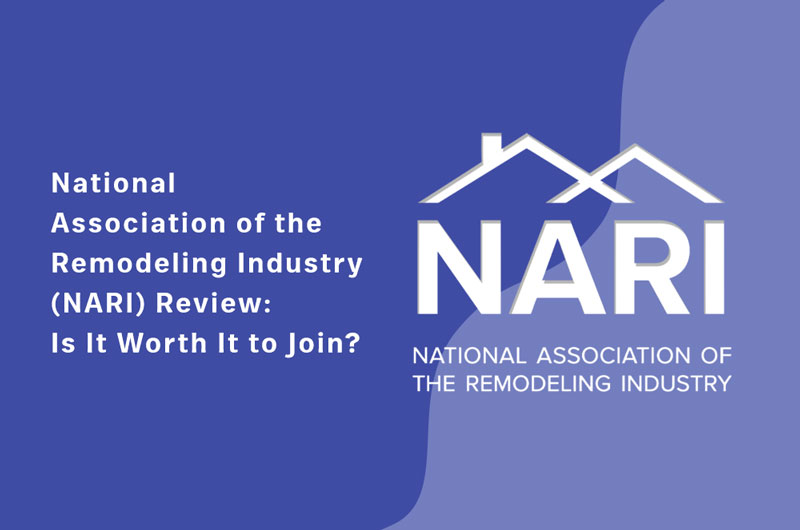 The National Association of the Remodeling Industry (NARI) is an independent trade association whose primary purpose is to boost the professionalism of the home improvement industry and foster better relationships between service providers and their clients. In addition to upholding the remodeling industry's professionalism, the association runs ongoing certification programs and publishes educational consumer publications.
The NARI's thousands of professional remodeling industry members pledge to commit to maintaining high standards of professionalism, sound business practices, vital public purpose, honesty, and integrity.
The NARI community comprises business professionals such as product manufacturers, consumer publication leaders, lending and utility institutions, distributors, suppliers, and professional remodeling contractors, among others.
In addition, the NARI also frequently serves as a matchmaker, connecting consumers (homeowners, residential landlords, and commercial landlords) with remodeling contractors and professionals with the skills to meet their needs. 
Types of NARI Memberships
NARI membership comes in two types: You can join a local NARI chapter, or you can be a NARI member-at-large. 
The at-large membership includes participation in the following association and industry events.
NARI Fall Leadership Summit

NARI Spring Business Meeting

Educational and training events

Trade shows, conferences, and vendor expos

Contractor of the Year Awards

Consumer-focused events

Community service and social events

Workforce development and recruitment events

Committee and Leadership events
Chapter membership includes participation in the following activities at the local or chapter level: 
Chapter meetings and events

Education and training events

Conference, trade show, and vendor expos

Consumer-focused events

Community service and social events

Workforce development and recruitment events

Committee and leadership events
Advantages of Joining the National Association of the Remodeling Industry
Contracting is a people business. A lot of your success and future business growth depends on you getting to know people - and people in the industry getting to know you. When they know you and trust your competence and work ethic, you'll be considered as a subcontractor on more jobs. And you'll have an easier time bringing the best subcontractors to work on projects under you. 
NARI is the primary professional association that specifically focuses on the building remodeling industry within the United States. It boasts thousands of member firms, including some of the biggest, most prominent general contractors in the industry. These firms routinely bring business to subcontractors, and the NARI staff and leadership may refer bid opportunities directly to you, if you meet a contractor's or landlord's needs and skill set. 
As such, NARI is a huge resource for contractors looking to expand their business networks and their exposure within the industry. 
Benefits for Consumers
As an industry body, NARI also does a lot of things that benefit consumers as well as their construction industry members. Here are some ways that NAR benefits consumers and the general public at large. 
Reduced Risk of Construction Defect Problems
The NARI consumer-members tend to be large landlords that own a lot of commercial or multi-family real estate or are serious real estate investors, and who frequently have large remodeling projects themselves. They leverage NARI expertise to get higher quality work done, reduce their risk exposure, and generally make life easier. 
The quality control piece is important: According to a PlanGrid study, $31 billion of construction work done last year was due to a need to correct or redo shoddy or substandard remodeling and construction work. These consumers of remodeling services know that if they work through NARI, they are much less likely to have construction defect problems. 
Referrals to Specialist or Artisan Contractors and Tradesmen
NARI frequently refers customers to contractors or tradesmen with advanced, specialized, or artisanal level skills. These experts can be hard for outsiders to find. The NARI helps consumers find contractors with the rare skill sets they need,l and brings new bid opportunities to the contractor as well. 
Benefits for Contractors
Membership in NARI brings a number of important benefits to construction industry companies, including contractors, vendors, suppliers, consultants, and others.
Access to NARI Member Projects
Consumers of remodeling services who join NARI tend to be serious customers who do a lot of remodeling projects. That's why they joined the association, to begin with. When they solicit bids on remodeling jobs, they tend to prefer other NARI members - as will the general contractors when they look for subs. 
Solidify Your Reputation
Assuming that you stick to the quality expected of NARI professionals, customers will spread the word on the good work that you did for them and, in turn, help maintain your good reputation with other association members.
Engage in More Successful Partnerships
According to a study done by PlanGrid in partnership with the FMI corporation, an estimated $177B annually is lost in the construction industry due to poor communication not only among team members but also between professionals and their clients. 
NARI customers are serious about communicating their needs. As a result, you can be sure that they will be clear in their communication so as to ensure a healthy, hassle-free working relationship for both parties.
Connect With Key Allied Vendors and Services
NARI members aren't limited to contractors and landlords. NARI also connects contractors and members with other vendors and service providers who focus on supporting the remodeling industry. 
For example, NARI often helps contractors connect with consumer finance companies like us, which helps contractors grow their business by making it possible for customers to finance their purchases over time, in a series of affordable payments. If you want to offer your customers additional financing options to help make your services more affordable, we can help with that. 
NARI also helps connect contractors with vendors who sell construction tools and equipment, materials and supplies, provide equipment financing, insurance, advertising and marketing services, PR, legal services, and other goods and services specific to the home remodeling industry.