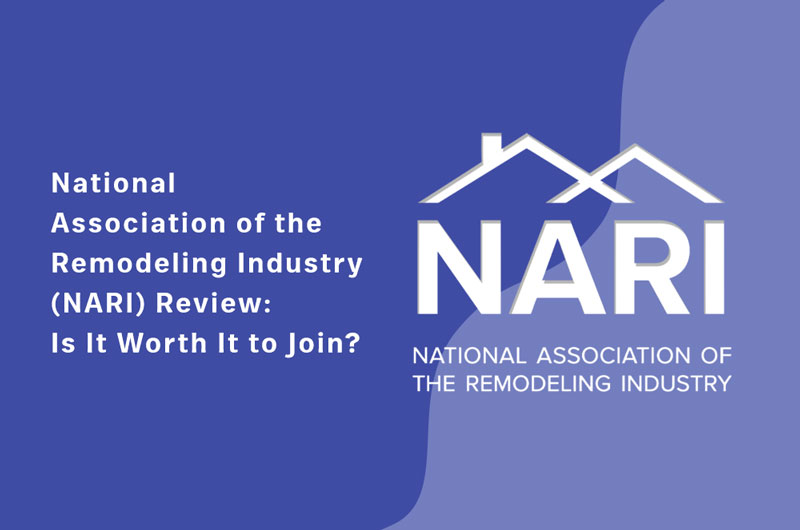 Let's face it: the National Association of the Remodeling Industry (NARI) is a must-know-organization for anyone into remodeling.
That's a given.
From remodelers to home-owners, at some point in your remodeling journey, you are bound to get word of the NARI. 
What's more, the slew of benefits they offer to people fitting your profile speaks for itself.
After all, their partnership with the National Association of Realtors (NAR), a major industry player, is enough to give their promises serious credibility.
However, millions are still unsure as to whether becoming a part of the NARI is truly worth the investment. 
If you happen to be one of those, you are in luck.
This blog post serves to dissect the pros and shortcomings of NARI so you can equip yourself with the best partners to navigate the remodeling industry successfully. 
Let's dive right in.
What is the National Association of the Remodeling Industry?
The National Association of the Remodeling Industry (NARI) is an independent trade association whose primary purpose is to boost the professionalism of the home improvement industry and foster better relationships between service providers and their clients.
To be specific, the NARI serves professionals within the remodeling industry as well as their customers by partnering both parties with the right match given the customer's needs and business' services in an effort to maximize the chances of a healthy professional relationship. 
This non-profit institution is distinguished by the fact that the members which constitute its network pledge to commit to maintaining the high standards of professionalism, sound business practices, vital public purpose, honesty, and integrity in the business operations undertaken. 
As a recipient of a Coty award, it comes as no surprise that businesses and customers alike wish to form part of this network.
After all, its exclusive nature within the professional remodeling industry coupled with the high standards to which its members are held almost guarantee a successful working relationship.
The NARI community comprises business professionals such as product manufacturers, consumer publication leaders, lending and utility institutions, dentists, distributors, suppliers, and professional remodeling contractors, among others.
Pros of Joining the National Association of the Remodeling Industry
As has been hinted at before, most contractors and homeowners alike aspire to join the ranks of the NARI.
However, oftentimes they do so because of the possible professional collaborations that the network promises as well as the other perks that come with a membership.
While this is true, in doing so, they often forget that there are also a host of other benefits for NARI members. 
We've divided them according to the specific groups that they're directed to in order to show how joining the NARI can be a major plus for multiple groups:
The NARI for Commercial Clients (Businesses)
Boost your business' ROI margin

: Not only are the customers who join the NARI known to be serious clients, but they also tend to spend more and use this network more frequently. This is evidenced by the fact that they went through the trouble of joining an elite organization dedicated specifically to the remodeling industry. Consequently, these customers are more likely to invest more in the contractors that form part of this group because they bear NARI certification. Similarly, these clients have a tendency to invest in more remodeling projects. While profiles differ, a NARI certified customer is one who is more likely to have recurring projects than others, thus improving your chances of having ongoing work.

Solidify your reputation

: As part of a non-profit trade organization known for its high standards and code of ethics, the feedback you get from your customers will be more authentic. Assuming that you stick to the quality expected of NARI professionals, customers will spread the word on the good work that you did for them and, in turn, help maintain your good reputation

.

Have more successful partnerships

: According to a study done by

PlanGrid

in partnership with the FMI corporation, an estimated $177B annually is lost in the construction industry due to poor communication not only among team members but also between professionals and their clients. NARI customers are serious about their needs. As a result, you can be sure that they will be clear in their communication so as to ensure a healthy, hassle-free working relationship for both parties.
The NARI For Customers
High-quality home remodeling: In the same study by PlanGrid, an estimated $31B of money registered in the construction industry was as a result of rework from poorly done jobs. By partnering with proven NARI certified professionals, you lessen the chances of having to redo work since NARI members are known for their premier work. 
Diverse professional collaborations: Within NARI, there are various professionals who cover a wide array of industries. Among them, you will find that there are professionals who specialize within a particular niche. For example, within home improvement, you will come across contractors who deal specifically with wood. Consequently, this increases your chances of securing a professional who is an expert in what you need.
Customer support: If you were to find a professional on your own, you wouldn't have a team supporting you on your search. Sourcing a NARI contractor implies being backed by a network that wants to see you succeed. You can contact the customer support team to deal with any issues you may have.
NARI: Is It Worth It?
As has been evidenced, anyone into remodeling who joins NARI enjoys a host of exclusive perks. 
However, in as much as the NARI seems to be an idyllic network, it isn't void of its shortcomings.
While NARI pairs you with partnering businesses and clients within the remodeling industry, clients are left to fend for themselves when deciding on a payment plan.
This presents a major inconvenience for both parties. On one hand, customers end up settling on less favorable finance options or worse, abandoning a contractor since they can't afford the payment terms.
For business, not only do they miss out on potentially profitable clients, but their limited finance options make working with them less attractive to some clients.
Luckily, there's a way to work around this.
Partner With A Refinance Company
Neither contractors nor their customers should ever have to hold off on their dream remodel project because of unattractive finance options.
Refinance companies solve that problem.
Contractors can form partnerships with lending institutes which, in turn, offers flexible finance options.
Time Investment is a finance company that is ideal for contractors who deal with multiple customers.
With nine members of the Hafeman family on the team, our close-knit board of directors leads our family-owned business to offer a customized approach to the needs of a contractor's customer.
We personalize our finance options to suit the needs and requirements of your customers so they can pay you for your work in a mutually beneficial timeframe.
That way, both contractors and customers can move ahead with their project knowing that they are both covered.
Leverage NARI & Time Investment
NARI offers a myriad of member benefits to those who join.
Yet your remodeling company can get even more value if you combine a NARI membership pass with the refinance options we offer at Time Investment.
Whether you're looking at planning ahead for your next upcoming event or you're looking to reduce sudden costs during COVID-19, there is so much to be gained from our finance options.
Apply to become a dealer today so you can make life easier not only for your customers but also for you.