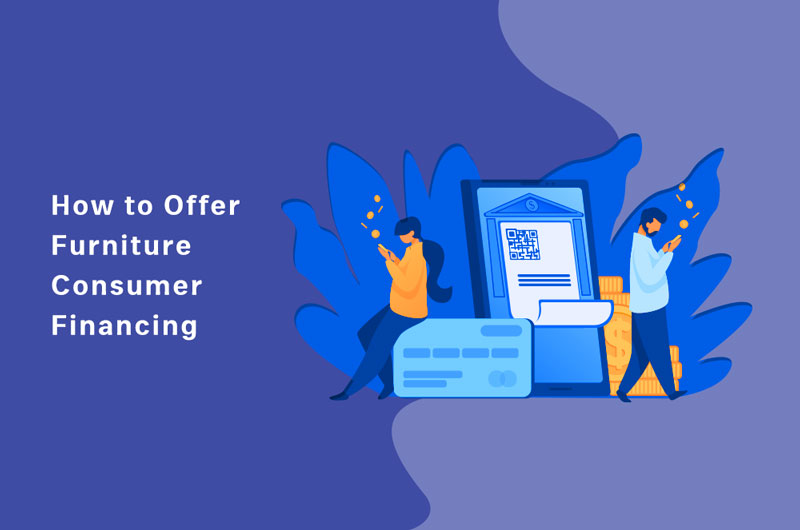 With the advancement of eCommerce, the trends of trade are also changing. Nowadays, while purchasing goods online, many businesses offer financing options. Customer financing is an approach to facilitate consumers with their purchases. It allows them to buy a high-priced product without having to pay for it in one go. Instead, customers can opt for different financing solutions the merchandisers provide. Nowadays, many furniture companies offer furniture consumer financing options to make shopping easier for their customers.
In this article, we'll discuss the importance of home improvement consumer financing and how to offer it.
Let's dive right in.
Why Is Furniture Consumer Financing Necessary?
Furnishing a house may leave a big dent in your client's wallet. Even if they can afford a sizable purchase, their credit card may not allow it due to credit limits. 
These barriers are making customers reluctant to buy furniture. This is bad news for merchandisers who're unable to sell products and build a clientele. That's reason enough for finance companies to join hands with furniture retailers. 
How is Consumer Financing Beneficial for Furniture Companies?
Where furniture consumer financing is a significant relief for customers, it's rewarding for furniture retailers, as well. It allows retailers to sell more merchandise to more customers in a convenient manner. Not only does it increase sales for the business, but it also helps them gain customer retention and customer loyalty. 
Furniture financing makes a business flexible by providing its customers with accommodating payment options and encouraging them to make large purchases. The more adaptable your plans are, the more people will visit your store. 
Customers can easily make smaller payments to pay off the entire amount in monthly installments. They decide the duration of their payment by picking the financing plan of their choice. 
It's an excellent opportunity to attract customers and give them an offer that they can't refuse. As a result, the conversion rate will increase and your business will grow.
On the other hand, from a buyer's perspective, furniture consumer financing makes the shopping experience less stressful. 
How is Consumer Financing Beneficial to Buyers?
Everyone deserves to have a home of their dreams without having to struggle too much for it. A consumer finance program gives customers purchasing power and a chance to improve their homes. 
Consumer financing also provides a bonus perk, the No Credit policy. This means that you don't have to worry about your credit score or credit limit while making a purchase. You can get immediate credit approvals from the finance company and take the furniture home. 
Additionally, home furnishings have also come up with adaptable plans to assist customers in making higher payments at a lower interest rate. 
Now that we've discussed the comfort furniture consumer financing brings to people's lives, let's talk about how to make it happen. 
How To Offer Furniture Consumer Financing
To offer a finance plan, you as a furniture retailer, need to collaborate with a third-party finance company. The finance company handles all the information about the credit accounts, transactions, history of payments, and more. 
As a result, you don't need to worry about acquiring payments from your customers. You can shift your focus and efforts towards your business growth strategies.
With that being said, let's take a step-wise approach to understand how this works.
1. Finding a Finance Company 
The initial step is to find a suitable finance company for your business. When looking for a collaboration, you should choose a company that provides:
Friendly service and an easy online application process 

Capability to finance large amounts without any delay

The lowest possible interest rate for the customers

An online portal option to review accounts

Prompt payment options to furniture retailers

Customer account management and credit history log
If a company meets all the criteria, it means that the checkout phase of your buyers' journey is going to be a smooth one. Other than that, never forget to verify the company's reputation and their history with other clients.
2. Create an Online Application At Checkout
Your journey with your customer ends when they checkout at your store. The next step is for them to make payments to the associated finance company. At checkout, you need to create an online application for your customers where they can input their necessary information. This information includes data such as the customer's full name, phone number, monthly income, social security number, and credit history (if required).
With this information in hand, the finance company can run a verification check on the customer. The monthly income figure of the customer is an indicator of whether they'll be able to pay for their furniture or not. Some companies also check the credit history of the customer if they have a limit for the minimum credit score. 
After data validation, the customer's credit application will be approved and a payment plan will be prepared for them.
It all happens in real-time, and the efficiency of this step indicates the credibility of the finance company.
By the time the customer empties their shopping cart, they'll pay a defined percentage of the total amount at checkout. In the end, they'll be given a payment plan, which is the schedule of their installments. 
3. The Transaction Between the Finance Company and the Furniture Retailer
As mentioned before, the finance company takes full responsibility for all money-related activities. 
Whenever a customer finalizes their purchase, the finance company makes an outright payment to the furniture company. 
That way, the retailers don't have to face any kind of financial instability.
Now comes a vital question: How does the finance company compensate for the purchased furniture?
Every finance company has a variable method of earning money. Some companies make a profit with the interest rate the buyers provide with each purchase, while some companies have a fixed fee that the customer has to pay at the time of buying. 
Why Should You Choose Consumer Financing over Credit Cards?
Credit card companies provide different tier options while issuing cards to their customers. The customers can spend up to a limit set for that tier.
Although credit cards allow customers to make payments quickly, buying furniture off credit cards is unachievable because of the tier limit. 
Let's say your customers have a tier 1 credit card and want to buy a luxury bed for their home, the card won't allow them to make a big payment. It won't matter if they have enough income and can afford to pay at once. They would either have to upgrade the credit card or walk away without a bed - and you, without making a sale.
On the contrary, for consumer financing, the sky's the limit. 
It provides limitless credit to customers, but of course, after doing a little background check on the buyer's profile. 
Another benefit of choosing the latter option is the finance company's correlation with the retailers. As mentioned earlier, the finance company maintains a complete history of buyers for a specific furniture retailer. 
They have a fool-proof contract that promises a secure transaction between the relevant parties. Furniture financing companies also provide promotional offers to attract more customers into buying quality products. 
Last but not least, the latter saves your customers from the embarrassment of bad credit. Many times, customers can't buy goods in times of need because their credit cards get declined. 
However, even with bad credit or a less than desirable FICO score, you still want them to buy your furniture. Some finance companies provide a credit program for viable customers who have enough income to make the purchase. 
Top 4 Consumer Financing Companies to Help Your Customers Buy Furniture
If you want your customers to buy furniture from you even if they have a limited budget, worry no more. 
We've curated a list of top 4 consumer financing companies that can assist your customers in buying good quality furniture at reasonable approval rates.
Let's have a look.
Time Investment
Time Investment is a traditional consumer finance company based in West Band, Wisconsin. The team at Time Investment directly connects with you to discuss customer approval and retention formulas. 
Furthermore, with their "common sense" approach to lending, they offer flexible loan plans to your customers. 
Let's look into the features they provide to their customers:
Quick credit decisions that increase the chances of loan approvals for your customers

Easy online application process for your customers

Customized computer application to address the needs of TIC's clients

Online website for retailers to view customer loan statuses and approvals

Flexible loan programs for your customers for multiple credit levels 

A toll-free contact number, in case of any queries

Full payment transaction to the retailers the next day of purchase

Auto-pay option for your customers
Additionally, TIC provides knowledgeable staff to its clients to communicate all kinds of issues. To learn more about us, leave an inquiry with no commitment.
United Customer Financial Services (UCFS)
UCFS provides a financing program to customers that sell adjustable beds, mattresses, and other furniture products. 
It helps furniture retailers facilitate their customers in the following ways:
Auto-pay option, which lets their customer schedule automated installments to UCFS

Same-as-cash option, which doesn't impose any interest in customer's payments during the first few months 

No penalty deduction on the early payoff

Lower interest rates as compared to other furniture financing companies

Quick credit approvals
Additionally, UCFS takes charge of the administrative and transactional activity for all of your customers. 
It also ensures a prompt payment to your store and a high percentage of approved customers.
VIP Financing Solution
VIP Financing Solution provides a furniture consumer financing network to help you grow your business. They promise to help you attract new leads and convert them into satisfied customers through their promotion plans for your brand.
With their financing programs, they cover the needs of the audience in various spectrums. 
They practice a "No Credit policy" that enables your customers with low credit scores to buy the furniture of their choice.
Furthermore, VIP Solution provides the following benefits to retailers and their customers:
Same-as-cash payment option for your customers who can complete their payment within 90 days

Customers receive a credit card with your brand and logo

You get paid the same day the customer purchases a product from you
VIP Financing Solution protects your business by invalidating charge-back options on your customers' payment. 
In the same way, they protect your customers from predatory lending by providing them non-predatory loans and payment plans. 
Flexstar Financial Solution
FlexStar Financial Solution is a market-leading finance company that provides quality loans to your consumers. 
They enable your customers with varying credit backgrounds to get safe credit approvals to create a home of their dreams.
Furthermore, they also empower your brand in various ways, including:
Help you maximize customer's close rates

Provide a convenient approval process to your customers

Competitive in-store and online financing to improve your customer's shopping experience
This leads you to better customer conversion rates, and therefore, more satisfied consumers.
Help Build a Better Community with Consumer Financing
Consumer financing companies are making a great effort toward building a peaceful community—a community where homeowners can purchase their necessities and furniture companies can reach more clients. 
Consumer financing bridges a gap of reluctance between customers and retailers, benefiting both buyers and sellers. 
However, business owners are advised to investigate a financing company before registering them as partners. No matter which country you belong to, always choose a company that is protected by your government's consumer financial protection bureau. 
With more than 230 active clients, Time Investment offers flexible financing that helps businesses grow. To learn more about how we can help you, leave your contact information and we will reach out to you with the next steps.