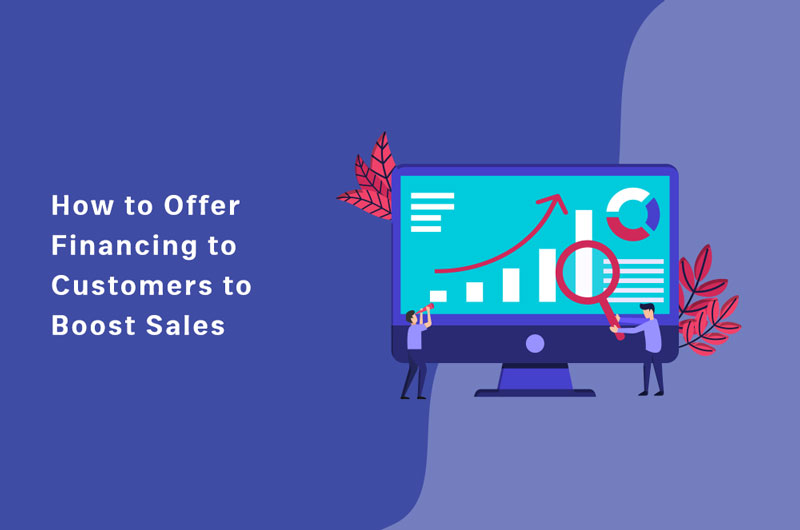 Has your business been struggling with hitting its sales targets lately? At times, even when your product, promotional activities, and customer service efforts are on-point, it can be difficult to achieve your main KPI targets. In times like these, it boils down to how your basic transaction process is set up and the obstacles it includes—and the fix can be as simple as offering financing to customers.
Today, there are a lot of prerequisites and standards that the average modern business has to meet.
In addition to the actual product(s) you're selling, your customers demand convenience and great customer service—all of which adds up to a delightful, memorable experience.
Consumer financing, a type of consumer credit that is becoming a norm in different industries and niches, is one of those prerequisites.
If you're still stuck with accepting credit card/upfront payments, and would like to expand your payment options by offering financing, keep reading.
In this post, we'll take you through the ABCs of the concept and how to offer financing to customers to boost conversions.
Let's get started.
Understanding Consumer Financing
Consumer/Customer financing is a payment option that allows customers to pay for large purchases (or high-ticket items, if you will) as affordable monthly payments with interest (the interest rate is usually determined on a case-to-case basis), instead of paying everything upfront.
As mentioned earlier, this financing option is a type of consumer credit that doesn't rely on any issued card, but another independent financing platform.
The entire process is fairly simple:
The business offering consumer financing as an option partners up with a third-party financing firm

The financing firm sets up the structure for customer financing (whether on the website, in-store, or both) and looks after everything
Once everything is set, your customers will have the option to choose financing at checkout.
Whenever someone opts for it, the financing company will run a quick credit check (this only takes a few minutes). Once the application process is complete and the customer's credit score meets the requirement, the transaction is complete.
You will receive the entire amount upfront from the finance company (minus any fees). The customer will repay the amount to the finance company over a specified time period, which will depend on their preferred payment plan, with interest.
Sounds pretty straightforward, doesn't it?
Whether you're a small business or a global enterprise, when you offer financing to customers, it impacts your bottom line.
This brings us to:
The Top Benefits of Offering Customer Financing
If you don't have a customer financing option, here's what you're missing out on:
1. An Increase in Sales
First and foremost, offering consumer financing could result in a massive boost in conversions.
Not all people who fall within your target segments can afford to pay for your products upfront.
For instance, not everyone can afford to pay for a new piece of furniture or a smartphone that costs over $1,000 out of their pockets.
Even if they can, they need to plan ahead and spare enough disposable income for the upcoming months.
Accidents can happen, and the people who live from paycheck to paycheck can't afford to splurge, even if they wanted to. They can only use credit cards and/or financing for large transactions.
And when their credit cards impose spending limits and financing isn't an option, a significant percentage of your market remains unconverted.
The only promising solution here is to offer consumer financing to customers who can't pay upfront.
When you offer consumer financing, you essentially open the floodgates for new customers who were previously reluctant or unable to purchase.
2. An Increase in Customer Loyalty
Another key benefit of offering financing is that it could play a vital role in cultivating customer loyalty.
Offering an additional payment option at the point of sale speaks volumes about the priorities of your business.
This customer-centric approach is very likely to help you position yourself as the go-to business in the minds of those customers (provided that the other core functions of your business are on-point).
An additional mode of payment could make them come back for more transactions.
This, by itself, presents a golden opportunity to establish fruitful, long-term relationships with these loyal patrons, who, in turn, will help promote your business through word-of-mouth.
3. A Simple and Quick Way of Purchasing Expensive Items
Another great thing about consumer financing is its simplicity.
When that simplicity is packaged with convenience and the possibility to purchase those items, your business gains a competitive edge.
As implied above, just like transactions made with credit cards, checking out with consumer financing is fairly simple.
The customer only has to fill out a short application form and provide basic information, such as their full name, social security number, monthly income, etc.
That information is then quickly analyzed by the native software of the third-party company that is providing the financing.
If the customer isn't at credit risk (i.e. meets the criteria of "creditworthiness"), they are greenlit for the transaction.
The financing company pays you in full and voila—transaction complete. At this point, collecting payments and taking the risk of delinquency on the part of your customer isn't your concern. The finance company deals with everything.
4. Likely to Increase Average Order Value
Last but not least, when you offer financing to customers, you're likely to increase your average order value (AOV).
The order value is the total value of an order placed by a customer, including all of the products and any add-ons.
In addition to opting for add-ons, when customers have the option to finance their transactions, they may also choose to purchase the more expensive/advanced versions of said products.
This conclusion was drawn by a study conducted by the Retail Customer Experience, the relevant details of which are illustrated below:
Your customers are more likely to make an additional purchase of over $500 from your shop in the future if you offer financing.
Larger order sizes, coupled with increased conversions, could potentially skyrocket the inbound cash flow of your business.
How to Offer Financing to Customers
All things considered, it's safe to assume that offering consumer financing is a smart strategic fix for increased sales.
That being said, establishing the structure and offering this financing solution requires a lot more than just partnering with a company.
Here are 5 steps that every business owner should take when they decide to offer financing to customers:
1. Determine if Consumer Financing is Right for You
Before anything else, you need to determine if consumer financing is the right option for you from a strategic point-of-view.
While it can be fruitful, not all businesses will benefit in the long-run. Some might not even qualify based on the eligibility requirements set by financing companies.
To make the right choice, start by asking the following questions:
Does Your Business Qualify for it?
First of all, you need to consider if your business even qualifies for consumer financing.
Consumer financing is most commonly offered by retailers who sell products with hefty price tags, such as big-ticket items.
Some of the common industries/niches include:
Appliances

High-end electronics/gadgets (smartphones, laptops, gaming consoles, drones, cameras, etc.)

Furniture (some manufacturers/retailers offer

furniture consumer financing

for this reason)

Jewelry

Home improvement services

Car parts
In addition to the above, keep in mind that both eCommerce and brick-and-mortar businesses can offer consumer financing.
Furthermore, some finance companies impose minimum order requirements. For instance, your customers may be required to make a purchase of at least $1,000 to qualify for financing.
If most of your products are situated towards the lower-end (a few hundred dollars), you may be better off sticking with debit and credit card payments.
Will Your Customers Use it?
The next important question that you should be asking is your customers will opt for financing in the first place.
A rookie mistake is to look at how the customers usually pay for those transactions. If the majority of customers pay directly through banks/debit cards, that indicates they don't need financing, right?
That maybe the case, but the issue is that the approach above doesn't account for your potential customers.
But how do you go about figuring out if those untapped customers would be interested?
You can do that by running a customer survey (either yourself or by partnering with a market research company), asking your leads and existing customers if they'd do business with you if you offered financing.
Is it Worth it in the Long-Run?
Last but not least, you need to look at the long-term feasibility of offering financing.
In customer financing, there are a some fees that the business has to pay.
Depending on the financing company, the number of fees could very well prevent you from hitting your revenue targets. 
Some companies don't charge anything (except for a one-time, initial fee). However, it's rare to find such vendors.
At the surface-level, these fees include:
Set-Up Fee

– you may have to pay a one-time set-up fee for acquiring the services and setting up the structure.

Transaction Fee

– for every transaction or application, the finance company will charge you a fixed fee. This fee covers the cost of running credit checks.

Merchant Fee

– in addition to the transaction fee, finance companies also charge a

merchant

fee. This fee is equal to a very small percentage (3-4%) of the total order value. The percentage may vary from company to company.
Consider all of the costs and decide if opting for this route would be feasible. This is especially important for small business owners who are planning to scale.
2. Research, Evaluate, and Select a Financing Company
Once you've decided that you're eligible to offer financing to customers (and will actually benefit from it), the next step is to choose a financing company to partner with.
There are many companies that cater to businesses of all sizes.
Time Investment has been partnering with businesses of all types and sizes since 1981 to streamline their customer's experience and boost sales.
Carefully evaluate your options before you make a move. Consider:
Minimum transaction limits/order sizes

Associated fees

Case studies, with real data, of how their clients benefited from offering financing through their platforms
Furthermore, you need to consider the type of financing program that's most suitable for your business.
Let's dive into the details:
Regular Financing

– this is your average consumer financing option. You partner with a financing firm that gives you your money upfront and profits with the fees paid by you and the interest by the customers. Most retail businesses go for this route.

Interest-Free Financing

– a few companies offer interest-free financing programs. Through this arrangement, your customers don't have to pay any interest, provided that they pay back in a short period of time. While this type of financing may help attract more buyers, it could be expensive (as the fees are higher) and the approval rates are lower.
Self-Managed Financing

– another approach is to offer in-house, self-managed financing. As the name suggests, this type of financing takes a third-party company out of the equation. The business does everything, from collecting the payments and taking the risk.

Invoice Financing

– this is only for B2B companies. Most businesses purchase in bulk and on credit. To get a stable cash flow, they seek financing from third-party companies against the money owed to their customers.
Do ample research before deciding. Our support team is always ready to answer any questions you might have.
3. Train Your Staff
This only applies to businesses that offer consumer financing at POS on their physical stores.
On websites, the entire application process is carried out by the customer.
However, in stores, your staff needs to get involved.
They will be responsible for:
Informing and educating your customers about your financing program

Asking them for details or assisting them with the application process

Feeding the information to the system and informing the customers about their approvals (or rejections)
All of that obviously requires a certain level of training.
The financing company that you choose to partner with could help you in that area.
4. Promote/Advertise the Financing Option
What good is consumer financing if your potential and existing customers aren't even aware of it?
When you first introduce your product, make sure to spend some marketing budget on promoting this new payment option.
This is completely up to you and your budget.
You may stick to a targeted approach and leverage social ads and email marketing.
Furthermore, if you have a website, make sure to clearly mention your installment plans on different landing pages.
You may also choose to go all in and invest in an ATL approach for TV, radio, and billboard ads.
The goal is to reach as many prospects and customers as possible.
5. Evaluate Usage
Last, but not least, make sure that you evaluate the effectiveness of your consumer financing program.
You don't need to use complicated KPIs to do this.
Just keep an eye on your good old conversion rate, see how it has increased since you started to offer financing to customers, and how much of it can be attributed to this new payment option.
Don't hesitate to ask us how we can help you track success.
Ending Note
In light of the current economic conditions, it's safe to say that consumer financing is no longer optional.
If you're planning to offer financing to customers who want freedom from big price tags, always remember that it's never too late to start.
And the entire process isn't that complicated, either. A simple evaluation of where your business currently stands, along with your options, is all it takes. Create an account to learn more about Time Investment and apply to partner with us.