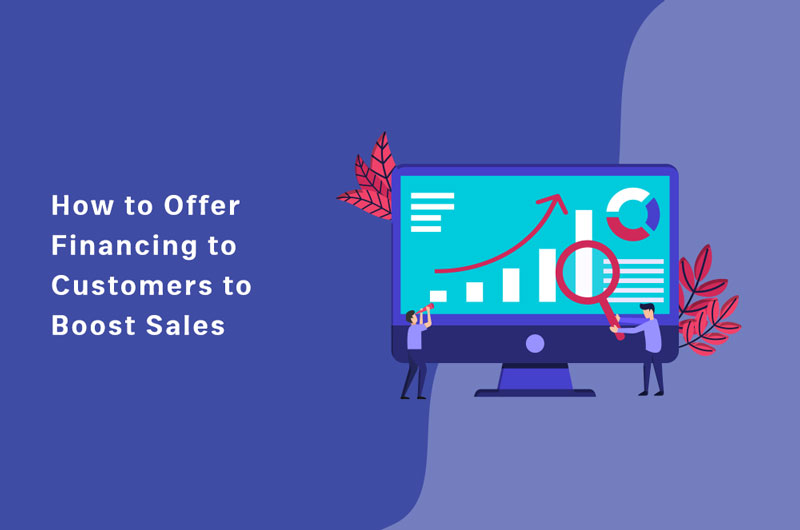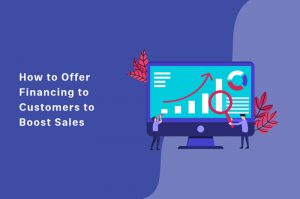 In today's market environment, offering a financing solution is a must for contractors, water filtration professionals, and anyone else who sells anything that costs more than a few hundred dollars.

Credit cards and their low limits and high-interest rates don't cut it for larger ticket sizes. And bank lenders are notorious for unrealistically high credit standards and incessant requests for additional documentation from borrowers. 
If you're still stuck with accepting credit card/upfront payments and would like to expand your payment options by offering financing, keep reading.
In this post, we'll take you through the ABCs of how to offer financing to customers to boost conversions.
How Consumer Financing Works
Consumer financing (also known as customer financing) is a payment option that allows customers to pay for large purchases (or high-ticket items, if you will) as affordable monthly payments with interest (the interest rate is usually determined on a case-to-case basis), instead of paying everything upfront.
As mentioned earlier, this financing option is a type of consumer credit that doesn't rely on any issued card, but another independent financing platform.
The entire process is fairly simple:
The business offering consumer financing as an option partners up with a third-party financing firm

The financing firm sets up the structure for customer financing (whether on the website, in-store, or both) and looks after everything
Once everything is set, your customers will have the option to choose to finance at checkout.
Whenever someone opts for it, the financing company will run a quick credit check (this only takes a few minutes). Once the application process is complete and the customer's credit score meets the requirement, the transaction is complete.
You will receive the entire amount upfront from the finance company (minus any fees). The customer will repay the amount to the finance company over a specified time period, which will depend on their preferred payment plan, with interest.
Introducing financing early in the sales conversation lets you steer the discussion to maximizing long-term value for the customer, with immediate price a secondary concern. That sets you up to increase your average ticket size, or average order value (AOV). 
Determine if Consumer Financing is Right for You
Before anything else, you need to determine if consumer financing is the right option for you from a strategic point of view.
While it can be fruitful, not all businesses will benefit in the long run. Some might not even qualify based on the eligibility requirements set by financing companies.
To make the right choice, start by asking the following questions:
Does Your Business Qualify for it?
First of all, you need to consider if your business even qualifies for consumer financing.
Consumer financing is most commonly offered by retailers who sell products with hefty price tags, such as big-ticket items.
Some of the common industries/niches include:
Appliances

High-end electronics/gadgets (smartphones, laptops, gaming consoles, drones, cameras, etc.)

Furniture (some manufacturers/retailers offer furniture consumer financing for this reason)

Jewelry

Home improvement services

Car parts

In addition to the above, keep in mind that both eCommerce and brick-and-mortar businesses can offer consumer financing.
Furthermore, some finance companies impose minimum order requirements. For instance, your customers may be required to make a purchase of at least $1,000 to qualify for financing.
If most of your products are situated towards the lower-end (a few hundred dollars), accepting debit and credit card payments may work just fine. But people love to buy things on time. Offering "just six easy payments" is a proven technique for just about any ticket size. 
How to Choose a Finance Company
Most contractors don't want to 'tote the note' themselves. This practice, also called 'self-managed financing' requires a lot of cash out of pocket, along with an accounts receivable and collections operation. It would also require you to learn how to run an entirely different kind of business. Most contractors don't want to be in the credit and collections business. They want to build and fix buildings!
Invoice financing is an option, but it's only realistic for B2B vendors, who have corporate customers with established accounts payable departments who are accustomed to paying invoices as they come in. 
That's why the vast majority choose to outsource the financing function to a third-party lender, such as Time Investment Company.

That brings us to regular consumer financing:
You partner with a financing firm that gives you your money upfront and collects payments from the customer over time. 
Choose What Financing Programs to Offer
When you work with a finance company that already understands your industry, chances are they already have some workable programs in place that work for businesses similar to yours.

Otherwise, you may have to work with the finance company to develop some programs that suit your business and customers. 
Here are a couple of common examples
Deferred Payment Plans
Most of you have seen deferred payment plans advertised as consumers. For example, "Buy now! No payments until June!"
A deferred payment plan helps you sell to a customer who doesn't have a lot of cash now, but expects things to improve in the coming weeks. Common examples are people who just moved into a new area or businesses in the startup phase who don't yet have revenues coming in. 
Interest-Free Financing
With interest-free financing, your customers don't have to pay any interest, provided that they pay back in a short period of time. Think "90-DAYS, SAME AS CASH!" 
This type of financing may help you close more sales. However, the finance company will need to make some money to cover their risk. Since the customer isn't paying any interest, your company will need to pay a small discount fee in order to get the customer financed. The longer the interest-free period, the more your company can expect to pay. So make sure your pricing covers any fees if the customer selects to use interest-free financing. 
Do ample research before deciding. Our support team is always ready to answer any questions you might have.
Train Your Sales Team
When you're onboarding a consumer financing solution for your customers, you need to train up your sales reps on the different financing programs and how they work.

They also need to know how to help the customer apply for financing. The best financing companies make it easy for customers to apply on the spot over the Web. But your salespeople should know the web address and how to troubleshoot common technical issues that could short-circuit the sale. 
Financing programs like deferred payment or interest-free financing should be deployed to help your salespeople overcome specific objections and close the deal. 
Your finance company should provide you with some resources to help train your sales force. 
Promote/Advertise the Financing Option
What good is consumer financing if your potential and existing customers aren't even aware of it?
When you first introduce your product, make sure to spend some marketing budget on promoting this new payment option.
This is completely up to you and your budget.
You may stick to a targeted approach and leverage social ads and email marketing.
Furthermore, if you have a website, make sure to clearly mention your installment plans on different landing pages.
You may also choose to go all in and invest in an ATL approach for TV, radio, and billboard ads.
The goal is to reach as many prospects and customers as possible.
Evaluate Usage
Last, but not least, make sure that you evaluate the effectiveness of your consumer financing program.
You don't need to use complicated KPIs to do this.
Just keep an eye on your good old conversion rate, see how it has increased since you started to offer financing to customers, and how much of it can be attributed to this new payment option.
Whatever financing partner you choose, look for one that meets the following criteria:
Understands and is committed to your industry, specifically.

Makes it easy for customers to apply

Approves a wide range of borrowers - not just people with near-perfect credit

Looks at more than just credit scores

Makes decisions quickly

Does common-sense, manual underwriting on marginal applicants. You need a finance company that can find a way to say "yes." not one that routinely rejects good applicants. 

Pays you quickly. In most cases, Time Investment Company releases funds immediately to you as soon as an approved customer confirms the order. 
To partner with a best-in-class finance company fill out this brief online merchant application.