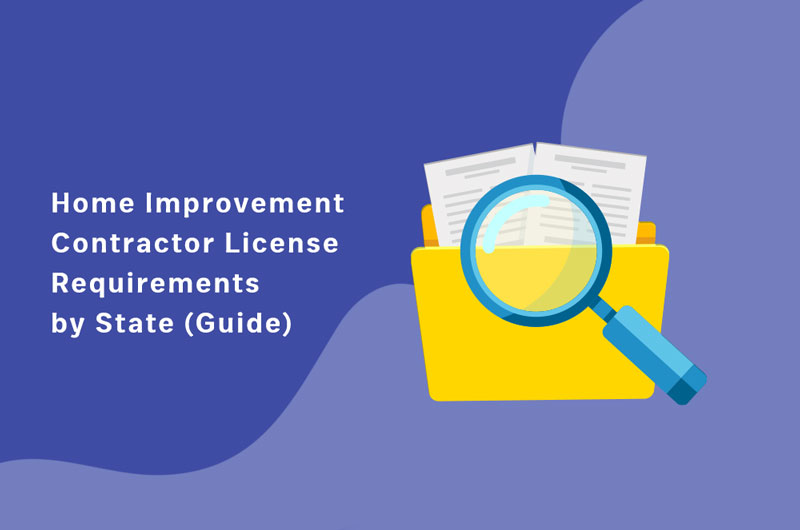 In the United States, a home improvement contractor license is a must for professional remodelers.
That is unless you want to run the risk of landing in hot water. 
The homeownership business within consumer affairs represents a significant chunk of the U.S economy.
In light of the massive net income it brings coupled with the high expectations homeowners have, strict legal measures are put in place to guarantee a contractor's professionalism.
Otherwise, you can face massive fines and legal charges.
However, along with national regulations, some states have additional requirements.
In this blog post, we will cover the license stipulations mandated per state in the U.S. This way, home improvement contractors offering financing options can verify whether they have legal permission to work, and if not, what needs to be done.
What is a Home Improvement License?
A home improvement license is a title awarded to a professional who passes a series of examinations and meets a given criterion that proves their aptitude in home improvement skills.
Some states require that professionals have this license whereas others mandate that they be registered or certified, the latter of which is different from the former. 
A registered home improvement professional is just a written record that indicates the identity of the person who is doing the job. This does not speak to the skill or ability of the individual to do the job; it simply tells you who the professional is. 
Similar to a license, a certification is a document that attests to the capabilities of a home remodeler. In most cases, a license is preferred.
As you will discover, some states allow certifications in place of a license while other states require certification in addition to a license.
Let's get into the state requirements.
Alabama
Professionals who offer home improvement services in Alabama need to show proof of a license based on the project they are undertaking. If an industrial or commercial project is expected to cost more than $50,000, a license is needed. The same goes if it is at least $10,000 for a residential project or $5,000 for a pool job.
Alaska
To legally practice home improvement in Alaska, contractors must have a license for either commercial or residential projects. Contractors vying for residential projects need to successfully take the Alaska Craftsman Home Program or show proof of having completed post-secondary Arctic engineering. Those professionals working with dangerous paint, boilers, and explosives, among others, need to show a Certificate of Fitness for the Trades.
Arizona
Similar to Alaska, Arizona requires that professionals have two separate licenses to undertake commercial and residential projects. Alternatively, for projects that cost more than $750, professionals must have a license. 
Arkansas
In Arkansas, if the job costs less than $2,000, then a license is not needed. However, for projects equalling or exceeding that amount, it is legally mandated that the contractor be licensed. If the general license is not in possession of one, then the responsibility falls on the subcontractor to get the necessary qualifications. 
California
For the most part, for projects that cost more than $500 in California, the contractor must have a license. In these cases, you will be required to take a licensing examination. To be safe, it is best to confer with the legal authorities to determine the procedure that you should adopt. 
Colorado
The state of Colorado does not stipulate that contractors need to have licenses to work. Instead, general contractors are issued licenses either in the city or county in which they work. That said, contractors must obtain a business license, one which is different from a contractor's license. 
Connecticut
In Connecticut, contractors are categorized into major and minor groups based on the projects that they complete. Under these criteria, they need to get the corresponding licensing. A major contractor is given authority to work on institutional residences such as care homes and jails while minor contractors can do projects related to private homes and property.
Delaware
Delaware law stipulates that pros get an appropriate license issued by the Division of Revenue in order to work legally on home improvement projects. If the contractor wants to dig a water well, then a license is required.
Florida 
In Florida, contractors may choose between registered and certified licenses to work in compliance with State Law. Registered professionals are eligible to work on a local scale while certified contractors can work on projects anywhere in the state. 
Georgia
Unlike other states, contractors need to comply with a series of highly specific requirements in order to work legally in Georgia. A license is required for work on any single-family or two-family homes or townhomes that cost more than $2,500. In addition, professionals must pass a business and law assessment to be granted certification.
Hawaii
Hawaii, like most states, requires that contractors have a license for projects which exceed a cost threshold. This threshold is $1,000. Similarly, contractors need licenses for specific home remodeling jobs that require permits. 
Idaho
Not all general contractors seeking work in Idaho need a license to operate at the state level. But contractors in some specialties such as HVAC, plumbing, well drilling, and public work are licensed by the state.
Illinois
As long as you do not work in plumbing and roofing, you do not need to have a license to work in Illinois. That said, please verify state requirements as per the type of project you are handling. 
Indiana
Only plumbers need to be licensed by the state of Indiana. Requirements may differ on a local level. Please confer with the Department of Business and Neighborhood Services for more information. 
Iowa
Any professional doing home improvement work that earns more than $2,000 annually is obliged to register with the Iowa Division of Labor. 
Kansas
In the State of Kansas, water well drillers along with asbestos abatement contractors are the only professionals who must obtain a license. Any other subset within this group is handled on a local level. Please check with local authorities to determine what certification is needed based on your trade. 
Kentucky
The only home improvement professionals in Kentucky that are licensed at the state level are electrical, HVAC, and plumbing contractors. That said, there is some mutual reciprocity license agreement between Kentucky, Ohio, Louisiana, Virginia, and West Virginia. 
Louisiana 
Similar to other states, Louisiana has license requirements geared specifically for building contractors. For projects that exceed costs of $7,500, professionals need a regular license. In the event that costs surpass $75,000, a residential license is required.
Maine
In the state of Maine, the only professionals within the home improvement industry who can be licensed at the state level are plumbers, asbestos abatement pros, and electrical contractors. While general contractors don't need to have a license to work, in some cases, they need a business license to offer their services. 
Maryland
The State of Maryland offers licensing for general home improvement, HVAC, and electrical contractors. This license is provided by the Maryland Home Improvement Commission. 
Massachusetts
Unlike most other States mentioned, Massachusetts demands that general contractors obtain a Construction Supervisor License via the Office of Public Safety and Inspections. However, additional stipulations are required for plumbing, electrical work, and other trades. 
Michigan
In Michigan, all home improvement professionals need to hold a license. These contractors include those who work on residential buildings, electrical projects, and maintenance and alteration. The Licensing and Regulatory Affairs of Michigan is the entity that is in charge of issuing licenses. 
Minnesota
Any contractors operating in Minnesota that declare more than $15,000 are required to have a license. These contractors include remodelers, roofers, and rebuilders. There are two separate boards that handle licensing. The Board of Electricity is the entity that licenses electricians while The Plumbing Board of Minnesota is in charge of licensing plumbers in Minnesota. 
Mississippi 
Mississippi as a State is one of the most demanding when it comes to licenses for home improvement. Irrespective of the type of project within the home remodeling industry that you are undertaking, all require a license except for small projects. 
Missouri
In Missouri, licensing is not done at the state level. Instead, it is up to a given municipality to determine the license that should be given to a professional to operate on a given project. What's more, if a contractor wishes to work in multiple municipalities, they should get a license for each region in which they'd like to work. 
Montana
In Montana, all construction professionals must sign up at the state level via the Department of Labor and Industry. This even goes for those professionals who do not have an employee. Instead, they can declare themselves as an independent contractor.
Nebraska
According to the Nebraska Contractor Registration Act, both contractors, as well as subcontractors within the territorial limits of Nebraska, need to sign up through the Department of Labor. Any contractor who declares one or more employees must also present a Workers' Compensation Certificate of Insurance. Otherwise, they cannot continue offering services. 
Nevada
In Nevada, it is imperative that you have a license to operate. The only exception applies to some jobs that cost less than $1,000. 
New Hampshire
In New Hampshire, only electrical, plumbing, and asbestos, and lead abatement contractors can be granted licenses. Within the electrical home improvement arena, any project work related to circuits designed for heat, light, and power requires that you have contractor licensing. Other any type of electrical work does not need a license for you to operate. 
New Jersey
New Jersey licensing requirements mandate that professionals must register through the New Jersey Division of Consumer Affairs. Professionals operating electrical, plumbing, or general home improvement businesses must obtain licenses. Home improvement contractors handling cash payments over a period of fewer than 90 days do not need one.
New Mexico
Based on state law, New Mexico requires any contractor to secure a license from the board before start operating. Unless a license is obtained, contractors in New Mexico cannot work legally as they will be responsible for general liability, among other things. 
New York
In New York City, the only contractors eligible to receive a license through the New York Department of Labor are those which operate cranes or asbestos abatement. All other professionals within the home improvement industry in New York State are saturated. 
North Carolina
A general contractor's license needs to be presented in North Carolina by the individual contractor for projects which cost more than $30,000. Similarly, professionals who perform electricity, plumbing, HVAC, and fire sprinkling services also need a license.
North Dakota
North Dakota, in contrast to North Carolina, requests that contractors portray a license for any project north of $4,000. However, if you are an electrician or plumber, you are required to provide a unique certificate, the steps towards which can be accessed through the official website.
Ohio
Within the multicultural state of Ohio, several licenses are awarded at the state level. These include refrigeration, HVAC, plumbing, electrical, and more. For any other projects, licenses are issued both in the city as well as at town levels.
Oklahoma
Oklahoma, much like the rest of the United States, needs to ensure that its contractors are licensed. They do this both at the state and local levels. At the state level, electrical, HVAC, and plumbing contractors need licenses whereas general contracting jobs can be handled on a local basis with the authorities governing a region. 
Oregon
In the state of Oregon, everyone who works in the construction industry needs to show proof of a license. But there are select exceptions. For example, a professional who is clearing drainage or power washing an area to maintain its cleanliness does not need a license to do so. 
Pennsylvania 
Pennsylvania only licenses certain professionals with a home improvement contract. Those are lead abatement experts and asbestos specifically. All other registrations need to be done through the Attorney General Office. Please check whether you need liability insurance to cover unforeseen expenses. 
Rhode Island
For any project related to home construction, commercial construction, remodeling, home repair, and alteration, in Rhode Island, you must register through the Contractor's Registration and Licensing Board. Special licenses must be obtained for contractors who offer HVAC, plumbing, and electrical services. Please verify your license number when it is issued.
South Carolina 
The State of South Carolina licenses both mechanical and general contractors to undertake projects within the commercial, industrial, and residential space. That said, those contractors who work exclusively in residential projects can go through the Residential Builder's Commission where they will be required to sit for an exam. 
South Dakota
South Dakota is another one of those states that only offers to license for plumbers, asbestos abatement specialists, and electrical contractors. All general contractors are licensed at the municipality level. 
Tennessee
Tennessee has thresholds for HIC bidding projects that indicate the freedom that contractors have without needing to have a license. A contractor's license is mandatory for all projects that exceed $25,000 in costs. What's more, any projects that include plumbing, electrical work, and HVAC, need to be done by a licensed professional irrespective of the project cost. 
Texas
Special contractors, namely HVAC, electrical, plumbing, and pump installation specialists need a license in Texas. In such cases, the state issues the license.
Utah
All professional contractors need to have a license in Utah. Those licensed contractors need to acquire their credentials at the state level when starting a new application for home improvement contractor registration. 
Vermont
In Vermont, general contractors do not need to be licensed by the state. However, plumbing, electrical, and HVAC experts need to bear credentials sealed by the state. 
Virginia
Virginia law requires that tradesmen working with electricity, HVAC, and plumbing have a license. 
Washington
Washington State mandates that both special and general pros need to register with the Washington State Department of Labor and Industries.
Washington DC
In Washington DC, both general contractors, as well as construction managers, need to get a license through the Department of Consumer and Regulatory Affairs.
West Virginia
West Virginia only requires that the contractor have a license if the project they're working on costs more than $2,500. Please verify how COVID-19 has affected applications.
Wisconsin
In Wisconsin, contractors can either obtain a Dwelling Contractor Qualifier, or a certificate or license issued by the State based on the needs of the applicant. These work to boost consumer protection and surety bonds. 
Wyoming
The only professionals within the home industry in Wyoming that require a state-issued license are electricians. For additional information, find out what licensing and certifications are required for your specific profession at the local level as well as the respective license application fee. You should pay with a credit card or debit card as a health measure during this pandemic.
Ready to Take Your Business to the Next Level?
Moving between states as a contractor can be a real annoyance due to different state license requirements.
However, that is a necessity if you'd like to offer services within more than one region in the U.S. What's more, even if you may not have any intention to work across states in the short term, licensing yourself in different states gives you more chances for business expansion in the future. This is bound to happen as your client base grows. 
The best way to take on the challenge of business growth is to equip yourself with the finance options that your clients need. Time Investment makes it easy for contractors like you to expand your services and payment options for your clients. 
Partner with us on your journey to business growth. We will be happy to work with you to create attractive payment plans that your customers will love.