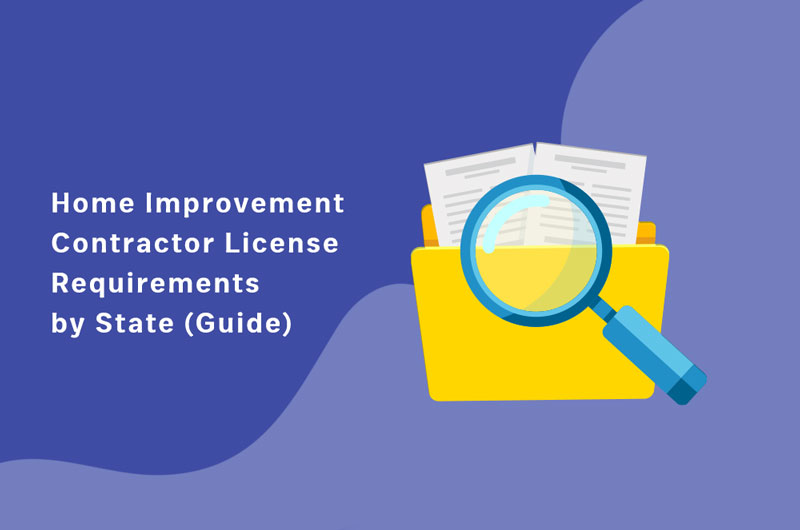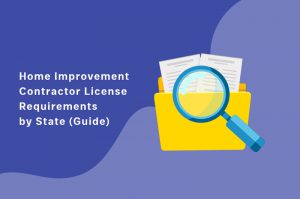 Looking to obtain a new license for your home improvements business? Here is a state-by-state listing of the general requirements to complete to become legal in your state.
Generally, contractors will need to fill out an application and submit or mail those documents with an application fee to state or county officials, depending on their location. Once approved, you'll have a lot more freedom to take on work.
Alabama
Home improvement contractors in Alabama need to show proof of a license based on the project they are undertaking.  Industrial and commercial jobs estimated to cost at least $50,000, or residential jobs estimated to cost $10,000 or more require a license.
Swimming Pools
With swimming pools, anything over an estimated $5,000 requires a license.
The Alabama Licensing Board for General contractors has reciprocity with Mississippi, Tennessee, Arkansas, and Louisiana.
Alaska
In Alaska, home improvement contractors need to successfully pass the Alaska Craftsman Home Program or show proof of having completed post-secondary Arctic engineering. Alaska requires a separate license for home and commercial contracting work. There's also a lesser certification called the Residential Contractor Endorsement, which requires a 16-hour long cold climate course. 
Handyman contractors may perform work on projects with an aggregate contract of $10,000 or less for each project. This aggregate total is to include all labor, materials and other items for that site or project
Contractors working with dangerous paint, boilers, and explosives, among others, need to show a business Certificate of Fitness for the Trades.
Arizona
Similar to Alaska, Arizona requires that a home improvements contractor have two separate licenses to undertake commercial and residential projects. 
Any business which contracts or offers to contract to build, alter, repair, add to, subtract from, improve, move, wreck or demolish any building, highway, road, railroad, excavation or other structure, development or improvement, or to do any part of the work, must be a licensed contractor.
Also included in work requiring a license is the erection of scaffolding, connections to utility service lines, metering devices and sewer lines, mechanical or structural service to a structure or improvement, and any other work in connection with the project.
The term "home improvement contractors" includes subcontractors, floor covering contractors, hardscape contractors, and consultants representing themselves as having the ability to supervise or manage a construction project for the benefit of the property owner.
Generally, if labor and materials exceed $1,000 OR a permit is required (regardless of the price of labor and materials), then a license is required. Please read the Arizona Revised Statutes on "Persons not required to be licensed; penalties; applicability" ARS §32-1121.
Contractors must be properly licensed before submitting bids.
Work-related to electrical, plumbing, air conditioning systems, boilers, swimming pools, spas, and water wells must be subcontracted to an appropriately licensed contractor. 
Alternatively, for projects that cost more than $750, professionals must have a license. 
Arkansas
In Arkansas, if the job costs less than $2,000, then a license is not needed. However, for projects equalling or exceeding that amount, it is legally mandated that the contractor be licensed. If the general license is not in possession of one, then the responsibility falls on the subcontractor to get the necessary qualifications. See the generally applicable statutes governing residential contracting licensing here. 
California
For the most part, for projects that cost more than $500 in California, the contractor must have a license - in most cases as a residential remodeling contractor. In these cases, you will be required to take a licensing examination. To be safe, it is best to confer with the legal authorities to determine the procedure that you should adopt. 
Colorado
Unlike most states, Colorado's contractors' licenses are administered at the local level, rather than the state level. Contractors must obtain a business license, one which is different from a contractor's license. 
Connecticut
In Connecticut, there's a home improvement contractor registration requirement if: 
You perform work on residential property (single or multi-family dwellings of six units or less), condominiums, or common interest communities; and
You charge more than $1,000 for home improvement contracts during any 12 consecutive months.
You do not need to be registered as a Home Improvement Contractor if:
You work only as a subcontractor for a registered Home Improvement Contractor;

You only build new houses;

You only do commercial work; or

You hold a trade license issued by the state, and the work you are doing is within the scope of that license. Requirements for New Home Construction Registrations
A home improvement contractor who does new homes must obtain a New Home Construction Contractor registration from the Department of Consumer Protection. This is a separate registration from a Home Improvement Contractor. If you get both registrations, you will not have to pay the registration fee for the New Home Construction Contractor registration, but you will have to pay into the New Home Construction Guaranty Fund.
For more information, download the Connecticut Home Improvement and New Home Construction Handbook for Contractors.
Delaware
Delaware law defines contractors as "every person engaged in the business of Furnishing labor or both labor and materials in connection with all or any part of construction, alteration, repairing, dismantling or demolition of buildings, structures, driveways, roads, bridges, viaducts, sewers, water and gas mains and every other type of structure as an improvement, alteration or development of real property."
Delaware's a small state and has several license requirements for those who live outside of the state. Out-of-state contractors also need to post a surety bond.
Florida
In Florida, contractors may choose between registered and certified licenses to work in compliance with State Law. Registered professionals are eligible to work on a local scale while certified contractors can work on projects anywhere in the state. Applicants must pass the Florida Contractor License exam or obtain a Certificate of Competency from their local government licensing authority.
Contractors' license applicants must show proof of four years' work experience demonstrating experience in the field corresponding to the license applied for. Translation: if you're applying for a license as a painting contractor, you need to show four years of experience as a painter or painting supervisor. The same goes for fences, landscaping contractors, and so on.
For certified contractors, this work experience should include a minimum of 1 year of supervisory experience. Some licenses require further evidence of specific experience. These include the Florida General Contractor License and the Residential Contractor License.
Georgia
Unlike other states, contractors need to comply with a series of highly specific requirements to work legally in Georgia. A license is required for work on any single-family or two-family homes or townhomes that cost more than $2,500. In addition, professionals must pass a business and law assessment to be granted certification. Click here for full details. 
Hawaii
The Hawaii Department of Commerce and Consumer Affairs Professional and Vocational Licensing Division, like most states, requires that contractors have a license for projects which exceed a cost threshold. In Hawaii, this threshold is $1,000. Similarly, contractors need licenses for specific home remodeling jobs that require permits.
Hawaii has different requirements for contractor entities vs. sole owners and responsible managing employees. Click here for details. 
Idaho
54-5203, Idaho Code defines a contractor as: "Any person who in any capacity undertakes, offers to undertake, purports to have the capacity to undertake, or submits a bid to, or does himself or by or through others, perform construction." or "A construction manager who performs construction management services."
All contractors who do work exceeding a $2,000 value must register with the State of Idaho, with a few exceptions listed here. 
Illinois
Illinois contractor licensing is generally handled at the local level. As long as you do not work in plumbing and roofing, you do not need to have a state-level license to work in Illinois. 
Indiana
Like Illinois, Indiana handles contractors' licenses at the local level. Only plumbers need to be licensed by the state of Indiana. Please confer with the Department of Business and Neighborhood Services for more information. 
Iowa
Iowa law requires all individual contractors and businesses performing "Construction" work within Iowa to register with the Iowa Division of Labor and renew annually if earning at least $2,000.00 a year from construction. More information can be found by reviewing the Iowa Code and Administrative Rules.
Kansas
Kansas is another state that issues contractors' licenses at the local level, rather than at the state level. Water well drillers along with asbestos abatement contractors are the only professionals who must obtain a state license. Please check with local authorities to determine what certification is needed based on your trade. 
Kentucky
The only home improvement professionals in Kentucky that are licensed at the state level are electrical, HVAC, and plumbing contractors. That said, there is a mutual reciprocity license agreement between Kentucky, Ohio, Louisiana, Virginia, and West Virginia. 
Louisiana 
Similar to other states, Louisiana has license requirements geared specifically for building contractors. For projects that exceed $7,500, professionals need a regular license. If costs surpass $75,000, contractors need a residential license.
Applicants must also submit financial statements demonstrating a net worth of at least $10,000, take a course in business law, and pass an exam. 
Maine
Maine does not license home/residential contractors at the state level. The only professionals within the home improvement industry licensed at the state level in Maine are plumbers, asbestos abatement professionals, and electrical contractors. 
Maryland
In Maryland, contractors license applicants must: 
Provide proof of at least two years of experience in home improvement work, construction, and/or related education.

provide proof of financial solvency based on the scope and size of their business in relation to total assets, liabilities, a full credit report, and net worth. Any applicant who does not meet the financial solvency guidelines may purchase a surety bond or obtain an indemnitor.

Provide proof of current $50,000 liability insurance.
Massachusetts
Unlike most other States mentioned, Massachusetts demands that general contractors obtain a Construction Supervisor License via the Office of Public Safety and Inspections. However, additional stipulations are required for plumbing, electrical work, and other trades. 
Michigan
In Michigan, all home improvement professionals need to hold a license. These contractors include those who work on residential buildings and structures, electrical projects, and maintenance and alteration. The Licensing and Regulatory Affairs of Michigan is the entity that is in charge of issuing licenses. You can find a step-by-step tutorial on obtaining a contractors' license in Michigan here. 
Minnesota
Individuals and businesses that contract directly with homeowners to build or improve residential real estate (a building constructed for habitation by one to four families and detached garages) by offering work in more than one skill area are required to have a residential building contractor or remodeler license. 
License applicants must designate one individual to serve as a "qualifying person" (QP) regardless of whether the licensee is an individual proprietorship, partnership, LLC, or corporation. 
The QP must take the required exam and fulfill the continuing education requirements for the licensee. Read more about who needs a license.
Any contractors operating in Minnesota that declare more than $15,000 are required to have a Contractors and Remodelers' License. These contractors include remodelers, roofers, and rebuilders. There are two separate boards that handle licensing: The Board of Electricity is the entity that licenses electricians while The Plumbing Board of Minnesota is in charge of licensing plumbers in Minnesota. 
Mississippi
Mississippi as a State is one of the most demanding when it comes to licenses for home improvement. Irrespective of the type of project within the home remodeling industry that you are undertaking, all require a license except for small projects. 
You can find a detailed video on how to obtain a Mississippi contractor's license here. 
Missouri
In Missouri, licensing is not done at the state level. Instead, it is up to a given municipality to determine the license that should be given to a professional to operate on a given project. What's more, if a contractor wishes to work in multiple municipalities, they should get a license for each region in which they'd like to work. 
Montana
In Montana, all construction professionals must sign up at the state level via the Department of Labor and Industry. If you have employees, you must apply for a construction contractors' license. If not, you must get an independent contractors' license. 
Nebraska
The Nebraska Contractor Registration Act requires contractors and subcontractors doing business in Nebraska to register with the Nebraska Department of Labor. 
All contractors with one or more employees must provide a current Workers' Compensation Certificate of Insurance (ACORD 25) with the Department of Labor listed as the certificate holder. Each contractor is responsible for making sure an updated insurance certificate is on file with the Department of Labor. Any contractor whose records indicate their coverage has expired will be removed from the list of registered contractors until an updated certificate is received from the contractor's insurance agency.
Nevada
In Nevada, it is imperative that you have a license to operate. The only exception applies to some jobs that cost less than $1,000.
The license costs $300 to obtain. You can pay with a money order. You can download the full application here. 
New Hampshire
In New Hampshire, contractors' licenses are handled at the local level.  Only electrical, plumbing, asbestos, and lead abatement contractors can be granted state-level licenses. Within the electrical home improvement arena, any project work related to circuits designed for heat, light, and power requires that you have contractor licensing. Any type of electrical work does not need a license for you to operate. 
New Jersey
New Jersey requires a home repair contractor to have a license to execute financed home repair contracts on the goods or services provided to New Jersey consumers for home repair work.
A home repair contractor who deals strictly in cash installment payments over 90 days or less or accepts credit card payments does not need to obtain this license.
NOTE: All home repair contractors, regardless of payment method, must also contact NJ Division of Consumer Affairs concerning required registration. You can obtain information by calling 973-504-6370 or at  www.njconsumeraffairs.gov/hic/.   
A home repair salesperson license is required if a salesperson secures a financed home repair contract from a New Jersey homeowner on behalf of a licensed home repair contractor.  A home repair salesperson may be affiliated with only one licensed home repair contractor at one time.
The governing statute is the New Jersey Home Repair Financing Act, N.J.S.A.17:16C‑62 et. seq. 
New Mexico
Based on state law, New Mexico requires any contractor to secure a license from the board before they start operating. Download the complete rules, laws, and regulations governing New Mexico contractors licensing.
New York
New York handles home improvement contractor licensing at the local/municipal level, not at the state level. Check with your local government for licensing information specific to your area.
Here is a home improvement license application checklist specific to New York City. 
North Carolina
A general contractor's license needs to be presented in North Carolina by the individual contractor for projects which cost more than $30,000. To obtain a license you must complete the Application for License to Practice General Contracting in the State of North Carolina which is available on the Board's website at www.nclbgc.org. 
Similarly, professionals who perform electricity, plumbing, HVAC, and fire sprinkling services also need a license.
Download a complete guide to the rules and regulations concerning contracting licenses in the State of North Carolina.
North Dakota
North Dakota requires contractors to be bonded and insured to do business within the state and to hold a license for any project worth more than $4,000.
Applicants can choose between a Class A, B, C, or D license, with the Class D license allowing them to do jobs worth up to $100,000 each. 
Ohio
Ohio issues several licenses at the state level, including refrigeration, HVAC, plumbing, and electrical. For any other projects, licenses are at the local level. 
Oklahoma
Oklahoma issues residential contractor licenses at the local level, not the state level. Check with your city or county officials about the specific requirements in your area. 
Oregon
In the state of Oregon, everyone who works in the construction industry needs a license, with just a few exceptions. Contractors must carry surety bonds, liability insurance, and workers' compensation insurance. Application forms are available here. 
Pennsylvania 
The Commonwealth of Pennsylvania currently has no licensure or certification requirements for most construction contractors (or their employees). However, most home improvement contractors must register with the Attorney General's Office. 
Rhode Island
Rhode Island contractors must register with the Contractors Registration and Licensing Board for any project related to home construction, commercial construction, remodeling, home repair, and alteration. There's a separate requirement for commercial roofing contractors. 
South Carolina 
The State of South Carolina licenses both mechanical and general contractors to undertake projects within the commercial, industrial, and residential space. That said, those contractors who work exclusively in residential projects can go through the Residential Builders Commission where they will be required to sit for an exam. 
South Dakota
South Dakota does not issue contractors' licenses at the state level. All general contractors licenses are handled at the local level. Check with your city and county officials about contractors' license requirements in your area. 
Tennessee
Tennessee has thresholds for HIC bidding projects that indicate the freedom that contractors have without needing to have a license. A contractor's license is mandatory for all projects that exceed $25,000 in costs. What's more, any projects that include plumbing, electrical work, and HVAC, need to be done by a licensed professional irrespective of the project cost. 
Texas
Special contractors, namely HVAC, electrical, plumbing, and pump installation specialists need a license in Texas. In such cases, the state issues the license.
Utah
Utah requires all All professional contractors to have a license. There are two tiers: Specialty contractors and general contractors. 
Specialty contractors license applicants must have completed a pre-license course from Associated Builders and Contractors Inc (ABC), Utah Home Builders Association (UHBA), or Associated General Contractors of Utah (AGC). Specialty contractors require a 25-hour pre-licensure course. All general contractors (E100, R100, B100), plumbing and electrical contractors require a 30-hour pre-licensure course (unless you took the pre-licensure course BEFORE October 1, 2019, in which case you do not need the extra 5 hours).
General contractors must meet all the above requirements, PLUS meet the state's experience requirement:
Two (2) years of experience in the construction industry. This experience must be at least 4,000 hours (or 2 years) of paid work experience at any time in your life in the construction industry. You must self-certify that you have this experience. 
The other ways to satisfy the experience requirement (pick one):
Qualifier on current or previous Utah Contractor License for at least 2 years;

Construction Management Degree (2 or 4 year Degree);

Licensed Utah Professional Engineer;

Passed NASCLA Examination for Commercial General Building Contractors, or;

One (1) year of licensed experience working in another State, District or Territory of the U.S. in the similar scope of practice sought in Utah if the license is currently active and in good standing.
Vermont
In Vermont, general contractors do not need to be licensed by the state. However, plumbing, electrical, and HVAC experts need to bear credentials sealed by the state. 
Virginia
The Virginia Board for Contractors regulates individual tradesmen who engage in the trades of electrical; plumbing; heating, ventilation, and air conditioning (HVAC); gas fitting; water well construction; elevator mechanics; backflow prevention; and building energy analysis. (Although the term "certified" is used, state certification of these trades is mandatory, not optional.) Individual tradesmen may also be subject to local ordinances, laws, or other requirements imposed by other state agencies, courts, or certain localities. Questions about local ordinances, etc. should be directed to the community in which the individuals plan to engage in their trade.
Washington
Washington State mandates that both special and general pros need to register with the Washington State Department of Labor and Industries.
Washington DC
In Washington DC, both general contractors, as well as construction managers, need to get a license through the Department of Consumer and Regulatory Affairs.
West Virginia
West Virginia only requires that the contractor have a license if the project they're working on costs more than $2,500. 
Wisconsin
According to the Wisconsin Builder Association, Wisconsin Department of Safety and Professional Services issues contractor license. To pull permits to do work on one- or two-family homes, Wisconsin requires you have the dwelling contractor certification business certificate, and that at least one person from the company has a dwelling contractor certification. 
If you are not doing work on one- or two-family homes, or you are doing work that does not require you to pull building permits, there's no state-level licensing requirement. But you must still meet any local/municipal level requirements. 
Wyoming
The only professionals within the home industry in Wyoming that require a state-issued license are electricians. For additional information, find out what licensing and certifications are required for your specific profession at the local level as well as the respective license application fee. 
In each case, you can find additional resources regarding home improvement licenses at the page linked. Incomplete applications are typically held in suspense or rejected. Landscaping businesses may have different requirements than general home improvement firms.