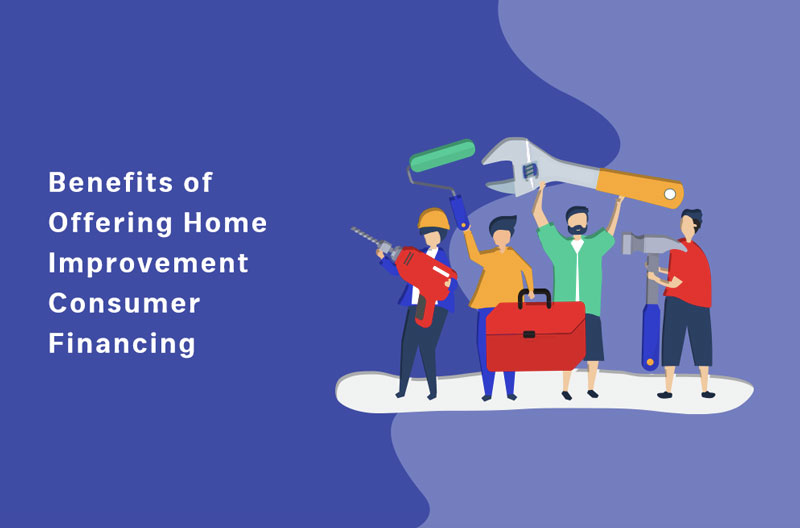 Interested in offering home improvement consumer financing to boost your sales?
Smart decision. 
Offering consumer financing is a powerful business tool for home improvement contractors because it helps them stand out in a competitive field and win more deals. Failing to offer home improvement consumer financing options means limiting your sales to a small percentage of customers who can pay a high price up front.
With a competitive market, the barriers stopping customers from getting their products in a different company are small. This means that you have to offer valuable differentiation aspects if you want to keep the revenue coming. 
If that's the case, offering consumer financing options is a no-brainer.
What is Home Improvement Consumer Financing?
Home improvement consumer financing is a service that a home improvement company offers to its customers through a third-party specialized financing company, such as Time Investment, or through in-house financing services.
This allows customers to make large purchases and pay affordable monthly installments with interest, instead of paying the entire amount all at once.
As a consequence, these financing options make it possible for home improvement companies to stretch their sales goals by reaching more customers. 
What is a third-party financing company?
Third-party financing companies are outside loan providers that manage all aspects of the consumer financing process, from checkout through the collection of the final payment. 
Time Investment is a traditional financing company that currently partners with more than 200 businesses to help them streamline financing options.
Trusting a lending partner is a smart solution for contractors who offer high-cost home improvement projects because it allows them to provide flexible loans without taking the risk of funding and administering the loan in-house.
In short, a third-party financing company is an institution that you can trust to take care of your customers' financing needs.
Benefits of Offering Home Improvement Consumer Financing
Besides the obvious benefits associated with not managing complex financing transactions in-house, there are many other ways your home improvement company can take advantage of a partnership with a consumer financing company. These are a few of them:
1. Close More Deals 
Having financing services available gives customers the flexibility to choose the payment option that fits in their budget. You can show potential customers that they can get all the materials they need by breaking down expensive purchases into affordable monthly payments. 
This way, you immediately eliminate the biggest buying constraint and increase their purchasing power.
A recent study found that when home improvement companies that started offering a financing program to customers were able to increase sales by an average of 32%. So, if one of your KPIs is to close more deals, you should consider implementing a contractor financing program.
2. Increase Your Average Deal Size
By showing how a slight increase in your customers' monthly payment can help them get their desired upgrades, you can up-sell customers. When it comes to home improvement projects, a relatively small upgrade can be what makes the project cross the line between a regular home renovation and a dream home renovation for a customer. 
Making it possible for them to get that extra piece of furniture, paint that additional room, or add a pool to their outdoor space not only improves their experience as a customer but also makes an enormous difference for your company in terms of revenue in the long-term.
Your affordable financing program can be a key piece of your sales when it comes to increasing transaction sizes and driving up your business's average order value. A survey found that organizations' average transaction size increased by 15% when they started offering home improvement financing to customers. 
3. Eliminate Financial Risk 
When you choose to have a third-party financing company managing your customers' transactions, you avoid all the damage associated with direct consumer lending. 
If not managed with excellence, consumer financing can cause serious damage to a contractor's cash flow. Since the specialized third-party lender is responsible for everything after the checkout, you delegate this risk. 
They will determine the interest rates based on credit score, collect monthly payments, and secure late and missed payments.
This means that you can offer customers low monthly payments without having to assume any financial risks.   
4. Earn loyal customers 
Allowing customers to purchase with flexible financing options will provide customers with an excellent experience with your company. 93% of customers who use consumer financing to make a purchase would choose to use it again for future purchases. 
This means that offering financing services through a specialized third-party company will help you create a long-term relationship with clients. Aside from the obvious advantages this service offers to clients, the interest rates are typically lower than those offered by credit card companies.
Once customers know about your financing options and understand how they can benefit from them, they will be more prone to think about your brand when they need your service again -- or even to recommend your company to friends and family.
5. Attract New Customers
In the same way that you will retain customers, you will start seeing more new faces entering your business' door. Your financing programs will allow you to grow your potential customer base by making your products and services affordable to a larger number of people.
If customers can choose between buying a product in your store, where they can count on flexible financing alternatives, or buying that similar product in a store with a strict payment process, they will choose your store. 
Breaking down large purchases into manageable payments is a simple way to enlarge your pool of potential customers. It's as simple as that.
6. Access Your Money Faster 
Partnering with a third-party financing company allows you to access the money pertaining to your services and products as soon as you sell them. 
In almost every case, your company is paid the full purchase amount once the customer signs off on the work. So, your business is not affected by cash flow issues that can arise with in-house lending programs. 
This means that your company won't be held accountable if a customer misses a payment or fails to pay the loan amount. The financing company is the one assuming the risks. This benefit alone can pay off in a short period of time.
How to Offer Home Improvement Consumer Financing
Now that you understand how a financing solution can take your business to the next level, you need to understand how to put that into practice. 
There are two ways you can do that: developing the capabilities to offer financing options in-house or partnering with a specialized financing company. If you decide to do it in-house, keep in mind that you will be assuming the risks associated with the home improvement loans.
If you decide to go with the safest alternative and partner with a financing company, here's how it works:
Evaluate your projected return of investing in consumer financing.

This means understanding your deal sizes, the percentage of customers that would need the service, and to what extent you would attract new clients. 

Choose the right financing company for your business.

A few things you must consider include their associated fees, their minimum transaction size, their case studies, and their tradition in your industry. Don't hesitate to

contact one of our team members

if you want to learn more about Time Investment.

Apply to become a client.

Most financing companies have a short

application process

to determine whether you qualify for the partnership. They will evaluate your average transaction size and other financial details. After that, they will schedule a call with you to determine the next steps.

Let your customers know about your payment options.

Let not only your customers know but also the ones you want to become your customers. Remember that you have a strong advantage over your competitors now. This can be through an email newsletter, through your website, or even with banners on your brick-and-mortar or online store.

Track your ROI.

This is the best part of the process: tracking the impact of the loan program on your sales. As mentioned before, sales tend to increase by more than 30% and the deal sizes tend to increase by more than 10%. You can set high expectations.
Take the First Step Today
Nowadays, offering high-quality products is no longer enough to delight your customers. They expect an excellent experience while interacting with your company. This involves not only outstanding customer service but also convenience. That's where consumer financing comes in.
Financing home improvement projects have become an industry norm in the past few years, and if your company does not provide customers with outstanding finance packages, you will fail to serve a significant percentage of leads. 
Generally speaking, these are the types of home improvement contractors that often partner with companies like ours:
Roofing contractors

HVAC contractors

Pool and hot tub installers

Plumbers and electricians

Painting services

Landscaping contractors

Flooring and concrete installation

Outdoor patio contractors 

Water services, and more.
If you want to learn more about the application process to start a partnership with Time Investment, contact one of our team members today. They will be able to answer any questions you might have and guide you through the process. If you are ready to take your home improvement business to the next level, complete our short application form.