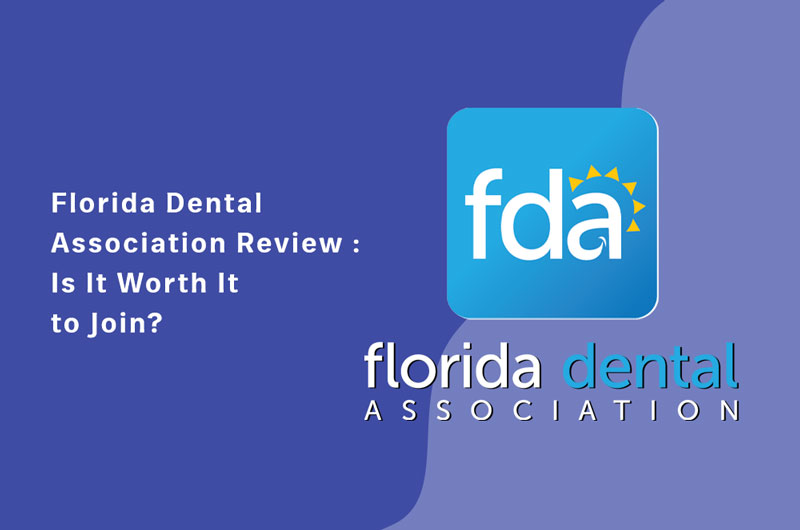 Pondering whether you should join the Florida Dental Association or not?
Today in the United States, the Florida Dental Association (FDA) has become one of the most recognizable organizations within the industry. 
Needless to say, for Florida-based dentists, this is quite significant, especially since dental care as a commodity has been blossoming favorably in recent times. 
Based on data reported by Ibis World, the dentistry market size is estimated at just north of $137B with incremental growth rates coming at a steady percentage of a little more than 1% each year. 
The market is undeniable. For that reason, dentists ought to align themselves with the networks that will enable them to take advantage of the industry.
With that in mind, now more than ever, the Florida Dental Association is a point of interest for many in the niche.
But is it worth the hassle to join?
This will be the subject of discussion in this article. Here, we will go over all the relevant information related to this association as well as whether you ought to invest time in joining or not.
Let's get into it.
What is the Florida Dental Association?
The Florida Dental Association is an organization based in Florida whose members are all dentists who either work or have some sort of affiliative dental practice in the State.
In its capacity as a State-specific organization, it is part of the wider American Dental Association (ada.org) which is the national-level organization that represents dentists throughout the entire nation. Consequently, the FDA is considered to be a constituent society of the American Dental Association. The very association as an entity is composed of different sub-associations, namely the Central Florida District Dental Association and the South Florida District Dental Association respectively.
Having been established as early as 1884 (century club), at present (and exactly 136 years ago at the time of writing this post), the Florida Dental Association has managed to amass some 8,100 members, according to information shared via their website's 'About Us' section. 
In 2021, FDA members can expect the company's annual meeting to take place in Orlando, Florida between June 24 and June 26. 
What Can the Florida Dental Association Do for You?
Being a State-level organization within the dentistry industry, it should be stated that the Florida Dental Association's main purpose lies in providing support to its member dentists (and hygienists) so that they can succeed at their oral health jobs, in turn improving the quality of the services which they offer.
To be more concrete, here's a breakdown of some of the main types of benefits that members enjoy: 
Advocacy: Understandably, one of the most significant perks that members of the FDA enjoy is that the institution of which they form a part is taken seriously on a national level. When the FDA speaks at Tallahassee's Capital, Washington, the Florida Department of Health meetings, or within seminars in the dental health industry, their voices are heard. For that reason, dentists who are registered members of the FDA are given the representation that they need at the State level so that they can have a say in important matters.

Assists in third-party issues: In addition to greater representation, the FDA partners with various third-party payers on behalf of individual dentists. In doing so, they have the capacity to lobby in favor of these dentists, resolve issues, and secure benefits plans (insurance, medical, etc) that work out in favor of the dentist. 

Marketing: Considering that the FDA is a recognized institution within Florida, it is common for users to search their platform for dentists. When a dentist joins the ranks of the FDA, their credentials and contact information are advertised via their website. Therefore, FDA also offers potential benefits in terms of marketing and increased client registration. 
Florida Dental Association Membership Process
In terms of the membership process, applicants need to fill out a Tripartite Membership Application which can be accessed here. 
Once your application has been approved, you will be granted access to local, state, and regional associations. 
The office to whom you have submitted the request is responsible for determining whether your application will be accepted or rejected. 
What's more, unlike associations such as the Wisconsin Dental Association (WDA) where dentists enjoy multiple membership plans from which they can choose, each one with its distinct payment system, the Florida Dental Association doesn't offer that luxury. 
Instead, once your profile has been evaluated and your application has been approved, it is the society that communicates to you the membership fees that you may or may not have to pay. 
While fees are flexible, it is highly unlikely that you will be asked to pay an exorbitant fee to become part of the association. 
For that reason, from my point of view, securing FDA services can only be beneficial. 
Not only will you enjoy the benefits, such as exclusive continuing education in important material such as toolkits and more, that'll allow you to carry out your services with ease, but you'll also be able to do so at a fairly inexpensive price.
Is it Worth it to Join the Florida Dental Association?
All in all, the Florida Dental Association has been a voice and support system for dentists in the State. 
Not only has its services enabled its members to be bolstered by both advocacy as well as educational resources that allow them to improve upon the services they offer, but they also allow for a certain margin of flexibility in terms of who gets charged and why. This means that for all you know, you may not be asked to pay a fee to become part of their professional membership organization.
In short, we are in favor of Floridian dental professionals who wish to join the FDA as the company has a solid reputation, in-demand-services, and a desire to help people like you give the highest quality of care that you can to your patients.
Do yourself a favor, for your well-being, by visiting their website 'floridadental.org' to learn more about how you can start leveraging their services today.
Be aware that the Coronavirus pandemic (COVID-19) has caused the association to adopt COVID-19 response plan that may or may not affect the speed at which you receive a response from the FDA.