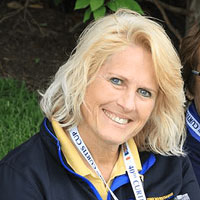 SaraHafeman
Director of Dealer Development
As Director of Dealer Development, I manage the onboarding experience for all new clients. I also oversee the marketing objectives of the company. I have a lot of fun working with the outside and inside sales team. I have been in this role since 2011.
I spent most of my working life in the service industry, including hotel sales. This experience has helped me to bring additional awareness to the importance of excellent customer service to our team. We focus on making raving fans and I enjoy hearing when our clients are happy and love working with us. I do find working with my teammates and reaching a common goal extremely rewarding. We are blessed with an excellent culture that allows for a fun, positive environment where everyone is motivated for success. I also really enjoy getting to learn about each new client and their needs to ensure their first experience with TIC is memorable.
I have 2 wonderful sons, Jack, and Sam. Both are young college grads excited about their future. Personally, I enjoy all outside activities including hiking, golf, and hanging out on the lake. I love to travel with my family any chance I get. Building memories everywhere I go. I would say family, God, being of service and staying positive are important to me.