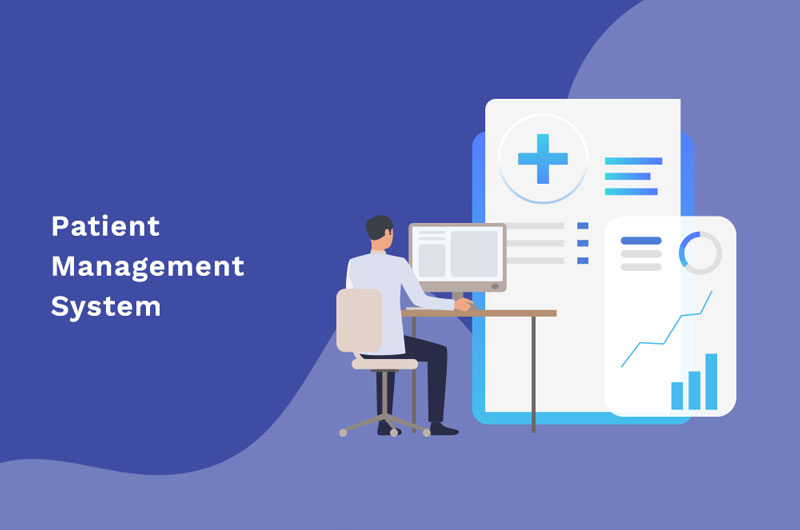 Patient management software is a critical investment for any medical practice. Their key functions include a patient intake management system, patient flow management, enterprise appointment scheduling solutions, storing electronic health records, e-prescription features for prescribing patients medication, patient performance tracking, and patient data management. Patient management systems also help healthcare organizations automate and streamline administrative tasks, optimize individual patient journeys. 
Here are seven of the best patient management and healthcare CRM programs on the market today.
Practice Fusion
Price: $99 per month/user
Practice Fusion Patient Portal is a patient management system that includes features like appointment scheduler, online prescription refills, email correspondence, and more. Practice Fusion Patient Portal also integrates seamlessly with other medical software systems such as electronic health records systems.
This patient management system offers a robust set of features for both doctors and their patients. This makes it easy to manage both a small office and a general hospital while ensuring the best care possible for each patient.
Although many patient management systems offer similar services, what makes Practice Fusion stand out is that it tracks patient wait times. This is especially beneficial for healthcare workers in a hospital or even a private practice looking to increase patient inflow.
Practice Fusion has a great set of custom charting features. It also includes a large library of charting templates from other users across the country. So you can find a system in use at a practice similar to yours and simply import and customize that charting template, so you don't have to completely reinvent the wheel. 
Basic daily tasks like patient intake, appointment reminders, and other routine procedures are automated, so you don't have to do them manually - reducing error rates and increasing efficiency and profitability. All patient information data stays private and stored on a cloud.
Key features:
Tracks Patient Wait Times.

One of the few practice management systems on the market that makes it easy to focus on and track this important metric. 

Electronic health records (EHR).

Being a cloud-based EHR, the patient management software makes for effortless access to medical records.

Patient data charts.

Provides a quick overview of the patient's medical record and health history.

E-Prescriptions.

Create prescriptions and send them to pharmacies' management systems allowing for faster and transparent orders.
CareCloud
Price: $629/month/user
CareCloud is a high-profile patient management software that best fits high-traffic institutions that struggle with a constant flow of patients. By streamlining almost every aspect of day-to-day operations, healthcare providers can focus on helping each individual patient and let the administrative tasks have a constant, automated flow. 
CareCloud is web-based and accessible and supports mobile access as well as desktop users. This way, no matter if you have five program users or a hundred, CareCloud makes it easy for your entire staff to stay up-to-date with current patient engagement, latest lab results, and other vital health information.
Key features: 
Proactive billing solutions.

Four out of five medical billings have minor errors. Billing errors cost the US healthcare system $68 billion annually. CareCloud flags possible errors before leaving your clinical office, saving money and time.

Healthcare analytics.

CareCloud provides unparalleled insight into your financials and administrative performance as well as your clinical success metrics. This means that critical patient care decisions are made faster for better outcomes if there is an issue.

Mobile App.

Improves healthcare administration by giving you access to administrative, clinical, and financial information wherever you are.
SafeGait Patient Management Software
Price: Contact SafeGait for consultation end estimate.
Healthcare professionals know that managing fall risks requires constant vigilance. Research from the Journal of Patient Safety has found that about 1 in 10 patient falls result in moderate injury, 1 in 25 results in serious injury, and about 2 in 1000 falls are fatal. 
SafeGait is a patient management technology solution that's specifically focused on helping physicians' offices, physical and occupational therapy practices, and rehab facilities serve people who are fall risks or otherwise have mobility challenges. 
The program makes it easy for clinicians to notate, chart, and track mobility progress and gait issues. The innovative patient dashboard quickly alerts therapists, nurses, and physicians about the patients' history, including information on gait, foot drop issues, or other neuromuscular issues that need to be assessed and monitored. 
Therapists can track vital data, including distance, duration, number of repetitions, and the rate/prevention of accidental injuries. Not only does electronic medical tracking conserve time, but it also allows for more effective care plans. 
Clinicians provide patients with optional handheld wireless devices that assist with monitoring and logging performance and progress.  With SafeGait's automated tracking, clinicians don't have to keep writing notes on a pad. Instead, movement data is tracked automatically - allowing clinicians to focus on patient safety and providing hands-on or standby support as needed. The risk of injury from falling is significantly reduced - reducing risk to your practice, but more importantly, protecting your patients and providing them with better care. 
This makes SafeGait one of the best management software solutions for healthcare practices working with patients recovering from strokes, Parkinson's disease, neuromuscular disorders, amputations, spinal injuries, brain injuries, and more. 
The minor disadvantage is that pricing is opaque and requires getting in touch with the provider.
Key features:
Focus on fall risk reduction.

SafeGait is one of the few solutions specifically designed for practices that work with fall risks or the mobility impaired. e

Patient management dashboard.

An intuitive overview of medical records, patient's progress, intake forms, and patient scheduling.

Patient care plan.

The patient management software makes it easier to create and manage custom care plans. Therapists can interact with patients instantly and update on any possible changes in the care plan, such as tasks, billing, etc.

Task management.

Track patient's progress in real-time and customize each task to benefit the patient's recovery. Create a last-second appointment whenever you deem necessary, allowing for more streamlined patient communication.
Eclipse Practice Management Software
Price: Starting at $1995 for the "standard" package, $3295 for "plus," and "advanced" for $3995.
This innovative and highly successful Eclipse Practice Management Software system is designed especially for chiropractors. Although it's been on the market for over 25 years, it's still one of the most popular practice management/CRM solutions for chiropractors on the market, with a very loyal user base. 
Although it's a small company (it was started by a husband and wife team that still retains ownership), the software has proven to be scalable and robust, capable of supporting one-chiropractor shops all the way up to multi-location businesses with 100+ employees. 
One of the best features is  Real-Time Data Flow (RTDF). The feature allows users to track patient inputs instantly, without the professional creating the data having to save or exit the program first. This feature can retain a tremendous amount of time, especially for healthcare workers dealing with substantial electronic medical records.
Key features:
Real-time patient information update.

Makes patient management more effective by eliminating the need to double-check and save any new data input.

Customizable solution.

Users can add and manage new features as the need arises. Integrate software for appointments, medical billing, and tracking when you need them.

Strong customer support.

Often, it takes time for users to learn new patient management software. Besides being intuitive, Eclipse offers constant customer support.
Greenway Health
Price: $799 per practitioner
The Greenway Health medical practice management solution offers everything a health care office needs, from patient management, task management and automation, electronic health records (EHR), appointment scheduling, and integrated medical billing.
Furthermore, a large library of pre-made templates allow each provider organization to customize their interfaces, workflows, insert custom data fields, and more. So users can modify the program to suit their own clinical and marketing needs, without having to start from scratch. 
One great feature: Greenway Health makes it easy for users to electronically scan patient IDs and insurance cards for instant data input, significantly increasing efficiency, reducing error potential, and improving the patient experience. 
On the finance and billing side, Greenway Health's offering features a great set of tools,  analytics, and reports to give practice owners, managers, and accounting staff greater insight into practice finances and growth trends.
Key features:
Rich analytics

. Besides providing numbers, the software creates reports based on goals and benefits. Users can create monthly reports that either focus on saving time or money.

Customizable templates.

Instead of acting as the best patient management software for various medical practices, users can customize via templates. This way, Greenway Health adapts to what the user needs instead of satisfying everyone's needs with a single solution.

Intuitive EHR.

Although the software packs many features, it's easy to master even for users who aren't tech-savvy.
NueMD
Price: $149.00 per month
NueMD is the leading patient management solution for medical practices looking to simplify their billing process.
Besides affordable management software, the solution streamlines patient engagement by cutting down on how long it takes for reimbursement cycles. Both health care workers and patients have clear access to medical billing information.
Frequently, patients have billing and appointment questions, and it can take time between the patient's inquiry and providing proper feedback. While in other cases, patients need to call or ask their questions via a website, with NueMD, patients can easily access the required information.
The practice management service comes down to losing as little time as possible on billings and reimbursements. Both clinical practices and patients can easily compare the prices, ensure everything is correct, and store information on a cloud for easy and 24/7 access.
Key features:
Claims management. NueMD makes it easy to process claims. NueMD automatically scrubs and edits your claim against countless federal, state, and commercial claims edits. This is all for you to make sure that your claim is accurate.
Patient scheduling. Users can manage multi-day or multi-office schedules and reduce the percentage rate of missed appointments.
Patient Ticketing. An effortless way to create custom billings for patients depending on additional requirements that don't apply to every use case.
Meditab
Price: $199 per month/user
Meditab bills itself as an 'all-in-one' practice management software backbone that provides all the functionality your practice needs. As such, it integrates scheduling, reminders, electronic health records, billing, authorizations, referrals, e-prescriptions, and more into a single one-stop-shop. 
One interesting feature: Meditab's practice management software allows patients to handle check-in and check-out on their mobile devices, without interacting with the front desk. Some risk-averse or immunocompromised patients may appreciate a contact-free experience with the non-clinical staff. And, of course, it helps streamline operations, reduce staffing time with each patient, and helps provide a better patient experience.
By automating routine clinical and back-office tasks, Meditab can greatly improve efficiency and reduce error rates, compared to legacy systems. 
The system includes an intuitive and easy-to-use patient portal that patients can use to schedule an appointment, request prescription refills, or electronically send medical or billing documents. 
Other solutions that come with the patient management software are e-faxing (HIPAA compliant), sending appointment reminders via email or SMS, and online bill payment.
Key features:
Contactless patient management.

Patients can announce their arrival without interacting with the front desk making scheduling safer and faster.

Substantially reduces daily workload.

Increase efficiency, and generate revenue with features such as appointment scheduling, managing patient records, and setting up payments.

Facilitates communication.

The software makes the doctor's job easier by improving communication and information-sharing with patients.
Why Should You Use Patient Management Systems?
Patient management systems are an important part of the modern doctor's office. They allow a more efficient patient intake and better management for doctors and their staff. In return, by incorporating these customer management processes, solutions, and benefits, private clinics can get more patients and watch their business grow.
Finally, a patient management system saves time because it automates many tasks that would generally take up valuable time: such as sending reminders about upcoming appointments, past-due balances, and more.
Your practice management system will help you manage your patient flow. Your patient financing provider will help your patients afford the cost of treatment they need that may not be covered by insurance. We can help you with that. 
While medical CRM software helps you manage patients better, most medical practices find that some patients need a little help making medical treatment affordable.
That's where we come in. We have been helping thousands of health care providers offer easy, convenient, and affordable financing to patients who may not have the cash to pay for medical treatment and services all at once. Sometimes they need help with a deductible or coinsurance, and sometimes they need help with the entire amount. 
Not every treatment is covered by insurance. And you may not be in your patients' insurance carrier's network, even if it is. And, of course, some patients don't have medical insurance at all.
They still need treatment. Don't let your patients go another day putting off the medical treatment they need because they can't afford it. Offer them a way to finance the cost of treatment over time. 
With the Time Investment company, patients don't need perfect credit. We work with a broad spectrum of credit types. So your patients have an excellent chance of getting approved. That increases patient satisfaction, encourages referral business,
The application process just takes a few minutes - and your patient can get a credit decision right there in your office. As soon as an approved patient confirms they are purchasing the treatment, we release payment to your practice. 
You get paid the full financed amount upfront. No worrying about insurance company authorizations, credit card discount rates, or chargebacks. You can concentrate on what you do best: Serve your patients.